');mask-image:url('data:image/svg+xml;utf8,');mask-mode:alpha;-webkit-mask-repeat:no-repeat;mask-repeat:no-repeat;-webkit-mask-size:contain;mask-size:contain;-webkit-mask-position:center;mask-position:center;border-radius:0}}.wp-block-latest-comments__comment{line-height:1.1;list-style:none;margin-bottom:1em}.has-avatars .wp-block-latest-comments__comment{min-height:2.25em;list-style:none}.has-avatars .wp-block-latest-comments__comment .wp-block-latest-comments__comment-excerpt,.has-avatars .wp-block-latest-comments__comment .wp-block-latest-comments__comment-meta{margin-left:3.25em}.has-dates .wp-block-latest-comments__comment,.has-excerpts .wp-block-latest-comments__comment{line-height:1.5}.wp-block-latest-comments__comment-excerpt p{font-size:.875em;line-height:1.8;margin:.36em 0 1.4em}.wp-block-latest-comments__comment-date{display:block;font-size:.75em}.wp-block-latest-comments .avatar,.wp-block-latest-comments__comment-avatar{border-radius:1.5em;display:block;float:left;height:2.5em;margin-right:.75em;width:2.5em}.wp-block-latest-posts.alignleft{margin-right:2em}.wp-block-latest-posts.alignright{margin-left:2em}.wp-block-latest-posts.wp-block-latest-posts__list{list-style:none}.wp-block-latest-posts.wp-block-latest-posts__list li{clear:both}.wp-block-latest-posts.is-grid{display:flex;flex-wrap:wrap;padding:0}.wp-block-latest-posts.is-grid li{margin:0 1.25em 1.25em 0;width:100%}@media (min-width:600px){.wp-block-latest-posts.columns-2 li{width:calc(50% - .625em)}.wp-block-latest-posts.columns-2 li:nth-child(2n){margin-right:0}.wp-block-latest-posts.columns-3 li{width:calc(33.33333% - .83333em)}.wp-block-latest-posts.columns-3 li:nth-child(3n){margin-right:0}.wp-block-latest-posts.columns-4 li{width:calc(25% - .9375em)}.wp-block-latest-posts.columns-4 li:nth-child(4n){margin-right:0}.wp-block-latest-posts.columns-5 li{width:calc(20% - 1em)}.wp-block-latest-posts.columns-5 li:nth-child(5n){margin-right:0}.wp-block-latest-posts.columns-6 li{width:calc(16.66667% - 1.04167em)}.wp-block-latest-posts.columns-6 li:nth-child(6n){margin-right:0}}.wp-block-latest-posts__post-author,.wp-block-latest-posts__post-date{display:block;color:#555;font-size:.8125em}.wp-block-latest-posts__post-excerpt{margin-top:.5em;margin-bottom:1em}.wp-block-latest-posts__featured-image a{display:inline-block}.wp-block-latest-posts__featured-image img{height:auto;width:auto}.wp-block-latest-posts__featured-image.alignleft{margin-right:1em}.wp-block-latest-posts__featured-image.alignright{margin-left:1em}.wp-block-latest-posts__featured-image.aligncenter{margin-bottom:1em;text-align:center}.block-editor-image-alignment-control__row .components-base-control__field{display:flex;justify-content:space-between;align-items:center}.block-editor-image-alignment-control__row .components-base-control__field .components-base-control__label{margin-bottom:0}ol.has-background,ul.has-background{padding:1.25em 2.375em}.wp-block-media-text{ /*!rtl:begin:ignore*/direction:ltr; /*!rtl:end:ignore*/display:-ms-grid;display:grid;-ms-grid-columns:50% 1fr;grid-template-columns:50% 1fr;-ms-grid-rows:auto;grid-template-rows:auto}.wp-block-media-text.has-media-on-the-right{-ms-grid-columns:1fr 50%;grid-template-columns:1fr 50%}.wp-block-media-text.is-vertically-aligned-top .wp-block-media-text__content,.wp-block-media-text.is-vertically-aligned-top .wp-block-media-text__media{-ms-grid-row-align:start;align-self:start}.wp-block-media-text.is-vertically-aligned-center .wp-block-media-text__content,.wp-block-media-text.is-vertically-aligned-center .wp-block-media-text__media,.wp-block-media-text .wp-block-media-text__content,.wp-block-media-text .wp-block-media-text__media{-ms-grid-row-align:center;align-self:center}.wp-block-media-text.is-vertically-aligned-bottom .wp-block-media-text__content,.wp-block-media-text.is-vertically-aligned-bottom .wp-block-media-text__media{-ms-grid-row-align:end;align-self:end}.wp-block-media-text .wp-block-media-text__media{ /*!rtl:begin:ignore*/-ms-grid-column:1;grid-column:1;-ms-grid-row:1;grid-row:1; /*!rtl:end:ignore*/margin:0}.wp-block-media-text .wp-block-media-text__content{direction:ltr; /*!rtl:begin:ignore*/-ms-grid-column:2;grid-column:2;-ms-grid-row:1;grid-row:1; /*!rtl:end:ignore*/padding:0 8%;word-break:break-word}.wp-block-media-text.has-media-on-the-right .wp-block-media-text__media{ /*!rtl:begin:ignore*/-ms-grid-column:2;grid-column:2;-ms-grid-row:1;grid-row:1 /*!rtl:end:ignore*/}.wp-block-media-text.has-media-on-the-right .wp-block-media-text__content{ /*!rtl:begin:ignore*/-ms-grid-column:1;grid-column:1;-ms-grid-row:1;grid-row:1 /*!rtl:end:ignore*/}.wp-block-media-text__media img,.wp-block-media-text__media video{max-width:unset;width:100%;vertical-align:middle}.wp-block-media-text.is-image-fill figure.wp-block-media-text__media{height:100%;min-height:250px;background-size:cover}.wp-block-media-text.is-image-fill figure.wp-block-media-text__media>img{position:absolute;width:1px;height:1px;padding:0;margin:-1px;overflow:hidden;clip:rect(0,0,0,0);border:0}@media (max-width:600px){.wp-block-media-text.is-stacked-on-mobile{-ms-grid-columns:100%!important;grid-template-columns:100%!important}.wp-block-media-text.is-stacked-on-mobile .wp-block-media-text__media{-ms-grid-column:1;grid-column:1;-ms-grid-row:1;grid-row:1}.wp-block-media-text.is-stacked-on-mobile .wp-block-media-text__content{-ms-grid-column:1;grid-column:1;-ms-grid-row:2;grid-row:2}}.wp-block-navigation:not(.has-background) .wp-block-navigation__container .wp-block-navigation-link:not(.has-text-color){color:#1e1e1e}.wp-block-navigation:not(.has-background) .wp-block-navigation__container .wp-block-navigation__container{background-color:#fff}.items-justified-left>ul{justify-content:flex-start}.items-justified-center>ul{justify-content:center}.items-justified-right>ul{justify-content:flex-end}.wp-block-navigation-link{display:flex;align-items:center;position:relative;margin:0}.wp-block-navigation-link .wp-block-navigation__container:empty{display:none}.wp-block-navigation__container{list-style:none;margin:0;padding-left:0;display:flex;flex-wrap:wrap}.is-vertical .wp-block-navigation__container{display:block}.has-child>.wp-block-navigation-link__content{padding-right:.5em}.has-child .wp-block-navigation__container{border:1px solid rgba(0,0,0,.15);background-color:inherit;color:inherit;position:absolute;left:0;top:100%;width:-webkit-fit-content;width:-moz-fit-content;width:fit-content;z-index:2;opacity:0;transition:opacity .1s linear;visibility:hidden}.has-child .wp-block-navigation__container>.wp-block-navigation-link>.wp-block-navigation-link__content{flex-grow:1}.has-child .wp-block-navigation__container>.wp-block-navigation-link>.wp-block-navigation-link__submenu-icon{padding-right:.5em}@media (min-width:782px){.has-child .wp-block-navigation__container{left:1.5em}.has-child .wp-block-navigation__container .wp-block-navigation__container{left:100%;top:-1px}.has-child .wp-block-navigation__container .wp-block-navigation__container:before{content:"";position:absolute;right:100%;height:100%;display:block;width:.5em;background:transparent}.has-child .wp-block-navigation__container .wp-block-navigation-link__submenu-icon svg{transform:rotate(0)}}.has-child:hover{cursor:pointer}.has-child:hover>.wp-block-navigation__container{visibility:visible;opacity:1;display:flex;flex-direction:column}.has-child:focus-within{cursor:pointer}.has-child:focus-within>.wp-block-navigation__container{visibility:visible;opacity:1;display:flex;flex-direction:column}.wp-block-navigation-link__content{color:inherit;text-decoration:none;padding:.5em 1em}.wp-block-navigation-link__content+.wp-block-navigation-link__content{padding-top:0}.has-text-color .wp-block-navigation-link__content{color:inherit}.wp-block-navigation-link__label{word-break:normal;overflow-wrap:break-word}.wp-block-navigation-link__submenu-icon{height:inherit;padding:.375em 1em .375em 0}.wp-block-navigation-link__submenu-icon svg{fill:currentColor}@media (min-width:782px){.wp-block-navigation-link__submenu-icon svg{transform:rotate(90deg)}}.is-small-text{font-size:.875em}.is-regular-text{font-size:1em}.is-large-text{font-size:2.25em}.is-larger-text{font-size:3em}.has-drop-cap:not(:focus):first-letter{float:left;font-size:8.4em;line-height:.68;font-weight:100;margin:.05em .1em 0 0;text-transform:uppercase;font-style:normal}p.has-background{padding:1.25em 2.375em}p.has-text-color a{color:inherit}.wp-block-post-author{display:flex;flex-wrap:wrap}.wp-block-post-author__byline{width:100%;margin-top:0;margin-bottom:0;font-size:.5em}.wp-block-post-author__avatar{margin-right:1em}.wp-block-post-author__bio{margin-bottom:.7em;font-size:.7em}.wp-block-post-author__content{flex-grow:1;flex-basis:0}.wp-block-post-author__name{font-weight:700;margin:0}.wp-block-pullquote{padding:3em 0;margin-left:0;margin-right:0;text-align:center}.wp-block-pullquote.alignleft,.wp-block-pullquote.alignright{max-width:290px}.wp-block-pullquote.alignleft p,.wp-block-pullquote.alignright p{font-size:1.25em}.wp-block-pullquote p{font-size:1.75em;line-height:1.6}.wp-block-pullquote cite,.wp-block-pullquote footer{position:relative}.wp-block-pullquote .has-text-color a{color:inherit}.wp-block-pullquote:not(.is-style-solid-color){background:none}.wp-block-pullquote.is-style-solid-color{border:none}.wp-block-pullquote.is-style-solid-color blockquote{margin-left:auto;margin-right:auto;text-align:left;max-width:60%}.wp-block-pullquote.is-style-solid-color blockquote p{margin-top:0;margin-bottom:0;font-size:2em}.wp-block-pullquote.is-style-solid-color blockquote cite{text-transform:none;font-style:normal}.wp-block-pullquote cite{color:inherit}.wp-block-quote.is-large,.wp-block-quote.is-style-large{margin-bottom:1em;padding:0 1em}.wp-block-quote.is-large p,.wp-block-quote.is-style-large p{font-size:1.5em;font-style:italic;line-height:1.6}.wp-block-quote.is-large cite,.wp-block-quote.is-large footer,.wp-block-quote.is-style-large cite,.wp-block-quote.is-style-large footer{font-size:1.125em;text-align:right}.wp-block-rss.alignleft{margin-right:2em}.wp-block-rss.alignright{margin-left:2em}.wp-block-rss.is-grid{display:flex;flex-wrap:wrap;padding:0;list-style:none}.wp-block-rss.is-grid li{margin:0 1em 1em 0;width:100%}@media (min-width:600px){.wp-block-rss.columns-2 li{width:calc(50% - 1em)}.wp-block-rss.columns-3 li{width:calc(33.33333% - 1em)}.wp-block-rss.columns-4 li{width:calc(25% - 1em)}.wp-block-rss.columns-5 li{width:calc(20% - 1em)}.wp-block-rss.columns-6 li{width:calc(16.66667% - 1em)}}.wp-block-rss__item-author,.wp-block-rss__item-publish-date{display:block;color:#555;font-size:.8125em}.wp-block-search .wp-block-search__inside-wrapper{display:flex;flex:auto;flex-wrap:nowrap;max-width:100%}.wp-block-search .wp-block-search__label{width:100%}.wp-block-search .wp-block-search__input{flex-grow:1;min-width:3em;border:1px solid #949494}.wp-block-search .wp-block-search__button{margin-left:.625em;word-break:normal}.wp-block-search .wp-block-search__button svg{min-width:1.5em;min-height:1.5em}.wp-block-search.wp-block-search__button-only .wp-block-search__button{margin-left:0}.wp-block-search.wp-block-search__button-inside .wp-block-search__inside-wrapper{padding:4px;border:1px solid #949494}.wp-block-search.wp-block-search__button-inside .wp-block-search__inside-wrapper .wp-block-search__input{border-radius:0;border:none;padding:0 0 0 .25em}.wp-block-search.wp-block-search__button-inside .wp-block-search__inside-wrapper .wp-block-search__input:focus{outline:none}.wp-block-search.wp-block-search__button-inside .wp-block-search__inside-wrapper .wp-block-search__button{padding:.125em .5em}.wp-block-separator.is-style-wide{border-bottom-width:1px}.wp-block-separator.is-style-dots{background:none!important;border:none;text-align:center;max-width:none;line-height:1;height:auto}.wp-block-separator.is-style-dots:before{content:"\00b7 \00b7 \00b7";color:currentColor;font-size:1.5em;letter-spacing:2em;padding-left:2em;font-family:serif}.wp-block-custom-logo .aligncenter{display:table}.wp-block-social-links{display:flex;flex-wrap:wrap;justify-content:flex-start;padding-left:0;padding-right:0;text-indent:0;margin-left:0}.wp-block-social-links .wp-social-link a,.wp-block-social-links .wp-social-link a:hover{text-decoration:none;border-bottom:0;box-shadow:none}.wp-social-link{display:block;width:36px;height:36px;border-radius:9999px;margin:0 8px 8px 0;transition:transform .1s ease}@media (prefers-reduced-motion:reduce){.wp-social-link{transition-duration:0s}}.wp-social-link a{padding:6px;display:block;line-height:0;transition:transform .1s ease}.wp-social-link a,.wp-social-link a:active,.wp-social-link a:hover,.wp-social-link a:visited,.wp-social-link svg{color:currentColor;fill:currentColor}.wp-social-link:hover{transform:scale(1.1)}.wp-block-social-links.aligncenter{justify-content:center;display:flex}.wp-block-social-links:not(.is-style-logos-only) .wp-social-link{background-color:#f0f0f0;color:#444}.wp-block-social-links:not(.is-style-logos-only) .wp-social-link-amazon{background-color:#f90;color:#fff}.wp-block-social-links:not(.is-style-logos-only) .wp-social-link-bandcamp{background-color:#1ea0c3;color:#fff}.wp-block-social-links:not(.is-style-logos-only) .wp-social-link-behance{background-color:#0757fe;color:#fff}.wp-block-social-links:not(.is-style-logos-only) .wp-social-link-codepen{background-color:#1e1f26;color:#fff}.wp-block-social-links:not(.is-style-logos-only) .wp-social-link-deviantart{background-color:#02e49b;color:#fff}.wp-block-social-links:not(.is-style-logos-only) .wp-social-link-dribbble{background-color:#e94c89;color:#fff}.wp-block-social-links:not(.is-style-logos-only) .wp-social-link-dropbox{background-color:#4280ff;color:#fff}.wp-block-social-links:not(.is-style-logos-only) .wp-social-link-etsy{background-color:#f45800;color:#fff}.wp-block-social-links:not(.is-style-logos-only) .wp-social-link-facebook{background-color:#1778f2;color:#fff}.wp-block-social-links:not(.is-style-logos-only) .wp-social-link-fivehundredpx{background-color:#000;color:#fff}.wp-block-social-links:not(.is-style-logos-only) .wp-social-link-flickr{background-color:#0461dd;color:#fff}.wp-block-social-links:not(.is-style-logos-only) .wp-social-link-foursquare{background-color:#e65678;color:#fff}.wp-block-social-links:not(.is-style-logos-only) .wp-social-link-github{background-color:#24292d;color:#fff}.wp-block-social-links:not(.is-style-logos-only) .wp-social-link-goodreads{background-color:#eceadd;color:#382110}.wp-block-social-links:not(.is-style-logos-only) .wp-social-link-google{background-color:#ea4434;color:#fff}.wp-block-social-links:not(.is-style-logos-only) .wp-social-link-instagram{background-color:#f00075;color:#fff}.wp-block-social-links:not(.is-style-logos-only) .wp-social-link-lastfm{background-color:#e21b24;color:#fff}.wp-block-social-links:not(.is-style-logos-only) .wp-social-link-linkedin{background-color:#0d66c2;color:#fff}.wp-block-social-links:not(.is-style-logos-only) .wp-social-link-mastodon{background-color:#3288d4;color:#fff}.wp-block-social-links:not(.is-style-logos-only) .wp-social-link-medium{background-color:#02ab6c;color:#fff}.wp-block-social-links:not(.is-style-logos-only) .wp-social-link-meetup{background-color:#f6405f;color:#fff}.wp-block-social-links:not(.is-style-logos-only) .wp-social-link-pinterest{background-color:#e60122;color:#fff}.wp-block-social-links:not(.is-style-logos-only) .wp-social-link-pocket{background-color:#ef4155;color:#fff}.wp-block-social-links:not(.is-style-logos-only) .wp-social-link-reddit{background-color:#fe4500;color:#fff}.wp-block-social-links:not(.is-style-logos-only) .wp-social-link-skype{background-color:#0478d7;color:#fff}.wp-block-social-links:not(.is-style-logos-only) .wp-social-link-snapchat{background-color:#fefc00;color:#fff;stroke:#000}.wp-block-social-links:not(.is-style-logos-only) .wp-social-link-soundcloud{background-color:#ff5600;color:#fff}.wp-block-social-links:not(.is-style-logos-only) .wp-social-link-spotify{background-color:#1bd760;color:#fff}.wp-block-social-links:not(.is-style-logos-only) .wp-social-link-tumblr{background-color:#011835;color:#fff}.wp-block-social-links:not(.is-style-logos-only) .wp-social-link-twitch{background-color:#6440a4;color:#fff}.wp-block-social-links:not(.is-style-logos-only) .wp-social-link-twitter{background-color:#1da1f2;color:#fff}.wp-block-social-links:not(.is-style-logos-only) .wp-social-link-vimeo{background-color:#1eb7ea;color:#fff}.wp-block-social-links:not(.is-style-logos-only) .wp-social-link-vk{background-color:#4680c2;color:#fff}.wp-block-social-links:not(.is-style-logos-only) .wp-social-link-wordpress{background-color:#3499cd;color:#fff}.wp-block-social-links:not(.is-style-logos-only) .wp-social-link-yelp{background-color:#d32422;color:#fff}.wp-block-social-links:not(.is-style-logos-only) .wp-social-link-youtube{background-color:red;color:#fff}.wp-block-social-links.is-style-logos-only .wp-social-link{background:none;padding:4px}.wp-block-social-links.is-style-logos-only .wp-social-link svg{width:28px;height:28px}.wp-block-social-links.is-style-logos-only .wp-social-link-amazon{color:#f90}.wp-block-social-links.is-style-logos-only .wp-social-link-bandcamp{color:#1ea0c3}.wp-block-social-links.is-style-logos-only .wp-social-link-behance{color:#0757fe}.wp-block-social-links.is-style-logos-only .wp-social-link-codepen{color:#1e1f26}.wp-block-social-links.is-style-logos-only .wp-social-link-deviantart{color:#02e49b}.wp-block-social-links.is-style-logos-only .wp-social-link-dribbble{color:#e94c89}.wp-block-social-links.is-style-logos-only .wp-social-link-dropbox{color:#4280ff}.wp-block-social-links.is-style-logos-only .wp-social-link-etsy{color:#f45800}.wp-block-social-links.is-style-logos-only .wp-social-link-facebook{color:#1778f2}.wp-block-social-links.is-style-logos-only .wp-social-link-fivehundredpx{color:#000}.wp-block-social-links.is-style-logos-only .wp-social-link-flickr{color:#0461dd}.wp-block-social-links.is-style-logos-only .wp-social-link-foursquare{color:#e65678}.wp-block-social-links.is-style-logos-only .wp-social-link-github{color:#24292d}.wp-block-social-links.is-style-logos-only .wp-social-link-goodreads{color:#382110}.wp-block-social-links.is-style-logos-only .wp-social-link-google{color:#ea4434}.wp-block-social-links.is-style-logos-only .wp-social-link-instagram{color:#f00075}.wp-block-social-links.is-style-logos-only .wp-social-link-lastfm{color:#e21b24}.wp-block-social-links.is-style-logos-only .wp-social-link-linkedin{color:#0d66c2}.wp-block-social-links.is-style-logos-only .wp-social-link-mastodon{color:#3288d4}.wp-block-social-links.is-style-logos-only .wp-social-link-medium{color:#02ab6c}.wp-block-social-links.is-style-logos-only .wp-social-link-meetup{color:#f6405f}.wp-block-social-links.is-style-logos-only .wp-social-link-pinterest{color:#e60122}.wp-block-social-links.is-style-logos-only .wp-social-link-pocket{color:#ef4155}.wp-block-social-links.is-style-logos-only .wp-social-link-reddit{color:#fe4500}.wp-block-social-links.is-style-logos-only .wp-social-link-skype{color:#0478d7}.wp-block-social-links.is-style-logos-only .wp-social-link-snapchat{color:#fff;stroke:#000}.wp-block-social-links.is-style-logos-only .wp-social-link-soundcloud{color:#ff5600}.wp-block-social-links.is-style-logos-only .wp-social-link-spotify{color:#1bd760}.wp-block-social-links.is-style-logos-only .wp-social-link-tumblr{color:#011835}.wp-block-social-links.is-style-logos-only .wp-social-link-twitch{color:#6440a4}.wp-block-social-links.is-style-logos-only .wp-social-link-twitter{color:#1da1f2}.wp-block-social-links.is-style-logos-only .wp-social-link-vimeo{color:#1eb7ea}.wp-block-social-links.is-style-logos-only .wp-social-link-vk{color:#4680c2}.wp-block-social-links.is-style-logos-only .wp-social-link-wordpress{color:#3499cd}.wp-block-social-links.is-style-logos-only .wp-social-link-yelp{background-color:#d32422;color:#fff}.wp-block-social-links.is-style-logos-only .wp-social-link-youtube{color:red}.wp-block-social-links.is-style-pill-shape .wp-social-link{width:auto}.wp-block-social-links.is-style-pill-shape .wp-social-link a{padding-left:16px;padding-right:16px}.wp-block-spacer{clear:both}p.wp-block-subhead{font-size:1.1em;font-style:italic;opacity:.75}.wp-block-table{overflow-x:auto}.wp-block-table table{width:100%}.wp-block-table .has-fixed-layout{table-layout:fixed;width:100%}.wp-block-table .has-fixed-layout td,.wp-block-table .has-fixed-layout th{word-break:break-word}.wp-block-table.aligncenter,.wp-block-table.alignleft,.wp-block-table.alignright{display:table;width:auto}.wp-block-table.aligncenter td,.wp-block-table.aligncenter th,.wp-block-table.alignleft td,.wp-block-table.alignleft th,.wp-block-table.alignright td,.wp-block-table.alignright th{word-break:break-word}.wp-block-table .has-subtle-light-gray-background-color{background-color:#f3f4f5}.wp-block-table .has-subtle-pale-green-background-color{background-color:#e9fbe5}.wp-block-table .has-subtle-pale-blue-background-color{background-color:#e7f5fe}.wp-block-table .has-subtle-pale-pink-background-color{background-color:#fcf0ef}.wp-block-table.is-style-stripes{border-spacing:0;border-collapse:inherit;background-color:transparent;border-bottom:1px solid #f0f0f0}.wp-block-table.is-style-stripes tbody tr:nth-child(odd){background-color:#f0f0f0}.wp-block-table.is-style-stripes.has-subtle-light-gray-background-color tbody tr:nth-child(odd){background-color:#f3f4f5}.wp-block-table.is-style-stripes.has-subtle-pale-green-background-color tbody tr:nth-child(odd){background-color:#e9fbe5}.wp-block-table.is-style-stripes.has-subtle-pale-blue-background-color tbody tr:nth-child(odd){background-color:#e7f5fe}.wp-block-table.is-style-stripes.has-subtle-pale-pink-background-color tbody tr:nth-child(odd){background-color:#fcf0ef}.wp-block-table.is-style-stripes td,.wp-block-table.is-style-stripes th{border-color:transparent}.wp-block-text-columns,.wp-block-text-columns.aligncenter{display:flex}.wp-block-text-columns .wp-block-column{margin:0 1em;padding:0}.wp-block-text-columns .wp-block-column:first-child{margin-left:0}.wp-block-text-columns .wp-block-column:last-child{margin-right:0}.wp-block-text-columns.columns-2 .wp-block-column{width:50%}.wp-block-text-columns.columns-3 .wp-block-column{width:33.33333%}.wp-block-text-columns.columns-4 .wp-block-column{width:25%}.wp-block-video{margin-left:0;margin-right:0}.wp-block-video video{max-width:100%}@supports (position:sticky){.wp-block-video [poster]{-o-object-fit:cover;object-fit:cover}}.wp-block-video.aligncenter{text-align:center}.wp-block-video figcaption{margin-top:.5em;margin-bottom:1em}.wp-block-post-featured-image a{display:inline-block}:root .has-pale-pink-background-color{background-color:#f78da7}:root .has-vivid-red-background-color{background-color:#cf2e2e}:root .has-luminous-vivid-orange-background-color{background-color:#ff6900}:root .has-luminous-vivid-amber-background-color{background-color:#fcb900}:root .has-light-green-cyan-background-color{background-color:#7bdcb5}:root .has-vivid-green-cyan-background-color{background-color:#00d084}:root .has-pale-cyan-blue-background-color{background-color:#8ed1fc}:root .has-vivid-cyan-blue-background-color{background-color:#0693e3}:root .has-vivid-purple-background-color{background-color:#9b51e0}:root .has-white-background-color{background-color:#fff}:root .has-very-light-gray-background-color{background-color:#eee}:root .has-cyan-bluish-gray-background-color{background-color:#abb8c3}:root .has-very-dark-gray-background-color{background-color:#313131}:root .has-black-background-color{background-color:#000}:root .has-pale-pink-color{color:#f78da7}:root .has-vivid-red-color{color:#cf2e2e}:root .has-luminous-vivid-orange-color{color:#ff6900}:root .has-luminous-vivid-amber-color{color:#fcb900}:root .has-light-green-cyan-color{color:#7bdcb5}:root .has-vivid-green-cyan-color{color:#00d084}:root .has-pale-cyan-blue-color{color:#8ed1fc}:root .has-vivid-cyan-blue-color{color:#0693e3}:root .has-vivid-purple-color{color:#9b51e0}:root .has-white-color{color:#fff}:root .has-very-light-gray-color{color:#eee}:root .has-cyan-bluish-gray-color{color:#abb8c3}:root .has-very-dark-gray-color{color:#313131}:root .has-black-color{color:#000}:root .has-vivid-cyan-blue-to-vivid-purple-gradient-background{background:linear-gradient(135deg,#0693e3,#9b51e0)}:root .has-vivid-green-cyan-to-vivid-cyan-blue-gradient-background{background:linear-gradient(135deg,#00d084,#0693e3)}:root .has-light-green-cyan-to-vivid-green-cyan-gradient-background{background:linear-gradient(135deg,#7adcb4,#00d082)}:root .has-luminous-vivid-amber-to-luminous-vivid-orange-gradient-background{background:linear-gradient(135deg,#fcb900,#ff6900)}:root .has-luminous-vivid-orange-to-vivid-red-gradient-background{background:linear-gradient(135deg,#ff6900,#cf2e2e)}:root .has-very-light-gray-to-cyan-bluish-gray-gradient-background{background:linear-gradient(135deg,#eee,#a9b8c3)}:root .has-cool-to-warm-spectrum-gradient-background{background:linear-gradient(135deg,#4aeadc,#9778d1 20%,#cf2aba 40%,#ee2c82 60%,#fb6962 80%,#fef84c)}:root .has-blush-light-purple-gradient-background{background:linear-gradient(135deg,#ffceec,#9896f0)}:root .has-blush-bordeaux-gradient-background{background:linear-gradient(135deg,#fecda5,#fe2d2d 50%,#6b003e)}:root .has-purple-crush-gradient-background{background:linear-gradient(135deg,#34e2e4,#4721fb 50%,#ab1dfe)}:root .has-luminous-dusk-gradient-background{background:linear-gradient(135deg,#ffcb70,#c751c0 50%,#4158d0)}:root .has-hazy-dawn-gradient-background{background:linear-gradient(135deg,#faaca8,#dad0ec)}:root .has-pale-ocean-gradient-background{background:linear-gradient(135deg,#fff5cb,#b6e3d4 50%,#33a7b5)}:root .has-electric-grass-gradient-background{background:linear-gradient(135deg,#caf880,#71ce7e)}:root .has-subdued-olive-gradient-background{background:linear-gradient(135deg,#fafae1,#67a671)}:root .has-atomic-cream-gradient-background{background:linear-gradient(135deg,#fdd79a,#004a59)}:root .has-nightshade-gradient-background{background:linear-gradient(135deg,#330968,#31cdcf)}:root .has-midnight-gradient-background{background:linear-gradient(135deg,#020381,#2874fc)}:root .has-link-color a{color:#00e;color:var(--wp--style--color--link,#00e)}.has-small-font-size{font-size:.8125em}.has-normal-font-size,.has-regular-font-size{font-size:1em}.has-medium-font-size{font-size:1.25em}.has-large-font-size{font-size:2.25em}.has-huge-font-size,.has-larger-font-size{font-size:2.625em}.has-text-align-center{text-align:center}.has-text-align-left{text-align:left}.has-text-align-right{text-align:right}#end-resizable-editor-section{display:none}.aligncenter{clear:both} /*! * Bootstrap v3.3.4 (http://getbootstrap.com) * Copyright 2011-2015 Twitter, Inc. * Licensed under MIT (https://github.com/twbs/bootstrap/blob/master/LICENSE) *//*! normalize.css v3.0.2 | MIT License | git.io/normalize */html{font-family:sans-serif;-webkit-text-size-adjust:100%;-ms-text-size-adjust:100%}body{margin:0}article,aside,details,figcaption,figure,footer,header,hgroup,main,menu,nav,section,summary{display:block}audio,canvas,progress,video{display:inline-block;vertical-align:baseline}audio:not([controls]){display:none;height:0}[hidden],template{display:none}a{background-color:transparent}a:active,a:hover{outline:0}abbr[title]{border-bottom:1px dotted}b,strong{font-weight:700}dfn{font-style:italic}h1{margin:.67em 0;font-size:2em}mark{color:#000;background:#ff0}small{font-size:80%}sub,sup{position:relative;font-size:75%;line-height:0;vertical-align:baseline}sup{top:-.5em}sub{bottom:-.25em}img{border:0}svg:not(:root){overflow:hidden}figure{margin:1em 40px}hr{height:0;-webkit-box-sizing:content-box;-moz-box-sizing:content-box;box-sizing:content-box}pre{overflow:auto}code,kbd,pre,samp{font-family:monospace,monospace;font-size:1em}button,input,optgroup,select,textarea{margin:0;font:inherit;color:inherit}button{overflow:visible}button,select{text-transform:none}button,html input[type=button],input[type=reset],input[type=submit]{-webkit-appearance:button;cursor:pointer}button[disabled],html input[disabled]{cursor:default}button::-moz-focus-inner,input::-moz-focus-inner{padding:0;border:0}input{line-height:normal}input[type=checkbox],input[type=radio]{-webkit-box-sizing:border-box;-moz-box-sizing:border-box;box-sizing:border-box;padding:0}input[type=number]::-webkit-inner-spin-button,input[type=number]::-webkit-outer-spin-button{height:auto}input[type=search]{-webkit-box-sizing:content-box;-moz-box-sizing:content-box;box-sizing:content-box;-webkit-appearance:textfield}input[type=search]::-webkit-search-cancel-button,input[type=search]::-webkit-search-decoration{-webkit-appearance:none}fieldset{padding:.35em .625em .75em;margin:0 2px;border:1px solid silver}legend{padding:0;border:0}textarea{overflow:auto}optgroup{font-weight:700}table{border-spacing:0;border-collapse:collapse}td,th{padding:0}/*! Source: https://github.com/h5bp/html5-boilerplate/blob/master/src/css/main.css */@media print{*,:after,:before{color:#000!important;text-shadow:none!important;background:0 0!important;-webkit-box-shadow:none!important;box-shadow:none!important}a,a:visited{text-decoration:underline}a[href]:after{content:" (" attr(href) ")"}abbr[title]:after{content:" (" attr(title) ")"}a[href^="javascript:"]:after,a[href^="#"]:after{content:""}blockquote,pre{border:1px solid #999;page-break-inside:avoid}thead{display:table-header-group}img,tr{page-break-inside:avoid}img{max-width:100%!important}h2,h3,p{orphans:3;widows:3}h2,h3{page-break-after:avoid}select{background:#fff!important}.navbar{display:none}.btn>.caret,.dropup>.btn>.caret{border-top-color:#000!important}.label{border:1px solid #000}.table{border-collapse:collapse!important}.table td,.table th{background-color:#fff!important}.table-bordered td,.table-bordered th{border:1px solid #ddd!important}}@font-face{font-family:'Glyphicons Halflings';src:url(//www.electrician-palmharbor.com/wp-content/themes/integral/css/../fonts/glyphicons-halflings-regular.eot);src:url(//www.electrician-palmharbor.com/wp-content/themes/integral/css/../fonts/glyphicons-halflings-regular.eot?#iefix) format('embedded-opentype'),url(//www.electrician-palmharbor.com/wp-content/themes/integral/css/../fonts/glyphicons-halflings-regular.woff2) format('woff2'),url(//www.electrician-palmharbor.com/wp-content/themes/integral/css/../fonts/glyphicons-halflings-regular.woff) format('woff'),url(//www.electrician-palmharbor.com/wp-content/themes/integral/css/../fonts/glyphicons-halflings-regular.ttf) format('truetype'),url(//www.electrician-palmharbor.com/wp-content/themes/integral/css/../fonts/glyphicons-halflings-regular.svg#glyphicons_halflingsregular) format('svg')}.glyphicon{position:relative;top:1px;display:inline-block;font-family:'Glyphicons Halflings';font-style:normal;font-weight:400;line-height:1;-webkit-font-smoothing:antialiased;-moz-osx-font-smoothing:grayscale}.glyphicon-asterisk:before{content:"\2a"}.glyphicon-plus:before{content:"\2b"}.glyphicon-eur:before,.glyphicon-euro:before{content:"\20ac"}.glyphicon-minus:before{content:"\2212"}.glyphicon-cloud:before{content:"\2601"}.glyphicon-envelope:before{content:"\2709"}.glyphicon-pencil:before{content:"\270f"}.glyphicon-glass:before{content:"\e001"}.glyphicon-music:before{content:"\e002"}.glyphicon-search:before{content:"\e003"}.glyphicon-heart:before{content:"\e005"}.glyphicon-star:before{content:"\e006"}.glyphicon-star-empty:before{content:"\e007"}.glyphicon-user:before{content:"\e008"}.glyphicon-film:before{content:"\e009"}.glyphicon-th-large:before{content:"\e010"}.glyphicon-th:before{content:"\e011"}.glyphicon-th-list:before{content:"\e012"}.glyphicon-ok:before{content:"\e013"}.glyphicon-remove:before{content:"\e014"}.glyphicon-zoom-in:before{content:"\e015"}.glyphicon-zoom-out:before{content:"\e016"}.glyphicon-off:before{content:"\e017"}.glyphicon-signal:before{content:"\e018"}.glyphicon-cog:before{content:"\e019"}.glyphicon-trash:before{content:"\e020"}.glyphicon-home:before{content:"\e021"}.glyphicon-file:before{content:"\e022"}.glyphicon-time:before{content:"\e023"}.glyphicon-road:before{content:"\e024"}.glyphicon-download-alt:before{content:"\e025"}.glyphicon-download:before{content:"\e026"}.glyphicon-upload:before{content:"\e027"}.glyphicon-inbox:before{content:"\e028"}.glyphicon-play-circle:before{content:"\e029"}.glyphicon-repeat:before{content:"\e030"}.glyphicon-refresh:before{content:"\e031"}.glyphicon-list-alt:before{content:"\e032"}.glyphicon-lock:before{content:"\e033"}.glyphicon-flag:before{content:"\e034"}.glyphicon-headphones:before{content:"\e035"}.glyphicon-volume-off:before{content:"\e036"}.glyphicon-volume-down:before{content:"\e037"}.glyphicon-volume-up:before{content:"\e038"}.glyphicon-qrcode:before{content:"\e039"}.glyphicon-barcode:before{content:"\e040"}.glyphicon-tag:before{content:"\e041"}.glyphicon-tags:before{content:"\e042"}.glyphicon-book:before{content:"\e043"}.glyphicon-bookmark:before{content:"\e044"}.glyphicon-print:before{content:"\e045"}.glyphicon-camera:before{content:"\e046"}.glyphicon-font:before{content:"\e047"}.glyphicon-bold:before{content:"\e048"}.glyphicon-italic:before{content:"\e049"}.glyphicon-text-height:before{content:"\e050"}.glyphicon-text-width:before{content:"\e051"}.glyphicon-align-left:before{content:"\e052"}.glyphicon-align-center:before{content:"\e053"}.glyphicon-align-right:before{content:"\e054"}.glyphicon-align-justify:before{content:"\e055"}.glyphicon-list:before{content:"\e056"}.glyphicon-indent-left:before{content:"\e057"}.glyphicon-indent-right:before{content:"\e058"}.glyphicon-facetime-video:before{content:"\e059"}.glyphicon-picture:before{content:"\e060"}.glyphicon-map-marker:before{content:"\e062"}.glyphicon-adjust:before{content:"\e063"}.glyphicon-tint:before{content:"\e064"}.glyphicon-edit:before{content:"\e065"}.glyphicon-share:before{content:"\e066"}.glyphicon-check:before{content:"\e067"}.glyphicon-move:before{content:"\e068"}.glyphicon-step-backward:before{content:"\e069"}.glyphicon-fast-backward:before{content:"\e070"}.glyphicon-backward:before{content:"\e071"}.glyphicon-play:before{content:"\e072"}.glyphicon-pause:before{content:"\e073"}.glyphicon-stop:before{content:"\e074"}.glyphicon-forward:before{content:"\e075"}.glyphicon-fast-forward:before{content:"\e076"}.glyphicon-step-forward:before{content:"\e077"}.glyphicon-eject:before{content:"\e078"}.glyphicon-chevron-left:before{content:"\e079"}.glyphicon-chevron-right:before{content:"\e080"}.glyphicon-plus-sign:before{content:"\e081"}.glyphicon-minus-sign:before{content:"\e082"}.glyphicon-remove-sign:before{content:"\e083"}.glyphicon-ok-sign:before{content:"\e084"}.glyphicon-question-sign:before{content:"\e085"}.glyphicon-info-sign:before{content:"\e086"}.glyphicon-screenshot:before{content:"\e087"}.glyphicon-remove-circle:before{content:"\e088"}.glyphicon-ok-circle:before{content:"\e089"}.glyphicon-ban-circle:before{content:"\e090"}.glyphicon-arrow-left:before{content:"\e091"}.glyphicon-arrow-right:before{content:"\e092"}.glyphicon-arrow-up:before{content:"\e093"}.glyphicon-arrow-down:before{content:"\e094"}.glyphicon-share-alt:before{content:"\e095"}.glyphicon-resize-full:before{content:"\e096"}.glyphicon-resize-small:before{content:"\e097"}.glyphicon-exclamation-sign:before{content:"\e101"}.glyphicon-gift:before{content:"\e102"}.glyphicon-leaf:before{content:"\e103"}.glyphicon-fire:before{content:"\e104"}.glyphicon-eye-open:before{content:"\e105"}.glyphicon-eye-close:before{content:"\e106"}.glyphicon-warning-sign:before{content:"\e107"}.glyphicon-plane:before{content:"\e108"}.glyphicon-calendar:before{content:"\e109"}.glyphicon-random:before{content:"\e110"}.glyphicon-comment:before{content:"\e111"}.glyphicon-magnet:before{content:"\e112"}.glyphicon-chevron-up:before{content:"\e113"}.glyphicon-chevron-down:before{content:"\e114"}.glyphicon-retweet:before{content:"\e115"}.glyphicon-shopping-cart:before{content:"\e116"}.glyphicon-folder-close:before{content:"\e117"}.glyphicon-folder-open:before{content:"\e118"}.glyphicon-resize-vertical:before{content:"\e119"}.glyphicon-resize-horizontal:before{content:"\e120"}.glyphicon-hdd:before{content:"\e121"}.glyphicon-bullhorn:before{content:"\e122"}.glyphicon-bell:before{content:"\e123"}.glyphicon-certificate:before{content:"\e124"}.glyphicon-thumbs-up:before{content:"\e125"}.glyphicon-thumbs-down:before{content:"\e126"}.glyphicon-hand-right:before{content:"\e127"}.glyphicon-hand-left:before{content:"\e128"}.glyphicon-hand-up:before{content:"\e129"}.glyphicon-hand-down:before{content:"\e130"}.glyphicon-circle-arrow-right:before{content:"\e131"}.glyphicon-circle-arrow-left:before{content:"\e132"}.glyphicon-circle-arrow-up:before{content:"\e133"}.glyphicon-circle-arrow-down:before{content:"\e134"}.glyphicon-globe:before{content:"\e135"}.glyphicon-wrench:before{content:"\e136"}.glyphicon-tasks:before{content:"\e137"}.glyphicon-filter:before{content:"\e138"}.glyphicon-briefcase:before{content:"\e139"}.glyphicon-fullscreen:before{content:"\e140"}.glyphicon-dashboard:before{content:"\e141"}.glyphicon-paperclip:before{content:"\e142"}.glyphicon-heart-empty:before{content:"\e143"}.glyphicon-link:before{content:"\e144"}.glyphicon-phone:before{content:"\e145"}.glyphicon-pushpin:before{content:"\e146"}.glyphicon-usd:before{content:"\e148"}.glyphicon-gbp:before{content:"\e149"}.glyphicon-sort:before{content:"\e150"}.glyphicon-sort-by-alphabet:before{content:"\e151"}.glyphicon-sort-by-alphabet-alt:before{content:"\e152"}.glyphicon-sort-by-order:before{content:"\e153"}.glyphicon-sort-by-order-alt:before{content:"\e154"}.glyphicon-sort-by-attributes:before{content:"\e155"}.glyphicon-sort-by-attributes-alt:before{content:"\e156"}.glyphicon-unchecked:before{content:"\e157"}.glyphicon-expand:before{content:"\e158"}.glyphicon-collapse-down:before{content:"\e159"}.glyphicon-collapse-up:before{content:"\e160"}.glyphicon-log-in:before{content:"\e161"}.glyphicon-flash:before{content:"\e162"}.glyphicon-log-out:before{content:"\e163"}.glyphicon-new-window:before{content:"\e164"}.glyphicon-record:before{content:"\e165"}.glyphicon-save:before{content:"\e166"}.glyphicon-open:before{content:"\e167"}.glyphicon-saved:before{content:"\e168"}.glyphicon-import:before{content:"\e169"}.glyphicon-export:before{content:"\e170"}.glyphicon-send:before{content:"\e171"}.glyphicon-floppy-disk:before{content:"\e172"}.glyphicon-floppy-saved:before{content:"\e173"}.glyphicon-floppy-remove:before{content:"\e174"}.glyphicon-floppy-save:before{content:"\e175"}.glyphicon-floppy-open:before{content:"\e176"}.glyphicon-credit-card:before{content:"\e177"}.glyphicon-transfer:before{content:"\e178"}.glyphicon-cutlery:before{content:"\e179"}.glyphicon-header:before{content:"\e180"}.glyphicon-compressed:before{content:"\e181"}.glyphicon-earphone:before{content:"\e182"}.glyphicon-phone-alt:before{content:"\e183"}.glyphicon-tower:before{content:"\e184"}.glyphicon-stats:before{content:"\e185"}.glyphicon-sd-video:before{content:"\e186"}.glyphicon-hd-video:before{content:"\e187"}.glyphicon-subtitles:before{content:"\e188"}.glyphicon-sound-stereo:before{content:"\e189"}.glyphicon-sound-dolby:before{content:"\e190"}.glyphicon-sound-5-1:before{content:"\e191"}.glyphicon-sound-6-1:before{content:"\e192"}.glyphicon-sound-7-1:before{content:"\e193"}.glyphicon-copyright-mark:before{content:"\e194"}.glyphicon-registration-mark:before{content:"\e195"}.glyphicon-cloud-download:before{content:"\e197"}.glyphicon-cloud-upload:before{content:"\e198"}.glyphicon-tree-conifer:before{content:"\e199"}.glyphicon-tree-deciduous:before{content:"\e200"}.glyphicon-cd:before{content:"\e201"}.glyphicon-save-file:before{content:"\e202"}.glyphicon-open-file:before{content:"\e203"}.glyphicon-level-up:before{content:"\e204"}.glyphicon-copy:before{content:"\e205"}.glyphicon-paste:before{content:"\e206"}.glyphicon-alert:before{content:"\e209"}.glyphicon-equalizer:before{content:"\e210"}.glyphicon-king:before{content:"\e211"}.glyphicon-queen:before{content:"\e212"}.glyphicon-pawn:before{content:"\e213"}.glyphicon-bishop:before{content:"\e214"}.glyphicon-knight:before{content:"\e215"}.glyphicon-baby-formula:before{content:"\e216"}.glyphicon-tent:before{content:"\26fa"}.glyphicon-blackboard:before{content:"\e218"}.glyphicon-bed:before{content:"\e219"}.glyphicon-apple:before{content:"\f8ff"}.glyphicon-erase:before{content:"\e221"}.glyphicon-hourglass:before{content:"\231b"}.glyphicon-lamp:before{content:"\e223"}.glyphicon-duplicate:before{content:"\e224"}.glyphicon-piggy-bank:before{content:"\e225"}.glyphicon-scissors:before{content:"\e226"}.glyphicon-bitcoin:before{content:"\e227"}.glyphicon-btc:before{content:"\e227"}.glyphicon-xbt:before{content:"\e227"}.glyphicon-yen:before{content:"\00a5"}.glyphicon-jpy:before{content:"\00a5"}.glyphicon-ruble:before{content:"\20bd"}.glyphicon-rub:before{content:"\20bd"}.glyphicon-scale:before{content:"\e230"}.glyphicon-ice-lolly:before{content:"\e231"}.glyphicon-ice-lolly-tasted:before{content:"\e232"}.glyphicon-education:before{content:"\e233"}.glyphicon-option-horizontal:before{content:"\e234"}.glyphicon-option-vertical:before{content:"\e235"}.glyphicon-menu-hamburger:before{content:"\e236"}.glyphicon-modal-window:before{content:"\e237"}.glyphicon-oil:before{content:"\e238"}.glyphicon-grain:before{content:"\e239"}.glyphicon-sunglasses:before{content:"\e240"}.glyphicon-text-size:before{content:"\e241"}.glyphicon-text-color:before{content:"\e242"}.glyphicon-text-background:before{content:"\e243"}.glyphicon-object-align-top:before{content:"\e244"}.glyphicon-object-align-bottom:before{content:"\e245"}.glyphicon-object-align-horizontal:before{content:"\e246"}.glyphicon-object-align-left:before{content:"\e247"}.glyphicon-object-align-vertical:before{content:"\e248"}.glyphicon-object-align-right:before{content:"\e249"}.glyphicon-triangle-right:before{content:"\e250"}.glyphicon-triangle-left:before{content:"\e251"}.glyphicon-triangle-bottom:before{content:"\e252"}.glyphicon-triangle-top:before{content:"\e253"}.glyphicon-console:before{content:"\e254"}.glyphicon-superscript:before{content:"\e255"}.glyphicon-subscript:before{content:"\e256"}.glyphicon-menu-left:before{content:"\e257"}.glyphicon-menu-right:before{content:"\e258"}.glyphicon-menu-down:before{content:"\e259"}.glyphicon-menu-up:before{content:"\e260"}*{-webkit-box-sizing:border-box;-moz-box-sizing:border-box;box-sizing:border-box}:after,:before{-webkit-box-sizing:border-box;-moz-box-sizing:border-box;box-sizing:border-box}html{font-size:10px;-webkit-tap-highlight-color:rgba(0,0,0,0)}body{font-family:"Helvetica Neue",Helvetica,Arial,sans-serif;font-size:14px;line-height:1.42857143;color:#333;background-color:#fff}button,input,select,textarea{font-family:inherit;font-size:inherit;line-height:inherit}a{color:#337ab7;text-decoration:none}a:focus,a:hover{color:#23527c;text-decoration:underline}a:focus{outline:thin dotted;outline:5px auto -webkit-focus-ring-color;outline-offset:-2px}figure{margin:0}img{vertical-align:middle}.carousel-inner>.item>a>img,.carousel-inner>.item>img,.img-responsive,.thumbnail a>img,.thumbnail>img{display:block;max-width:100%;height:auto}.img-rounded{border-radius:6px}.img-thumbnail{display:inline-block;max-width:100%;height:auto;padding:4px;line-height:1.42857143;background-color:#fff;border:1px solid #ddd;border-radius:4px;-webkit-transition:all .2s ease-in-out;-o-transition:all .2s ease-in-out;transition:all .2s ease-in-out}.img-circle{border-radius:50%}hr{margin-top:20px;margin-bottom:20px;border:0;border-top:1px solid #eee}.sr-only{position:absolute;width:1px;height:1px;padding:0;margin:-1px;overflow:hidden;clip:rect(0,0,0,0);border:0}.sr-only-focusable:active,.sr-only-focusable:focus{position:static;width:auto;height:auto;margin:0;overflow:visible;clip:auto}[role=button]{cursor:pointer}.h1,.h2,.h3,.h4,.h5,.h6,h1,h2,h3,h4,h5,h6{font-family:inherit;font-weight:500;line-height:1.1;color:inherit}.h1 .small,.h1 small,.h2 .small,.h2 small,.h3 .small,.h3 small,.h4 .small,.h4 small,.h5 .small,.h5 small,.h6 .small,.h6 small,h1 .small,h1 small,h2 .small,h2 small,h3 .small,h3 small,h4 .small,h4 small,h5 .small,h5 small,h6 .small,h6 small{font-weight:400;line-height:1;color:#777}.h1,.h2,.h3,h1,h2,h3{margin-top:20px;margin-bottom:10px}.h1 .small,.h1 small,.h2 .small,.h2 small,.h3 .small,.h3 small,h1 .small,h1 small,h2 .small,h2 small,h3 .small,h3 small{font-size:65%}.h4,.h5,.h6,h4,h5,h6{margin-top:10px;margin-bottom:10px}.h4 .small,.h4 small,.h5 .small,.h5 small,.h6 .small,.h6 small,h4 .small,h4 small,h5 .small,h5 small,h6 .small,h6 small{font-size:75%}.h1,h1{font-size:36px}.h2,h2{font-size:30px}.h3,h3{font-size:24px}.h4,h4{font-size:18px}.h5,h5{font-size:14px}.h6,h6{font-size:12px}p{margin:0 0 10px}.lead{margin-bottom:20px;font-size:16px;font-weight:300;line-height:1.4}@media (min-width:768px){.lead{font-size:21px}}.small,small{font-size:85%}.mark,mark{padding:.2em;background-color:#fcf8e3}.text-left{text-align:left}.text-right{text-align:right}.text-center{text-align:center}.text-justify{text-align:justify}.text-nowrap{white-space:nowrap}.text-lowercase{text-transform:lowercase}.text-uppercase{text-transform:uppercase}.text-capitalize{text-transform:capitalize}.text-muted{color:#777}.text-primary{color:#337ab7}a.text-primary:hover{color:#286090}.text-success{color:#3c763d}a.text-success:hover{color:#2b542c}.text-info{color:#31708f}a.text-info:hover{color:#245269}.text-warning{color:#8a6d3b}a.text-warning:hover{color:#66512c}.text-danger{color:#a94442}a.text-danger:hover{color:#843534}.bg-primary{color:#fff;background-color:#337ab7}a.bg-primary:hover{background-color:#286090}.bg-success{background-color:#dff0d8}a.bg-success:hover{background-color:#c1e2b3}.bg-info{background-color:#d9edf7}a.bg-info:hover{background-color:#afd9ee}.bg-warning{background-color:#fcf8e3}a.bg-warning:hover{background-color:#f7ecb5}.bg-danger{background-color:#f2dede}a.bg-danger:hover{background-color:#e4b9b9}.page-header{padding-bottom:9px;margin:40px 0 20px;border-bottom:1px solid #eee}ol,ul{margin-top:0;margin-bottom:10px}ol ol,ol ul,ul ol,ul ul{margin-bottom:0}.list-unstyled{padding-left:0;list-style:none}.list-inline{padding-left:0;margin-left:-5px;list-style:none}.list-inline>li{display:inline-block;padding-right:5px;padding-left:5px}dl{margin-top:0;margin-bottom:20px}dd,dt{line-height:1.42857143}dt{font-weight:700}dd{margin-left:0}@media (min-width:768px){.dl-horizontal dt{float:left;width:160px;overflow:hidden;clear:left;text-align:right;text-overflow:ellipsis;white-space:nowrap}.dl-horizontal dd{margin-left:180px}}abbr[data-original-title],abbr[title]{cursor:help;border-bottom:1px dotted #777}.initialism{font-size:90%;text-transform:uppercase}blockquote{padding:10px 20px;margin:0 0 20px;font-size:17.5px;border-left:5px solid #eee}blockquote ol:last-child,blockquote p:last-child,blockquote ul:last-child{margin-bottom:0}blockquote .small,blockquote footer,blockquote small{display:block;font-size:80%;line-height:1.42857143;color:#777}blockquote .small:before,blockquote footer:before,blockquote small:before{content:'\2014 \00A0'}.blockquote-reverse,blockquote.pull-right{padding-right:15px;padding-left:0;text-align:right;border-right:5px solid #eee;border-left:0}.blockquote-reverse .small:before,.blockquote-reverse footer:before,.blockquote-reverse small:before,blockquote.pull-right .small:before,blockquote.pull-right footer:before,blockquote.pull-right small:before{content:''}.blockquote-reverse .small:after,.blockquote-reverse footer:after,.blockquote-reverse small:after,blockquote.pull-right .small:after,blockquote.pull-right footer:after,blockquote.pull-right small:after{content:'\00A0 \2014'}address{margin-bottom:20px;font-style:normal;line-height:1.42857143}code,kbd,pre,samp{font-family:Menlo,Monaco,Consolas,"Courier New",monospace}code{padding:2px 4px;font-size:90%;color:#c7254e;background-color:#f9f2f4;border-radius:4px}kbd{padding:2px 4px;font-size:90%;color:#fff;background-color:#333;border-radius:3px;-webkit-box-shadow:inset 0 -1px 0 rgba(0,0,0,.25);box-shadow:inset 0 -1px 0 rgba(0,0,0,.25)}kbd kbd{padding:0;font-size:100%;font-weight:700;-webkit-box-shadow:none;box-shadow:none}pre{display:block;padding:9.5px;margin:0 0 10px;font-size:13px;line-height:1.42857143;color:#333;word-break:break-all;word-wrap:break-word;background-color:#f5f5f5;border:1px solid #ccc;border-radius:4px}pre code{padding:0;font-size:inherit;color:inherit;white-space:pre-wrap;background-color:transparent;border-radius:0}.pre-scrollable{max-height:340px;overflow-y:scroll}.container{padding-right:15px;padding-left:15px;margin-right:auto;margin-left:auto}@media (min-width:768px){.container{width:750px}}@media (min-width:992px){.container{width:970px}}@media (min-width:1200px){.container{width:1170px}}.container-fluid{padding-right:15px;padding-left:15px;margin-right:auto;margin-left:auto}.row{margin-right:-15px;margin-left:-15px}.col-lg-1,.col-lg-10,.col-lg-11,.col-lg-12,.col-lg-2,.col-lg-3,.col-lg-4,.col-lg-5,.col-lg-6,.col-lg-7,.col-lg-8,.col-lg-9,.col-md-1,.col-md-10,.col-md-11,.col-md-12,.col-md-2,.col-md-3,.col-md-4,.col-md-5,.col-md-6,.col-md-7,.col-md-8,.col-md-9,.col-sm-1,.col-sm-10,.col-sm-11,.col-sm-12,.col-sm-2,.col-sm-3,.col-sm-4,.col-sm-5,.col-sm-6,.col-sm-7,.col-sm-8,.col-sm-9,.col-xs-1,.col-xs-10,.col-xs-11,.col-xs-12,.col-xs-2,.col-xs-3,.col-xs-4,.col-xs-5,.col-xs-6,.col-xs-7,.col-xs-8,.col-xs-9{position:relative;min-height:1px;padding-right:15px;padding-left:15px}.col-xs-1,.col-xs-10,.col-xs-11,.col-xs-12,.col-xs-2,.col-xs-3,.col-xs-4,.col-xs-5,.col-xs-6,.col-xs-7,.col-xs-8,.col-xs-9{float:left}.col-xs-12{width:100%}.col-xs-11{width:91.66666667%}.col-xs-10{width:83.33333333%}.col-xs-9{width:75%}.col-xs-8{width:66.66666667%}.col-xs-7{width:58.33333333%}.col-xs-6{width:50%}.col-xs-5{width:41.66666667%}.col-xs-4{width:33.33333333%}.col-xs-3{width:25%}.col-xs-2{width:16.66666667%}.col-xs-1{width:8.33333333%}.col-xs-pull-12{right:100%}.col-xs-pull-11{right:91.66666667%}.col-xs-pull-10{right:83.33333333%}.col-xs-pull-9{right:75%}.col-xs-pull-8{right:66.66666667%}.col-xs-pull-7{right:58.33333333%}.col-xs-pull-6{right:50%}.col-xs-pull-5{right:41.66666667%}.col-xs-pull-4{right:33.33333333%}.col-xs-pull-3{right:25%}.col-xs-pull-2{right:16.66666667%}.col-xs-pull-1{right:8.33333333%}.col-xs-pull-0{right:auto}.col-xs-push-12{left:100%}.col-xs-push-11{left:91.66666667%}.col-xs-push-10{left:83.33333333%}.col-xs-push-9{left:75%}.col-xs-push-8{left:66.66666667%}.col-xs-push-7{left:58.33333333%}.col-xs-push-6{left:50%}.col-xs-push-5{left:41.66666667%}.col-xs-push-4{left:33.33333333%}.col-xs-push-3{left:25%}.col-xs-push-2{left:16.66666667%}.col-xs-push-1{left:8.33333333%}.col-xs-push-0{left:auto}.col-xs-offset-12{margin-left:100%}.col-xs-offset-11{margin-left:91.66666667%}.col-xs-offset-10{margin-left:83.33333333%}.col-xs-offset-9{margin-left:75%}.col-xs-offset-8{margin-left:66.66666667%}.col-xs-offset-7{margin-left:58.33333333%}.col-xs-offset-6{margin-left:50%}.col-xs-offset-5{margin-left:41.66666667%}.col-xs-offset-4{margin-left:33.33333333%}.col-xs-offset-3{margin-left:25%}.col-xs-offset-2{margin-left:16.66666667%}.col-xs-offset-1{margin-left:8.33333333%}.col-xs-offset-0{margin-left:0}@media (min-width:768px){.col-sm-1,.col-sm-10,.col-sm-11,.col-sm-12,.col-sm-2,.col-sm-3,.col-sm-4,.col-sm-5,.col-sm-6,.col-sm-7,.col-sm-8,.col-sm-9{float:left}.col-sm-12{width:100%}.col-sm-11{width:91.66666667%}.col-sm-10{width:83.33333333%}.col-sm-9{width:75%}.col-sm-8{width:66.66666667%}.col-sm-7{width:58.33333333%}.col-sm-6{width:50%}.col-sm-5{width:41.66666667%}.col-sm-4{width:33.33333333%}.col-sm-3{width:25%}.col-sm-2{width:16.66666667%}.col-sm-1{width:8.33333333%}.col-sm-pull-12{right:100%}.col-sm-pull-11{right:91.66666667%}.col-sm-pull-10{right:83.33333333%}.col-sm-pull-9{right:75%}.col-sm-pull-8{right:66.66666667%}.col-sm-pull-7{right:58.33333333%}.col-sm-pull-6{right:50%}.col-sm-pull-5{right:41.66666667%}.col-sm-pull-4{right:33.33333333%}.col-sm-pull-3{right:25%}.col-sm-pull-2{right:16.66666667%}.col-sm-pull-1{right:8.33333333%}.col-sm-pull-0{right:auto}.col-sm-push-12{left:100%}.col-sm-push-11{left:91.66666667%}.col-sm-push-10{left:83.33333333%}.col-sm-push-9{left:75%}.col-sm-push-8{left:66.66666667%}.col-sm-push-7{left:58.33333333%}.col-sm-push-6{left:50%}.col-sm-push-5{left:41.66666667%}.col-sm-push-4{left:33.33333333%}.col-sm-push-3{left:25%}.col-sm-push-2{left:16.66666667%}.col-sm-push-1{left:8.33333333%}.col-sm-push-0{left:auto}.col-sm-offset-12{margin-left:100%}.col-sm-offset-11{margin-left:91.66666667%}.col-sm-offset-10{margin-left:83.33333333%}.col-sm-offset-9{margin-left:75%}.col-sm-offset-8{margin-left:66.66666667%}.col-sm-offset-7{margin-left:58.33333333%}.col-sm-offset-6{margin-left:50%}.col-sm-offset-5{margin-left:41.66666667%}.col-sm-offset-4{margin-left:33.33333333%}.col-sm-offset-3{margin-left:25%}.col-sm-offset-2{margin-left:16.66666667%}.col-sm-offset-1{margin-left:8.33333333%}.col-sm-offset-0{margin-left:0}}@media (min-width:992px){.col-md-1,.col-md-10,.col-md-11,.col-md-12,.col-md-2,.col-md-3,.col-md-4,.col-md-5,.col-md-6,.col-md-7,.col-md-8,.col-md-9{float:left}.col-md-12{width:100%}.col-md-11{width:91.66666667%}.col-md-10{width:83.33333333%}.col-md-9{width:75%}.col-md-8{width:66.66666667%}.col-md-7{width:58.33333333%}.col-md-6{width:50%}.col-md-5{width:41.66666667%}.col-md-4{width:33.33333333%}.col-md-3{width:25%}.col-md-2{width:16.66666667%}.col-md-1{width:8.33333333%}.col-md-pull-12{right:100%}.col-md-pull-11{right:91.66666667%}.col-md-pull-10{right:83.33333333%}.col-md-pull-9{right:75%}.col-md-pull-8{right:66.66666667%}.col-md-pull-7{right:58.33333333%}.col-md-pull-6{right:50%}.col-md-pull-5{right:41.66666667%}.col-md-pull-4{right:33.33333333%}.col-md-pull-3{right:25%}.col-md-pull-2{right:16.66666667%}.col-md-pull-1{right:8.33333333%}.col-md-pull-0{right:auto}.col-md-push-12{left:100%}.col-md-push-11{left:91.66666667%}.col-md-push-10{left:83.33333333%}.col-md-push-9{left:75%}.col-md-push-8{left:66.66666667%}.col-md-push-7{left:58.33333333%}.col-md-push-6{left:50%}.col-md-push-5{left:41.66666667%}.col-md-push-4{left:33.33333333%}.col-md-push-3{left:25%}.col-md-push-2{left:16.66666667%}.col-md-push-1{left:8.33333333%}.col-md-push-0{left:auto}.col-md-offset-12{margin-left:100%}.col-md-offset-11{margin-left:91.66666667%}.col-md-offset-10{margin-left:83.33333333%}.col-md-offset-9{margin-left:75%}.col-md-offset-8{margin-left:66.66666667%}.col-md-offset-7{margin-left:58.33333333%}.col-md-offset-6{margin-left:50%}.col-md-offset-5{margin-left:41.66666667%}.col-md-offset-4{margin-left:33.33333333%}.col-md-offset-3{margin-left:25%}.col-md-offset-2{margin-left:16.66666667%}.col-md-offset-1{margin-left:8.33333333%}.col-md-offset-0{margin-left:0}}@media (min-width:1200px){.col-lg-1,.col-lg-10,.col-lg-11,.col-lg-12,.col-lg-2,.col-lg-3,.col-lg-4,.col-lg-5,.col-lg-6,.col-lg-7,.col-lg-8,.col-lg-9{float:left}.col-lg-12{width:100%}.col-lg-11{width:91.66666667%}.col-lg-10{width:83.33333333%}.col-lg-9{width:75%}.col-lg-8{width:66.66666667%}.col-lg-7{width:58.33333333%}.col-lg-6{width:50%}.col-lg-5{width:41.66666667%}.col-lg-4{width:33.33333333%}.col-lg-3{width:25%}.col-lg-2{width:16.66666667%}.col-lg-1{width:8.33333333%}.col-lg-pull-12{right:100%}.col-lg-pull-11{right:91.66666667%}.col-lg-pull-10{right:83.33333333%}.col-lg-pull-9{right:75%}.col-lg-pull-8{right:66.66666667%}.col-lg-pull-7{right:58.33333333%}.col-lg-pull-6{right:50%}.col-lg-pull-5{right:41.66666667%}.col-lg-pull-4{right:33.33333333%}.col-lg-pull-3{right:25%}.col-lg-pull-2{right:16.66666667%}.col-lg-pull-1{right:8.33333333%}.col-lg-pull-0{right:auto}.col-lg-push-12{left:100%}.col-lg-push-11{left:91.66666667%}.col-lg-push-10{left:83.33333333%}.col-lg-push-9{left:75%}.col-lg-push-8{left:66.66666667%}.col-lg-push-7{left:58.33333333%}.col-lg-push-6{left:50%}.col-lg-push-5{left:41.66666667%}.col-lg-push-4{left:33.33333333%}.col-lg-push-3{left:25%}.col-lg-push-2{left:16.66666667%}.col-lg-push-1{left:8.33333333%}.col-lg-push-0{left:auto}.col-lg-offset-12{margin-left:100%}.col-lg-offset-11{margin-left:91.66666667%}.col-lg-offset-10{margin-left:83.33333333%}.col-lg-offset-9{margin-left:75%}.col-lg-offset-8{margin-left:66.66666667%}.col-lg-offset-7{margin-left:58.33333333%}.col-lg-offset-6{margin-left:50%}.col-lg-offset-5{margin-left:41.66666667%}.col-lg-offset-4{margin-left:33.33333333%}.col-lg-offset-3{margin-left:25%}.col-lg-offset-2{margin-left:16.66666667%}.col-lg-offset-1{margin-left:8.33333333%}.col-lg-offset-0{margin-left:0}}table{background-color:transparent}caption{padding-top:8px;padding-bottom:8px;color:#777;text-align:left}th{text-align:left}.table{width:100%;max-width:100%;margin-bottom:20px}.table>tbody>tr>td,.table>tbody>tr>th,.table>tfoot>tr>td,.table>tfoot>tr>th,.table>thead>tr>td,.table>thead>tr>th{padding:8px;line-height:1.42857143;vertical-align:top;border-top:1px solid #ddd}.table>thead>tr>th{vertical-align:bottom;border-bottom:2px solid #ddd}.table>caption+thead>tr:first-child>td,.table>caption+thead>tr:first-child>th,.table>colgroup+thead>tr:first-child>td,.table>colgroup+thead>tr:first-child>th,.table>thead:first-child>tr:first-child>td,.table>thead:first-child>tr:first-child>th{border-top:0}.table>tbody+tbody{border-top:2px solid #ddd}.table .table{background-color:#fff}.table-condensed>tbody>tr>td,.table-condensed>tbody>tr>th,.table-condensed>tfoot>tr>td,.table-condensed>tfoot>tr>th,.table-condensed>thead>tr>td,.table-condensed>thead>tr>th{padding:5px}.table-bordered{border:1px solid #ddd}.table-bordered>tbody>tr>td,.table-bordered>tbody>tr>th,.table-bordered>tfoot>tr>td,.table-bordered>tfoot>tr>th,.table-bordered>thead>tr>td,.table-bordered>thead>tr>th{border:1px solid #ddd}.table-bordered>thead>tr>td,.table-bordered>thead>tr>th{border-bottom-width:2px}.table-striped>tbody>tr:nth-of-type(odd){background-color:#f9f9f9}.table-hover>tbody>tr:hover{background-color:#f5f5f5}table col[class*=col-]{position:static;display:table-column;float:none}table td[class*=col-],table th[class*=col-]{position:static;display:table-cell;float:none}.table>tbody>tr.active>td,.table>tbody>tr.active>th,.table>tbody>tr>td.active,.table>tbody>tr>th.active,.table>tfoot>tr.active>td,.table>tfoot>tr.active>th,.table>tfoot>tr>td.active,.table>tfoot>tr>th.active,.table>thead>tr.active>td,.table>thead>tr.active>th,.table>thead>tr>td.active,.table>thead>tr>th.active{background-color:#f5f5f5}.table-hover>tbody>tr.active:hover>td,.table-hover>tbody>tr.active:hover>th,.table-hover>tbody>tr:hover>.active,.table-hover>tbody>tr>td.active:hover,.table-hover>tbody>tr>th.active:hover{background-color:#e8e8e8}.table>tbody>tr.success>td,.table>tbody>tr.success>th,.table>tbody>tr>td.success,.table>tbody>tr>th.success,.table>tfoot>tr.success>td,.table>tfoot>tr.success>th,.table>tfoot>tr>td.success,.table>tfoot>tr>th.success,.table>thead>tr.success>td,.table>thead>tr.success>th,.table>thead>tr>td.success,.table>thead>tr>th.success{background-color:#dff0d8}.table-hover>tbody>tr.success:hover>td,.table-hover>tbody>tr.success:hover>th,.table-hover>tbody>tr:hover>.success,.table-hover>tbody>tr>td.success:hover,.table-hover>tbody>tr>th.success:hover{background-color:#d0e9c6}.table>tbody>tr.info>td,.table>tbody>tr.info>th,.table>tbody>tr>td.info,.table>tbody>tr>th.info,.table>tfoot>tr.info>td,.table>tfoot>tr.info>th,.table>tfoot>tr>td.info,.table>tfoot>tr>th.info,.table>thead>tr.info>td,.table>thead>tr.info>th,.table>thead>tr>td.info,.table>thead>tr>th.info{background-color:#d9edf7}.table-hover>tbody>tr.info:hover>td,.table-hover>tbody>tr.info:hover>th,.table-hover>tbody>tr:hover>.info,.table-hover>tbody>tr>td.info:hover,.table-hover>tbody>tr>th.info:hover{background-color:#c4e3f3}.table>tbody>tr.warning>td,.table>tbody>tr.warning>th,.table>tbody>tr>td.warning,.table>tbody>tr>th.warning,.table>tfoot>tr.warning>td,.table>tfoot>tr.warning>th,.table>tfoot>tr>td.warning,.table>tfoot>tr>th.warning,.table>thead>tr.warning>td,.table>thead>tr.warning>th,.table>thead>tr>td.warning,.table>thead>tr>th.warning{background-color:#fcf8e3}.table-hover>tbody>tr.warning:hover>td,.table-hover>tbody>tr.warning:hover>th,.table-hover>tbody>tr:hover>.warning,.table-hover>tbody>tr>td.warning:hover,.table-hover>tbody>tr>th.warning:hover{background-color:#faf2cc}.table>tbody>tr.danger>td,.table>tbody>tr.danger>th,.table>tbody>tr>td.danger,.table>tbody>tr>th.danger,.table>tfoot>tr.danger>td,.table>tfoot>tr.danger>th,.table>tfoot>tr>td.danger,.table>tfoot>tr>th.danger,.table>thead>tr.danger>td,.table>thead>tr.danger>th,.table>thead>tr>td.danger,.table>thead>tr>th.danger{background-color:#f2dede}.table-hover>tbody>tr.danger:hover>td,.table-hover>tbody>tr.danger:hover>th,.table-hover>tbody>tr:hover>.danger,.table-hover>tbody>tr>td.danger:hover,.table-hover>tbody>tr>th.danger:hover{background-color:#ebcccc}.table-responsive{min-height:.01%;overflow-x:auto}@media screen and (max-width:767px){.table-responsive{width:100%;margin-bottom:15px;overflow-y:hidden;-ms-overflow-style:-ms-autohiding-scrollbar;border:1px solid #ddd}.table-responsive>.table{margin-bottom:0}.table-responsive>.table>tbody>tr>td,.table-responsive>.table>tbody>tr>th,.table-responsive>.table>tfoot>tr>td,.table-responsive>.table>tfoot>tr>th,.table-responsive>.table>thead>tr>td,.table-responsive>.table>thead>tr>th{white-space:nowrap}.table-responsive>.table-bordered{border:0}.table-responsive>.table-bordered>tbody>tr>td:first-child,.table-responsive>.table-bordered>tbody>tr>th:first-child,.table-responsive>.table-bordered>tfoot>tr>td:first-child,.table-responsive>.table-bordered>tfoot>tr>th:first-child,.table-responsive>.table-bordered>thead>tr>td:first-child,.table-responsive>.table-bordered>thead>tr>th:first-child{border-left:0}.table-responsive>.table-bordered>tbody>tr>td:last-child,.table-responsive>.table-bordered>tbody>tr>th:last-child,.table-responsive>.table-bordered>tfoot>tr>td:last-child,.table-responsive>.table-bordered>tfoot>tr>th:last-child,.table-responsive>.table-bordered>thead>tr>td:last-child,.table-responsive>.table-bordered>thead>tr>th:last-child{border-right:0}.table-responsive>.table-bordered>tbody>tr:last-child>td,.table-responsive>.table-bordered>tbody>tr:last-child>th,.table-responsive>.table-bordered>tfoot>tr:last-child>td,.table-responsive>.table-bordered>tfoot>tr:last-child>th{border-bottom:0}}fieldset{min-width:0;padding:0;margin:0;border:0}legend{display:block;width:100%;padding:0;margin-bottom:20px;font-size:21px;line-height:inherit;color:#333;border:0;border-bottom:1px solid #e5e5e5}label{display:inline-block;max-width:100%;margin-bottom:5px;font-weight:700}input[type=search]{-webkit-box-sizing:border-box;-moz-box-sizing:border-box;box-sizing:border-box}input[type=checkbox],input[type=radio]{margin:4px 0 0;margin-top:1px \9;line-height:normal}input[type=file]{display:block}input[type=range]{display:block;width:100%}select[multiple],select[size]{height:auto}input[type=file]:focus,input[type=checkbox]:focus,input[type=radio]:focus{outline:thin dotted;outline:5px auto -webkit-focus-ring-color;outline-offset:-2px}output{display:block;padding-top:7px;font-size:14px;line-height:1.42857143;color:#555}.form-control{display:block;width:100%;height:34px;padding:6px 12px;font-size:14px;line-height:1.42857143;color:#555;background-color:#fff;background-image:none;border:1px solid #ccc;border-radius:4px;-webkit-box-shadow:inset 0 1px 1px rgba(0,0,0,.075);box-shadow:inset 0 1px 1px rgba(0,0,0,.075);-webkit-transition:border-color ease-in-out .15s,-webkit-box-shadow ease-in-out .15s;-o-transition:border-color ease-in-out .15s,box-shadow ease-in-out .15s;transition:border-color ease-in-out .15s,box-shadow ease-in-out .15s}.form-control:focus{border-color:#66afe9;outline:0;-webkit-box-shadow:inset 0 1px 1px rgba(0,0,0,.075),0 0 8px rgba(102,175,233,.6);box-shadow:inset 0 1px 1px rgba(0,0,0,.075),0 0 8px rgba(102,175,233,.6)}.form-control::-moz-placeholder{color:#999;opacity:1}.form-control:-ms-input-placeholder{color:#999}.form-control::-webkit-input-placeholder{color:#999}.form-control[disabled],.form-control[readonly],fieldset[disabled] .form-control{background-color:#eee;opacity:1}.form-control[disabled],fieldset[disabled] .form-control{cursor:not-allowed}textarea.form-control{height:auto}input[type=search]{-webkit-appearance:none}@media screen and (-webkit-min-device-pixel-ratio:0){input[type=date],input[type=time],input[type=datetime-local],input[type=month]{line-height:34px}.input-group-sm input[type=date],.input-group-sm input[type=time],.input-group-sm input[type=datetime-local],.input-group-sm input[type=month],input[type=date].input-sm,input[type=time].input-sm,input[type=datetime-local].input-sm,input[type=month].input-sm{line-height:30px}.input-group-lg input[type=date],.input-group-lg input[type=time],.input-group-lg input[type=datetime-local],.input-group-lg input[type=month],input[type=date].input-lg,input[type=time].input-lg,input[type=datetime-local].input-lg,input[type=month].input-lg{line-height:46px}}.form-group{margin-bottom:15px}.checkbox,.radio{position:relative;display:block;margin-top:10px;margin-bottom:10px}.checkbox label,.radio label{min-height:20px;padding-left:20px;margin-bottom:0;font-weight:400;cursor:pointer}.checkbox input[type=checkbox],.checkbox-inline input[type=checkbox],.radio input[type=radio],.radio-inline input[type=radio]{position:absolute;margin-top:4px \9;margin-left:-20px}.checkbox+.checkbox,.radio+.radio{margin-top:-5px}.checkbox-inline,.radio-inline{position:relative;display:inline-block;padding-left:20px;margin-bottom:0;font-weight:400;vertical-align:middle;cursor:pointer}.checkbox-inline+.checkbox-inline,.radio-inline+.radio-inline{margin-top:0;margin-left:10px}fieldset[disabled] input[type=checkbox],fieldset[disabled] input[type=radio],input[type=checkbox].disabled,input[type=checkbox][disabled],input[type=radio].disabled,input[type=radio][disabled]{cursor:not-allowed}.checkbox-inline.disabled,.radio-inline.disabled,fieldset[disabled] .checkbox-inline,fieldset[disabled] .radio-inline{cursor:not-allowed}.checkbox.disabled label,.radio.disabled label,fieldset[disabled] .checkbox label,fieldset[disabled] .radio label{cursor:not-allowed}.form-control-static{min-height:34px;padding-top:7px;padding-bottom:7px;margin-bottom:0}.form-control-static.input-lg,.form-control-static.input-sm{padding-right:0;padding-left:0}.input-sm{height:30px;padding:5px 10px;font-size:12px;line-height:1.5;border-radius:3px}select.input-sm{height:30px;line-height:30px}select[multiple].input-sm,textarea.input-sm{height:auto}.form-group-sm .form-control{height:30px;padding:5px 10px;font-size:12px;line-height:1.5;border-radius:3px}select.form-group-sm .form-control{height:30px;line-height:30px}select[multiple].form-group-sm .form-control,textarea.form-group-sm .form-control{height:auto}.form-group-sm .form-control-static{height:30px;min-height:32px;padding:5px 10px;font-size:12px;line-height:1.5}.input-lg{height:46px;padding:10px 16px;font-size:18px;line-height:1.3333333;border-radius:6px}select.input-lg{height:46px;line-height:46px}select[multiple].input-lg,textarea.input-lg{height:auto}.form-group-lg .form-control{height:46px;padding:10px 16px;font-size:18px;line-height:1.3333333;border-radius:6px}select.form-group-lg .form-control{height:46px;line-height:46px}select[multiple].form-group-lg .form-control,textarea.form-group-lg .form-control{height:auto}.form-group-lg .form-control-static{height:46px;min-height:38px;padding:10px 16px;font-size:18px;line-height:1.3333333}.has-feedback{position:relative}.has-feedback .form-control{padding-right:42.5px}.form-control-feedback{position:absolute;top:0;right:0;z-index:2;display:block;width:34px;height:34px;line-height:34px;text-align:center;pointer-events:none}.input-lg+.form-control-feedback{width:46px;height:46px;line-height:46px}.input-sm+.form-control-feedback{width:30px;height:30px;line-height:30px}.has-success .checkbox,.has-success .checkbox-inline,.has-success .control-label,.has-success .help-block,.has-success .radio,.has-success .radio-inline,.has-success.checkbox label,.has-success.checkbox-inline label,.has-success.radio label,.has-success.radio-inline label{color:#3c763d}.has-success .form-control{border-color:#3c763d;-webkit-box-shadow:inset 0 1px 1px rgba(0,0,0,.075);box-shadow:inset 0 1px 1px rgba(0,0,0,.075)}.has-success .form-control:focus{border-color:#2b542c;-webkit-box-shadow:inset 0 1px 1px rgba(0,0,0,.075),0 0 6px #67b168;box-shadow:inset 0 1px 1px rgba(0,0,0,.075),0 0 6px #67b168}.has-success .input-group-addon{color:#3c763d;background-color:#dff0d8;border-color:#3c763d}.has-success .form-control-feedback{color:#3c763d}.has-warning .checkbox,.has-warning .checkbox-inline,.has-warning .control-label,.has-warning .help-block,.has-warning .radio,.has-warning .radio-inline,.has-warning.checkbox label,.has-warning.checkbox-inline label,.has-warning.radio label,.has-warning.radio-inline label{color:#8a6d3b}.has-warning .form-control{border-color:#8a6d3b;-webkit-box-shadow:inset 0 1px 1px rgba(0,0,0,.075);box-shadow:inset 0 1px 1px rgba(0,0,0,.075)}.has-warning .form-control:focus{border-color:#66512c;-webkit-box-shadow:inset 0 1px 1px rgba(0,0,0,.075),0 0 6px #c0a16b;box-shadow:inset 0 1px 1px rgba(0,0,0,.075),0 0 6px #c0a16b}.has-warning .input-group-addon{color:#8a6d3b;background-color:#fcf8e3;border-color:#8a6d3b}.has-warning .form-control-feedback{color:#8a6d3b}.has-error .checkbox,.has-error .checkbox-inline,.has-error .control-label,.has-error .help-block,.has-error .radio,.has-error .radio-inline,.has-error.checkbox label,.has-error.checkbox-inline label,.has-error.radio label,.has-error.radio-inline label{color:#a94442}.has-error .form-control{border-color:#a94442;-webkit-box-shadow:inset 0 1px 1px rgba(0,0,0,.075);box-shadow:inset 0 1px 1px rgba(0,0,0,.075)}.has-error .form-control:focus{border-color:#843534;-webkit-box-shadow:inset 0 1px 1px rgba(0,0,0,.075),0 0 6px #ce8483;box-shadow:inset 0 1px 1px rgba(0,0,0,.075),0 0 6px #ce8483}.has-error .input-group-addon{color:#a94442;background-color:#f2dede;border-color:#a94442}.has-error .form-control-feedback{color:#a94442}.has-feedback label~.form-control-feedback{top:25px}.has-feedback label.sr-only~.form-control-feedback{top:0}.help-block{display:block;margin-top:5px;margin-bottom:10px;color:#737373}@media (min-width:768px){.form-inline .form-group{display:inline-block;margin-bottom:0;vertical-align:middle}.form-inline .form-control{display:inline-block;width:auto;vertical-align:middle}.form-inline .form-control-static{display:inline-block}.form-inline .input-group{display:inline-table;vertical-align:middle}.form-inline .input-group .form-control,.form-inline .input-group .input-group-addon,.form-inline .input-group .input-group-btn{width:auto}.form-inline .input-group>.form-control{width:100%}.form-inline .control-label{margin-bottom:0;vertical-align:middle}.form-inline .checkbox,.form-inline .radio{display:inline-block;margin-top:0;margin-bottom:0;vertical-align:middle}.form-inline .checkbox label,.form-inline .radio label{padding-left:0}.form-inline .checkbox input[type=checkbox],.form-inline .radio input[type=radio]{position:relative;margin-left:0}.form-inline .has-feedback .form-control-feedback{top:0}}.form-horizontal .checkbox,.form-horizontal .checkbox-inline,.form-horizontal .radio,.form-horizontal .radio-inline{padding-top:7px;margin-top:0;margin-bottom:0}.form-horizontal .checkbox,.form-horizontal .radio{min-height:27px}.form-horizontal .form-group{margin-right:-15px;margin-left:-15px}@media (min-width:768px){.form-horizontal .control-label{padding-top:7px;margin-bottom:0;text-align:right}}.form-horizontal .has-feedback .form-control-feedback{right:15px}@media (min-width:768px){.form-horizontal .form-group-lg .control-label{padding-top:14.33px}}@media (min-width:768px){.form-horizontal .form-group-sm .control-label{padding-top:6px}}.btn{display:inline-block;padding:6px 12px;margin-bottom:0;font-size:14px;font-weight:400;line-height:1.42857143;text-align:center;white-space:nowrap;vertical-align:middle;-ms-touch-action:manipulation;touch-action:manipulation;cursor:pointer;-webkit-user-select:none;-moz-user-select:none;-ms-user-select:none;user-select:none;background-image:none;border:1px solid transparent;border-radius:4px}.btn.active.focus,.btn.active:focus,.btn.focus,.btn:active.focus,.btn:active:focus,.btn:focus{outline:thin dotted;outline:5px auto -webkit-focus-ring-color;outline-offset:-2px}.btn.focus,.btn:focus,.btn:hover{color:#333;text-decoration:none}.btn.active,.btn:active{background-image:none;outline:0;-webkit-box-shadow:inset 0 3px 5px rgba(0,0,0,.125);box-shadow:inset 0 3px 5px rgba(0,0,0,.125)}.btn.disabled,.btn[disabled],fieldset[disabled] .btn{pointer-events:none;cursor:not-allowed;filter:alpha(opacity=65);-webkit-box-shadow:none;box-shadow:none;opacity:.65}.btn-default{color:#333;background-color:#fff;border-color:#ccc}.btn-default.active,.btn-default.focus,.btn-default:active,.btn-default:focus,.btn-default:hover,.open>.dropdown-toggle.btn-default{color:#333;background-color:#e6e6e6;border-color:#adadad}.btn-default.active,.btn-default:active,.open>.dropdown-toggle.btn-default{background-image:none}.btn-default.disabled,.btn-default.disabled.active,.btn-default.disabled.focus,.btn-default.disabled:active,.btn-default.disabled:focus,.btn-default.disabled:hover,.btn-default[disabled],.btn-default[disabled].active,.btn-default[disabled].focus,.btn-default[disabled]:active,.btn-default[disabled]:focus,.btn-default[disabled]:hover,fieldset[disabled] .btn-default,fieldset[disabled] .btn-default.active,fieldset[disabled] .btn-default.focus,fieldset[disabled] .btn-default:active,fieldset[disabled] .btn-default:focus,fieldset[disabled] .btn-default:hover{background-color:#fff;border-color:#ccc}.btn-default .badge{color:#fff;background-color:#333}.btn-primary{color:#fff;background-color:#337ab7;border-color:#2e6da4}.btn-primary.active,.btn-primary.focus,.btn-primary:active,.btn-primary:focus,.btn-primary:hover,.open>.dropdown-toggle.btn-primary{color:#fff;background-color:#286090;border-color:#204d74}.btn-primary.active,.btn-primary:active,.open>.dropdown-toggle.btn-primary{background-image:none}.btn-primary.disabled,.btn-primary.disabled.active,.btn-primary.disabled.focus,.btn-primary.disabled:active,.btn-primary.disabled:focus,.btn-primary.disabled:hover,.btn-primary[disabled],.btn-primary[disabled].active,.btn-primary[disabled].focus,.btn-primary[disabled]:active,.btn-primary[disabled]:focus,.btn-primary[disabled]:hover,fieldset[disabled] .btn-primary,fieldset[disabled] .btn-primary.active,fieldset[disabled] .btn-primary.focus,fieldset[disabled] .btn-primary:active,fieldset[disabled] .btn-primary:focus,fieldset[disabled] .btn-primary:hover{background-color:#337ab7;border-color:#2e6da4}.btn-primary .badge{color:#337ab7;background-color:#fff}.btn-success{color:#fff;background-color:#5cb85c;border-color:#4cae4c}.btn-success.active,.btn-success.focus,.btn-success:active,.btn-success:focus,.btn-success:hover,.open>.dropdown-toggle.btn-success{color:#fff;background-color:#449d44;border-color:#398439}.btn-success.active,.btn-success:active,.open>.dropdown-toggle.btn-success{background-image:none}.btn-success.disabled,.btn-success.disabled.active,.btn-success.disabled.focus,.btn-success.disabled:active,.btn-success.disabled:focus,.btn-success.disabled:hover,.btn-success[disabled],.btn-success[disabled].active,.btn-success[disabled].focus,.btn-success[disabled]:active,.btn-success[disabled]:focus,.btn-success[disabled]:hover,fieldset[disabled] .btn-success,fieldset[disabled] .btn-success.active,fieldset[disabled] .btn-success.focus,fieldset[disabled] .btn-success:active,fieldset[disabled] .btn-success:focus,fieldset[disabled] .btn-success:hover{background-color:#5cb85c;border-color:#4cae4c}.btn-success .badge{color:#5cb85c;background-color:#fff}.btn-info{color:#fff;background-color:#5bc0de;border-color:#46b8da}.btn-info.active,.btn-info.focus,.btn-info:active,.btn-info:focus,.btn-info:hover,.open>.dropdown-toggle.btn-info{color:#fff;background-color:#31b0d5;border-color:#269abc}.btn-info.active,.btn-info:active,.open>.dropdown-toggle.btn-info{background-image:none}.btn-info.disabled,.btn-info.disabled.active,.btn-info.disabled.focus,.btn-info.disabled:active,.btn-info.disabled:focus,.btn-info.disabled:hover,.btn-info[disabled],.btn-info[disabled].active,.btn-info[disabled].focus,.btn-info[disabled]:active,.btn-info[disabled]:focus,.btn-info[disabled]:hover,fieldset[disabled] .btn-info,fieldset[disabled] .btn-info.active,fieldset[disabled] .btn-info.focus,fieldset[disabled] .btn-info:active,fieldset[disabled] .btn-info:focus,fieldset[disabled] .btn-info:hover{background-color:#5bc0de;border-color:#46b8da}.btn-info .badge{color:#5bc0de;background-color:#fff}.btn-warning{color:#fff;background-color:#f0ad4e;border-color:#eea236}.btn-warning.active,.btn-warning.focus,.btn-warning:active,.btn-warning:focus,.btn-warning:hover,.open>.dropdown-toggle.btn-warning{color:#fff;background-color:#ec971f;border-color:#d58512}.btn-warning.active,.btn-warning:active,.open>.dropdown-toggle.btn-warning{background-image:none}.btn-warning.disabled,.btn-warning.disabled.active,.btn-warning.disabled.focus,.btn-warning.disabled:active,.btn-warning.disabled:focus,.btn-warning.disabled:hover,.btn-warning[disabled],.btn-warning[disabled].active,.btn-warning[disabled].focus,.btn-warning[disabled]:active,.btn-warning[disabled]:focus,.btn-warning[disabled]:hover,fieldset[disabled] .btn-warning,fieldset[disabled] .btn-warning.active,fieldset[disabled] .btn-warning.focus,fieldset[disabled] .btn-warning:active,fieldset[disabled] .btn-warning:focus,fieldset[disabled] .btn-warning:hover{background-color:#f0ad4e;border-color:#eea236}.btn-warning .badge{color:#f0ad4e;background-color:#fff}.btn-danger{color:#fff;background-color:#d9534f;border-color:#d43f3a}.btn-danger.active,.btn-danger.focus,.btn-danger:active,.btn-danger:focus,.btn-danger:hover,.open>.dropdown-toggle.btn-danger{color:#fff;background-color:#c9302c;border-color:#ac2925}.btn-danger.active,.btn-danger:active,.open>.dropdown-toggle.btn-danger{background-image:none}.btn-danger.disabled,.btn-danger.disabled.active,.btn-danger.disabled.focus,.btn-danger.disabled:active,.btn-danger.disabled:focus,.btn-danger.disabled:hover,.btn-danger[disabled],.btn-danger[disabled].active,.btn-danger[disabled].focus,.btn-danger[disabled]:active,.btn-danger[disabled]:focus,.btn-danger[disabled]:hover,fieldset[disabled] .btn-danger,fieldset[disabled] .btn-danger.active,fieldset[disabled] .btn-danger.focus,fieldset[disabled] .btn-danger:active,fieldset[disabled] .btn-danger:focus,fieldset[disabled] .btn-danger:hover{background-color:#d9534f;border-color:#d43f3a}.btn-danger .badge{color:#d9534f;background-color:#fff}.btn-link{font-weight:400;color:#337ab7;border-radius:0}.btn-link,.btn-link.active,.btn-link:active,.btn-link[disabled],fieldset[disabled] .btn-link{background-color:transparent;-webkit-box-shadow:none;box-shadow:none}.btn-link,.btn-link:active,.btn-link:focus,.btn-link:hover{border-color:transparent}.btn-link:focus,.btn-link:hover{color:#23527c;text-decoration:underline;background-color:transparent}.btn-link[disabled]:focus,.btn-link[disabled]:hover,fieldset[disabled] .btn-link:focus,fieldset[disabled] .btn-link:hover{color:#777;text-decoration:none}.btn-group-lg>.btn,.btn-lg{padding:10px 16px;font-size:18px;line-height:1.3333333;border-radius:6px}.btn-group-sm>.btn,.btn-sm{padding:5px 10px;font-size:12px;line-height:1.5;border-radius:3px}.btn-group-xs>.btn,.btn-xs{padding:1px 5px;font-size:12px;line-height:1.5;border-radius:3px}.btn-block{display:block;width:100%}.btn-block+.btn-block{margin-top:5px}input[type=button].btn-block,input[type=reset].btn-block,input[type=submit].btn-block{width:100%}.fade{opacity:0;-webkit-transition:opacity .15s linear;-o-transition:opacity .15s linear;transition:opacity .15s linear}.fade.in{opacity:1}.collapse{display:none}.collapse.in{display:block}tr.collapse.in{display:table-row}tbody.collapse.in{display:table-row-group}.collapsing{position:relative;height:0;overflow:hidden;-webkit-transition-timing-function:ease;-o-transition-timing-function:ease;transition-timing-function:ease;-webkit-transition-duration:.35s;-o-transition-duration:.35s;transition-duration:.35s;-webkit-transition-property:height,visibility;-o-transition-property:height,visibility;transition-property:height,visibility}.caret{display:inline-block;width:0;height:0;margin-left:2px;vertical-align:middle;border-top:4px dashed;border-right:4px solid transparent;border-left:4px solid transparent}.dropdown,.dropup{position:relative}.dropdown-toggle:focus{outline:0}.dropdown-menu{position:absolute;top:100%;left:0;z-index:1000;display:none;float:left;min-width:160px;padding:5px 0;margin:2px 0 0;font-size:14px;text-align:left;list-style:none;background-color:#fff;-webkit-background-clip:padding-box;background-clip:padding-box;border:1px solid #ccc;border:1px solid rgba(0,0,0,.15);border-radius:4px;-webkit-box-shadow:0 6px 12px rgba(0,0,0,.175);box-shadow:0 6px 12px rgba(0,0,0,.175)}.dropdown-menu.pull-right{right:0;left:auto}.dropdown-menu .divider{height:1px;margin:9px 0;overflow:hidden;background-color:#e5e5e5}.dropdown-menu>li>a{display:block;padding:3px 20px;clear:both;font-weight:400;line-height:1.42857143;color:#333;white-space:nowrap}.dropdown-menu>li>a:focus,.dropdown-menu>li>a:hover{color:#262626;text-decoration:none;background-color:#f5f5f5}.dropdown-menu>.active>a,.dropdown-menu>.active>a:focus,.dropdown-menu>.active>a:hover{color:#fff;text-decoration:none;background-color:#337ab7;outline:0}.dropdown-menu>.disabled>a,.dropdown-menu>.disabled>a:focus,.dropdown-menu>.disabled>a:hover{color:#777}.dropdown-menu>.disabled>a:focus,.dropdown-menu>.disabled>a:hover{text-decoration:none;cursor:not-allowed;background-color:transparent;background-image:none;filter:progid:DXImageTransform.Microsoft.gradient(enabled=false)}.open>.dropdown-menu{display:block}.open>a{outline:0}.dropdown-menu-right{right:0;left:auto}.dropdown-menu-left{right:auto;left:0}.dropdown-header{display:block;padding:3px 20px;font-size:12px;line-height:1.42857143;color:#777;white-space:nowrap}.dropdown-backdrop{position:fixed;top:0;right:0;bottom:0;left:0;z-index:990}.pull-right>.dropdown-menu{right:0;left:auto}.dropup .caret,.navbar-fixed-bottom .dropdown .caret{content:"";border-top:0;border-bottom:4px solid}.dropup .dropdown-menu,.navbar-fixed-bottom .dropdown .dropdown-menu{top:auto;bottom:100%;margin-bottom:2px}@media (min-width:768px){.navbar-right .dropdown-menu{right:0;left:auto}.navbar-right .dropdown-menu-left{right:auto;left:0}}.btn-group,.btn-group-vertical{position:relative;display:inline-block;vertical-align:middle}.btn-group-vertical>.btn,.btn-group>.btn{position:relative;float:left}.btn-group-vertical>.btn.active,.btn-group-vertical>.btn:active,.btn-group-vertical>.btn:focus,.btn-group-vertical>.btn:hover,.btn-group>.btn.active,.btn-group>.btn:active,.btn-group>.btn:focus,.btn-group>.btn:hover{z-index:2}.btn-group .btn+.btn,.btn-group .btn+.btn-group,.btn-group .btn-group+.btn,.btn-group .btn-group+.btn-group{margin-left:-1px}.btn-toolbar{margin-left:-5px}.btn-toolbar .btn-group,.btn-toolbar .input-group{float:left}.btn-toolbar>.btn,.btn-toolbar>.btn-group,.btn-toolbar>.input-group{margin-left:5px}.btn-group>.btn:not(:first-child):not(:last-child):not(.dropdown-toggle){border-radius:0}.btn-group>.btn:first-child{margin-left:0}.btn-group>.btn:first-child:not(:last-child):not(.dropdown-toggle){border-top-right-radius:0;border-bottom-right-radius:0}.btn-group>.btn:last-child:not(:first-child),.btn-group>.dropdown-toggle:not(:first-child){border-top-left-radius:0;border-bottom-left-radius:0}.btn-group>.btn-group{float:left}.btn-group>.btn-group:not(:first-child):not(:last-child)>.btn{border-radius:0}.btn-group>.btn-group:first-child:not(:last-child)>.btn:last-child,.btn-group>.btn-group:first-child:not(:last-child)>.dropdown-toggle{border-top-right-radius:0;border-bottom-right-radius:0}.btn-group>.btn-group:last-child:not(:first-child)>.btn:first-child{border-top-left-radius:0;border-bottom-left-radius:0}.btn-group .dropdown-toggle:active,.btn-group.open .dropdown-toggle{outline:0}.btn-group>.btn+.dropdown-toggle{padding-right:8px;padding-left:8px}.btn-group>.btn-lg+.dropdown-toggle{padding-right:12px;padding-left:12px}.btn-group.open .dropdown-toggle{-webkit-box-shadow:inset 0 3px 5px rgba(0,0,0,.125);box-shadow:inset 0 3px 5px rgba(0,0,0,.125)}.btn-group.open .dropdown-toggle.btn-link{-webkit-box-shadow:none;box-shadow:none}.btn .caret{margin-left:0}.btn-lg .caret{border-width:5px 5px 0;border-bottom-width:0}.dropup .btn-lg .caret{border-width:0 5px 5px}.btn-group-vertical>.btn,.btn-group-vertical>.btn-group,.btn-group-vertical>.btn-group>.btn{display:block;float:none;width:100%;max-width:100%}.btn-group-vertical>.btn-group>.btn{float:none}.btn-group-vertical>.btn+.btn,.btn-group-vertical>.btn+.btn-group,.btn-group-vertical>.btn-group+.btn,.btn-group-vertical>.btn-group+.btn-group{margin-top:-1px;margin-left:0}.btn-group-vertical>.btn:not(:first-child):not(:last-child){border-radius:0}.btn-group-vertical>.btn:first-child:not(:last-child){border-top-right-radius:4px;border-bottom-right-radius:0;border-bottom-left-radius:0}.btn-group-vertical>.btn:last-child:not(:first-child){border-top-left-radius:0;border-top-right-radius:0;border-bottom-left-radius:4px}.btn-group-vertical>.btn-group:not(:first-child):not(:last-child)>.btn{border-radius:0}.btn-group-vertical>.btn-group:first-child:not(:last-child)>.btn:last-child,.btn-group-vertical>.btn-group:first-child:not(:last-child)>.dropdown-toggle{border-bottom-right-radius:0;border-bottom-left-radius:0}.btn-group-vertical>.btn-group:last-child:not(:first-child)>.btn:first-child{border-top-left-radius:0;border-top-right-radius:0}.btn-group-justified{display:table;width:100%;table-layout:fixed;border-collapse:separate}.btn-group-justified>.btn,.btn-group-justified>.btn-group{display:table-cell;float:none;width:1%}.btn-group-justified>.btn-group .btn{width:100%}.btn-group-justified>.btn-group .dropdown-menu{left:auto}[data-toggle=buttons]>.btn input[type=checkbox],[data-toggle=buttons]>.btn input[type=radio],[data-toggle=buttons]>.btn-group>.btn input[type=checkbox],[data-toggle=buttons]>.btn-group>.btn input[type=radio]{position:absolute;clip:rect(0,0,0,0);pointer-events:none}.input-group{position:relative;display:table;border-collapse:separate}.input-group[class*=col-]{float:none;padding-right:0;padding-left:0}.input-group .form-control{position:relative;z-index:2;float:left;width:100%;margin-bottom:0}.input-group-lg>.form-control,.input-group-lg>.input-group-addon,.input-group-lg>.input-group-btn>.btn{height:46px;padding:10px 16px;font-size:18px;line-height:1.3333333;border-radius:6px}select.input-group-lg>.form-control,select.input-group-lg>.input-group-addon,select.input-group-lg>.input-group-btn>.btn{height:46px;line-height:46px}select[multiple].input-group-lg>.form-control,select[multiple].input-group-lg>.input-group-addon,select[multiple].input-group-lg>.input-group-btn>.btn,textarea.input-group-lg>.form-control,textarea.input-group-lg>.input-group-addon,textarea.input-group-lg>.input-group-btn>.btn{height:auto}.input-group-sm>.form-control,.input-group-sm>.input-group-addon,.input-group-sm>.input-group-btn>.btn{height:30px;padding:5px 10px;font-size:12px;line-height:1.5;border-radius:3px}select.input-group-sm>.form-control,select.input-group-sm>.input-group-addon,select.input-group-sm>.input-group-btn>.btn{height:30px;line-height:30px}select[multiple].input-group-sm>.form-control,select[multiple].input-group-sm>.input-group-addon,select[multiple].input-group-sm>.input-group-btn>.btn,textarea.input-group-sm>.form-control,textarea.input-group-sm>.input-group-addon,textarea.input-group-sm>.input-group-btn>.btn{height:auto}.input-group .form-control,.input-group-addon,.input-group-btn{display:table-cell}.input-group .form-control:not(:first-child):not(:last-child),.input-group-addon:not(:first-child):not(:last-child),.input-group-btn:not(:first-child):not(:last-child){border-radius:0}.input-group-addon,.input-group-btn{width:1%;white-space:nowrap;vertical-align:middle}.input-group-addon{padding:6px 12px;font-size:14px;font-weight:400;line-height:1;color:#555;text-align:center;background-color:#eee;border:1px solid #ccc;border-radius:4px}.input-group-addon.input-sm{padding:5px 10px;font-size:12px;border-radius:3px}.input-group-addon.input-lg{padding:10px 16px;font-size:18px;border-radius:6px}.input-group-addon input[type=checkbox],.input-group-addon input[type=radio]{margin-top:0}.input-group .form-control:first-child,.input-group-addon:first-child,.input-group-btn:first-child>.btn,.input-group-btn:first-child>.btn-group>.btn,.input-group-btn:first-child>.dropdown-toggle,.input-group-btn:last-child>.btn-group:not(:last-child)>.btn,.input-group-btn:last-child>.btn:not(:last-child):not(.dropdown-toggle){border-top-right-radius:0;border-bottom-right-radius:0}.input-group-addon:first-child{border-right:0}.input-group .form-control:last-child,.input-group-addon:last-child,.input-group-btn:first-child>.btn-group:not(:first-child)>.btn,.input-group-btn:first-child>.btn:not(:first-child),.input-group-btn:last-child>.btn,.input-group-btn:last-child>.btn-group>.btn,.input-group-btn:last-child>.dropdown-toggle{border-top-left-radius:0;border-bottom-left-radius:0}.input-group-addon:last-child{border-left:0}.input-group-btn{position:relative;font-size:0;white-space:nowrap}.input-group-btn>.btn{position:relative}.input-group-btn>.btn+.btn{margin-left:-1px}.input-group-btn>.btn:active,.input-group-btn>.btn:focus,.input-group-btn>.btn:hover{z-index:2}.input-group-btn:first-child>.btn,.input-group-btn:first-child>.btn-group{margin-right:-1px}.input-group-btn:last-child>.btn,.input-group-btn:last-child>.btn-group{margin-left:-1px}.nav{padding-left:0;margin-bottom:0;list-style:none}.nav>li{position:relative;display:block}.nav>li>a{position:relative;display:block;padding:10px 15px}.nav>li>a:focus,.nav>li>a:hover{text-decoration:none;background-color:#eee}.nav>li.disabled>a{color:#777}.nav>li.disabled>a:focus,.nav>li.disabled>a:hover{color:#777;text-decoration:none;cursor:not-allowed;background-color:transparent}.nav .open>a,.nav .open>a:focus,.nav .open>a:hover{background-color:#eee;border-color:#337ab7}.nav .nav-divider{height:1px;margin:9px 0;overflow:hidden;background-color:#e5e5e5}.nav>li>a>img{max-width:none}.nav-tabs{border-bottom:1px solid #ddd}.nav-tabs>li{float:left;margin-bottom:-1px}.nav-tabs>li>a{margin-right:2px;line-height:1.42857143;border:1px solid transparent;border-radius:4px 4px 0 0}.nav-tabs>li>a:hover{border-color:#eee #eee #ddd}.nav-tabs>li.active>a,.nav-tabs>li.active>a:focus,.nav-tabs>li.active>a:hover{color:#555;cursor:default;background-color:#fff;border:1px solid #ddd;border-bottom-color:transparent}.nav-tabs.nav-justified{width:100%;border-bottom:0}.nav-tabs.nav-justified>li{float:none}.nav-tabs.nav-justified>li>a{margin-bottom:5px;text-align:center}.nav-tabs.nav-justified>.dropdown .dropdown-menu{top:auto;left:auto}@media (min-width:768px){.nav-tabs.nav-justified>li{display:table-cell;width:1%}.nav-tabs.nav-justified>li>a{margin-bottom:0}}.nav-tabs.nav-justified>li>a{margin-right:0;border-radius:4px}.nav-tabs.nav-justified>.active>a,.nav-tabs.nav-justified>.active>a:focus,.nav-tabs.nav-justified>.active>a:hover{border:1px solid #ddd}@media (min-width:768px){.nav-tabs.nav-justified>li>a{border-bottom:1px solid #ddd;border-radius:4px 4px 0 0}.nav-tabs.nav-justified>.active>a,.nav-tabs.nav-justified>.active>a:focus,.nav-tabs.nav-justified>.active>a:hover{border-bottom-color:#fff}}.nav-pills>li{float:left}.nav-pills>li>a{border-radius:4px}.nav-pills>li+li{margin-left:2px}.nav-pills>li.active>a,.nav-pills>li.active>a:focus,.nav-pills>li.active>a:hover{color:#fff;background-color:#337ab7}.nav-stacked>li{float:none}.nav-stacked>li+li{margin-top:2px;margin-left:0}.nav-justified{width:100%}.nav-justified>li{float:none}.nav-justified>li>a{margin-bottom:5px;text-align:center}.nav-justified>.dropdown .dropdown-menu{top:auto;left:auto}@media (min-width:768px){.nav-justified>li{display:table-cell;width:1%}.nav-justified>li>a{margin-bottom:0}}.nav-tabs-justified{border-bottom:0}.nav-tabs-justified>li>a{margin-right:0;border-radius:4px}.nav-tabs-justified>.active>a,.nav-tabs-justified>.active>a:focus,.nav-tabs-justified>.active>a:hover{border:1px solid #ddd}@media (min-width:768px){.nav-tabs-justified>li>a{border-bottom:1px solid #ddd;border-radius:4px 4px 0 0}.nav-tabs-justified>.active>a,.nav-tabs-justified>.active>a:focus,.nav-tabs-justified>.active>a:hover{border-bottom-color:#fff}}.tab-content>.tab-pane{display:none}.tab-content>.active{display:block}.nav-tabs .dropdown-menu{margin-top:-1px;border-top-left-radius:0;border-top-right-radius:0}.navbar{position:relative;min-height:50px;margin-bottom:20px;border:1px solid transparent}@media (min-width:768px){.navbar{border-radius:4px}}@media (min-width:768px){.navbar-header{float:left}}.navbar-collapse{padding-right:15px;padding-left:15px;overflow-x:visible;-webkit-overflow-scrolling:touch;border-top:1px solid transparent;-webkit-box-shadow:inset 0 1px 0 rgba(255,255,255,.1);box-shadow:inset 0 1px 0 rgba(255,255,255,.1)}.navbar-collapse.in{overflow-y:auto}@media (min-width:768px){.navbar-collapse{width:auto;border-top:0;-webkit-box-shadow:none;box-shadow:none}.navbar-collapse.collapse{display:block!important;height:auto!important;padding-bottom:0;overflow:visible!important}.navbar-collapse.in{overflow-y:visible}.navbar-fixed-bottom .navbar-collapse,.navbar-fixed-top .navbar-collapse,.navbar-static-top .navbar-collapse{padding-right:0;padding-left:0}}.navbar-fixed-bottom .navbar-collapse,.navbar-fixed-top .navbar-collapse{max-height:340px}@media (max-device-width:480px)and (orientation:landscape){.navbar-fixed-bottom .navbar-collapse,.navbar-fixed-top .navbar-collapse{max-height:200px}}.container-fluid>.navbar-collapse,.container-fluid>.navbar-header,.container>.navbar-collapse,.container>.navbar-header{margin-right:-15px;margin-left:-15px}@media (min-width:768px){.container-fluid>.navbar-collapse,.container-fluid>.navbar-header,.container>.navbar-collapse,.container>.navbar-header{margin-right:0;margin-left:0}}.navbar-static-top{z-index:1000;border-width:0 0 1px}@media (min-width:768px){.navbar-static-top{border-radius:0}}.navbar-fixed-bottom,.navbar-fixed-top{position:fixed;right:0;left:0;z-index:1030}@media (min-width:768px){.navbar-fixed-bottom,.navbar-fixed-top{border-radius:0}}.navbar-fixed-top{top:0;border-width:0 0 1px}.navbar-fixed-bottom{bottom:0;margin-bottom:0;border-width:1px 0 0}.navbar-brand{float:left;height:50px;padding:15px 15px;font-size:18px;line-height:20px}.navbar-brand:focus,.navbar-brand:hover{text-decoration:none}.navbar-brand>img{display:block}@media (min-width:768px){.navbar>.container .navbar-brand,.navbar>.container-fluid .navbar-brand{margin-left:-15px}}.navbar-toggle{position:relative;float:right;padding:9px 10px;margin-top:8px;margin-right:15px;margin-bottom:8px;background-color:transparent;background-image:none;border:1px solid transparent;border-radius:4px}.navbar-toggle:focus{outline:0}.navbar-toggle .icon-bar{display:block;width:22px;height:2px;border-radius:1px}.navbar-toggle .icon-bar+.icon-bar{margin-top:4px}@media (min-width:768px){.navbar-toggle{display:none}}.navbar-nav{margin:7.5px -15px}.navbar-nav>li>a{padding-top:10px;padding-bottom:10px;line-height:20px}@media (max-width:767px){.navbar-nav .open .dropdown-menu{position:static;float:none;width:auto;margin-top:0;background-color:transparent;border:0;-webkit-box-shadow:none;box-shadow:none}.navbar-nav .open .dropdown-menu .dropdown-header,.navbar-nav .open .dropdown-menu>li>a{padding:5px 15px 5px 25px}.navbar-nav .open .dropdown-menu>li>a{line-height:20px}.navbar-nav .open .dropdown-menu>li>a:focus,.navbar-nav .open .dropdown-menu>li>a:hover{background-image:none}}@media (min-width:768px){.navbar-nav{float:left;margin:0}.navbar-nav>li{float:left}.navbar-nav>li>a{padding-top:15px;padding-bottom:15px}}.navbar-form{padding:10px 15px;margin-top:8px;margin-right:-15px;margin-bottom:8px;margin-left:-15px;border-top:1px solid transparent;border-bottom:1px solid transparent;-webkit-box-shadow:inset 0 1px 0 rgba(255,255,255,.1),0 1px 0 rgba(255,255,255,.1);box-shadow:inset 0 1px 0 rgba(255,255,255,.1),0 1px 0 rgba(255,255,255,.1)}@media (min-width:768px){.navbar-form .form-group{display:inline-block;margin-bottom:0;vertical-align:middle}.navbar-form .form-control{display:inline-block;width:auto;vertical-align:middle}.navbar-form .form-control-static{display:inline-block}.navbar-form .input-group{display:inline-table;vertical-align:middle}.navbar-form .input-group .form-control,.navbar-form .input-group .input-group-addon,.navbar-form .input-group .input-group-btn{width:auto}.navbar-form .input-group>.form-control{width:100%}.navbar-form .control-label{margin-bottom:0;vertical-align:middle}.navbar-form .checkbox,.navbar-form .radio{display:inline-block;margin-top:0;margin-bottom:0;vertical-align:middle}.navbar-form .checkbox label,.navbar-form .radio label{padding-left:0}.navbar-form .checkbox input[type=checkbox],.navbar-form .radio input[type=radio]{position:relative;margin-left:0}.navbar-form .has-feedback .form-control-feedback{top:0}}@media (max-width:767px){.navbar-form .form-group{margin-bottom:5px}.navbar-form .form-group:last-child{margin-bottom:0}}@media (min-width:768px){.navbar-form{width:auto;padding-top:0;padding-bottom:0;margin-right:0;margin-left:0;border:0;-webkit-box-shadow:none;box-shadow:none}}.navbar-nav>li>.dropdown-menu{margin-top:0;border-top-left-radius:0;border-top-right-radius:0}.navbar-fixed-bottom .navbar-nav>li>.dropdown-menu{margin-bottom:0;border-top-left-radius:4px;border-top-right-radius:4px;border-bottom-right-radius:0;border-bottom-left-radius:0}.navbar-btn{margin-top:8px;margin-bottom:8px}.navbar-btn.btn-sm{margin-top:10px;margin-bottom:10px}.navbar-btn.btn-xs{margin-top:14px;margin-bottom:14px}.navbar-text{margin-top:15px;margin-bottom:15px}@media (min-width:768px){.navbar-text{float:left;margin-right:15px;margin-left:15px}}@media (min-width:768px){.navbar-left{float:left!important}.navbar-right{float:right!important;margin-right:-15px}.navbar-right~.navbar-right{margin-right:0}}.navbar-default{background-color:#f8f8f8;border-color:#e7e7e7}.navbar-default .navbar-brand{color:#777}.navbar-default .navbar-brand:focus,.navbar-default .navbar-brand:hover{color:#5e5e5e;background-color:transparent}.navbar-default .navbar-text{color:#777}.navbar-default .navbar-nav>li>a{color:#777}.navbar-default .navbar-nav>li>a:focus,.navbar-default .navbar-nav>li>a:hover{color:#333;background-color:transparent}.navbar-default .navbar-nav>.active>a,.navbar-default .navbar-nav>.active>a:focus,.navbar-default .navbar-nav>.active>a:hover{color:#555;background-color:#e7e7e7}.navbar-default .navbar-nav>.disabled>a,.navbar-default .navbar-nav>.disabled>a:focus,.navbar-default .navbar-nav>.disabled>a:hover{color:#ccc;background-color:transparent}.navbar-default .navbar-toggle{border-color:#ddd}.navbar-default .navbar-toggle:focus,.navbar-default .navbar-toggle:hover{background-color:#ddd}.navbar-default .navbar-toggle .icon-bar{background-color:#888}.navbar-default .navbar-collapse,.navbar-default .navbar-form{border-color:#e7e7e7}.navbar-default .navbar-nav>.open>a,.navbar-default .navbar-nav>.open>a:focus,.navbar-default .navbar-nav>.open>a:hover{color:#555;background-color:#e7e7e7}@media (max-width:767px){.navbar-default .navbar-nav .open .dropdown-menu>li>a{color:#777}.navbar-default .navbar-nav .open .dropdown-menu>li>a:focus,.navbar-default .navbar-nav .open .dropdown-menu>li>a:hover{color:#333;background-color:transparent}.navbar-default .navbar-nav .open .dropdown-menu>.active>a,.navbar-default .navbar-nav .open .dropdown-menu>.active>a:focus,.navbar-default .navbar-nav .open .dropdown-menu>.active>a:hover{color:#555;background-color:#e7e7e7}.navbar-default .navbar-nav .open .dropdown-menu>.disabled>a,.navbar-default .navbar-nav .open .dropdown-menu>.disabled>a:focus,.navbar-default .navbar-nav .open .dropdown-menu>.disabled>a:hover{color:#ccc;background-color:transparent}}.navbar-default .navbar-link{color:#777}.navbar-default .navbar-link:hover{color:#333}.navbar-default .btn-link{color:#777}.navbar-default .btn-link:focus,.navbar-default .btn-link:hover{color:#333}.navbar-default .btn-link[disabled]:focus,.navbar-default .btn-link[disabled]:hover,fieldset[disabled] .navbar-default .btn-link:focus,fieldset[disabled] .navbar-default .btn-link:hover{color:#ccc}.navbar-inverse{background-color:#222;border-color:#080808}.navbar-inverse .navbar-brand{color:#9d9d9d}.navbar-inverse .navbar-brand:focus,.navbar-inverse .navbar-brand:hover{color:#fff;background-color:transparent}.navbar-inverse .navbar-text{color:#9d9d9d}.navbar-inverse .navbar-nav>li>a{color:#9d9d9d}.navbar-inverse .navbar-nav>li>a:focus,.navbar-inverse .navbar-nav>li>a:hover{color:#fff;background-color:transparent}.navbar-inverse .navbar-nav>.active>a,.navbar-inverse .navbar-nav>.active>a:focus,.navbar-inverse .navbar-nav>.active>a:hover{color:#fff;background-color:#080808}.navbar-inverse .navbar-nav>.disabled>a,.navbar-inverse .navbar-nav>.disabled>a:focus,.navbar-inverse .navbar-nav>.disabled>a:hover{color:#444;background-color:transparent}.navbar-inverse .navbar-toggle{border-color:#333}.navbar-inverse .navbar-toggle:focus,.navbar-inverse .navbar-toggle:hover{background-color:#333}.navbar-inverse .navbar-toggle .icon-bar{background-color:#fff}.navbar-inverse .navbar-collapse,.navbar-inverse .navbar-form{border-color:#101010}.navbar-inverse .navbar-nav>.open>a,.navbar-inverse .navbar-nav>.open>a:focus,.navbar-inverse .navbar-nav>.open>a:hover{color:#fff;background-color:#080808}@media (max-width:767px){.navbar-inverse .navbar-nav .open .dropdown-menu>.dropdown-header{border-color:#080808}.navbar-inverse .navbar-nav .open .dropdown-menu .divider{background-color:#080808}.navbar-inverse .navbar-nav .open .dropdown-menu>li>a{color:#9d9d9d}.navbar-inverse .navbar-nav .open .dropdown-menu>li>a:focus,.navbar-inverse .navbar-nav .open .dropdown-menu>li>a:hover{color:#fff;background-color:transparent}.navbar-inverse .navbar-nav .open .dropdown-menu>.active>a,.navbar-inverse .navbar-nav .open .dropdown-menu>.active>a:focus,.navbar-inverse .navbar-nav .open .dropdown-menu>.active>a:hover{color:#fff;background-color:#080808}.navbar-inverse .navbar-nav .open .dropdown-menu>.disabled>a,.navbar-inverse .navbar-nav .open .dropdown-menu>.disabled>a:focus,.navbar-inverse .navbar-nav .open .dropdown-menu>.disabled>a:hover{color:#444;background-color:transparent}}.navbar-inverse .navbar-link{color:#9d9d9d}.navbar-inverse .navbar-link:hover{color:#fff}.navbar-inverse .btn-link{color:#9d9d9d}.navbar-inverse .btn-link:focus,.navbar-inverse .btn-link:hover{color:#fff}.navbar-inverse .btn-link[disabled]:focus,.navbar-inverse .btn-link[disabled]:hover,fieldset[disabled] .navbar-inverse .btn-link:focus,fieldset[disabled] .navbar-inverse .btn-link:hover{color:#444}.breadcrumb{padding:8px 15px;margin-bottom:20px;list-style:none;background-color:#f5f5f5;border-radius:4px}.breadcrumb>li{display:inline-block}.breadcrumb>li+li:before{padding:0 5px;color:#ccc;content:"/\00a0"}.breadcrumb>.active{color:#777}.pagination{display:inline-block;padding-left:0;margin:20px 0;border-radius:4px}.pagination>li{display:inline}.pagination>li>a,.pagination>li>span{position:relative;float:left;padding:6px 12px;margin-left:-1px;line-height:1.42857143;color:#337ab7;text-decoration:none;background-color:#fff;border:1px solid #ddd}.pagination>li:first-child>a,.pagination>li:first-child>span{margin-left:0;border-top-left-radius:4px;border-bottom-left-radius:4px}.pagination>li:last-child>a,.pagination>li:last-child>span{border-top-right-radius:4px;border-bottom-right-radius:4px}.pagination>li>a:focus,.pagination>li>a:hover,.pagination>li>span:focus,.pagination>li>span:hover{color:#23527c;background-color:#eee;border-color:#ddd}.pagination>.active>a,.pagination>.active>a:focus,.pagination>.active>a:hover,.pagination>.active>span,.pagination>.active>span:focus,.pagination>.active>span:hover{z-index:2;color:#fff;cursor:default;background-color:#337ab7;border-color:#337ab7}.pagination>.disabled>a,.pagination>.disabled>a:focus,.pagination>.disabled>a:hover,.pagination>.disabled>span,.pagination>.disabled>span:focus,.pagination>.disabled>span:hover{color:#777;cursor:not-allowed;background-color:#fff;border-color:#ddd}.pagination-lg>li>a,.pagination-lg>li>span{padding:10px 16px;font-size:18px}.pagination-lg>li:first-child>a,.pagination-lg>li:first-child>span{border-top-left-radius:6px;border-bottom-left-radius:6px}.pagination-lg>li:last-child>a,.pagination-lg>li:last-child>span{border-top-right-radius:6px;border-bottom-right-radius:6px}.pagination-sm>li>a,.pagination-sm>li>span{padding:5px 10px;font-size:12px}.pagination-sm>li:first-child>a,.pagination-sm>li:first-child>span{border-top-left-radius:3px;border-bottom-left-radius:3px}.pagination-sm>li:last-child>a,.pagination-sm>li:last-child>span{border-top-right-radius:3px;border-bottom-right-radius:3px}.pager{padding-left:0;margin:20px 0;text-align:center;list-style:none}.pager li{display:inline}.pager li>a,.pager li>span{display:inline-block;padding:5px 14px;background-color:#fff;border:1px solid #ddd;border-radius:15px}.pager li>a:focus,.pager li>a:hover{text-decoration:none;background-color:#eee}.pager .next>a,.pager .next>span{float:right}.pager .previous>a,.pager .previous>span{float:left}.pager .disabled>a,.pager .disabled>a:focus,.pager .disabled>a:hover,.pager .disabled>span{color:#777;cursor:not-allowed;background-color:#fff}.label{display:inline;padding:.2em .6em .3em;font-size:75%;font-weight:700;line-height:1;color:#fff;text-align:center;white-space:nowrap;vertical-align:baseline;border-radius:.25em}a.label:focus,a.label:hover{color:#fff;text-decoration:none;cursor:pointer}.label:empty{display:none}.btn .label{position:relative;top:-1px}.label-default{background-color:#777}.label-default[href]:focus,.label-default[href]:hover{background-color:#5e5e5e}.label-primary{background-color:#337ab7}.label-primary[href]:focus,.label-primary[href]:hover{background-color:#286090}.label-success{background-color:#5cb85c}.label-success[href]:focus,.label-success[href]:hover{background-color:#449d44}.label-info{background-color:#5bc0de}.label-info[href]:focus,.label-info[href]:hover{background-color:#31b0d5}.label-warning{background-color:#f0ad4e}.label-warning[href]:focus,.label-warning[href]:hover{background-color:#ec971f}.label-danger{background-color:#d9534f}.label-danger[href]:focus,.label-danger[href]:hover{background-color:#c9302c}.badge{display:inline-block;min-width:10px;padding:3px 7px;font-size:12px;font-weight:700;line-height:1;color:#fff;text-align:center;white-space:nowrap;vertical-align:baseline;background-color:#777;border-radius:10px}.badge:empty{display:none}.btn .badge{position:relative;top:-1px}.btn-group-xs>.btn .badge,.btn-xs .badge{top:0;padding:1px 5px}a.badge:focus,a.badge:hover{color:#fff;text-decoration:none;cursor:pointer}.list-group-item.active>.badge,.nav-pills>.active>a>.badge{color:#337ab7;background-color:#fff}.list-group-item>.badge{float:right}.list-group-item>.badge+.badge{margin-right:5px}.nav-pills>li>a>.badge{margin-left:3px}.jumbotron{padding:30px 15px;margin-bottom:30px;color:inherit;background-color:#eee}.jumbotron .h1,.jumbotron h1{color:inherit}.jumbotron p{margin-bottom:15px;font-size:21px;font-weight:200}.jumbotron>hr{border-top-color:#d5d5d5}.container .jumbotron,.container-fluid .jumbotron{border-radius:6px}.jumbotron .container{max-width:100%}@media screen and (min-width:768px){.jumbotron{padding:48px 0}.container .jumbotron,.container-fluid .jumbotron{padding-right:60px;padding-left:60px}.jumbotron .h1,.jumbotron h1{font-size:63px}}.thumbnail{display:block;padding:4px;margin-bottom:20px;line-height:1.42857143;background-color:#fff;border:1px solid #ddd;border-radius:4px;-webkit-transition:border .2s ease-in-out;-o-transition:border .2s ease-in-out;transition:border .2s ease-in-out}.thumbnail a>img,.thumbnail>img{margin-right:auto;margin-left:auto}a.thumbnail.active,a.thumbnail:focus,a.thumbnail:hover{border-color:#337ab7}.thumbnail .caption{padding:9px;color:#333}.alert{padding:15px;margin-bottom:20px;border:1px solid transparent;border-radius:4px}.alert h4{margin-top:0;color:inherit}.alert .alert-link{font-weight:700}.alert>p,.alert>ul{margin-bottom:0}.alert>p+p{margin-top:5px}.alert-dismissable,.alert-dismissible{padding-right:35px}.alert-dismissable .close,.alert-dismissible .close{position:relative;top:-2px;right:-21px;color:inherit}.alert-success{color:#3c763d;background-color:#dff0d8;border-color:#d6e9c6}.alert-success hr{border-top-color:#c9e2b3}.alert-success .alert-link{color:#2b542c}.alert-info{color:#31708f;background-color:#d9edf7;border-color:#bce8f1}.alert-info hr{border-top-color:#a6e1ec}.alert-info .alert-link{color:#245269}.alert-warning{color:#8a6d3b;background-color:#fcf8e3;border-color:#faebcc}.alert-warning hr{border-top-color:#f7e1b5}.alert-warning .alert-link{color:#66512c}.alert-danger{color:#a94442;background-color:#f2dede;border-color:#ebccd1}.alert-danger hr{border-top-color:#e4b9c0}.alert-danger .alert-link{color:#843534}@-webkit-keyframes progress-bar-stripes{from{background-position:40px 0}to{background-position:0 0}}@-o-keyframes progress-bar-stripes{from{background-position:40px 0}to{background-position:0 0}}@keyframes progress-bar-stripes{from{background-position:40px 0}to{background-position:0 0}}.progress{height:20px;margin-bottom:20px;overflow:hidden;background-color:#f5f5f5;border-radius:4px;-webkit-box-shadow:inset 0 1px 2px rgba(0,0,0,.1);box-shadow:inset 0 1px 2px rgba(0,0,0,.1)}.progress-bar{float:left;width:0;height:100%;font-size:12px;line-height:20px;color:#fff;text-align:center;background-color:#337ab7;-webkit-box-shadow:inset 0 -1px 0 rgba(0,0,0,.15);box-shadow:inset 0 -1px 0 rgba(0,0,0,.15);-webkit-transition:width .6s ease;-o-transition:width .6s ease;transition:width .6s ease}.progress-bar-striped,.progress-striped .progress-bar{background-image:-webkit-linear-gradient(45deg,rgba(255,255,255,.15) 25%,transparent 25%,transparent 50%,rgba(255,255,255,.15) 50%,rgba(255,255,255,.15) 75%,transparent 75%,transparent);background-image:-o-linear-gradient(45deg,rgba(255,255,255,.15) 25%,transparent 25%,transparent 50%,rgba(255,255,255,.15) 50%,rgba(255,255,255,.15) 75%,transparent 75%,transparent);background-image:linear-gradient(45deg,rgba(255,255,255,.15) 25%,transparent 25%,transparent 50%,rgba(255,255,255,.15) 50%,rgba(255,255,255,.15) 75%,transparent 75%,transparent);-webkit-background-size:40px 40px;background-size:40px 40px}.progress-bar.active,.progress.active .progress-bar{-webkit-animation:progress-bar-stripes 2s linear infinite;-o-animation:progress-bar-stripes 2s linear infinite;animation:progress-bar-stripes 2s linear infinite}.progress-bar-success{background-color:#5cb85c}.progress-striped .progress-bar-success{background-image:-webkit-linear-gradient(45deg,rgba(255,255,255,.15) 25%,transparent 25%,transparent 50%,rgba(255,255,255,.15) 50%,rgba(255,255,255,.15) 75%,transparent 75%,transparent);background-image:-o-linear-gradient(45deg,rgba(255,255,255,.15) 25%,transparent 25%,transparent 50%,rgba(255,255,255,.15) 50%,rgba(255,255,255,.15) 75%,transparent 75%,transparent);background-image:linear-gradient(45deg,rgba(255,255,255,.15) 25%,transparent 25%,transparent 50%,rgba(255,255,255,.15) 50%,rgba(255,255,255,.15) 75%,transparent 75%,transparent)}.progress-bar-info{background-color:#5bc0de}.progress-striped .progress-bar-info{background-image:-webkit-linear-gradient(45deg,rgba(255,255,255,.15) 25%,transparent 25%,transparent 50%,rgba(255,255,255,.15) 50%,rgba(255,255,255,.15) 75%,transparent 75%,transparent);background-image:-o-linear-gradient(45deg,rgba(255,255,255,.15) 25%,transparent 25%,transparent 50%,rgba(255,255,255,.15) 50%,rgba(255,255,255,.15) 75%,transparent 75%,transparent);background-image:linear-gradient(45deg,rgba(255,255,255,.15) 25%,transparent 25%,transparent 50%,rgba(255,255,255,.15) 50%,rgba(255,255,255,.15) 75%,transparent 75%,transparent)}.progress-bar-warning{background-color:#f0ad4e}.progress-striped .progress-bar-warning{background-image:-webkit-linear-gradient(45deg,rgba(255,255,255,.15) 25%,transparent 25%,transparent 50%,rgba(255,255,255,.15) 50%,rgba(255,255,255,.15) 75%,transparent 75%,transparent);background-image:-o-linear-gradient(45deg,rgba(255,255,255,.15) 25%,transparent 25%,transparent 50%,rgba(255,255,255,.15) 50%,rgba(255,255,255,.15) 75%,transparent 75%,transparent);background-image:linear-gradient(45deg,rgba(255,255,255,.15) 25%,transparent 25%,transparent 50%,rgba(255,255,255,.15) 50%,rgba(255,255,255,.15) 75%,transparent 75%,transparent)}.progress-bar-danger{background-color:#d9534f}.progress-striped .progress-bar-danger{background-image:-webkit-linear-gradient(45deg,rgba(255,255,255,.15) 25%,transparent 25%,transparent 50%,rgba(255,255,255,.15) 50%,rgba(255,255,255,.15) 75%,transparent 75%,transparent);background-image:-o-linear-gradient(45deg,rgba(255,255,255,.15) 25%,transparent 25%,transparent 50%,rgba(255,255,255,.15) 50%,rgba(255,255,255,.15) 75%,transparent 75%,transparent);background-image:linear-gradient(45deg,rgba(255,255,255,.15) 25%,transparent 25%,transparent 50%,rgba(255,255,255,.15) 50%,rgba(255,255,255,.15) 75%,transparent 75%,transparent)}.media{margin-top:15px}.media:first-child{margin-top:0}.media,.media-body{overflow:hidden;zoom:1}.media-body{width:10000px}.media-object{display:block}.media-right,.media>.pull-right{padding-left:10px}.media-left,.media>.pull-left{padding-right:10px}.media-body,.media-left,.media-right{display:table-cell;vertical-align:top}.media-middle{vertical-align:middle}.media-bottom{vertical-align:bottom}.media-heading{margin-top:0;margin-bottom:5px}.media-list{padding-left:0;list-style:none}.list-group{padding-left:0;margin-bottom:20px}.list-group-item{position:relative;display:block;padding:10px 15px;margin-bottom:-1px;background-color:#fff;border:1px solid #ddd}.list-group-item:first-child{border-top-left-radius:4px;border-top-right-radius:4px}.list-group-item:last-child{margin-bottom:0;border-bottom-right-radius:4px;border-bottom-left-radius:4px}a.list-group-item{color:#555}a.list-group-item .list-group-item-heading{color:#333}a.list-group-item:focus,a.list-group-item:hover{color:#555;text-decoration:none;background-color:#f5f5f5}.list-group-item.disabled,.list-group-item.disabled:focus,.list-group-item.disabled:hover{color:#777;cursor:not-allowed;background-color:#eee}.list-group-item.disabled .list-group-item-heading,.list-group-item.disabled:focus .list-group-item-heading,.list-group-item.disabled:hover .list-group-item-heading{color:inherit}.list-group-item.disabled .list-group-item-text,.list-group-item.disabled:focus .list-group-item-text,.list-group-item.disabled:hover .list-group-item-text{color:#777}.list-group-item.active,.list-group-item.active:focus,.list-group-item.active:hover{z-index:2;color:#fff;background-color:#337ab7;border-color:#337ab7}.list-group-item.active .list-group-item-heading,.list-group-item.active .list-group-item-heading>.small,.list-group-item.active .list-group-item-heading>small,.list-group-item.active:focus .list-group-item-heading,.list-group-item.active:focus .list-group-item-heading>.small,.list-group-item.active:focus .list-group-item-heading>small,.list-group-item.active:hover .list-group-item-heading,.list-group-item.active:hover .list-group-item-heading>.small,.list-group-item.active:hover .list-group-item-heading>small{color:inherit}.list-group-item.active .list-group-item-text,.list-group-item.active:focus .list-group-item-text,.list-group-item.active:hover .list-group-item-text{color:#c7ddef}.list-group-item-success{color:#3c763d;background-color:#dff0d8}a.list-group-item-success{color:#3c763d}a.list-group-item-success .list-group-item-heading{color:inherit}a.list-group-item-success:focus,a.list-group-item-success:hover{color:#3c763d;background-color:#d0e9c6}a.list-group-item-success.active,a.list-group-item-success.active:focus,a.list-group-item-success.active:hover{color:#fff;background-color:#3c763d;border-color:#3c763d}.list-group-item-info{color:#31708f;background-color:#d9edf7}a.list-group-item-info{color:#31708f}a.list-group-item-info .list-group-item-heading{color:inherit}a.list-group-item-info:focus,a.list-group-item-info:hover{color:#31708f;background-color:#c4e3f3}a.list-group-item-info.active,a.list-group-item-info.active:focus,a.list-group-item-info.active:hover{color:#fff;background-color:#31708f;border-color:#31708f}.list-group-item-warning{color:#8a6d3b;background-color:#fcf8e3}a.list-group-item-warning{color:#8a6d3b}a.list-group-item-warning .list-group-item-heading{color:inherit}a.list-group-item-warning:focus,a.list-group-item-warning:hover{color:#8a6d3b;background-color:#faf2cc}a.list-group-item-warning.active,a.list-group-item-warning.active:focus,a.list-group-item-warning.active:hover{color:#fff;background-color:#8a6d3b;border-color:#8a6d3b}.list-group-item-danger{color:#a94442;background-color:#f2dede}a.list-group-item-danger{color:#a94442}a.list-group-item-danger .list-group-item-heading{color:inherit}a.list-group-item-danger:focus,a.list-group-item-danger:hover{color:#a94442;background-color:#ebcccc}a.list-group-item-danger.active,a.list-group-item-danger.active:focus,a.list-group-item-danger.active:hover{color:#fff;background-color:#a94442;border-color:#a94442}.list-group-item-heading{margin-top:0;margin-bottom:5px}.list-group-item-text{margin-bottom:0;line-height:1.3}.panel{margin-bottom:20px;background-color:#fff;border:1px solid transparent;border-radius:4px;-webkit-box-shadow:0 1px 1px rgba(0,0,0,.05);box-shadow:0 1px 1px rgba(0,0,0,.05)}.panel-body{padding:15px}.panel-heading{padding:10px 15px;border-bottom:1px solid transparent;border-top-left-radius:3px;border-top-right-radius:3px}.panel-heading>.dropdown .dropdown-toggle{color:inherit}.panel-title{margin-top:0;margin-bottom:0;font-size:16px;color:inherit}.panel-title>.small,.panel-title>.small>a,.panel-title>a,.panel-title>small,.panel-title>small>a{color:inherit}.panel-footer{padding:10px 15px;background-color:#f5f5f5;border-top:1px solid #ddd;border-bottom-right-radius:3px;border-bottom-left-radius:3px}.panel>.list-group,.panel>.panel-collapse>.list-group{margin-bottom:0}.panel>.list-group .list-group-item,.panel>.panel-collapse>.list-group .list-group-item{border-width:1px 0;border-radius:0}.panel>.list-group:first-child .list-group-item:first-child,.panel>.panel-collapse>.list-group:first-child .list-group-item:first-child{border-top:0;border-top-left-radius:3px;border-top-right-radius:3px}.panel>.list-group:last-child .list-group-item:last-child,.panel>.panel-collapse>.list-group:last-child .list-group-item:last-child{border-bottom:0;border-bottom-right-radius:3px;border-bottom-left-radius:3px}.panel-heading+.list-group .list-group-item:first-child{border-top-width:0}.list-group+.panel-footer{border-top-width:0}.panel>.panel-collapse>.table,.panel>.table,.panel>.table-responsive>.table{margin-bottom:0}.panel>.panel-collapse>.table caption,.panel>.table caption,.panel>.table-responsive>.table caption{padding-right:15px;padding-left:15px}.panel>.table-responsive:first-child>.table:first-child,.panel>.table:first-child{border-top-left-radius:3px;border-top-right-radius:3px}.panel>.table-responsive:first-child>.table:first-child>tbody:first-child>tr:first-child,.panel>.table-responsive:first-child>.table:first-child>thead:first-child>tr:first-child,.panel>.table:first-child>tbody:first-child>tr:first-child,.panel>.table:first-child>thead:first-child>tr:first-child{border-top-left-radius:3px;border-top-right-radius:3px}.panel>.table-responsive:first-child>.table:first-child>tbody:first-child>tr:first-child td:first-child,.panel>.table-responsive:first-child>.table:first-child>tbody:first-child>tr:first-child th:first-child,.panel>.table-responsive:first-child>.table:first-child>thead:first-child>tr:first-child td:first-child,.panel>.table-responsive:first-child>.table:first-child>thead:first-child>tr:first-child th:first-child,.panel>.table:first-child>tbody:first-child>tr:first-child td:first-child,.panel>.table:first-child>tbody:first-child>tr:first-child th:first-child,.panel>.table:first-child>thead:first-child>tr:first-child td:first-child,.panel>.table:first-child>thead:first-child>tr:first-child th:first-child{border-top-left-radius:3px}.panel>.table-responsive:first-child>.table:first-child>tbody:first-child>tr:first-child td:last-child,.panel>.table-responsive:first-child>.table:first-child>tbody:first-child>tr:first-child th:last-child,.panel>.table-responsive:first-child>.table:first-child>thead:first-child>tr:first-child td:last-child,.panel>.table-responsive:first-child>.table:first-child>thead:first-child>tr:first-child th:last-child,.panel>.table:first-child>tbody:first-child>tr:first-child td:last-child,.panel>.table:first-child>tbody:first-child>tr:first-child th:last-child,.panel>.table:first-child>thead:first-child>tr:first-child td:last-child,.panel>.table:first-child>thead:first-child>tr:first-child th:last-child{border-top-right-radius:3px}.panel>.table-responsive:last-child>.table:last-child,.panel>.table:last-child{border-bottom-right-radius:3px;border-bottom-left-radius:3px}.panel>.table-responsive:last-child>.table:last-child>tbody:last-child>tr:last-child,.panel>.table-responsive:last-child>.table:last-child>tfoot:last-child>tr:last-child,.panel>.table:last-child>tbody:last-child>tr:last-child,.panel>.table:last-child>tfoot:last-child>tr:last-child{border-bottom-right-radius:3px;border-bottom-left-radius:3px}.panel>.table-responsive:last-child>.table:last-child>tbody:last-child>tr:last-child td:first-child,.panel>.table-responsive:last-child>.table:last-child>tbody:last-child>tr:last-child th:first-child,.panel>.table-responsive:last-child>.table:last-child>tfoot:last-child>tr:last-child td:first-child,.panel>.table-responsive:last-child>.table:last-child>tfoot:last-child>tr:last-child th:first-child,.panel>.table:last-child>tbody:last-child>tr:last-child td:first-child,.panel>.table:last-child>tbody:last-child>tr:last-child th:first-child,.panel>.table:last-child>tfoot:last-child>tr:last-child td:first-child,.panel>.table:last-child>tfoot:last-child>tr:last-child th:first-child{border-bottom-left-radius:3px}.panel>.table-responsive:last-child>.table:last-child>tbody:last-child>tr:last-child td:last-child,.panel>.table-responsive:last-child>.table:last-child>tbody:last-child>tr:last-child th:last-child,.panel>.table-responsive:last-child>.table:last-child>tfoot:last-child>tr:last-child td:last-child,.panel>.table-responsive:last-child>.table:last-child>tfoot:last-child>tr:last-child th:last-child,.panel>.table:last-child>tbody:last-child>tr:last-child td:last-child,.panel>.table:last-child>tbody:last-child>tr:last-child th:last-child,.panel>.table:last-child>tfoot:last-child>tr:last-child td:last-child,.panel>.table:last-child>tfoot:last-child>tr:last-child th:last-child{border-bottom-right-radius:3px}.panel>.panel-body+.table,.panel>.panel-body+.table-responsive,.panel>.table+.panel-body,.panel>.table-responsive+.panel-body{border-top:1px solid #ddd}.panel>.table>tbody:first-child>tr:first-child td,.panel>.table>tbody:first-child>tr:first-child th{border-top:0}.panel>.table-bordered,.panel>.table-responsive>.table-bordered{border:0}.panel>.table-bordered>tbody>tr>td:first-child,.panel>.table-bordered>tbody>tr>th:first-child,.panel>.table-bordered>tfoot>tr>td:first-child,.panel>.table-bordered>tfoot>tr>th:first-child,.panel>.table-bordered>thead>tr>td:first-child,.panel>.table-bordered>thead>tr>th:first-child,.panel>.table-responsive>.table-bordered>tbody>tr>td:first-child,.panel>.table-responsive>.table-bordered>tbody>tr>th:first-child,.panel>.table-responsive>.table-bordered>tfoot>tr>td:first-child,.panel>.table-responsive>.table-bordered>tfoot>tr>th:first-child,.panel>.table-responsive>.table-bordered>thead>tr>td:first-child,.panel>.table-responsive>.table-bordered>thead>tr>th:first-child{border-left:0}.panel>.table-bordered>tbody>tr>td:last-child,.panel>.table-bordered>tbody>tr>th:last-child,.panel>.table-bordered>tfoot>tr>td:last-child,.panel>.table-bordered>tfoot>tr>th:last-child,.panel>.table-bordered>thead>tr>td:last-child,.panel>.table-bordered>thead>tr>th:last-child,.panel>.table-responsive>.table-bordered>tbody>tr>td:last-child,.panel>.table-responsive>.table-bordered>tbody>tr>th:last-child,.panel>.table-responsive>.table-bordered>tfoot>tr>td:last-child,.panel>.table-responsive>.table-bordered>tfoot>tr>th:last-child,.panel>.table-responsive>.table-bordered>thead>tr>td:last-child,.panel>.table-responsive>.table-bordered>thead>tr>th:last-child{border-right:0}.panel>.table-bordered>tbody>tr:first-child>td,.panel>.table-bordered>tbody>tr:first-child>th,.panel>.table-bordered>thead>tr:first-child>td,.panel>.table-bordered>thead>tr:first-child>th,.panel>.table-responsive>.table-bordered>tbody>tr:first-child>td,.panel>.table-responsive>.table-bordered>tbody>tr:first-child>th,.panel>.table-responsive>.table-bordered>thead>tr:first-child>td,.panel>.table-responsive>.table-bordered>thead>tr:first-child>th{border-bottom:0}.panel>.table-bordered>tbody>tr:last-child>td,.panel>.table-bordered>tbody>tr:last-child>th,.panel>.table-bordered>tfoot>tr:last-child>td,.panel>.table-bordered>tfoot>tr:last-child>th,.panel>.table-responsive>.table-bordered>tbody>tr:last-child>td,.panel>.table-responsive>.table-bordered>tbody>tr:last-child>th,.panel>.table-responsive>.table-bordered>tfoot>tr:last-child>td,.panel>.table-responsive>.table-bordered>tfoot>tr:last-child>th{border-bottom:0}.panel>.table-responsive{margin-bottom:0;border:0}.panel-group{margin-bottom:20px}.panel-group .panel{margin-bottom:0;border-radius:4px}.panel-group .panel+.panel{margin-top:5px}.panel-group .panel-heading{border-bottom:0}.panel-group .panel-heading+.panel-collapse>.list-group,.panel-group .panel-heading+.panel-collapse>.panel-body{border-top:1px solid #ddd}.panel-group .panel-footer{border-top:0}.panel-group .panel-footer+.panel-collapse .panel-body{border-bottom:1px solid #ddd}.panel-default{border-color:#ddd}.panel-default>.panel-heading{color:#333;background-color:#f5f5f5;border-color:#ddd}.panel-default>.panel-heading+.panel-collapse>.panel-body{border-top-color:#ddd}.panel-default>.panel-heading .badge{color:#f5f5f5;background-color:#333}.panel-default>.panel-footer+.panel-collapse>.panel-body{border-bottom-color:#ddd}.panel-primary{border-color:#337ab7}.panel-primary>.panel-heading{color:#fff;background-color:#337ab7;border-color:#337ab7}.panel-primary>.panel-heading+.panel-collapse>.panel-body{border-top-color:#337ab7}.panel-primary>.panel-heading .badge{color:#337ab7;background-color:#fff}.panel-primary>.panel-footer+.panel-collapse>.panel-body{border-bottom-color:#337ab7}.panel-success{border-color:#d6e9c6}.panel-success>.panel-heading{color:#3c763d;background-color:#dff0d8;border-color:#d6e9c6}.panel-success>.panel-heading+.panel-collapse>.panel-body{border-top-color:#d6e9c6}.panel-success>.panel-heading .badge{color:#dff0d8;background-color:#3c763d}.panel-success>.panel-footer+.panel-collapse>.panel-body{border-bottom-color:#d6e9c6}.panel-info{border-color:#bce8f1}.panel-info>.panel-heading{color:#31708f;background-color:#d9edf7;border-color:#bce8f1}.panel-info>.panel-heading+.panel-collapse>.panel-body{border-top-color:#bce8f1}.panel-info>.panel-heading .badge{color:#d9edf7;background-color:#31708f}.panel-info>.panel-footer+.panel-collapse>.panel-body{border-bottom-color:#bce8f1}.panel-warning{border-color:#faebcc}.panel-warning>.panel-heading{color:#8a6d3b;background-color:#fcf8e3;border-color:#faebcc}.panel-warning>.panel-heading+.panel-collapse>.panel-body{border-top-color:#faebcc}.panel-warning>.panel-heading .badge{color:#fcf8e3;background-color:#8a6d3b}.panel-warning>.panel-footer+.panel-collapse>.panel-body{border-bottom-color:#faebcc}.panel-danger{border-color:#ebccd1}.panel-danger>.panel-heading{color:#a94442;background-color:#f2dede;border-color:#ebccd1}.panel-danger>.panel-heading+.panel-collapse>.panel-body{border-top-color:#ebccd1}.panel-danger>.panel-heading .badge{color:#f2dede;background-color:#a94442}.panel-danger>.panel-footer+.panel-collapse>.panel-body{border-bottom-color:#ebccd1}.embed-responsive{position:relative;display:block;height:0;padding:0;overflow:hidden}.embed-responsive .embed-responsive-item,.embed-responsive embed,.embed-responsive iframe,.embed-responsive object,.embed-responsive video{position:absolute;top:0;bottom:0;left:0;width:100%;height:100%;border:0}.embed-responsive-16by9{padding-bottom:56.25%}.embed-responsive-4by3{padding-bottom:75%}.well{min-height:20px;padding:19px;margin-bottom:20px;background-color:#f5f5f5;border:1px solid #e3e3e3;border-radius:4px;-webkit-box-shadow:inset 0 1px 1px rgba(0,0,0,.05);box-shadow:inset 0 1px 1px rgba(0,0,0,.05)}.well blockquote{border-color:#ddd;border-color:rgba(0,0,0,.15)}.well-lg{padding:24px;border-radius:6px}.well-sm{padding:9px;border-radius:3px}.close{float:right;font-size:21px;font-weight:700;line-height:1;color:#000;text-shadow:0 1px 0 #fff;filter:alpha(opacity=20);opacity:.2}.close:focus,.close:hover{color:#000;text-decoration:none;cursor:pointer;filter:alpha(opacity=50);opacity:.5}button.close{-webkit-appearance:none;padding:0;cursor:pointer;background:0 0;border:0}.modal-open{overflow:hidden}.modal{position:fixed;top:0;right:0;bottom:0;left:0;z-index:1050;display:none;overflow:hidden;-webkit-overflow-scrolling:touch;outline:0}.modal.fade .modal-dialog{-webkit-transition:-webkit-transform .3s ease-out;-o-transition:-o-transform .3s ease-out;transition:transform .3s ease-out;-webkit-transform:translate(0,-25%);-ms-transform:translate(0,-25%);-o-transform:translate(0,-25%);transform:translate(0,-25%)}.modal.in .modal-dialog{-webkit-transform:translate(0,0);-ms-transform:translate(0,0);-o-transform:translate(0,0);transform:translate(0,0)}.modal-open .modal{overflow-x:hidden;overflow-y:auto}.modal-dialog{position:relative;width:auto;margin:10px}.modal-content{position:relative;background-color:#fff;-webkit-background-clip:padding-box;background-clip:padding-box;border:1px solid #999;border:1px solid rgba(0,0,0,.2);border-radius:6px;outline:0;-webkit-box-shadow:0 3px 9px rgba(0,0,0,.5);box-shadow:0 3px 9px rgba(0,0,0,.5)}.modal-backdrop{position:fixed;top:0;right:0;bottom:0;left:0;z-index:1040;background-color:#000}.modal-backdrop.fade{filter:alpha(opacity=0);opacity:0}.modal-backdrop.in{filter:alpha(opacity=50);opacity:.5}.modal-header{min-height:16.43px;padding:15px;border-bottom:1px solid #e5e5e5}.modal-header .close{margin-top:-2px}.modal-title{margin:0;line-height:1.42857143}.modal-body{position:relative;padding:15px}.modal-footer{padding:15px;text-align:right;border-top:1px solid #e5e5e5}.modal-footer .btn+.btn{margin-bottom:0;margin-left:5px}.modal-footer .btn-group .btn+.btn{margin-left:-1px}.modal-footer .btn-block+.btn-block{margin-left:0}.modal-scrollbar-measure{position:absolute;top:-9999px;width:50px;height:50px;overflow:scroll}@media (min-width:768px){.modal-dialog{width:600px;margin:30px auto}.modal-content{-webkit-box-shadow:0 5px 15px rgba(0,0,0,.5);box-shadow:0 5px 15px rgba(0,0,0,.5)}.modal-sm{width:300px}}@media (min-width:992px){.modal-lg{width:900px}}.tooltip{position:absolute;z-index:1070;display:block;font-family:"Helvetica Neue",Helvetica,Arial,sans-serif;font-size:12px;font-weight:400;line-height:1.4;filter:alpha(opacity=0);opacity:0}.tooltip.in{filter:alpha(opacity=90);opacity:.9}.tooltip.top{padding:5px 0;margin-top:-3px}.tooltip.right{padding:0 5px;margin-left:3px}.tooltip.bottom{padding:5px 0;margin-top:3px}.tooltip.left{padding:0 5px;margin-left:-3px}.tooltip-inner{max-width:200px;padding:3px 8px;color:#fff;text-align:center;text-decoration:none;background-color:#000;border-radius:4px}.tooltip-arrow{position:absolute;width:0;height:0;border-color:transparent;border-style:solid}.tooltip.top .tooltip-arrow{bottom:0;left:50%;margin-left:-5px;border-width:5px 5px 0;border-top-color:#000}.tooltip.top-left .tooltip-arrow{right:5px;bottom:0;margin-bottom:-5px;border-width:5px 5px 0;border-top-color:#000}.tooltip.top-right .tooltip-arrow{bottom:0;left:5px;margin-bottom:-5px;border-width:5px 5px 0;border-top-color:#000}.tooltip.right .tooltip-arrow{top:50%;left:0;margin-top:-5px;border-width:5px 5px 5px 0;border-right-color:#000}.tooltip.left .tooltip-arrow{top:50%;right:0;margin-top:-5px;border-width:5px 0 5px 5px;border-left-color:#000}.tooltip.bottom .tooltip-arrow{top:0;left:50%;margin-left:-5px;border-width:0 5px 5px;border-bottom-color:#000}.tooltip.bottom-left .tooltip-arrow{top:0;right:5px;margin-top:-5px;border-width:0 5px 5px;border-bottom-color:#000}.tooltip.bottom-right .tooltip-arrow{top:0;left:5px;margin-top:-5px;border-width:0 5px 5px;border-bottom-color:#000}.popover{position:absolute;top:0;left:0;z-index:1060;display:none;max-width:276px;padding:1px;font-family:"Helvetica Neue",Helvetica,Arial,sans-serif;font-size:14px;font-weight:400;line-height:1.42857143;text-align:left;white-space:normal;background-color:#fff;-webkit-background-clip:padding-box;background-clip:padding-box;border:1px solid #ccc;border:1px solid rgba(0,0,0,.2);border-radius:6px;-webkit-box-shadow:0 5px 10px rgba(0,0,0,.2);box-shadow:0 5px 10px rgba(0,0,0,.2)}.popover.top{margin-top:-10px}.popover.right{margin-left:10px}.popover.bottom{margin-top:10px}.popover.left{margin-left:-10px}.popover-title{padding:8px 14px;margin:0;font-size:14px;background-color:#f7f7f7;border-bottom:1px solid #ebebeb;border-radius:5px 5px 0 0}.popover-content{padding:9px 14px}.popover>.arrow,.popover>.arrow:after{position:absolute;display:block;width:0;height:0;border-color:transparent;border-style:solid}.popover>.arrow{border-width:11px}.popover>.arrow:after{content:"";border-width:10px}.popover.top>.arrow{bottom:-11px;left:50%;margin-left:-11px;border-top-color:#999;border-top-color:rgba(0,0,0,.25);border-bottom-width:0}.popover.top>.arrow:after{bottom:1px;margin-left:-10px;content:" ";border-top-color:#fff;border-bottom-width:0}.popover.right>.arrow{top:50%;left:-11px;margin-top:-11px;border-right-color:#999;border-right-color:rgba(0,0,0,.25);border-left-width:0}.popover.right>.arrow:after{bottom:-10px;left:1px;content:" ";border-right-color:#fff;border-left-width:0}.popover.bottom>.arrow{top:-11px;left:50%;margin-left:-11px;border-top-width:0;border-bottom-color:#999;border-bottom-color:rgba(0,0,0,.25)}.popover.bottom>.arrow:after{top:1px;margin-left:-10px;content:" ";border-top-width:0;border-bottom-color:#fff}.popover.left>.arrow{top:50%;right:-11px;margin-top:-11px;border-right-width:0;border-left-color:#999;border-left-color:rgba(0,0,0,.25)}.popover.left>.arrow:after{right:1px;bottom:-10px;content:" ";border-right-width:0;border-left-color:#fff}.carousel{position:relative}.carousel-inner{position:relative;width:100%;overflow:hidden}.carousel-inner>.item{position:relative;display:none;-webkit-transition:.6s ease-in-out left;-o-transition:.6s ease-in-out left;transition:.6s ease-in-out left}.carousel-inner>.item>a>img,.carousel-inner>.item>img{line-height:1}@media all and (transform-3d),(-webkit-transform-3d){.carousel-inner>.item{-webkit-transition:-webkit-transform .6s ease-in-out;-o-transition:-o-transform .6s ease-in-out;transition:transform .6s ease-in-out;-webkit-backface-visibility:hidden;backface-visibility:hidden;-webkit-perspective:1000;perspective:1000}.carousel-inner>.item.active.right,.carousel-inner>.item.next{left:0;-webkit-transform:translate3d(100%,0,0);transform:translate3d(100%,0,0)}.carousel-inner>.item.active.left,.carousel-inner>.item.prev{left:0;-webkit-transform:translate3d(-100%,0,0);transform:translate3d(-100%,0,0)}.carousel-inner>.item.active,.carousel-inner>.item.next.left,.carousel-inner>.item.prev.right{left:0;-webkit-transform:translate3d(0,0,0);transform:translate3d(0,0,0)}}.carousel-inner>.active,.carousel-inner>.next,.carousel-inner>.prev{display:block}.carousel-inner>.active{left:0}.carousel-inner>.next,.carousel-inner>.prev{position:absolute;top:0;width:100%}.carousel-inner>.next{left:100%}.carousel-inner>.prev{left:-100%}.carousel-inner>.next.left,.carousel-inner>.prev.right{left:0}.carousel-inner>.active.left{left:-100%}.carousel-inner>.active.right{left:100%}.carousel-control{position:absolute;top:0;bottom:0;left:0;width:15%;font-size:20px;color:#fff;text-align:center;text-shadow:0 1px 2px rgba(0,0,0,.6);filter:alpha(opacity=50);opacity:.5}.carousel-control.left{background-image:-webkit-linear-gradient(left,rgba(0,0,0,.5) 0,rgba(0,0,0,.0001) 100%);background-image:-o-linear-gradient(left,rgba(0,0,0,.5) 0,rgba(0,0,0,.0001) 100%);background-image:-webkit-gradient(linear,left top,right top,from(rgba(0,0,0,.5)),to(rgba(0,0,0,.0001)));background-image:linear-gradient(to right,rgba(0,0,0,.5) 0,rgba(0,0,0,.0001) 100%);filter:progid:DXImageTransform.Microsoft.gradient(startColorstr='#80000000', endColorstr='#00000000', GradientType=1);background-repeat:repeat-x}.carousel-control.right{right:0;left:auto;background-image:-webkit-linear-gradient(left,rgba(0,0,0,.0001) 0,rgba(0,0,0,.5) 100%);background-image:-o-linear-gradient(left,rgba(0,0,0,.0001) 0,rgba(0,0,0,.5) 100%);background-image:-webkit-gradient(linear,left top,right top,from(rgba(0,0,0,.0001)),to(rgba(0,0,0,.5)));background-image:linear-gradient(to right,rgba(0,0,0,.0001) 0,rgba(0,0,0,.5) 100%);filter:progid:DXImageTransform.Microsoft.gradient(startColorstr='#00000000', endColorstr='#80000000', GradientType=1);background-repeat:repeat-x}.carousel-control:focus,.carousel-control:hover{color:#fff;text-decoration:none;filter:alpha(opacity=90);outline:0;opacity:.9}.carousel-control .glyphicon-chevron-left,.carousel-control .glyphicon-chevron-right,.carousel-control .icon-next,.carousel-control .icon-prev{position:absolute;top:50%;z-index:5;display:inline-block}.carousel-control .glyphicon-chevron-left,.carousel-control .icon-prev{left:50%;margin-left:-10px}.carousel-control .glyphicon-chevron-right,.carousel-control .icon-next{right:50%;margin-right:-10px}.carousel-control .icon-next,.carousel-control .icon-prev{width:20px;height:20px;margin-top:-10px;font-family:serif;line-height:1}.carousel-control .icon-prev:before{content:'\2039'}.carousel-control .icon-next:before{content:'\203a'}.carousel-indicators{position:absolute;bottom:10px;left:50%;z-index:15;width:60%;padding-left:0;margin-left:-30%;text-align:center;list-style:none}.carousel-indicators li{display:inline-block;width:10px;height:10px;margin:1px;text-indent:-999px;cursor:pointer;background-color:#000 \9;background-color:rgba(0,0,0,0);border:1px solid #fff;border-radius:10px}.carousel-indicators .active{width:12px;height:12px;margin:0;background-color:#fff}.carousel-caption{position:absolute;right:15%;bottom:20px;left:15%;z-index:10;padding-top:20px;padding-bottom:20px;color:#fff;text-align:center;text-shadow:0 1px 2px rgba(0,0,0,.6)}.carousel-caption .btn{text-shadow:none}@media screen and (min-width:768px){.carousel-control .glyphicon-chevron-left,.carousel-control .glyphicon-chevron-right,.carousel-control .icon-next,.carousel-control .icon-prev{width:30px;height:30px;margin-top:-15px;font-size:30px}.carousel-control .glyphicon-chevron-left,.carousel-control .icon-prev{margin-left:-15px}.carousel-control .glyphicon-chevron-right,.carousel-control .icon-next{margin-right:-15px}.carousel-caption{right:20%;left:20%;padding-bottom:30px}.carousel-indicators{bottom:20px}}.btn-group-vertical>.btn-group:after,.btn-group-vertical>.btn-group:before,.btn-toolbar:after,.btn-toolbar:before,.clearfix:after,.clearfix:before,.container-fluid:after,.container-fluid:before,.container:after,.container:before,.dl-horizontal dd:after,.dl-horizontal dd:before,.form-horizontal .form-group:after,.form-horizontal .form-group:before,.modal-footer:after,.modal-footer:before,.nav:after,.nav:before,.navbar-collapse:after,.navbar-collapse:before,.navbar-header:after,.navbar-header:before,.navbar:after,.navbar:before,.pager:after,.pager:before,.panel-body:after,.panel-body:before,.row:after,.row:before{display:table;content:" "}.btn-group-vertical>.btn-group:after,.btn-toolbar:after,.clearfix:after,.container-fluid:after,.container:after,.dl-horizontal dd:after,.form-horizontal .form-group:after,.modal-footer:after,.nav:after,.navbar-collapse:after,.navbar-header:after,.navbar:after,.pager:after,.panel-body:after,.row:after{clear:both}.center-block{display:block;margin-right:auto;margin-left:auto}.pull-right{float:right!important}.pull-left{float:left!important}.hide{display:none!important}.show{display:block!important}.invisible{visibility:hidden}.text-hide{font:0/0 a;color:transparent;text-shadow:none;background-color:transparent;border:0}.hidden{display:none!important}.affix{position:fixed}@-ms-viewport{width:device-width}.visible-lg,.visible-md,.visible-sm,.visible-xs{display:none!important}.visible-lg-block,.visible-lg-inline,.visible-lg-inline-block,.visible-md-block,.visible-md-inline,.visible-md-inline-block,.visible-sm-block,.visible-sm-inline,.visible-sm-inline-block,.visible-xs-block,.visible-xs-inline,.visible-xs-inline-block{display:none!important}@media (max-width:767px){.visible-xs{display:block!important}table.visible-xs{display:table}tr.visible-xs{display:table-row!important}td.visible-xs,th.visible-xs{display:table-cell!important}}@media (max-width:767px){.visible-xs-block{display:block!important}}@media (max-width:767px){.visible-xs-inline{display:inline!important}}@media (max-width:767px){.visible-xs-inline-block{display:inline-block!important}}@media (min-width:768px)and (max-width:991px){.visible-sm{display:block!important}table.visible-sm{display:table}tr.visible-sm{display:table-row!important}td.visible-sm,th.visible-sm{display:table-cell!important}}@media (min-width:768px)and (max-width:991px){.visible-sm-block{display:block!important}}@media (min-width:768px)and (max-width:991px){.visible-sm-inline{display:inline!important}}@media (min-width:768px)and (max-width:991px){.visible-sm-inline-block{display:inline-block!important}}@media (min-width:992px)and (max-width:1199px){.visible-md{display:block!important}table.visible-md{display:table}tr.visible-md{display:table-row!important}td.visible-md,th.visible-md{display:table-cell!important}}@media (min-width:992px)and (max-width:1199px){.visible-md-block{display:block!important}}@media (min-width:992px)and (max-width:1199px){.visible-md-inline{display:inline!important}}@media (min-width:992px)and (max-width:1199px){.visible-md-inline-block{display:inline-block!important}}@media (min-width:1200px){.visible-lg{display:block!important}table.visible-lg{display:table}tr.visible-lg{display:table-row!important}td.visible-lg,th.visible-lg{display:table-cell!important}}@media (min-width:1200px){.visible-lg-block{display:block!important}}@media (min-width:1200px){.visible-lg-inline{display:inline!important}}@media (min-width:1200px){.visible-lg-inline-block{display:inline-block!important}}@media (max-width:767px){.hidden-xs{display:none!important}}@media (min-width:768px)and (max-width:991px){.hidden-sm{display:none!important}}@media (min-width:992px)and (max-width:1199px){.hidden-md{display:none!important}}@media (min-width:1200px){.hidden-lg{display:none!important}}.visible-print{display:none!important}@media print{.visible-print{display:block!important}table.visible-print{display:table}tr.visible-print{display:table-row!important}td.visible-print,th.visible-print{display:table-cell!important}}.visible-print-block{display:none!important}@media print{.visible-print-block{display:block!important}}.visible-print-inline{display:none!important}@media print{.visible-print-inline{display:inline!important}}.visible-print-inline-block{display:none!important}@media print{.visible-print-inline-block{display:inline-block!important}}@media print{.hidden-print{display:none!important}} .multi-columns-row .first-in-row{clear:left}.multi-columns-row .col-xs-6:nth-child(2n+3){clear:left}.multi-columns-row .col-xs-4:nth-child(3n+4){clear:left}.multi-columns-row .col-xs-3:nth-child(4n+5){clear:left}.multi-columns-row .col-xs-2:nth-child(6n+7){clear:left}.multi-columns-row .col-xs-1:nth-child(12n+13){clear:left}@media (min-width:768px){.multi-columns-row .col-xs-6:nth-child(2n+3){clear:none}.multi-columns-row .col-xs-4:nth-child(3n+4){clear:none}.multi-columns-row .col-xs-3:nth-child(4n+5){clear:none}.multi-columns-row .col-xs-2:nth-child(6n+7){clear:none}.multi-columns-row .col-xs-1:nth-child(12n+13){clear:none}.multi-columns-row .col-sm-6:nth-child(2n+3){clear:left}.multi-columns-row .col-sm-4:nth-child(3n+4){clear:left}.multi-columns-row .col-sm-3:nth-child(4n+5){clear:left}.multi-columns-row .col-sm-2:nth-child(6n+7){clear:left}.multi-columns-row .col-sm-1:nth-child(12n+13){clear:left}}@media (min-width:992px){.multi-columns-row .col-sm-6:nth-child(2n+3){clear:none}.multi-columns-row .col-sm-4:nth-child(3n+4){clear:none}.multi-columns-row .col-sm-3:nth-child(4n+5){clear:none}.multi-columns-row .col-sm-2:nth-child(6n+7){clear:none}.multi-columns-row .col-sm-1:nth-child(12n+13){clear:none}.multi-columns-row .col-md-6:nth-child(2n+3){clear:left}.multi-columns-row .col-md-4:nth-child(3n+4){clear:left}.multi-columns-row .col-md-3:nth-child(4n+5){clear:left}.multi-columns-row .col-md-2:nth-child(6n+7){clear:left}.multi-columns-row .col-md-1:nth-child(12n+13){clear:left}}@media (min-width:1200px){.multi-columns-row .col-md-6:nth-child(2n+3){clear:none}.multi-columns-row .col-md-4:nth-child(3n+4){clear:none}.multi-columns-row .col-md-3:nth-child(4n+5){clear:none}.multi-columns-row .col-md-2:nth-child(6n+7){clear:none}.multi-columns-row .col-md-1:nth-child(12n+13){clear:none}.multi-columns-row .col-lg-6:nth-child(2n+3){clear:left}.multi-columns-row .col-lg-4:nth-child(3n+4){clear:left}.multi-columns-row .col-lg-3:nth-child(4n+5){clear:left}.multi-columns-row .col-lg-2:nth-child(6n+7){clear:left}.multi-columns-row .col-lg-1:nth-child(12n+13){clear:left}} .flex-container a:active,.flexslider a:active,.flex-container a:focus,.flexslider a:focus{outline:none}.slides,.flex-control-nav,.flex-direction-nav{margin:0;padding:0;list-style:none}.flexslider{margin:0;padding:0}.flexslider .slides>li{display:none;-webkit-backface-visibility:hidden}.flexslider .slides img{width:100%;display:block}.flex-pauseplay span{text-transform:capitalize}.slides:after{content:".";display:block;clear:both;visibility:hidden;line-height:0;height:0}html[xmlns] .slides{display:block}* html .slides{height:1%}.no-js .slides>li:first-child{display:block}.flexslider{margin:0;position:relative;-webkit-border-radius:3px;-moz-border-radius:3px;-o-border-radius:3px;border-radius:3px;zoom:1}.flex-viewport{max-height:700px;-webkit-transition:all 1s ease;-moz-transition:all 1s ease;transition:all 1s ease}.loading .flex-viewport{max-height:300px}.flexslider .slides{zoom:1}.carousel li{margin-right:5px}.flex-direction-nav{*height:0;}.flex-direction-nav a{width:33px;height:33px;margin:-20px 0 0;display:block;position:absolute;top:50%;cursor:pointer;text-indent:-9999px;opacity:1;-webkit-transition:all .3s ease}.flex-direction-nav .flex-next{background:url(data:image/png;base64,iVBORw0KGgoAAAANSUhEUgAAABEAAAAgCAYAAAD0S5PyAAABGElEQVRIS63W0Q2CMBAGYA94103UCazAAG6gTqBOohvICL6TICM4CiwA/kfAoCC9FkgIPHBfjr+0hcIwfJRlucF5SZIkmlkcBCRD3Zxri6I42kDk+/7BcZx704ANRFw8FqqQsdAH6YOIaB3H8UuX9RfCDyPoMy5XvseIZchrq4M6CBcHQRChi70U6kVMob+ICTSISCEtIoFEiA4SI/Xwp7hufkfNCFFKLVzXTTH8yzZkhHBhH2SFeJ73hLeqp0NuhHAXHYBIGSGYV59g0UWObBTPKzHSnk9tgF9JhAwBIkQHaBEJMIhIgb8IgBuSPzXLom6Z7ARrs/IPLtTSPWi6LcPmFZq8qmDHAhUyyYZefw87hHi2+SPgTt69+eqTI5GURwAAAABJRU5ErkJggg==) no-repeat 0 0;background-position:100% 0;right:-36px}.flex-direction-nav .flex-prev{background:url(data:image/png;base64,iVBORw0KGgoAAAANSUhEUgAAABEAAAAgCAYAAAD0S5PyAAABBElEQVRIS6XV7RGCMAwGYDuBbuAKjgDXYw8ZwU0cAfaAWjfQDRjBAfgw5ZSD0I+k5R9XeC5NX4I4RF5FUVzGcXwIIToRY6yAk3mfjWAAqilZiA1QSlVkBAPTNNVt217J2/EBJCQEBBEK4EWogBPhAFYEA/DQs2mazBfKzRFbKngPw5BprT8kJBZYtpMCzEgqMCNSyg4+57O5gSiTeoD7s0Fg8dX3fR5q5A4x24EKNCwcf4tsaD7iVGjJSQq0C1vM1nZDyVKRhtjnpMSuH8IQVFfBFCtdkHM8ciDvjKVCwUFNgYKILUe4RyQkBJERR7JvcPx3FmKD2L/Rf05ws9mVYAia3H0BaHJQRtCHvcAAAAAASUVORK5CYII=) no-repeat 0 0;left:-36px}.flexslider:hover .flex-next{opacity:1}.flexslider:hover .flex-prev{opacity:1}.flexslider:hover .flex-next:hover,.flexslider:hover .flex-prev:hover{opacity:1}.flex-direction-nav .flex-disabled{opacity:.3 !important;filter:alpha(opacity=30);cursor:default}.flex-control-nav{width:100%;position:absolute;bottom:0;text-align:center}.flex-control-nav li{margin:0 6px;display:inline-block;zoom:1;*display:inline;}.flex-control-paging li a{width:11px;height:11px;display:block;background:rgba(255,255,255,.5);cursor:pointer;text-indent:-9999px;-webkit-border-radius:20px;-moz-border-radius:20px;-o-border-radius:20px;border-radius:20px}.flex-control-paging li a:hover{background:rgba(255,255,255,.7)}.flex-control-paging li a.flex-active{background:rgba(255,255,255,.95);cursor:default}.flex-control-thumbs{margin:5px 0 0;position:static;overflow:hidden}.flex-control-thumbs li{width:25%;float:left;margin:0}.flex-control-thumbs img{width:100%;display:block;opacity:.7;cursor:pointer}.flex-control-thumbs img:hover{opacity:1}.flex-control-thumbs .flex-active{opacity:1;cursor:default}@media screen and (max-width:860px){.flex-direction-nav .flex-prev{opacity:1;left:0}.flex-direction-nav .flex-next{opacity:1;right:0}.flex-direction-nav{display:none}} div.pp_default .pp_top,div.pp_default .pp_top .pp_middle,div.pp_default .pp_top .pp_left,div.pp_default .pp_top .pp_right,div.pp_default .pp_bottom,div.pp_default .pp_bottom .pp_left,div.pp_default .pp_bottom .pp_middle,div.pp_default .pp_bottom .pp_right{height:13px}div.pp_default .pp_top .pp_left{background:url(//www.electrician-palmharbor.com/wp-content/themes/integral/css/../images/prettyPhoto/default/sprite.png) -78px -93px no-repeat}div.pp_default .pp_top .pp_middle{background:url(data:image/png;base64,iVBORw0KGgoAAAANSUhEUgAAAIIAAAAvCAYAAAAvgRLNAAAAGXRFWHRTb2Z0d2FyZQBBZG9iZSBJbWFnZVJlYWR5ccllPAAAA2ZpVFh0WE1MOmNvbS5hZG9iZS54bXAAAAAAADw/eHBhY2tldCBiZWdpbj0i77u/IiBpZD0iVzVNME1wQ2VoaUh6cmVTek5UY3prYzlkIj8+IDx4OnhtcG1ldGEgeG1sbnM6eD0iYWRvYmU6bnM6bWV0YS8iIHg6eG1wdGs9IkFkb2JlIFhNUCBDb3JlIDUuMC1jMDYwIDYxLjEzNDc3NywgMjAxMC8wMi8xMi0xNzozMjowMCAgICAgICAgIj4gPHJkZjpSREYgeG1sbnM6cmRmPSJodHRwOi8vd3d3LnczLm9yZy8xOTk5LzAyLzIyLXJkZi1zeW50YXgtbnMjIj4gPHJkZjpEZXNjcmlwdGlvbiByZGY6YWJvdXQ9IiIgeG1sbnM6eG1wTU09Imh0dHA6Ly9ucy5hZG9iZS5jb20veGFwLzEuMC9tbS8iIHhtbG5zOnN0UmVmPSJodHRwOi8vbnMuYWRvYmUuY29tL3hhcC8xLjAvc1R5cGUvUmVzb3VyY2VSZWYjIiB4bWxuczp4bXA9Imh0dHA6Ly9ucy5hZG9iZS5jb20veGFwLzEuMC8iIHhtcE1NOk9yaWdpbmFsRG9jdW1lbnRJRD0ieG1wLmRpZDowMTgwMTE3NDA3MjA2ODExOEJGMkY2QjUxMTM2ODA5MCIgeG1wTU06RG9jdW1lbnRJRD0ieG1wLmRpZDo2RkQ3N0Q4RDNFNkIxMUUwOEU2RjkzMTJFRjMxNEUwMiIgeG1wTU06SW5zdGFuY2VJRD0ieG1wLmlpZDo2RkQ3N0Q4QzNFNkIxMUUwOEU2RjkzMTJFRjMxNEUwMiIgeG1wOkNyZWF0b3JUb29sPSJBZG9iZSBQaG90b3Nob3AgQ1M1IE1hY2ludG9zaCI+IDx4bXBNTTpEZXJpdmVkRnJvbSBzdFJlZjppbnN0YW5jZUlEPSJ4bXAuaWlkOjAzODAxMTc0MDcyMDY4MTE4QkYyRjZCNTExMzY4MDkwIiBzdFJlZjpkb2N1bWVudElEPSJ4bXAuZGlkOjAxODAxMTc0MDcyMDY4MTE4QkYyRjZCNTExMzY4MDkwIi8+IDwvcmRmOkRlc2NyaXB0aW9uPiA8L3JkZjpSREY+IDwveDp4bXBtZXRhPiA8P3hwYWNrZXQgZW5kPSJyIj8+wcubnwAAAHlJREFUeNrs3EERACAMA8FUIP6t9AcGqACGXQmZe6eSrPC9EgJCQAgIgVsI3b3NgBAQAkJACAgBISAEhIAQEAJCQAgIASEgBISAEBACQkAICAEhIASEgBAQAkJACAgBISAEhIAQEAJCQAg8GUK8qiEEhIAQEAKDI8AA1FuTlQtMVXIAAAAASUVORK5CYII=) top left repeat-x}div.pp_default .pp_top .pp_right{background:url(//www.electrician-palmharbor.com/wp-content/themes/integral/css/../images/prettyPhoto/default/sprite.png) -112px -93px no-repeat}div.pp_default .pp_content .ppt{color:#f8f8f8}div.pp_default .pp_content_container .pp_left{background:url(data:image/png;base64,iVBORw0KGgoAAAANSUhEUgAAAD0AAACCCAYAAAD1/sBJAAAAGXRFWHRTb2Z0d2FyZQBBZG9iZSBJbWFnZVJlYWR5ccllPAAAA2ZpVFh0WE1MOmNvbS5hZG9iZS54bXAAAAAAADw/eHBhY2tldCBiZWdpbj0i77u/IiBpZD0iVzVNME1wQ2VoaUh6cmVTek5UY3prYzlkIj8+IDx4OnhtcG1ldGEgeG1sbnM6eD0iYWRvYmU6bnM6bWV0YS8iIHg6eG1wdGs9IkFkb2JlIFhNUCBDb3JlIDUuMC1jMDYwIDYxLjEzNDc3NywgMjAxMC8wMi8xMi0xNzozMjowMCAgICAgICAgIj4gPHJkZjpSREYgeG1sbnM6cmRmPSJodHRwOi8vd3d3LnczLm9yZy8xOTk5LzAyLzIyLXJkZi1zeW50YXgtbnMjIj4gPHJkZjpEZXNjcmlwdGlvbiByZGY6YWJvdXQ9IiIgeG1sbnM6eG1wTU09Imh0dHA6Ly9ucy5hZG9iZS5jb20veGFwLzEuMC9tbS8iIHhtbG5zOnN0UmVmPSJodHRwOi8vbnMuYWRvYmUuY29tL3hhcC8xLjAvc1R5cGUvUmVzb3VyY2VSZWYjIiB4bWxuczp4bXA9Imh0dHA6Ly9ucy5hZG9iZS5jb20veGFwLzEuMC8iIHhtcE1NOk9yaWdpbmFsRG9jdW1lbnRJRD0ieG1wLmRpZDowMTgwMTE3NDA3MjA2ODExOEJGMkY2QjUxMTM2ODA5MCIgeG1wTU06RG9jdW1lbnRJRD0ieG1wLmRpZDo2RkQ3N0Q5NTNFNkIxMUUwOEU2RjkzMTJFRjMxNEUwMiIgeG1wTU06SW5zdGFuY2VJRD0ieG1wLmlpZDo2RkQ3N0Q5NDNFNkIxMUUwOEU2RjkzMTJFRjMxNEUwMiIgeG1wOkNyZWF0b3JUb29sPSJBZG9iZSBQaG90b3Nob3AgQ1M1IE1hY2ludG9zaCI+IDx4bXBNTTpEZXJpdmVkRnJvbSBzdFJlZjppbnN0YW5jZUlEPSJ4bXAuaWlkOjA1ODAxMTc0MDcyMDY4MTE4QkYyRjZCNTExMzY4MDkwIiBzdFJlZjpkb2N1bWVudElEPSJ4bXAuZGlkOjAxODAxMTc0MDcyMDY4MTE4QkYyRjZCNTExMzY4MDkwIi8+IDwvcmRmOkRlc2NyaXB0aW9uPiA8L3JkZjpSREY+IDwveDp4bXBtZXRhPiA8P3hwYWNrZXQgZW5kPSJyIj8+IJNLSgAAALpJREFUeNrsz7ENgDAMAMGYysvBsLBcOiMKmigDRMp9YVl2dVFVbSwi/vUcf733uy1WZl6T8/ONme9oGwYNDQ0NDQ0NDQ0NDQ0NDQ0NDQ0NDQ0NDQ0NDQ0NDQ0NDQ0NDQ0NDQ0NDQ0NDQ0NDQ0NDQ0NDQ0NDQ0NDQ0NDQ0NDQ0NDQ0NDQ0NDQ0NDQ0NDQ0NDQ0NDQ0NDQ0NDQ0NDQ0NDQ0NDQ0NDQ0NDQ0NDQ0NDQ0NDQ0NDQ29Vq8AAwDEjAwBf+xdvAAAAABJRU5ErkJggg==) -7px 0 repeat-y;padding-left:13px}div.pp_default .pp_content_container .pp_right{background:url(data:image/png;base64,iVBORw0KGgoAAAANSUhEUgAAAD0AAACCCAYAAAD1/sBJAAAAGXRFWHRTb2Z0d2FyZQBBZG9iZSBJbWFnZVJlYWR5ccllPAAAA2ZpVFh0WE1MOmNvbS5hZG9iZS54bXAAAAAAADw/eHBhY2tldCBiZWdpbj0i77u/IiBpZD0iVzVNME1wQ2VoaUh6cmVTek5UY3prYzlkIj8+IDx4OnhtcG1ldGEgeG1sbnM6eD0iYWRvYmU6bnM6bWV0YS8iIHg6eG1wdGs9IkFkb2JlIFhNUCBDb3JlIDUuMC1jMDYwIDYxLjEzNDc3NywgMjAxMC8wMi8xMi0xNzozMjowMCAgICAgICAgIj4gPHJkZjpSREYgeG1sbnM6cmRmPSJodHRwOi8vd3d3LnczLm9yZy8xOTk5LzAyLzIyLXJkZi1zeW50YXgtbnMjIj4gPHJkZjpEZXNjcmlwdGlvbiByZGY6YWJvdXQ9IiIgeG1sbnM6eG1wTU09Imh0dHA6Ly9ucy5hZG9iZS5jb20veGFwLzEuMC9tbS8iIHhtbG5zOnN0UmVmPSJodHRwOi8vbnMuYWRvYmUuY29tL3hhcC8xLjAvc1R5cGUvUmVzb3VyY2VSZWYjIiB4bWxuczp4bXA9Imh0dHA6Ly9ucy5hZG9iZS5jb20veGFwLzEuMC8iIHhtcE1NOk9yaWdpbmFsRG9jdW1lbnRJRD0ieG1wLmRpZDowMTgwMTE3NDA3MjA2ODExOEJGMkY2QjUxMTM2ODA5MCIgeG1wTU06RG9jdW1lbnRJRD0ieG1wLmRpZDo2RkQ3N0Q5NTNFNkIxMUUwOEU2RjkzMTJFRjMxNEUwMiIgeG1wTU06SW5zdGFuY2VJRD0ieG1wLmlpZDo2RkQ3N0Q5NDNFNkIxMUUwOEU2RjkzMTJFRjMxNEUwMiIgeG1wOkNyZWF0b3JUb29sPSJBZG9iZSBQaG90b3Nob3AgQ1M1IE1hY2ludG9zaCI+IDx4bXBNTTpEZXJpdmVkRnJvbSBzdFJlZjppbnN0YW5jZUlEPSJ4bXAuaWlkOjA1ODAxMTc0MDcyMDY4MTE4QkYyRjZCNTExMzY4MDkwIiBzdFJlZjpkb2N1bWVudElEPSJ4bXAuZGlkOjAxODAxMTc0MDcyMDY4MTE4QkYyRjZCNTExMzY4MDkwIi8+IDwvcmRmOkRlc2NyaXB0aW9uPiA8L3JkZjpSREY+IDwveDp4bXBtZXRhPiA8P3hwYWNrZXQgZW5kPSJyIj8+IJNLSgAAALpJREFUeNrsz7ENgDAMAMGYysvBsLBcOiMKmigDRMp9YVl2dVFVbSwi/vUcf733uy1WZl6T8/ONme9oGwYNDQ0NDQ0NDQ0NDQ0NDQ0NDQ0NDQ0NDQ0NDQ0NDQ0NDQ0NDQ0NDQ0NDQ0NDQ0NDQ0NDQ0NDQ0NDQ0NDQ0NDQ0NDQ0NDQ0NDQ0NDQ0NDQ0NDQ0NDQ0NDQ0NDQ0NDQ0NDQ0NDQ0NDQ0NDQ0NDQ0NDQ0NDQ0NDQ0NDQ29Vq8AAwDEjAwBf+xdvAAAAABJRU5ErkJggg==) top right repeat-y;padding-right:13px}div.pp_default .pp_next:hover{background:url(data:image/png;base64,iVBORw0KGgoAAAANSUhEUgAAABwAAAAeCAYAAAA/xX6fAAAAGXRFWHRTb2Z0d2FyZQBBZG9iZSBJbWFnZVJlYWR5ccllPAAAA2ZpVFh0WE1MOmNvbS5hZG9iZS54bXAAAAAAADw/eHBhY2tldCBiZWdpbj0i77u/IiBpZD0iVzVNME1wQ2VoaUh6cmVTek5UY3prYzlkIj8+IDx4OnhtcG1ldGEgeG1sbnM6eD0iYWRvYmU6bnM6bWV0YS8iIHg6eG1wdGs9IkFkb2JlIFhNUCBDb3JlIDUuMC1jMDYwIDYxLjEzNDc3NywgMjAxMC8wMi8xMi0xNzozMjowMCAgICAgICAgIj4gPHJkZjpSREYgeG1sbnM6cmRmPSJodHRwOi8vd3d3LnczLm9yZy8xOTk5LzAyLzIyLXJkZi1zeW50YXgtbnMjIj4gPHJkZjpEZXNjcmlwdGlvbiByZGY6YWJvdXQ9IiIgeG1sbnM6eG1wTU09Imh0dHA6Ly9ucy5hZG9iZS5jb20veGFwLzEuMC9tbS8iIHhtbG5zOnN0UmVmPSJodHRwOi8vbnMuYWRvYmUuY29tL3hhcC8xLjAvc1R5cGUvUmVzb3VyY2VSZWYjIiB4bWxuczp4bXA9Imh0dHA6Ly9ucy5hZG9iZS5jb20veGFwLzEuMC8iIHhtcE1NOk9yaWdpbmFsRG9jdW1lbnRJRD0ieG1wLmRpZDowNzgwMTE3NDA3MjA2ODExOEJGMkY2QjUxMTM2ODA5MCIgeG1wTU06RG9jdW1lbnRJRD0ieG1wLmRpZDoyNzU1MDMzODNFODUxMUUwOEU2RjkzMTJFRjMxNEUwMiIgeG1wTU06SW5zdGFuY2VJRD0ieG1wLmlpZDoyNzU1MDMzNzNFODUxMUUwOEU2RjkzMTJFRjMxNEUwMiIgeG1wOkNyZWF0b3JUb29sPSJBZG9iZSBQaG90b3Nob3AgQ1M1IE1hY2ludG9zaCI+IDx4bXBNTTpEZXJpdmVkRnJvbSBzdFJlZjppbnN0YW5jZUlEPSJ4bXAuaWlkOjA3ODAxMTc0MDcyMDY4MTE4QkYyRjZCNTExMzY4MDkwIiBzdFJlZjpkb2N1bWVudElEPSJ4bXAuZGlkOjA3ODAxMTc0MDcyMDY4MTE4QkYyRjZCNTExMzY4MDkwIi8+IDwvcmRmOkRlc2NyaXB0aW9uPiA8L3JkZjpSREY+IDwveDp4bXBtZXRhPiA8P3hwYWNrZXQgZW5kPSJyIj8+GEY9uAAAAX5JREFUeNrslzFrwkAYht8kiqIhVTBTM7pGhEKWDPVfiP9AB5dOHbKl0EI2/4D/oXuQQrJkyNI9kK2gDg0EdTD27tDWUa13kx+8OS7Lc99378fdSbvdDiKjRD+bzeYwfyR6InoguufA25aOJs9Er5wTVCRaUpIhzcynP3iXVN6PLyJgx0BTlGkOwDvRQNyANPI8R5Ik/2/8U2KxWGA8HqNarcKyLIxGI74ZzmYzqKoK2rdRFGE6nfIF9no9KIqCZrMJTdMQx/FF0JOBuq7DcRzUajXIsox6vQ7f9zGZTPiZxjAMDIdDto+SJLExDEMGvrppflco/62RlrfRaLBScwGmaQrXdVGpVFAUBYO12222v1cHzudzeJ7HnLper1lWnU4Hg8GATx8GQYAsy5hDaSm73S76/T4/l9q2jVarhXK5DNM0L4LROBzAJ11sVqsVlsslc+ulcRbwdjydA/wWDfwUDXToJVUk8GMPFWqaN3rsEb0TfXHiFZLox8yPAAMA4GRx1RbQJygAAAAASUVORK5CYII=) center right no-repeat;cursor:pointer}div.pp_default .pp_previous:hover{background:url(data:image/png;base64,iVBORw0KGgoAAAANSUhEUgAAABsAAAAeCAYAAADdGWXmAAAAGXRFWHRTb2Z0d2FyZQBBZG9iZSBJbWFnZVJlYWR5ccllPAAAA2ZpVFh0WE1MOmNvbS5hZG9iZS54bXAAAAAAADw/eHBhY2tldCBiZWdpbj0i77u/IiBpZD0iVzVNME1wQ2VoaUh6cmVTek5UY3prYzlkIj8+IDx4OnhtcG1ldGEgeG1sbnM6eD0iYWRvYmU6bnM6bWV0YS8iIHg6eG1wdGs9IkFkb2JlIFhNUCBDb3JlIDUuMC1jMDYwIDYxLjEzNDc3NywgMjAxMC8wMi8xMi0xNzozMjowMCAgICAgICAgIj4gPHJkZjpSREYgeG1sbnM6cmRmPSJodHRwOi8vd3d3LnczLm9yZy8xOTk5LzAyLzIyLXJkZi1zeW50YXgtbnMjIj4gPHJkZjpEZXNjcmlwdGlvbiByZGY6YWJvdXQ9IiIgeG1sbnM6eG1wTU09Imh0dHA6Ly9ucy5hZG9iZS5jb20veGFwLzEuMC9tbS8iIHhtbG5zOnN0UmVmPSJodHRwOi8vbnMuYWRvYmUuY29tL3hhcC8xLjAvc1R5cGUvUmVzb3VyY2VSZWYjIiB4bWxuczp4bXA9Imh0dHA6Ly9ucy5hZG9iZS5jb20veGFwLzEuMC8iIHhtcE1NOk9yaWdpbmFsRG9jdW1lbnRJRD0ieG1wLmRpZDowNzgwMTE3NDA3MjA2ODExOEJGMkY2QjUxMTM2ODA5MCIgeG1wTU06RG9jdW1lbnRJRD0ieG1wLmRpZDpEM0IxQkE1RjNFODcxMUUwOEU2RjkzMTJFRjMxNEUwMiIgeG1wTU06SW5zdGFuY2VJRD0ieG1wLmlpZDpEM0IxQkE1RTNFODcxMUUwOEU2RjkzMTJFRjMxNEUwMiIgeG1wOkNyZWF0b3JUb29sPSJBZG9iZSBQaG90b3Nob3AgQ1M1IE1hY2ludG9zaCI+IDx4bXBNTTpEZXJpdmVkRnJvbSBzdFJlZjppbnN0YW5jZUlEPSJ4bXAuaWlkOjA3ODAxMTc0MDcyMDY4MTE4QkYyRjZCNTExMzY4MDkwIiBzdFJlZjpkb2N1bWVudElEPSJ4bXAuZGlkOjA3ODAxMTc0MDcyMDY4MTE4QkYyRjZCNTExMzY4MDkwIi8+IDwvcmRmOkRlc2NyaXB0aW9uPiA8L3JkZjpSREY+IDwveDp4bXBtZXRhPiA8P3hwYWNrZXQgZW5kPSJyIj8+GEjUPgAAAZBJREFUeNrsl79qwlAUxr+kAUEMEVGEhDyCUHBykSL4DM7BUV+gULcOnUoGMUPAl3B0Kv4BC4JjBsmgRKpDpvonSExvAi0d09R7odADH4QLlx/fPefcc8MFQQBWIXieR4PmEM2JnolewoVUKgXudDrRtnZP9MQK5hPdEdiYZ5CqG6LH8INnVBu3LGESSxj+Dsy2bRwOh581dRJQv9/HYDCAqqrodDooFAp0nJmmidFoBEmSsNlsMBwO6TjrdruwLAvZbBY8z0OWZdTr9evnzDAMLJdLXC4XnM9nkDsVrVYr9hHGdjadTjGbzZDJZKLj830f7XYbiqJcvxo5jkMul4MoilEFRpcqWaNS+pVKBaVSCa7rQhAEOI6DXq+H9XpNp880TUOtVsPxeESxWMRut4Ou69hut3SautFooFwuRw4/czeZTOg1dbPZRDqdxmKxwH6/R7Vajb038fBcrVbI5/MROE6QouJYTOov2P+I+W28s4TNWcHCp9wDK1gIGiee1DHijej1+/M7amqWPxYfAgwACS6Jy3cFed0AAAAASUVORK5CYII=) center left no-repeat;cursor:pointer}div.pp_default .pp_expand{background:url(//www.electrician-palmharbor.com/wp-content/themes/integral/css/../images/prettyPhoto/default/sprite.png) 0 -29px no-repeat;cursor:pointer;width:28px;height:28px}div.pp_default .pp_expand:hover{background:url(//www.electrician-palmharbor.com/wp-content/themes/integral/css/../images/prettyPhoto/default/sprite.png) 0 -56px no-repeat;cursor:pointer}div.pp_default .pp_contract{background:url(//www.electrician-palmharbor.com/wp-content/themes/integral/css/../images/prettyPhoto/default/sprite.png) 0 -84px no-repeat;cursor:pointer;width:28px;height:28px}div.pp_default .pp_contract:hover{background:url(//www.electrician-palmharbor.com/wp-content/themes/integral/css/../images/prettyPhoto/default/sprite.png) 0 -113px no-repeat;cursor:pointer}div.pp_default .pp_close{width:30px;height:30px;background:url(//www.electrician-palmharbor.com/wp-content/themes/integral/css/../images/prettyPhoto/default/sprite.png) 2px 1px no-repeat;cursor:pointer}div.pp_default .pp_gallery ul li a{background:url(data:image/png;base64,iVBORw0KGgoAAAANSUhEUgAAADIAAAAhCAIAAAAUH2/TAAAAGXRFWHRTb2Z0d2FyZQBBZG9iZSBJbWFnZVJlYWR5ccllPAAAAyJpVFh0WE1MOmNvbS5hZG9iZS54bXAAAAAAADw/eHBhY2tldCBiZWdpbj0i77u/IiBpZD0iVzVNME1wQ2VoaUh6cmVTek5UY3prYzlkIj8+IDx4OnhtcG1ldGEgeG1sbnM6eD0iYWRvYmU6bnM6bWV0YS8iIHg6eG1wdGs9IkFkb2JlIFhNUCBDb3JlIDUuMC1jMDYwIDYxLjEzNDc3NywgMjAxMC8wMi8xMi0xNzozMjowMCAgICAgICAgIj4gPHJkZjpSREYgeG1sbnM6cmRmPSJodHRwOi8vd3d3LnczLm9yZy8xOTk5LzAyLzIyLXJkZi1zeW50YXgtbnMjIj4gPHJkZjpEZXNjcmlwdGlvbiByZGY6YWJvdXQ9IiIgeG1sbnM6eG1wPSJodHRwOi8vbnMuYWRvYmUuY29tL3hhcC8xLjAvIiB4bWxuczp4bXBNTT0iaHR0cDovL25zLmFkb2JlLmNvbS94YXAvMS4wL21tLyIgeG1sbnM6c3RSZWY9Imh0dHA6Ly9ucy5hZG9iZS5jb20veGFwLzEuMC9zVHlwZS9SZXNvdXJjZVJlZiMiIHhtcDpDcmVhdG9yVG9vbD0iQWRvYmUgUGhvdG9zaG9wIENTNSBNYWNpbnRvc2giIHhtcE1NOkluc3RhbmNlSUQ9InhtcC5paWQ6RDNCMUJBNjIzRTg3MTFFMDhFNkY5MzEyRUYzMTRFMDIiIHhtcE1NOkRvY3VtZW50SUQ9InhtcC5kaWQ6RDNCMUJBNjMzRTg3MTFFMDhFNkY5MzEyRUYzMTRFMDIiPiA8eG1wTU06RGVyaXZlZEZyb20gc3RSZWY6aW5zdGFuY2VJRD0ieG1wLmlpZDpEM0IxQkE2MDNFODcxMUUwOEU2RjkzMTJFRjMxNEUwMiIgc3RSZWY6ZG9jdW1lbnRJRD0ieG1wLmRpZDpEM0IxQkE2MTNFODcxMUUwOEU2RjkzMTJFRjMxNEUwMiIvPiA8L3JkZjpEZXNjcmlwdGlvbj4gPC9yZGY6UkRGPiA8L3g6eG1wbWV0YT4gPD94cGFja2V0IGVuZD0iciI/Pkr7DkwAAAJ1SURBVHja7JfJiiJBEIbbstzGXXEDxQVEPPgiHn0d8eRDiggKKoob7tu4zTeVQ4+o9JhlO3jwP0hVZETGXxGREanhdDp9vB6Uj5eE+prRetN619ablizm8/lsNttsNtvtlleLxWK1Wl0ul9Pp1L2nge10G2Pb7XaNRiMkrBoMBsN6vUYO0cPhEIlEEOqhxS76OC0Wi1arFQqF/H7/ScPfTTWMRqNerxeLxRwOx39KIh/TbDaj0ShxOh6PF6uCpc/nU1UVtUQiYbPZ5KK1XC5lOcGjXq/7NXz9VSJmIJVKKYry3GhNp1Pq6Z+cRNhQm0wmmHg8Hol2epTEfr8fj8fkjoo+lxeLxUqlcq2PGsqYYHi/F+UkCdxQ7NdVzNErl8uQq1arF0soY4Lh/V6kk8juu92OWr6odJcGVkulUi6XKxQK2Wz2T6GoKiYskfpn1RZsMCEjN30gzGQyXq8XKp878yBSc78vaVroc75o6Df7ZDKZzOfz8Xicjgp1IUQZk4ve9v0n0Ww2U0n83iS0Wq1YvTi5TCTxSff2rcFgIMWJGGBCt0un0+dyt9sNIWro2qRWq9nt9kAgQGafFS3SwQweDodMQybPp5wWcFOf+cNICIfDIo9PpGUymYLBIAORAmfCfKEM13a7zVjE5Lm0frdgRRFJaTQalPN5zC7i1Ol0WEUZEylHemiJgDFMcNbv98Vg+aGB1ZUGBg6MudjQzGRDpf8GASEOF2VOm4AWpfZTgzingAiRaHR4lg3VQ7dTnOGS8uJ8wU+MSCEXQrGqg9Ojl2ZSg3sciw4uthJ3QEWDVK/65rs8JG4Ookd2fv9PfNN6Fn4JMADwIn/wsGds/wAAAABJRU5ErkJggg==) center center #f8f8f8;border:1px solid #aaa}div.pp_default .pp_social{margin-top:7px}div.pp_default .pp_gallery a.pp_arrow_previous,div.pp_default .pp_gallery a.pp_arrow_next{position:static;left:auto}div.pp_default .pp_nav .pp_play,div.pp_default .pp_nav .pp_pause{background:url(//www.electrician-palmharbor.com/wp-content/themes/integral/css/../images/prettyPhoto/default/sprite.png) -51px 1px no-repeat;height:30px;width:30px}div.pp_default .pp_nav .pp_pause{background-position:-51px -29px}div.pp_default a.pp_arrow_previous,div.pp_default a.pp_arrow_next{background:url(//www.electrician-palmharbor.com/wp-content/themes/integral/css/../images/prettyPhoto/default/sprite.png) -31px -3px no-repeat;height:20px;width:20px;margin:4px 0 0}div.pp_default a.pp_arrow_next{left:52px;background-position:-82px -3px}div.pp_default .pp_content_container .pp_details{margin-top:5px}div.pp_default .pp_nav{clear:none;height:30px;width:110px;position:relative}div.pp_default .pp_nav .currentTextHolder{font-family:Georgia;font-style:italic;color:#999;font-size:11px;left:75px;line-height:25px;position:absolute;top:2px;margin:0;padding:0 0 0 10px}div.pp_default .pp_close:hover,div.pp_default .pp_nav .pp_play:hover,div.pp_default .pp_nav .pp_pause:hover,div.pp_default .pp_arrow_next:hover,div.pp_default .pp_arrow_previous:hover{opacity:.7}div.pp_default .pp_description{font-size:11px;font-weight:700;line-height:14px;margin:5px 50px 5px 0}div.pp_default .pp_bottom .pp_left{background:url(//www.electrician-palmharbor.com/wp-content/themes/integral/css/../images/prettyPhoto/default/sprite.png) -78px -127px no-repeat}div.pp_default .pp_bottom .pp_middle{background:url(data:image/png;base64,iVBORw0KGgoAAAANSUhEUgAAAIIAAAAvCAYAAAAvgRLNAAAAGXRFWHRTb2Z0d2FyZQBBZG9iZSBJbWFnZVJlYWR5ccllPAAAA2ZpVFh0WE1MOmNvbS5hZG9iZS54bXAAAAAAADw/eHBhY2tldCBiZWdpbj0i77u/IiBpZD0iVzVNME1wQ2VoaUh6cmVTek5UY3prYzlkIj8+IDx4OnhtcG1ldGEgeG1sbnM6eD0iYWRvYmU6bnM6bWV0YS8iIHg6eG1wdGs9IkFkb2JlIFhNUCBDb3JlIDUuMC1jMDYwIDYxLjEzNDc3NywgMjAxMC8wMi8xMi0xNzozMjowMCAgICAgICAgIj4gPHJkZjpSREYgeG1sbnM6cmRmPSJodHRwOi8vd3d3LnczLm9yZy8xOTk5LzAyLzIyLXJkZi1zeW50YXgtbnMjIj4gPHJkZjpEZXNjcmlwdGlvbiByZGY6YWJvdXQ9IiIgeG1sbnM6eG1wTU09Imh0dHA6Ly9ucy5hZG9iZS5jb20veGFwLzEuMC9tbS8iIHhtbG5zOnN0UmVmPSJodHRwOi8vbnMuYWRvYmUuY29tL3hhcC8xLjAvc1R5cGUvUmVzb3VyY2VSZWYjIiB4bWxuczp4bXA9Imh0dHA6Ly9ucy5hZG9iZS5jb20veGFwLzEuMC8iIHhtcE1NOk9yaWdpbmFsRG9jdW1lbnRJRD0ieG1wLmRpZDowMTgwMTE3NDA3MjA2ODExOEJGMkY2QjUxMTM2ODA5MCIgeG1wTU06RG9jdW1lbnRJRD0ieG1wLmRpZDo2RkQ3N0Q4RDNFNkIxMUUwOEU2RjkzMTJFRjMxNEUwMiIgeG1wTU06SW5zdGFuY2VJRD0ieG1wLmlpZDo2RkQ3N0Q4QzNFNkIxMUUwOEU2RjkzMTJFRjMxNEUwMiIgeG1wOkNyZWF0b3JUb29sPSJBZG9iZSBQaG90b3Nob3AgQ1M1IE1hY2ludG9zaCI+IDx4bXBNTTpEZXJpdmVkRnJvbSBzdFJlZjppbnN0YW5jZUlEPSJ4bXAuaWlkOjAzODAxMTc0MDcyMDY4MTE4QkYyRjZCNTExMzY4MDkwIiBzdFJlZjpkb2N1bWVudElEPSJ4bXAuZGlkOjAxODAxMTc0MDcyMDY4MTE4QkYyRjZCNTExMzY4MDkwIi8+IDwvcmRmOkRlc2NyaXB0aW9uPiA8L3JkZjpSREY+IDwveDp4bXBtZXRhPiA8P3hwYWNrZXQgZW5kPSJyIj8+wcubnwAAAHlJREFUeNrs3EERACAMA8FUIP6t9AcGqACGXQmZe6eSrPC9EgJCQAgIgVsI3b3NgBAQAkJACAgBISAEhIAQEAJCQAgIASEgBISAEBACQkAICAEhIASEgBAQAkJACAgBISAEhIAQEAJCQAg8GUK8qiEEhIAQEAKDI8AA1FuTlQtMVXIAAAAASUVORK5CYII=) bottom left repeat-x}div.pp_default .pp_bottom .pp_right{background:url(//www.electrician-palmharbor.com/wp-content/themes/integral/css/../images/prettyPhoto/default/sprite.png) -112px -127px no-repeat}div.pp_default .pp_loaderIcon{background:url(//www.electrician-palmharbor.com/wp-content/themes/integral/css/../images/prettyPhoto/default/loader.gif) center center no-repeat}div.light_rounded .pp_top .pp_left{background:url(//www.electrician-palmharbor.com/wp-content/themes/integral/css/../images/prettyPhoto/light_rounded/sprite.png) -88px -53px no-repeat}div.light_rounded .pp_top .pp_right{background:url(//www.electrician-palmharbor.com/wp-content/themes/integral/css/../images/prettyPhoto/light_rounded/sprite.png) -110px -53px no-repeat}div.light_rounded .pp_next:hover{background:url(data:image/png;base64,iVBORw0KGgoAAAANSUhEUgAAAD0AAAAWCAYAAABzCZQcAAAAGXRFWHRTb2Z0d2FyZQBBZG9iZSBJbWFnZVJlYWR5ccllPAAABSVJREFUeNrMmMlLZEkQxqO03FcUFA+DCypoqQcRmlZccANRUTw4oIfpg3cv42UYET3YgtBHz/MHiApzcFxmxIMgOhe9KG6HHnBXxH2rqokvqCiyX1eVZV+qEpL3Kl9mvvxFfBGZr2xut5tsNhuNj4+Tj+Lg5418/ch9SvmajUZu+xoXF1cQFRXlio2NddrtdhfmCEFJ8Fzv3jPIrjcPDw/eRgbK4csnl8v1C9ccGIavUlEiIiKKXl9fxVgMTNHR0RQTE0ORkZEUYvj3QaMkJiaS0+msY8hf+dqqKgAYg3qB0I4K8JeXF1IDYDwbLFTgPwbtAR5jiA/4zfIVWLMoEK7wMLwP6NvbW4wXY8THx4c1uN2UNDwMYPWuetUEwG+rEdAX4AgR7Qu5hyu46cZPkLRYwiNnVEByshLp+ioAQz81EsBRoQCrgcLK05y5HZ6kJcnIXCxitKamRuBWVlZExmYxlQB4SBzQ8DSqNTzw/OnpSa4IH1TcQylq6OfnZ2nzeobbsC6sD8bFGBTMg3H+FIjwQ7Wuwe4Z0IgsbYVBwQLu7+8pPT2dqqqqBPzm5uabBRlZ3RvjWBAWh5ebModBMjIyRD2Xl5dScZ+Xl0fHx8d0cnJCZWVlMl6TJ+Y5ODig/Px8eY4xeAd+4xn6an5RJ6D94uJC3odnvuT90fSYuUXB4gDFBFgcwE2p4+X6MjWUZnY1hlkeHx+pqKiIWlpaqLe3l+7u7qRfQ0ODGBZAjY2NVFdXR7m5uWKMnJwcOjw8pMLCQurp6ZE+aWlp1NbWJgpISUmRvhUVFdTa2krFxcUyBuv0tQa7RwqleKgysEoFAAAHMBZWXV1Ns7Oz3/VVw8FQqGo4U15WY1RWVtLq6qrcY/uDslD29/dpYmJCgJKTkyk1NZWmpqaov7+fOjs7KTMzk87OzmhtbU12i+vrayopKaGuri7ph/dgHMLTyqOrydaFmN5Sj6vnAH51dSWx2tzcLG3az5zY9HygZDY/Py/5AvNZCzwMwL6+PqqvrxeJwpBzc3Mif0BPT0+LMeAIVI31hIQEUQI8DSUE3Kc1KfjNepxETC+pV3wVwELKmhzNMWqIyclJUU93d7fXWPA2ChLm9va2GATzYG2APj8/986FkAMY5kRc69q0r78tM0LP0tYM5wsYcQYLYhEzMzP+90Hj9BaoQJaLi4uUlZX13bPT01NaXl6m9fV12t3dFSAkVEh7b29PjNLR0SHKMzP9e/bpzUDQCoysC+CFhYXAk3qgrZlbtxJtS0pKos3NTUlm5taEAvnW1tZKciovLxcPt7e3i3QRswgNJCyHw+E9FCnDmw70yGqVB/0cLLC5Zfk7sPgCRsEOgAQE7wEacQgAZHTMj7adnR2RKNowBwyxtbUlz5aWliQEMH5jY4MKCgro6OhIlIDxaH8L2ob4Gh0dLeWJ/+QXZVtTPCzb1NQkEwUDjH761aWHDxNej6t4DzIrgPAbIBhn/jYNj3kwFvcYh/H6ZajzaOzrwchfiNk824xtbGxshO9/N19mggPmLWD9SNGTEO5D+Ln5Zky72Wp/MNisnqHNgpgLBlg9gitgg01oIfvgGB4ePuDU/4UX+q8v8GCBAavQYf+VNTIy4h4cHPyH97vfGPwvX9/S/mJYJW2Ch6uXrZ+WAHcNDQ39zZt+PyeKzwzxVeVqGkA/Ja3xq+Dh7GUzkX3zx+DAwAAII/laxttEA4N8YBAH9/vJc5j5jwHzuc2JPwfxxyBXdwg8/EN/DP4vwADzqyH4OmxBwwAAAABJRU5ErkJggg==) center right no-repeat;cursor:pointer}div.light_rounded .pp_previous:hover{background:url(data:image/png;base64,iVBORw0KGgoAAAANSUhEUgAAAD0AAAAWCAYAAABzCZQcAAAAGXRFWHRTb2Z0d2FyZQBBZG9iZSBJbWFnZVJlYWR5ccllPAAABURJREFUeNrUWElLLFcUPj04j4gTiIqioLgQRAhOKE4YtwpZZJN/IARciQtXgsrDRVAUxUhw2ATcBSIJcSQoAU2MUdQ4NCpOOM9D534nfZpr5/Zrk8Cj34FL3aq6dep85zvDrbIPDQ1d0X+XMNfxmj6QPD4+Wu/v720PDw/Wp6cn6/PzsxXXX15e/lCHX9XxZ3Xth6ampiV17jTpsPT19TnpIxAFhhRYuru7IwWWnE4nX8OAWK1WHhaLBWNbXfrm9vb265aWlj89wVtGR0f9HjTAXlxc0NXVFYMFMLvdLgB5jThBsexeo5zwnYqId83NzT/Cb6LP+jEAPj09pcvLSz4PCAigwMBAndW/2VNHm83G97AGwJUDPlXzVsV2hY4VOUH+OhRLdH5+Tjc3N6/Y1QXgTOcAjrWK/fygoKAvGxsbMwS4XzN9fX3NAwLAwq5JwsPDKTg4mEFLfuMZlyNqoqOjv1BTG4LC7ukpCLyMsJKCgRdJ2AgDOEL0kMI1FBq5JwUGa6BH1mIO/Tji3MQg3g3AyFM8pzPpuRaAi4qK+N7ExATrlrV4P+xROj5XbH/b3t6+YDd5TVU9io+Pf+W5vb09zq2QkBBKS0tjowTU6uoqGw/lWVlZ/FJhBYDW19cpMzOTdcBheBb6IyMjaXNz082IZy6r9iQF6RUIqdiQiIgIBgxbT05OWL+JSHUtRa1Fbv9mBA22srOzGcDy8jLFxcVRTU0N9ff3szHV1dV0eHjIL0lJSeF7AwMD5HA4qLKykhnCXFiem5ujiooKmp2dpfn5edZRV1fH71pcXGSDPUU3Xj8CsDhBGBbAMzMz7uqtPwfHYa6c+wmC04oTzwEmxJu9vb3U1tbG84KCAm4bkMnJSerp6eH7kMTERHYWZGNjgzo7O9lJw8PDzNj29jbl5ubS8fExp0JsbCwtLCzwXAw02SAG60OkpKTkFWBJR9NaV5rkIDjtvooJPJ6cnMxzKJf8iomJoaSkJCouLubz3d1dd5imp6dTQ0MDnwPk1NQUM1xfX08JCQmUkZHB6xBFYWFhxveCMT2fdQAAV1tbS6oq09nZ2T8Am6q5y4HJDFqS3ltodXV18fHo6IiNDw0N5fPy8nIeEg1wiAiiYWVlhY0C+5LXEOQ2GEd6wGDoM9mgbTt97tRkl/ZGsfhsWa2tre4wRigJmyMjI9Td3c1z5BUMl6oNQKiiYHdtbY2fw72trS0qLCzkVEBog2VvLUgvYCYZGxtjsIi4srIyYzHUBboUkQ6vfVrf6UjbkGou4QaGdnZ2aHp6mnJycji/sImAIIRLS0spPz+f8vLyOHIAEAUN1RaytLTEncCb4D3vAw0ZHx9n4LDNF3BX61pGxBu1AhzCGSxFRUW5t31iCK4DCKo68gmsoYqnpqZy+0Koo/ojd9He4DTo3N/f57DHeoQt9HoTU+/2FGxN3wocupTNc8gI41cW8gO9GsaCDTFONhUYUC5hC4ZdLYHB6PmF6gyWcYSjsBaOQ6RI5TYJdAAU3qX3ZZMgeqqqqngdnCC7OI8NkkNF5mcqJc2bExgvYejpLQDV+6rsst4iKGwYbxHRq7dPX4xjnSdg0aXIGFGAf0djsJOfChwMB8lmw1d1lq8wE4FKvld7h2EEkF+DFoYAXJj+F21Jrwu/qBrz1eDg4AY6IHLar0HLh47kpbRFX+EuRRcMA3BHR8dPLsDoqU6/Bq0Dl74tX3jv+12kxIEcRkhrDD/K3xO7qs7/56feB/sxKCAV2/xjUIW6TYG3qOtW17Z1FX1Y3Zs7ODiYcBWtJ41hd3j8JcAAJ3IhvjEWLJYAAAAASUVORK5CYII=) center left no-repeat;cursor:pointer}div.light_rounded .pp_expand{background:url(//www.electrician-palmharbor.com/wp-content/themes/integral/css/../images/prettyPhoto/light_rounded/sprite.png) -31px -26px no-repeat;cursor:pointer}div.light_rounded .pp_expand:hover{background:url(//www.electrician-palmharbor.com/wp-content/themes/integral/css/../images/prettyPhoto/light_rounded/sprite.png) -31px -47px no-repeat;cursor:pointer}div.light_rounded .pp_contract{background:url(//www.electrician-palmharbor.com/wp-content/themes/integral/css/../images/prettyPhoto/light_rounded/sprite.png) 0 -26px no-repeat;cursor:pointer}div.light_rounded .pp_contract:hover{background:url(//www.electrician-palmharbor.com/wp-content/themes/integral/css/../images/prettyPhoto/light_rounded/sprite.png) 0 -47px no-repeat;cursor:pointer}div.light_rounded .pp_close{width:75px;height:22px;background:url(//www.electrician-palmharbor.com/wp-content/themes/integral/css/../images/prettyPhoto/light_rounded/sprite.png) -1px -1px no-repeat;cursor:pointer}div.light_rounded .pp_nav .pp_play{background:url(//www.electrician-palmharbor.com/wp-content/themes/integral/css/../images/prettyPhoto/light_rounded/sprite.png) -1px -100px no-repeat;height:15px;width:14px}div.light_rounded .pp_nav .pp_pause{background:url(//www.electrician-palmharbor.com/wp-content/themes/integral/css/../images/prettyPhoto/light_rounded/sprite.png) -24px -100px no-repeat;height:15px;width:14px}div.light_rounded .pp_arrow_previous{background:url(//www.electrician-palmharbor.com/wp-content/themes/integral/css/../images/prettyPhoto/light_rounded/sprite.png) 0 -71px no-repeat}div.light_rounded .pp_arrow_next{background:url(//www.electrician-palmharbor.com/wp-content/themes/integral/css/../images/prettyPhoto/light_rounded/sprite.png) -22px -71px no-repeat}div.light_rounded .pp_bottom .pp_left{background:url(//www.electrician-palmharbor.com/wp-content/themes/integral/css/../images/prettyPhoto/light_rounded/sprite.png) -88px -80px no-repeat}div.light_rounded .pp_bottom .pp_right{background:url(//www.electrician-palmharbor.com/wp-content/themes/integral/css/../images/prettyPhoto/light_rounded/sprite.png) -110px -80px no-repeat}div.dark_rounded .pp_top .pp_left{background:url(data:image/png;base64,iVBORw0KGgoAAAANSUhEUgAAAIIAAAB3CAYAAADPXJhXAAAAGXRFWHRTb2Z0d2FyZQBBZG9iZSBJbWFnZVJlYWR5ccllPAAAD45JREFUeNrsXW1sFMcZHpvDQCDm03wZgiEmicN3gEZ8xnwYlxYIKIEflZIgBfEDqUqlVCUVqmKq/kikJGp/UhFhIdEfpPmRKrRFIGNQiEkAtaKACRgwThwHrBgwEAwhpu8znrmMJ7N3u3u7d7d380qj29udfWd23mfer52bK3j48CGzZCm2fft2x4uTJ0+eQh/LqMyjMp3KhIDaHSg+76TjIQF2lO7ubnb//v3C77//vg/KDz/8UPDgwYMuUa2F6vyP6jRQObht27bTNTU1eTNLCuhhTQAoo4+NNDCv0KCUYQBliRpJAJDAAQJGAGAEgPh5+UyFhYW8FBQUoFyhspvq11LdS3mhEQwgqKSP12ngVmGwMDCxWCw+UFEDAQDQ1dXFAYBP/ZlwrGoN1CdwTKDzfygqKppNl965e/fuobwCAkBAg/EWDcaz+N63b9+48OWARQ0EJER2+/ZtDgL9meJqUTwbPkn4cQ1C2uAXVLdkwIABW3MdDDHNHEATPCtnDCjK5uDevXvszp07HATqM0mtoNbXgYG6QjvMpePX+/Xr10z8LucqENSpsRHmgKMjFov0Q0Gw8AOgDaQmkM9Es5s9+uijzClaGjRoEK+j3kO8ftmnT5+NOa8REB0Ix5A/vNuQUs46DDhmDw0W69+/P1e/+A6imcTPq+r6u+++4/dh5mHQUVAHwoPgUMAbfMAP9aSTp85YlbcOAvBHAR/UwflHHnmEPffcc/z+o0ePslu3bvXSDADBggULeN3Dhw/z54IZAT+q9wr15QPq2+lcNg3LEB14uRGD09nZyQW1ePFi/gkBXrhwgTU1NbG5c+fy69euXeMDjMHF9Rs3brA5c+awMWPGcCGcPXuW3zNkyBCuxseOHcuefPJJDo62tjZ2/vx5DoLy8nIOItwD4SAC+Oabb7hwTQDFPRKMknAPQDh8+HAu8E8++YT7DyBoCZzDc3z77be8rowmwI/6P4EAhVD6dC6bhnl4WC8OIQZ0xIgRbNOmTVyIECZ4vPjii6yjo4MtW7aMVVRUxFUzhAIQbNmyhYOkpaWFg2Tt2rVszZo1rLW1lQNgw4YNvC4AMHXqVFZW1oPPFStWcABNnDiRTZo0ibdt8l9U71/1BeQ5aAIIGgJfuHAhB6nUBBIEqCNDTKkdxee8XHcWp2NQpTedzDSg7vXr19lLL73EhVlbW8sGDx7MZ3djY2MvR1MKBLP9mWee4TN4x44d7ObNm3zW4Xx1dTUX7IQJPfmqPXv2cLPw+eefs/Hjx8dNQl1dHRcSZi/Ah5mt91XNeZieSYIBgsf9ixYtipswCQKpSSQQACbRh+m5DoQJctB0j9pEGKiSkhI2cOBAdvDgQS6UYcOG8XshXOlsqQR7PXr0aH4MlY6ZjnMXL17k52ASoFWefvpp9t5777Hm5mZ25swZdurUKT5jQUuWLGEzZ87kQAPgrl69mjBq0J9JChZmAwKHSUPfQdBWEgSqJlABRjwey4s8gm5TnUjaT+kr4DuEKgWAgZYCkdfUe3Cs3iNt8aeffsrvhUmZMmUKB0txcTFraGjgdSD4y5cv89kLjYS6Omhlf5I9E+qppgXHMGNuxyBXfYQrXrKGmJEQBAh2FmoefgHMBLQBvG0JBDhjuI4B/uqrr/j50tJSXre9vR0RS1xL4PjEiRNs165dbPPmzfz80KFD46bh3Llz3ME7fvw4v9/UZ5EijjuVTv2vrKzkWkxGKTjGOafQWWiWllwFQh88PNnKRfSQU70kjyAc2NRZs2axadOmceFjJq9evZrt27ePrVy5Mh7KjRo1itv6+vp6Nn/+fDZjxgwODDiHy5cv5wLGtXXr1rF58+bx7B76BcAcO3aMAwn3oX/wD8aNG8c/oc7hS5jMgpzx+jNJEIwcOZID4MCBA+zSpUvcP4GfA5MHR1a/DyEogaGOtNDfcxkIpXS8Us68ZCTjeMzwL774gjuAMhw8cuQIDxshRDiCGHA4ZSgIKyFYEIABHwP1UWCroRWg9nENgjh06BDnD6HDRIA/nErwAiG8BGhMzqwKhkQgQC4BpgTPkggMAgg7CQif5SIQ+NtHkVD6mAakzItWkHYVBYMuE0pQo9AQ0leQOX4IHsLENZlQQn2YExxDIHpyCoKWSShpv9X7dFUutRB4oV/4lM+E9quqqnj/JAhUAuBwHfVxHUCWZoHauUKHq3I1oRR/DU1gqKGBflMVXlRJhq0AAgCnPhPAAMHqIFDBgPslCCSICZh/JDC+mQ9RQy2hfjbNqFVR95yhMaBRoE3UBBNIFbCJdIBA4xCvfaRlavMhakAM30wf79KDfxb1l04yYsBzYDYDEH6eSaxZOE5AejeX3zz2AoIAQz0N4hs0eB+b3ttHVSugwAl1+0yoI8zBP4nP1rxbmCLBQP5CM82GkzQQkV6qJsEg31JCwHapmksgKGaihgDxAd64Ucmrxat03i5etZSfVGiHwJIFgqXePkJFRcVDk6OVaF2CuuBDp8bGRlcrXDLVriWfGkFd7q06YInqBuX1Z6LdvAWCOojyFa6+zEudqaZBV+/zKuh0t2vJAQjqQK9fvz7+HcemmYhjrC2U5+SxV2Go7RrWBzoe6+csCALUCHK27d27lwvWLaEu7vGjntV2gzAhllJ0FlU17AUMKgh0Hl60gqre9XYlf6fzujmxlAIQVJXrRRuoAoJgvNpqk6rXBZ0MEG4iDUseNIIcTF0ATmSq50cYJiFKjaS3Ic+pYLAACDh8DGJA/ahnp3Z1gZuAYX2E4Ii/a0BiJ1Gixuvs9pJQykS7lpIklFLVCn7vz1S7lgzhY1CmwYuaNrWrm4Nkx0GGoXkPhKDCL6/JnUTt6j5BopDWJpUCihrUmekUrzuFjcnqudUIeh9M/Lwmuyz5CB/dxOuJwshUzYuTiUjWH5tDCCGPIAViitcThXj4TPRiyE3IKe930ixO5/22a8nBR3ATr7uJ9/1kFoMQpNUKAeYREr3rdzvQYjscT3mEdLdrKUH4mEhtO9UxhW1+1yOks11LDj6CaRDdzMYwEkHpaNeSAxAylZq1KeEsA4JdvGrJLl61ZHYW7eJV6yz+ZEC9LiL16yzKRbN6fsLURhCpbUsOQAhKraaiEdwK1pRythohQB9BV79eXwf7XUSqCtDPolm7eDUE02ASSqK3j/q1IBavpqPddFIKvzZ/gspSBFdURrGerQSKlMmLjR2wsyi2FsAWtI1U6qic99N+LNFgOs1QkzD8CsK0aDbZ4tUc9w9eZT2bf48Vgnci/D/BAFFGUMEfsa2h8jUVbFX7vmeNYBJkMhWtvyb2OzMTLV516z/kiI+wSWiAEjySTx4AThnr2dBkmdAQOz1rBFUwXl8Hp5oryGNnb47QAo+z4LYpwKCOxHwl04A/KHufPk+4TijZxatpp5epvEFlMgtnr4pCwfsNAsLLrsLHZKYh2U/P/IShQS6ajSC9RqWKSv80tDVEaIehVP7iqBFM4RcEnMgMmK4HvXjVzTk/7WYJCKrTBAJJaKuagPCaIxCc0rhhLyJ1WjTrtt2ILmR9WWiCogy0jTarTGai0MneJluypgslKPWcqXbT6BiuSbMmMGmGNQSGOUYg6Kt+nOJ1p+NUFq+q2Uw3UYkKhogtXn1V2OtM0xDRl5/6CEHNML+LV1WNkEjlO12PgI+wSYSI2UKPk1bY9JM8QqLB9LqI1A94TJrAKdsZ0chhKcuu7QwLRZ929nIWkw2uXbyaskkoycJ+lZBWeLWXaTD9UbabRaSp/ropE+1mgPDuIBtVVoHom128mgbCW8SxWdy/saQVnrBb8KbHNyjK4v6hb0stEMKniij00QIhfBoVhT7Gw8fS0tLx9PEC68mBzxanT1LZT+XD1tbWL/20EBbfCNHAKPQxJoQFz3Erlee1Cj8XpZLqvE1Ca/AIglD4RoyKotDHQjFjdWE1aRVxbauo60UTmEDQlArfCFIUzC//y7MXNGHhj7ArDZWfF3Xd0gsGEDDBuyUFvpZCQmu18r0VgiJV3epQv9oDb2NdwbtStOWHr6WQgCAduHYBgstCYAUodDhGqT/bA2+17hiFHxNtVIo2vfK1lCH7FcT/Az+wQ539QDgpjvFSpJ4ct4nC2XuIosxaptR1Q2rddoUfE23Usx9fxJy0osg8EParzr4AQ6lD/f0eeO93iCZKBQhKffK1FBIQPqTykXLuMSEonT4Sdd2SzldSvWjDL9+oURT+R7m7UGT23taEVm4AwdtesoAOfHXenvlGkO5HoY8xIbQG0ti/FrM1sFRwWHwjRviR6oBs72NMm8F/FiUwCotvhAi/VB6R7X20bx/Dp8Yo9NECIXyqy3I/AX2rs0AIn7BxxddZ3L+va2pqzqvrEQazntU08OplWrmN9bwtbCRbf9NPK2HxjRjhNTv2LMi2NZoPRd+YXI+A18ALqDxlCPVQyqjOUa8eflh8I0jYvQQbV4zMsn61kzbgO6sUihmrC6tDuwHXFoi6XjSBCQQdqfCNuK+QTcmlbtEnToVCbavCgqquNdz4FPO2ELPCAAImeN9MgW9UCb8ouphF/blI2mCnCgQ109cJQZGq7nS4udxDQ+UOeYVOAYZOn3yjbiJuZEE/bjBts62Y4sDdESC4LgRWI1T8IPr4ragzxkNjat13iN9tBQzXiS/AgJ9bDfTIN8qEfYz+QQW/4s3UT+O70Ad9TyU34WMQdq2bWZK0m8qBDOUW0OYBAsFu/UJMhHLlYmZupJm6S8zYGgOjNg+Ntikq/3fyzTY0DR0PRVvsx6XebXkGBrmPUVUaNUOXAIHjHkrqquJiAYZiB2ZNHhpucogmigUIin3yzSUw7E2Tz4A29jqBQAIBufBzyrnBQlA6nWPe8uY6X0kbRRt++eaamXiLyoWQzGe34P2WyRz0Mg3I7CGpo4RyoGEGEBz1kgV04Kvz9sw3Rx1IlCB2XpUklxjWqSFiQiAIoX1JQvsXHTazAFPBYfHN4TzDTuZ+L2YnZzC1vZiFQI6JEhiFxTfHcw0ogezO7hkIlsKhFLbpP+9XqH7Ivoa2ZIFgyQLBkslHIM8eq4vbybFrCaMR4o+Fq1jJ+xtq467+3YohezTCzxDTk4C2UQlj6fVGKpuVcEj/bimLTAMA8CcBiF/ZobE+An6OtofA8BmVmXaIrLMIc/EfAsNOKqPtUNmoASnPC8J/sDY9z8NHRBMnycO/b4csP4GA9wSvU5lFIPi3Ha4czyM40F+p/J4A0GGHKT+BcJj1JHr+a4cnP4HQIjTA30Jop5L1/JfxbYfvlrIECLD/tWGle3XtYrVN9lFBHv8nsyUf4aMlCwRL+UD/F2AAZDs5F9dqVQcAAAAASUVORK5CYII=) -88px -53px no-repeat}div.dark_rounded .pp_top .pp_right{background:url(data:image/png;base64,iVBORw0KGgoAAAANSUhEUgAAAIIAAAB3CAYAAADPXJhXAAAAGXRFWHRTb2Z0d2FyZQBBZG9iZSBJbWFnZVJlYWR5ccllPAAAD45JREFUeNrsXW1sFMcZHpvDQCDm03wZgiEmicN3gEZ8xnwYlxYIKIEflZIgBfEDqUqlVCUVqmKq/kikJGp/UhFhIdEfpPmRKrRFIGNQiEkAtaKACRgwThwHrBgwEAwhpu8znrmMJ7N3u3u7d7d380qj29udfWd23mfer52bK3j48CGzZCm2fft2x4uTJ0+eQh/LqMyjMp3KhIDaHSg+76TjIQF2lO7ubnb//v3C77//vg/KDz/8UPDgwYMuUa2F6vyP6jRQObht27bTNTU1eTNLCuhhTQAoo4+NNDCv0KCUYQBliRpJAJDAAQJGAGAEgPh5+UyFhYW8FBQUoFyhspvq11LdS3mhEQwgqKSP12ngVmGwMDCxWCw+UFEDAQDQ1dXFAYBP/ZlwrGoN1CdwTKDzfygqKppNl965e/fuobwCAkBAg/EWDcaz+N63b9+48OWARQ0EJER2+/ZtDgL9meJqUTwbPkn4cQ1C2uAXVLdkwIABW3MdDDHNHEATPCtnDCjK5uDevXvszp07HATqM0mtoNbXgYG6QjvMpePX+/Xr10z8LucqENSpsRHmgKMjFov0Q0Gw8AOgDaQmkM9Es5s9+uijzClaGjRoEK+j3kO8ftmnT5+NOa8REB0Ix5A/vNuQUs46DDhmDw0W69+/P1e/+A6imcTPq+r6u+++4/dh5mHQUVAHwoPgUMAbfMAP9aSTp85YlbcOAvBHAR/UwflHHnmEPffcc/z+o0ePslu3bvXSDADBggULeN3Dhw/z54IZAT+q9wr15QPq2+lcNg3LEB14uRGD09nZyQW1ePFi/gkBXrhwgTU1NbG5c+fy69euXeMDjMHF9Rs3brA5c+awMWPGcCGcPXuW3zNkyBCuxseOHcuefPJJDo62tjZ2/vx5DoLy8nIOItwD4SAC+Oabb7hwTQDFPRKMknAPQDh8+HAu8E8++YT7DyBoCZzDc3z77be8rowmwI/6P4EAhVD6dC6bhnl4WC8OIQZ0xIgRbNOmTVyIECZ4vPjii6yjo4MtW7aMVVRUxFUzhAIQbNmyhYOkpaWFg2Tt2rVszZo1rLW1lQNgw4YNvC4AMHXqVFZW1oPPFStWcABNnDiRTZo0ibdt8l9U71/1BeQ5aAIIGgJfuHAhB6nUBBIEqCNDTKkdxee8XHcWp2NQpTedzDSg7vXr19lLL73EhVlbW8sGDx7MZ3djY2MvR1MKBLP9mWee4TN4x44d7ObNm3zW4Xx1dTUX7IQJPfmqPXv2cLPw+eefs/Hjx8dNQl1dHRcSZi/Ah5mt91XNeZieSYIBgsf9ixYtipswCQKpSSQQACbRh+m5DoQJctB0j9pEGKiSkhI2cOBAdvDgQS6UYcOG8XshXOlsqQR7PXr0aH4MlY6ZjnMXL17k52ASoFWefvpp9t5777Hm5mZ25swZdurUKT5jQUuWLGEzZ87kQAPgrl69mjBq0J9JChZmAwKHSUPfQdBWEgSqJlABRjwey4s8gm5TnUjaT+kr4DuEKgWAgZYCkdfUe3Cs3iNt8aeffsrvhUmZMmUKB0txcTFraGjgdSD4y5cv89kLjYS6Omhlf5I9E+qppgXHMGNuxyBXfYQrXrKGmJEQBAh2FmoefgHMBLQBvG0JBDhjuI4B/uqrr/j50tJSXre9vR0RS1xL4PjEiRNs165dbPPmzfz80KFD46bh3Llz3ME7fvw4v9/UZ5EijjuVTv2vrKzkWkxGKTjGOafQWWiWllwFQh88PNnKRfSQU70kjyAc2NRZs2axadOmceFjJq9evZrt27ePrVy5Mh7KjRo1itv6+vp6Nn/+fDZjxgwODDiHy5cv5wLGtXXr1rF58+bx7B76BcAcO3aMAwn3oX/wD8aNG8c/oc7hS5jMgpzx+jNJEIwcOZID4MCBA+zSpUvcP4GfA5MHR1a/DyEogaGOtNDfcxkIpXS8Us68ZCTjeMzwL774gjuAMhw8cuQIDxshRDiCGHA4ZSgIKyFYEIABHwP1UWCroRWg9nENgjh06BDnD6HDRIA/nErwAiG8BGhMzqwKhkQgQC4BpgTPkggMAgg7CQif5SIQ+NtHkVD6mAakzItWkHYVBYMuE0pQo9AQ0leQOX4IHsLENZlQQn2YExxDIHpyCoKWSShpv9X7dFUutRB4oV/4lM+E9quqqnj/JAhUAuBwHfVxHUCWZoHauUKHq3I1oRR/DU1gqKGBflMVXlRJhq0AAgCnPhPAAMHqIFDBgPslCCSICZh/JDC+mQ9RQy2hfjbNqFVR95yhMaBRoE3UBBNIFbCJdIBA4xCvfaRlavMhakAM30wf79KDfxb1l04yYsBzYDYDEH6eSaxZOE5AejeX3zz2AoIAQz0N4hs0eB+b3ttHVSugwAl1+0yoI8zBP4nP1rxbmCLBQP5CM82GkzQQkV6qJsEg31JCwHapmksgKGaihgDxAd64Ucmrxat03i5etZSfVGiHwJIFgqXePkJFRcVDk6OVaF2CuuBDp8bGRlcrXDLVriWfGkFd7q06YInqBuX1Z6LdvAWCOojyFa6+zEudqaZBV+/zKuh0t2vJAQjqQK9fvz7+HcemmYhjrC2U5+SxV2Go7RrWBzoe6+csCALUCHK27d27lwvWLaEu7vGjntV2gzAhllJ0FlU17AUMKgh0Hl60gqre9XYlf6fzujmxlAIQVJXrRRuoAoJgvNpqk6rXBZ0MEG4iDUseNIIcTF0ATmSq50cYJiFKjaS3Ic+pYLAACDh8DGJA/ahnp3Z1gZuAYX2E4Ii/a0BiJ1Gixuvs9pJQykS7lpIklFLVCn7vz1S7lgzhY1CmwYuaNrWrm4Nkx0GGoXkPhKDCL6/JnUTt6j5BopDWJpUCihrUmekUrzuFjcnqudUIeh9M/Lwmuyz5CB/dxOuJwshUzYuTiUjWH5tDCCGPIAViitcThXj4TPRiyE3IKe930ixO5/22a8nBR3ATr7uJ9/1kFoMQpNUKAeYREr3rdzvQYjscT3mEdLdrKUH4mEhtO9UxhW1+1yOks11LDj6CaRDdzMYwEkHpaNeSAxAylZq1KeEsA4JdvGrJLl61ZHYW7eJV6yz+ZEC9LiL16yzKRbN6fsLURhCpbUsOQAhKraaiEdwK1pRythohQB9BV79eXwf7XUSqCtDPolm7eDUE02ASSqK3j/q1IBavpqPddFIKvzZ/gspSBFdURrGerQSKlMmLjR2wsyi2FsAWtI1U6qic99N+LNFgOs1QkzD8CsK0aDbZ4tUc9w9eZT2bf48Vgnci/D/BAFFGUMEfsa2h8jUVbFX7vmeNYBJkMhWtvyb2OzMTLV516z/kiI+wSWiAEjySTx4AThnr2dBkmdAQOz1rBFUwXl8Hp5oryGNnb47QAo+z4LYpwKCOxHwl04A/KHufPk+4TijZxatpp5epvEFlMgtnr4pCwfsNAsLLrsLHZKYh2U/P/IShQS6ajSC9RqWKSv80tDVEaIehVP7iqBFM4RcEnMgMmK4HvXjVzTk/7WYJCKrTBAJJaKuagPCaIxCc0rhhLyJ1WjTrtt2ILmR9WWiCogy0jTarTGai0MneJluypgslKPWcqXbT6BiuSbMmMGmGNQSGOUYg6Kt+nOJ1p+NUFq+q2Uw3UYkKhogtXn1V2OtM0xDRl5/6CEHNML+LV1WNkEjlO12PgI+wSYSI2UKPk1bY9JM8QqLB9LqI1A94TJrAKdsZ0chhKcuu7QwLRZ929nIWkw2uXbyaskkoycJ+lZBWeLWXaTD9UbabRaSp/ropE+1mgPDuIBtVVoHom128mgbCW8SxWdy/saQVnrBb8KbHNyjK4v6hb0stEMKniij00QIhfBoVhT7Gw8fS0tLx9PEC68mBzxanT1LZT+XD1tbWL/20EBbfCNHAKPQxJoQFz3Erlee1Cj8XpZLqvE1Ca/AIglD4RoyKotDHQjFjdWE1aRVxbauo60UTmEDQlArfCFIUzC//y7MXNGHhj7ArDZWfF3Xd0gsGEDDBuyUFvpZCQmu18r0VgiJV3epQv9oDb2NdwbtStOWHr6WQgCAduHYBgstCYAUodDhGqT/bA2+17hiFHxNtVIo2vfK1lCH7FcT/Az+wQ539QDgpjvFSpJ4ct4nC2XuIosxaptR1Q2rddoUfE23Usx9fxJy0osg8EParzr4AQ6lD/f0eeO93iCZKBQhKffK1FBIQPqTykXLuMSEonT4Sdd2SzldSvWjDL9+oURT+R7m7UGT23taEVm4AwdtesoAOfHXenvlGkO5HoY8xIbQG0ti/FrM1sFRwWHwjRviR6oBs72NMm8F/FiUwCotvhAi/VB6R7X20bx/Dp8Yo9NECIXyqy3I/AX2rs0AIn7BxxddZ3L+va2pqzqvrEQazntU08OplWrmN9bwtbCRbf9NPK2HxjRjhNTv2LMi2NZoPRd+YXI+A18ALqDxlCPVQyqjOUa8eflh8I0jYvQQbV4zMsn61kzbgO6sUihmrC6tDuwHXFoi6XjSBCQQdqfCNuK+QTcmlbtEnToVCbavCgqquNdz4FPO2ELPCAAImeN9MgW9UCb8ouphF/blI2mCnCgQ109cJQZGq7nS4udxDQ+UOeYVOAYZOn3yjbiJuZEE/bjBts62Y4sDdESC4LgRWI1T8IPr4ragzxkNjat13iN9tBQzXiS/AgJ9bDfTIN8qEfYz+QQW/4s3UT+O70Ad9TyU34WMQdq2bWZK0m8qBDOUW0OYBAsFu/UJMhHLlYmZupJm6S8zYGgOjNg+Ntikq/3fyzTY0DR0PRVvsx6XebXkGBrmPUVUaNUOXAIHjHkrqquJiAYZiB2ZNHhpucogmigUIin3yzSUw7E2Tz4A29jqBQAIBufBzyrnBQlA6nWPe8uY6X0kbRRt++eaamXiLyoWQzGe34P2WyRz0Mg3I7CGpo4RyoGEGEBz1kgV04Kvz9sw3Rx1IlCB2XpUklxjWqSFiQiAIoX1JQvsXHTazAFPBYfHN4TzDTuZ+L2YnZzC1vZiFQI6JEhiFxTfHcw0ogezO7hkIlsKhFLbpP+9XqH7Ivoa2ZIFgyQLBkslHIM8eq4vbybFrCaMR4o+Fq1jJ+xtq467+3YohezTCzxDTk4C2UQlj6fVGKpuVcEj/bimLTAMA8CcBiF/ZobE+An6OtofA8BmVmXaIrLMIc/EfAsNOKqPtUNmoASnPC8J/sDY9z8NHRBMnycO/b4csP4GA9wSvU5lFIPi3Ha4czyM40F+p/J4A0GGHKT+BcJj1JHr+a4cnP4HQIjTA30Jop5L1/JfxbYfvlrIECLD/tWGle3XtYrVN9lFBHv8nsyUf4aMlCwRL+UD/F2AAZDs5F9dqVQcAAAAASUVORK5CYII=) -110px -53px no-repeat}div.dark_rounded .pp_content_container .pp_left{background:url(data:image/png;base64,iVBORw0KGgoAAAANSUhEUgAAABQAAAAUCAYAAACNiR0NAAAAGXRFWHRTb2Z0d2FyZQBBZG9iZSBJbWFnZVJlYWR5ccllPAAAACRJREFUeNpiZGBg2M9ARcDEQGUwauCogaMGjho4auBQMRAgwAA63wDniG/BMgAAAABJRU5ErkJggg==) top left repeat-y}div.dark_rounded .pp_content_container .pp_right{background:url(data:image/png;base64,iVBORw0KGgoAAAANSUhEUgAAABQAAAAUCAYAAACNiR0NAAAAGXRFWHRTb2Z0d2FyZQBBZG9iZSBJbWFnZVJlYWR5ccllPAAAACRJREFUeNpiZGBg2M9ARcDEQGUwauCogaMGjho4auBQMRAgwAA63wDniG/BMgAAAABJRU5ErkJggg==) top right repeat-y}div.dark_rounded .pp_next:hover{background:url(data:image/png;base64,iVBORw0KGgoAAAANSUhEUgAAAD0AAAAWCAYAAABzCZQcAAAAGXRFWHRTb2Z0d2FyZQBBZG9iZSBJbWFnZVJlYWR5ccllPAAABSVJREFUeNrMmMlLZEkQxqO03FcUFA+DCypoqQcRmlZccANRUTw4oIfpg3cv42UYET3YgtBHz/MHiApzcFxmxIMgOhe9KG6HHnBXxH2rqokvqCiyX1eVZV+qEpL3Kl9mvvxFfBGZr2xut5tsNhuNj4+Tj+Lg5418/ch9SvmajUZu+xoXF1cQFRXlio2NddrtdhfmCEFJ8Fzv3jPIrjcPDw/eRgbK4csnl8v1C9ccGIavUlEiIiKKXl9fxVgMTNHR0RQTE0ORkZEUYvj3QaMkJiaS0+msY8hf+dqqKgAYg3qB0I4K8JeXF1IDYDwbLFTgPwbtAR5jiA/4zfIVWLMoEK7wMLwP6NvbW4wXY8THx4c1uN2UNDwMYPWuetUEwG+rEdAX4AgR7Qu5hyu46cZPkLRYwiNnVEByshLp+ioAQz81EsBRoQCrgcLK05y5HZ6kJcnIXCxitKamRuBWVlZExmYxlQB4SBzQ8DSqNTzw/OnpSa4IH1TcQylq6OfnZ2nzeobbsC6sD8bFGBTMg3H+FIjwQ7Wuwe4Z0IgsbYVBwQLu7+8pPT2dqqqqBPzm5uabBRlZ3RvjWBAWh5ebModBMjIyRD2Xl5dScZ+Xl0fHx8d0cnJCZWVlMl6TJ+Y5ODig/Px8eY4xeAd+4xn6an5RJ6D94uJC3odnvuT90fSYuUXB4gDFBFgcwE2p4+X6MjWUZnY1hlkeHx+pqKiIWlpaqLe3l+7u7qRfQ0ODGBZAjY2NVFdXR7m5uWKMnJwcOjw8pMLCQurp6ZE+aWlp1NbWJgpISUmRvhUVFdTa2krFxcUyBuv0tQa7RwqleKgysEoFAAAHMBZWXV1Ns7Oz3/VVw8FQqGo4U15WY1RWVtLq6qrcY/uDslD29/dpYmJCgJKTkyk1NZWmpqaov7+fOjs7KTMzk87OzmhtbU12i+vrayopKaGuri7ph/dgHMLTyqOrydaFmN5Sj6vnAH51dSWx2tzcLG3az5zY9HygZDY/Py/5AvNZCzwMwL6+PqqvrxeJwpBzc3Mif0BPT0+LMeAIVI31hIQEUQI8DSUE3Kc1KfjNepxETC+pV3wVwELKmhzNMWqIyclJUU93d7fXWPA2ChLm9va2GATzYG2APj8/986FkAMY5kRc69q0r78tM0LP0tYM5wsYcQYLYhEzMzP+90Hj9BaoQJaLi4uUlZX13bPT01NaXl6m9fV12t3dFSAkVEh7b29PjNLR0SHKMzP9e/bpzUDQCoysC+CFhYXAk3qgrZlbtxJtS0pKos3NTUlm5taEAvnW1tZKciovLxcPt7e3i3QRswgNJCyHw+E9FCnDmw70yGqVB/0cLLC5Zfk7sPgCRsEOgAQE7wEacQgAZHTMj7adnR2RKNowBwyxtbUlz5aWliQEMH5jY4MKCgro6OhIlIDxaH8L2ob4Gh0dLeWJ/+QXZVtTPCzb1NQkEwUDjH761aWHDxNej6t4DzIrgPAbIBhn/jYNj3kwFvcYh/H6ZajzaOzrwchfiNk824xtbGxshO9/N19mggPmLWD9SNGTEO5D+Ln5Zky72Wp/MNisnqHNgpgLBlg9gitgg01oIfvgGB4ePuDU/4UX+q8v8GCBAavQYf+VNTIy4h4cHPyH97vfGPwvX9/S/mJYJW2Ch6uXrZ+WAHcNDQ39zZt+PyeKzwzxVeVqGkA/Ja3xq+Dh7GUzkX3zx+DAwAAII/laxttEA4N8YBAH9/vJc5j5jwHzuc2JPwfxxyBXdwg8/EN/DP4vwADzqyH4OmxBwwAAAABJRU5ErkJggg==) center right no-repeat;cursor:pointer}div.dark_rounded .pp_previous:hover{background:url(data:image/png;base64,iVBORw0KGgoAAAANSUhEUgAAAD0AAAAWCAYAAABzCZQcAAAAGXRFWHRTb2Z0d2FyZQBBZG9iZSBJbWFnZVJlYWR5ccllPAAABURJREFUeNrUWElLLFcUPj04j4gTiIqioLgQRAhOKE4YtwpZZJN/IARciQtXgsrDRVAUxUhw2ATcBSIJcSQoAU2MUdQ4NCpOOM9D534nfZpr5/Zrk8Cj34FL3aq6dep85zvDrbIPDQ1d0X+XMNfxmj6QPD4+Wu/v720PDw/Wp6cn6/PzsxXXX15e/lCHX9XxZ3Xth6ampiV17jTpsPT19TnpIxAFhhRYuru7IwWWnE4nX8OAWK1WHhaLBWNbXfrm9vb265aWlj89wVtGR0f9HjTAXlxc0NXVFYMFMLvdLgB5jThBsexeo5zwnYqId83NzT/Cb6LP+jEAPj09pcvLSz4PCAigwMBAndW/2VNHm83G97AGwJUDPlXzVsV2hY4VOUH+OhRLdH5+Tjc3N6/Y1QXgTOcAjrWK/fygoKAvGxsbMwS4XzN9fX3NAwLAwq5JwsPDKTg4mEFLfuMZlyNqoqOjv1BTG4LC7ukpCLyMsJKCgRdJ2AgDOEL0kMI1FBq5JwUGa6BH1mIO/Tji3MQg3g3AyFM8pzPpuRaAi4qK+N7ExATrlrV4P+xROj5XbH/b3t6+YDd5TVU9io+Pf+W5vb09zq2QkBBKS0tjowTU6uoqGw/lWVlZ/FJhBYDW19cpMzOTdcBheBb6IyMjaXNz082IZy6r9iQF6RUIqdiQiIgIBgxbT05OWL+JSHUtRa1Fbv9mBA22srOzGcDy8jLFxcVRTU0N9ff3szHV1dV0eHjIL0lJSeF7AwMD5HA4qLKykhnCXFiem5ujiooKmp2dpfn5edZRV1fH71pcXGSDPUU3Xj8CsDhBGBbAMzMz7uqtPwfHYa6c+wmC04oTzwEmxJu9vb3U1tbG84KCAm4bkMnJSerp6eH7kMTERHYWZGNjgzo7O9lJw8PDzNj29jbl5ubS8fExp0JsbCwtLCzwXAw02SAG60OkpKTkFWBJR9NaV5rkIDjtvooJPJ6cnMxzKJf8iomJoaSkJCouLubz3d1dd5imp6dTQ0MDnwPk1NQUM1xfX08JCQmUkZHB6xBFYWFhxveCMT2fdQAAV1tbS6oq09nZ2T8Am6q5y4HJDFqS3ltodXV18fHo6IiNDw0N5fPy8nIeEg1wiAiiYWVlhY0C+5LXEOQ2GEd6wGDoM9mgbTt97tRkl/ZGsfhsWa2tre4wRigJmyMjI9Td3c1z5BUMl6oNQKiiYHdtbY2fw72trS0qLCzkVEBog2VvLUgvYCYZGxtjsIi4srIyYzHUBboUkQ6vfVrf6UjbkGou4QaGdnZ2aHp6mnJycji/sImAIIRLS0spPz+f8vLyOHIAEAUN1RaytLTEncCb4D3vAw0ZHx9n4LDNF3BX61pGxBu1AhzCGSxFRUW5t31iCK4DCKo68gmsoYqnpqZy+0Koo/ojd9He4DTo3N/f57DHeoQt9HoTU+/2FGxN3wocupTNc8gI41cW8gO9GsaCDTFONhUYUC5hC4ZdLYHB6PmF6gyWcYSjsBaOQ6RI5TYJdAAU3qX3ZZMgeqqqqngdnCC7OI8NkkNF5mcqJc2bExgvYejpLQDV+6rsst4iKGwYbxHRq7dPX4xjnSdg0aXIGFGAf0djsJOfChwMB8lmw1d1lq8wE4FKvld7h2EEkF+DFoYAXJj+F21Jrwu/qBrz1eDg4AY6IHLar0HLh47kpbRFX+EuRRcMA3BHR8dPLsDoqU6/Bq0Dl74tX3jv+12kxIEcRkhrDD/K3xO7qs7/56feB/sxKCAV2/xjUIW6TYG3qOtW17Z1FX1Y3Zs7ODiYcBWtJ41hd3j8JcAAJ3IhvjEWLJYAAAAASUVORK5CYII=) center left no-repeat;cursor:pointer}div.dark_rounded .pp_expand{background:url(data:image/png;base64,iVBORw0KGgoAAAANSUhEUgAAAIIAAAB3CAYAAADPXJhXAAAAGXRFWHRTb2Z0d2FyZQBBZG9iZSBJbWFnZVJlYWR5ccllPAAAD45JREFUeNrsXW1sFMcZHpvDQCDm03wZgiEmicN3gEZ8xnwYlxYIKIEflZIgBfEDqUqlVCUVqmKq/kikJGp/UhFhIdEfpPmRKrRFIGNQiEkAtaKACRgwThwHrBgwEAwhpu8znrmMJ7N3u3u7d7d380qj29udfWd23mfer52bK3j48CGzZCm2fft2x4uTJ0+eQh/LqMyjMp3KhIDaHSg+76TjIQF2lO7ubnb//v3C77//vg/KDz/8UPDgwYMuUa2F6vyP6jRQObht27bTNTU1eTNLCuhhTQAoo4+NNDCv0KCUYQBliRpJAJDAAQJGAGAEgPh5+UyFhYW8FBQUoFyhspvq11LdS3mhEQwgqKSP12ngVmGwMDCxWCw+UFEDAQDQ1dXFAYBP/ZlwrGoN1CdwTKDzfygqKppNl965e/fuobwCAkBAg/EWDcaz+N63b9+48OWARQ0EJER2+/ZtDgL9meJqUTwbPkn4cQ1C2uAXVLdkwIABW3MdDDHNHEATPCtnDCjK5uDevXvszp07HATqM0mtoNbXgYG6QjvMpePX+/Xr10z8LucqENSpsRHmgKMjFov0Q0Gw8AOgDaQmkM9Es5s9+uijzClaGjRoEK+j3kO8ftmnT5+NOa8REB0Ix5A/vNuQUs46DDhmDw0W69+/P1e/+A6imcTPq+r6u+++4/dh5mHQUVAHwoPgUMAbfMAP9aSTp85YlbcOAvBHAR/UwflHHnmEPffcc/z+o0ePslu3bvXSDADBggULeN3Dhw/z54IZAT+q9wr15QPq2+lcNg3LEB14uRGD09nZyQW1ePFi/gkBXrhwgTU1NbG5c+fy69euXeMDjMHF9Rs3brA5c+awMWPGcCGcPXuW3zNkyBCuxseOHcuefPJJDo62tjZ2/vx5DoLy8nIOItwD4SAC+Oabb7hwTQDFPRKMknAPQDh8+HAu8E8++YT7DyBoCZzDc3z77be8rowmwI/6P4EAhVD6dC6bhnl4WC8OIQZ0xIgRbNOmTVyIECZ4vPjii6yjo4MtW7aMVVRUxFUzhAIQbNmyhYOkpaWFg2Tt2rVszZo1rLW1lQNgw4YNvC4AMHXqVFZW1oPPFStWcABNnDiRTZo0ibdt8l9U71/1BeQ5aAIIGgJfuHAhB6nUBBIEqCNDTKkdxee8XHcWp2NQpTedzDSg7vXr19lLL73EhVlbW8sGDx7MZ3djY2MvR1MKBLP9mWee4TN4x44d7ObNm3zW4Xx1dTUX7IQJPfmqPXv2cLPw+eefs/Hjx8dNQl1dHRcSZi/Ah5mt91XNeZieSYIBgsf9ixYtipswCQKpSSQQACbRh+m5DoQJctB0j9pEGKiSkhI2cOBAdvDgQS6UYcOG8XshXOlsqQR7PXr0aH4MlY6ZjnMXL17k52ASoFWefvpp9t5777Hm5mZ25swZdurUKT5jQUuWLGEzZ87kQAPgrl69mjBq0J9JChZmAwKHSUPfQdBWEgSqJlABRjwey4s8gm5TnUjaT+kr4DuEKgWAgZYCkdfUe3Cs3iNt8aeffsrvhUmZMmUKB0txcTFraGjgdSD4y5cv89kLjYS6Omhlf5I9E+qppgXHMGNuxyBXfYQrXrKGmJEQBAh2FmoefgHMBLQBvG0JBDhjuI4B/uqrr/j50tJSXre9vR0RS1xL4PjEiRNs165dbPPmzfz80KFD46bh3Llz3ME7fvw4v9/UZ5EijjuVTv2vrKzkWkxGKTjGOafQWWiWllwFQh88PNnKRfSQU70kjyAc2NRZs2axadOmceFjJq9evZrt27ePrVy5Mh7KjRo1itv6+vp6Nn/+fDZjxgwODDiHy5cv5wLGtXXr1rF58+bx7B76BcAcO3aMAwn3oX/wD8aNG8c/oc7hS5jMgpzx+jNJEIwcOZID4MCBA+zSpUvcP4GfA5MHR1a/DyEogaGOtNDfcxkIpXS8Us68ZCTjeMzwL774gjuAMhw8cuQIDxshRDiCGHA4ZSgIKyFYEIABHwP1UWCroRWg9nENgjh06BDnD6HDRIA/nErwAiG8BGhMzqwKhkQgQC4BpgTPkggMAgg7CQif5SIQ+NtHkVD6mAakzItWkHYVBYMuE0pQo9AQ0leQOX4IHsLENZlQQn2YExxDIHpyCoKWSShpv9X7dFUutRB4oV/4lM+E9quqqnj/JAhUAuBwHfVxHUCWZoHauUKHq3I1oRR/DU1gqKGBflMVXlRJhq0AAgCnPhPAAMHqIFDBgPslCCSICZh/JDC+mQ9RQy2hfjbNqFVR95yhMaBRoE3UBBNIFbCJdIBA4xCvfaRlavMhakAM30wf79KDfxb1l04yYsBzYDYDEH6eSaxZOE5AejeX3zz2AoIAQz0N4hs0eB+b3ttHVSugwAl1+0yoI8zBP4nP1rxbmCLBQP5CM82GkzQQkV6qJsEg31JCwHapmksgKGaihgDxAd64Ucmrxat03i5etZSfVGiHwJIFgqXePkJFRcVDk6OVaF2CuuBDp8bGRlcrXDLVriWfGkFd7q06YInqBuX1Z6LdvAWCOojyFa6+zEudqaZBV+/zKuh0t2vJAQjqQK9fvz7+HcemmYhjrC2U5+SxV2Go7RrWBzoe6+csCALUCHK27d27lwvWLaEu7vGjntV2gzAhllJ0FlU17AUMKgh0Hl60gqre9XYlf6fzujmxlAIQVJXrRRuoAoJgvNpqk6rXBZ0MEG4iDUseNIIcTF0ATmSq50cYJiFKjaS3Ic+pYLAACDh8DGJA/ahnp3Z1gZuAYX2E4Ii/a0BiJ1Gixuvs9pJQykS7lpIklFLVCn7vz1S7lgzhY1CmwYuaNrWrm4Nkx0GGoXkPhKDCL6/JnUTt6j5BopDWJpUCihrUmekUrzuFjcnqudUIeh9M/Lwmuyz5CB/dxOuJwshUzYuTiUjWH5tDCCGPIAViitcThXj4TPRiyE3IKe930ixO5/22a8nBR3ATr7uJ9/1kFoMQpNUKAeYREr3rdzvQYjscT3mEdLdrKUH4mEhtO9UxhW1+1yOks11LDj6CaRDdzMYwEkHpaNeSAxAylZq1KeEsA4JdvGrJLl61ZHYW7eJV6yz+ZEC9LiL16yzKRbN6fsLURhCpbUsOQAhKraaiEdwK1pRythohQB9BV79eXwf7XUSqCtDPolm7eDUE02ASSqK3j/q1IBavpqPddFIKvzZ/gspSBFdURrGerQSKlMmLjR2wsyi2FsAWtI1U6qic99N+LNFgOs1QkzD8CsK0aDbZ4tUc9w9eZT2bf48Vgnci/D/BAFFGUMEfsa2h8jUVbFX7vmeNYBJkMhWtvyb2OzMTLV516z/kiI+wSWiAEjySTx4AThnr2dBkmdAQOz1rBFUwXl8Hp5oryGNnb47QAo+z4LYpwKCOxHwl04A/KHufPk+4TijZxatpp5epvEFlMgtnr4pCwfsNAsLLrsLHZKYh2U/P/IShQS6ajSC9RqWKSv80tDVEaIehVP7iqBFM4RcEnMgMmK4HvXjVzTk/7WYJCKrTBAJJaKuagPCaIxCc0rhhLyJ1WjTrtt2ILmR9WWiCogy0jTarTGai0MneJluypgslKPWcqXbT6BiuSbMmMGmGNQSGOUYg6Kt+nOJ1p+NUFq+q2Uw3UYkKhogtXn1V2OtM0xDRl5/6CEHNML+LV1WNkEjlO12PgI+wSYSI2UKPk1bY9JM8QqLB9LqI1A94TJrAKdsZ0chhKcuu7QwLRZ929nIWkw2uXbyaskkoycJ+lZBWeLWXaTD9UbabRaSp/ropE+1mgPDuIBtVVoHom128mgbCW8SxWdy/saQVnrBb8KbHNyjK4v6hb0stEMKniij00QIhfBoVhT7Gw8fS0tLx9PEC68mBzxanT1LZT+XD1tbWL/20EBbfCNHAKPQxJoQFz3Erlee1Cj8XpZLqvE1Ca/AIglD4RoyKotDHQjFjdWE1aRVxbauo60UTmEDQlArfCFIUzC//y7MXNGHhj7ArDZWfF3Xd0gsGEDDBuyUFvpZCQmu18r0VgiJV3epQv9oDb2NdwbtStOWHr6WQgCAduHYBgstCYAUodDhGqT/bA2+17hiFHxNtVIo2vfK1lCH7FcT/Az+wQ539QDgpjvFSpJ4ct4nC2XuIosxaptR1Q2rddoUfE23Usx9fxJy0osg8EParzr4AQ6lD/f0eeO93iCZKBQhKffK1FBIQPqTykXLuMSEonT4Sdd2SzldSvWjDL9+oURT+R7m7UGT23taEVm4AwdtesoAOfHXenvlGkO5HoY8xIbQG0ti/FrM1sFRwWHwjRviR6oBs72NMm8F/FiUwCotvhAi/VB6R7X20bx/Dp8Yo9NECIXyqy3I/AX2rs0AIn7BxxddZ3L+va2pqzqvrEQazntU08OplWrmN9bwtbCRbf9NPK2HxjRjhNTv2LMi2NZoPRd+YXI+A18ALqDxlCPVQyqjOUa8eflh8I0jYvQQbV4zMsn61kzbgO6sUihmrC6tDuwHXFoi6XjSBCQQdqfCNuK+QTcmlbtEnToVCbavCgqquNdz4FPO2ELPCAAImeN9MgW9UCb8ouphF/blI2mCnCgQ109cJQZGq7nS4udxDQ+UOeYVOAYZOn3yjbiJuZEE/bjBts62Y4sDdESC4LgRWI1T8IPr4ragzxkNjat13iN9tBQzXiS/AgJ9bDfTIN8qEfYz+QQW/4s3UT+O70Ad9TyU34WMQdq2bWZK0m8qBDOUW0OYBAsFu/UJMhHLlYmZupJm6S8zYGgOjNg+Ntikq/3fyzTY0DR0PRVvsx6XebXkGBrmPUVUaNUOXAIHjHkrqquJiAYZiB2ZNHhpucogmigUIin3yzSUw7E2Tz4A29jqBQAIBufBzyrnBQlA6nWPe8uY6X0kbRRt++eaamXiLyoWQzGe34P2WyRz0Mg3I7CGpo4RyoGEGEBz1kgV04Kvz9sw3Rx1IlCB2XpUklxjWqSFiQiAIoX1JQvsXHTazAFPBYfHN4TzDTuZ+L2YnZzC1vZiFQI6JEhiFxTfHcw0ogezO7hkIlsKhFLbpP+9XqH7Ivoa2ZIFgyQLBkslHIM8eq4vbybFrCaMR4o+Fq1jJ+xtq467+3YohezTCzxDTk4C2UQlj6fVGKpuVcEj/bimLTAMA8CcBiF/ZobE+An6OtofA8BmVmXaIrLMIc/EfAsNOKqPtUNmoASnPC8J/sDY9z8NHRBMnycO/b4csP4GA9wSvU5lFIPi3Ha4czyM40F+p/J4A0GGHKT+BcJj1JHr+a4cnP4HQIjTA30Jop5L1/JfxbYfvlrIECLD/tWGle3XtYrVN9lFBHv8nsyUf4aMlCwRL+UD/F2AAZDs5F9dqVQcAAAAASUVORK5CYII=) -31px -26px no-repeat;cursor:pointer}div.dark_rounded .pp_expand:hover{background:url(data:image/png;base64,iVBORw0KGgoAAAANSUhEUgAAAIIAAAB3CAYAAADPXJhXAAAAGXRFWHRTb2Z0d2FyZQBBZG9iZSBJbWFnZVJlYWR5ccllPAAAD45JREFUeNrsXW1sFMcZHpvDQCDm03wZgiEmicN3gEZ8xnwYlxYIKIEflZIgBfEDqUqlVCUVqmKq/kikJGp/UhFhIdEfpPmRKrRFIGNQiEkAtaKACRgwThwHrBgwEAwhpu8znrmMJ7N3u3u7d7d380qj29udfWd23mfer52bK3j48CGzZCm2fft2x4uTJ0+eQh/LqMyjMp3KhIDaHSg+76TjIQF2lO7ubnb//v3C77//vg/KDz/8UPDgwYMuUa2F6vyP6jRQObht27bTNTU1eTNLCuhhTQAoo4+NNDCv0KCUYQBliRpJAJDAAQJGAGAEgPh5+UyFhYW8FBQUoFyhspvq11LdS3mhEQwgqKSP12ngVmGwMDCxWCw+UFEDAQDQ1dXFAYBP/ZlwrGoN1CdwTKDzfygqKppNl965e/fuobwCAkBAg/EWDcaz+N63b9+48OWARQ0EJER2+/ZtDgL9meJqUTwbPkn4cQ1C2uAXVLdkwIABW3MdDDHNHEATPCtnDCjK5uDevXvszp07HATqM0mtoNbXgYG6QjvMpePX+/Xr10z8LucqENSpsRHmgKMjFov0Q0Gw8AOgDaQmkM9Es5s9+uijzClaGjRoEK+j3kO8ftmnT5+NOa8REB0Ix5A/vNuQUs46DDhmDw0W69+/P1e/+A6imcTPq+r6u+++4/dh5mHQUVAHwoPgUMAbfMAP9aSTp85YlbcOAvBHAR/UwflHHnmEPffcc/z+o0ePslu3bvXSDADBggULeN3Dhw/z54IZAT+q9wr15QPq2+lcNg3LEB14uRGD09nZyQW1ePFi/gkBXrhwgTU1NbG5c+fy69euXeMDjMHF9Rs3brA5c+awMWPGcCGcPXuW3zNkyBCuxseOHcuefPJJDo62tjZ2/vx5DoLy8nIOItwD4SAC+Oabb7hwTQDFPRKMknAPQDh8+HAu8E8++YT7DyBoCZzDc3z77be8rowmwI/6P4EAhVD6dC6bhnl4WC8OIQZ0xIgRbNOmTVyIECZ4vPjii6yjo4MtW7aMVVRUxFUzhAIQbNmyhYOkpaWFg2Tt2rVszZo1rLW1lQNgw4YNvC4AMHXqVFZW1oPPFStWcABNnDiRTZo0ibdt8l9U71/1BeQ5aAIIGgJfuHAhB6nUBBIEqCNDTKkdxee8XHcWp2NQpTedzDSg7vXr19lLL73EhVlbW8sGDx7MZ3djY2MvR1MKBLP9mWee4TN4x44d7ObNm3zW4Xx1dTUX7IQJPfmqPXv2cLPw+eefs/Hjx8dNQl1dHRcSZi/Ah5mt91XNeZieSYIBgsf9ixYtipswCQKpSSQQACbRh+m5DoQJctB0j9pEGKiSkhI2cOBAdvDgQS6UYcOG8XshXOlsqQR7PXr0aH4MlY6ZjnMXL17k52ASoFWefvpp9t5777Hm5mZ25swZdurUKT5jQUuWLGEzZ87kQAPgrl69mjBq0J9JChZmAwKHSUPfQdBWEgSqJlABRjwey4s8gm5TnUjaT+kr4DuEKgWAgZYCkdfUe3Cs3iNt8aeffsrvhUmZMmUKB0txcTFraGjgdSD4y5cv89kLjYS6Omhlf5I9E+qppgXHMGNuxyBXfYQrXrKGmJEQBAh2FmoefgHMBLQBvG0JBDhjuI4B/uqrr/j50tJSXre9vR0RS1xL4PjEiRNs165dbPPmzfz80KFD46bh3Llz3ME7fvw4v9/UZ5EijjuVTv2vrKzkWkxGKTjGOafQWWiWllwFQh88PNnKRfSQU70kjyAc2NRZs2axadOmceFjJq9evZrt27ePrVy5Mh7KjRo1itv6+vp6Nn/+fDZjxgwODDiHy5cv5wLGtXXr1rF58+bx7B76BcAcO3aMAwn3oX/wD8aNG8c/oc7hS5jMgpzx+jNJEIwcOZID4MCBA+zSpUvcP4GfA5MHR1a/DyEogaGOtNDfcxkIpXS8Us68ZCTjeMzwL774gjuAMhw8cuQIDxshRDiCGHA4ZSgIKyFYEIABHwP1UWCroRWg9nENgjh06BDnD6HDRIA/nErwAiG8BGhMzqwKhkQgQC4BpgTPkggMAgg7CQif5SIQ+NtHkVD6mAakzItWkHYVBYMuE0pQo9AQ0leQOX4IHsLENZlQQn2YExxDIHpyCoKWSShpv9X7dFUutRB4oV/4lM+E9quqqnj/JAhUAuBwHfVxHUCWZoHauUKHq3I1oRR/DU1gqKGBflMVXlRJhq0AAgCnPhPAAMHqIFDBgPslCCSICZh/JDC+mQ9RQy2hfjbNqFVR95yhMaBRoE3UBBNIFbCJdIBA4xCvfaRlavMhakAM30wf79KDfxb1l04yYsBzYDYDEH6eSaxZOE5AejeX3zz2AoIAQz0N4hs0eB+b3ttHVSugwAl1+0yoI8zBP4nP1rxbmCLBQP5CM82GkzQQkV6qJsEg31JCwHapmksgKGaihgDxAd64Ucmrxat03i5etZSfVGiHwJIFgqXePkJFRcVDk6OVaF2CuuBDp8bGRlcrXDLVriWfGkFd7q06YInqBuX1Z6LdvAWCOojyFa6+zEudqaZBV+/zKuh0t2vJAQjqQK9fvz7+HcemmYhjrC2U5+SxV2Go7RrWBzoe6+csCALUCHK27d27lwvWLaEu7vGjntV2gzAhllJ0FlU17AUMKgh0Hl60gqre9XYlf6fzujmxlAIQVJXrRRuoAoJgvNpqk6rXBZ0MEG4iDUseNIIcTF0ATmSq50cYJiFKjaS3Ic+pYLAACDh8DGJA/ahnp3Z1gZuAYX2E4Ii/a0BiJ1Gixuvs9pJQykS7lpIklFLVCn7vz1S7lgzhY1CmwYuaNrWrm4Nkx0GGoXkPhKDCL6/JnUTt6j5BopDWJpUCihrUmekUrzuFjcnqudUIeh9M/Lwmuyz5CB/dxOuJwshUzYuTiUjWH5tDCCGPIAViitcThXj4TPRiyE3IKe930ixO5/22a8nBR3ATr7uJ9/1kFoMQpNUKAeYREr3rdzvQYjscT3mEdLdrKUH4mEhtO9UxhW1+1yOks11LDj6CaRDdzMYwEkHpaNeSAxAylZq1KeEsA4JdvGrJLl61ZHYW7eJV6yz+ZEC9LiL16yzKRbN6fsLURhCpbUsOQAhKraaiEdwK1pRythohQB9BV79eXwf7XUSqCtDPolm7eDUE02ASSqK3j/q1IBavpqPddFIKvzZ/gspSBFdURrGerQSKlMmLjR2wsyi2FsAWtI1U6qic99N+LNFgOs1QkzD8CsK0aDbZ4tUc9w9eZT2bf48Vgnci/D/BAFFGUMEfsa2h8jUVbFX7vmeNYBJkMhWtvyb2OzMTLV516z/kiI+wSWiAEjySTx4AThnr2dBkmdAQOz1rBFUwXl8Hp5oryGNnb47QAo+z4LYpwKCOxHwl04A/KHufPk+4TijZxatpp5epvEFlMgtnr4pCwfsNAsLLrsLHZKYh2U/P/IShQS6ajSC9RqWKSv80tDVEaIehVP7iqBFM4RcEnMgMmK4HvXjVzTk/7WYJCKrTBAJJaKuagPCaIxCc0rhhLyJ1WjTrtt2ILmR9WWiCogy0jTarTGai0MneJluypgslKPWcqXbT6BiuSbMmMGmGNQSGOUYg6Kt+nOJ1p+NUFq+q2Uw3UYkKhogtXn1V2OtM0xDRl5/6CEHNML+LV1WNkEjlO12PgI+wSYSI2UKPk1bY9JM8QqLB9LqI1A94TJrAKdsZ0chhKcuu7QwLRZ929nIWkw2uXbyaskkoycJ+lZBWeLWXaTD9UbabRaSp/ropE+1mgPDuIBtVVoHom128mgbCW8SxWdy/saQVnrBb8KbHNyjK4v6hb0stEMKniij00QIhfBoVhT7Gw8fS0tLx9PEC68mBzxanT1LZT+XD1tbWL/20EBbfCNHAKPQxJoQFz3Erlee1Cj8XpZLqvE1Ca/AIglD4RoyKotDHQjFjdWE1aRVxbauo60UTmEDQlArfCFIUzC//y7MXNGHhj7ArDZWfF3Xd0gsGEDDBuyUFvpZCQmu18r0VgiJV3epQv9oDb2NdwbtStOWHr6WQgCAduHYBgstCYAUodDhGqT/bA2+17hiFHxNtVIo2vfK1lCH7FcT/Az+wQ539QDgpjvFSpJ4ct4nC2XuIosxaptR1Q2rddoUfE23Usx9fxJy0osg8EParzr4AQ6lD/f0eeO93iCZKBQhKffK1FBIQPqTykXLuMSEonT4Sdd2SzldSvWjDL9+oURT+R7m7UGT23taEVm4AwdtesoAOfHXenvlGkO5HoY8xIbQG0ti/FrM1sFRwWHwjRviR6oBs72NMm8F/FiUwCotvhAi/VB6R7X20bx/Dp8Yo9NECIXyqy3I/AX2rs0AIn7BxxddZ3L+va2pqzqvrEQazntU08OplWrmN9bwtbCRbf9NPK2HxjRjhNTv2LMi2NZoPRd+YXI+A18ALqDxlCPVQyqjOUa8eflh8I0jYvQQbV4zMsn61kzbgO6sUihmrC6tDuwHXFoi6XjSBCQQdqfCNuK+QTcmlbtEnToVCbavCgqquNdz4FPO2ELPCAAImeN9MgW9UCb8ouphF/blI2mCnCgQ109cJQZGq7nS4udxDQ+UOeYVOAYZOn3yjbiJuZEE/bjBts62Y4sDdESC4LgRWI1T8IPr4ragzxkNjat13iN9tBQzXiS/AgJ9bDfTIN8qEfYz+QQW/4s3UT+O70Ad9TyU34WMQdq2bWZK0m8qBDOUW0OYBAsFu/UJMhHLlYmZupJm6S8zYGgOjNg+Ntikq/3fyzTY0DR0PRVvsx6XebXkGBrmPUVUaNUOXAIHjHkrqquJiAYZiB2ZNHhpucogmigUIin3yzSUw7E2Tz4A29jqBQAIBufBzyrnBQlA6nWPe8uY6X0kbRRt++eaamXiLyoWQzGe34P2WyRz0Mg3I7CGpo4RyoGEGEBz1kgV04Kvz9sw3Rx1IlCB2XpUklxjWqSFiQiAIoX1JQvsXHTazAFPBYfHN4TzDTuZ+L2YnZzC1vZiFQI6JEhiFxTfHcw0ogezO7hkIlsKhFLbpP+9XqH7Ivoa2ZIFgyQLBkslHIM8eq4vbybFrCaMR4o+Fq1jJ+xtq467+3YohezTCzxDTk4C2UQlj6fVGKpuVcEj/bimLTAMA8CcBiF/ZobE+An6OtofA8BmVmXaIrLMIc/EfAsNOKqPtUNmoASnPC8J/sDY9z8NHRBMnycO/b4csP4GA9wSvU5lFIPi3Ha4czyM40F+p/J4A0GGHKT+BcJj1JHr+a4cnP4HQIjTA30Jop5L1/JfxbYfvlrIECLD/tWGle3XtYrVN9lFBHv8nsyUf4aMlCwRL+UD/F2AAZDs5F9dqVQcAAAAASUVORK5CYII=) -31px -47px no-repeat;cursor:pointer}div.dark_rounded .pp_contract{background:url(data:image/png;base64,iVBORw0KGgoAAAANSUhEUgAAAIIAAAB3CAYAAADPXJhXAAAAGXRFWHRTb2Z0d2FyZQBBZG9iZSBJbWFnZVJlYWR5ccllPAAAD45JREFUeNrsXW1sFMcZHpvDQCDm03wZgiEmicN3gEZ8xnwYlxYIKIEflZIgBfEDqUqlVCUVqmKq/kikJGp/UhFhIdEfpPmRKrRFIGNQiEkAtaKACRgwThwHrBgwEAwhpu8znrmMJ7N3u3u7d7d380qj29udfWd23mfer52bK3j48CGzZCm2fft2x4uTJ0+eQh/LqMyjMp3KhIDaHSg+76TjIQF2lO7ubnb//v3C77//vg/KDz/8UPDgwYMuUa2F6vyP6jRQObht27bTNTU1eTNLCuhhTQAoo4+NNDCv0KCUYQBliRpJAJDAAQJGAGAEgPh5+UyFhYW8FBQUoFyhspvq11LdS3mhEQwgqKSP12ngVmGwMDCxWCw+UFEDAQDQ1dXFAYBP/ZlwrGoN1CdwTKDzfygqKppNl965e/fuobwCAkBAg/EWDcaz+N63b9+48OWARQ0EJER2+/ZtDgL9meJqUTwbPkn4cQ1C2uAXVLdkwIABW3MdDDHNHEATPCtnDCjK5uDevXvszp07HATqM0mtoNbXgYG6QjvMpePX+/Xr10z8LucqENSpsRHmgKMjFov0Q0Gw8AOgDaQmkM9Es5s9+uijzClaGjRoEK+j3kO8ftmnT5+NOa8REB0Ix5A/vNuQUs46DDhmDw0W69+/P1e/+A6imcTPq+r6u+++4/dh5mHQUVAHwoPgUMAbfMAP9aSTp85YlbcOAvBHAR/UwflHHnmEPffcc/z+o0ePslu3bvXSDADBggULeN3Dhw/z54IZAT+q9wr15QPq2+lcNg3LEB14uRGD09nZyQW1ePFi/gkBXrhwgTU1NbG5c+fy69euXeMDjMHF9Rs3brA5c+awMWPGcCGcPXuW3zNkyBCuxseOHcuefPJJDo62tjZ2/vx5DoLy8nIOItwD4SAC+Oabb7hwTQDFPRKMknAPQDh8+HAu8E8++YT7DyBoCZzDc3z77be8rowmwI/6P4EAhVD6dC6bhnl4WC8OIQZ0xIgRbNOmTVyIECZ4vPjii6yjo4MtW7aMVVRUxFUzhAIQbNmyhYOkpaWFg2Tt2rVszZo1rLW1lQNgw4YNvC4AMHXqVFZW1oPPFStWcABNnDiRTZo0ibdt8l9U71/1BeQ5aAIIGgJfuHAhB6nUBBIEqCNDTKkdxee8XHcWp2NQpTedzDSg7vXr19lLL73EhVlbW8sGDx7MZ3djY2MvR1MKBLP9mWee4TN4x44d7ObNm3zW4Xx1dTUX7IQJPfmqPXv2cLPw+eefs/Hjx8dNQl1dHRcSZi/Ah5mt91XNeZieSYIBgsf9ixYtipswCQKpSSQQACbRh+m5DoQJctB0j9pEGKiSkhI2cOBAdvDgQS6UYcOG8XshXOlsqQR7PXr0aH4MlY6ZjnMXL17k52ASoFWefvpp9t5777Hm5mZ25swZdurUKT5jQUuWLGEzZ87kQAPgrl69mjBq0J9JChZmAwKHSUPfQdBWEgSqJlABRjwey4s8gm5TnUjaT+kr4DuEKgWAgZYCkdfUe3Cs3iNt8aeffsrvhUmZMmUKB0txcTFraGjgdSD4y5cv89kLjYS6Omhlf5I9E+qppgXHMGNuxyBXfYQrXrKGmJEQBAh2FmoefgHMBLQBvG0JBDhjuI4B/uqrr/j50tJSXre9vR0RS1xL4PjEiRNs165dbPPmzfz80KFD46bh3Llz3ME7fvw4v9/UZ5EijjuVTv2vrKzkWkxGKTjGOafQWWiWllwFQh88PNnKRfSQU70kjyAc2NRZs2axadOmceFjJq9evZrt27ePrVy5Mh7KjRo1itv6+vp6Nn/+fDZjxgwODDiHy5cv5wLGtXXr1rF58+bx7B76BcAcO3aMAwn3oX/wD8aNG8c/oc7hS5jMgpzx+jNJEIwcOZID4MCBA+zSpUvcP4GfA5MHR1a/DyEogaGOtNDfcxkIpXS8Us68ZCTjeMzwL774gjuAMhw8cuQIDxshRDiCGHA4ZSgIKyFYEIABHwP1UWCroRWg9nENgjh06BDnD6HDRIA/nErwAiG8BGhMzqwKhkQgQC4BpgTPkggMAgg7CQif5SIQ+NtHkVD6mAakzItWkHYVBYMuE0pQo9AQ0leQOX4IHsLENZlQQn2YExxDIHpyCoKWSShpv9X7dFUutRB4oV/4lM+E9quqqnj/JAhUAuBwHfVxHUCWZoHauUKHq3I1oRR/DU1gqKGBflMVXlRJhq0AAgCnPhPAAMHqIFDBgPslCCSICZh/JDC+mQ9RQy2hfjbNqFVR95yhMaBRoE3UBBNIFbCJdIBA4xCvfaRlavMhakAM30wf79KDfxb1l04yYsBzYDYDEH6eSaxZOE5AejeX3zz2AoIAQz0N4hs0eB+b3ttHVSugwAl1+0yoI8zBP4nP1rxbmCLBQP5CM82GkzQQkV6qJsEg31JCwHapmksgKGaihgDxAd64Ucmrxat03i5etZSfVGiHwJIFgqXePkJFRcVDk6OVaF2CuuBDp8bGRlcrXDLVriWfGkFd7q06YInqBuX1Z6LdvAWCOojyFa6+zEudqaZBV+/zKuh0t2vJAQjqQK9fvz7+HcemmYhjrC2U5+SxV2Go7RrWBzoe6+csCALUCHK27d27lwvWLaEu7vGjntV2gzAhllJ0FlU17AUMKgh0Hl60gqre9XYlf6fzujmxlAIQVJXrRRuoAoJgvNpqk6rXBZ0MEG4iDUseNIIcTF0ATmSq50cYJiFKjaS3Ic+pYLAACDh8DGJA/ahnp3Z1gZuAYX2E4Ii/a0BiJ1Gixuvs9pJQykS7lpIklFLVCn7vz1S7lgzhY1CmwYuaNrWrm4Nkx0GGoXkPhKDCL6/JnUTt6j5BopDWJpUCihrUmekUrzuFjcnqudUIeh9M/Lwmuyz5CB/dxOuJwshUzYuTiUjWH5tDCCGPIAViitcThXj4TPRiyE3IKe930ixO5/22a8nBR3ATr7uJ9/1kFoMQpNUKAeYREr3rdzvQYjscT3mEdLdrKUH4mEhtO9UxhW1+1yOks11LDj6CaRDdzMYwEkHpaNeSAxAylZq1KeEsA4JdvGrJLl61ZHYW7eJV6yz+ZEC9LiL16yzKRbN6fsLURhCpbUsOQAhKraaiEdwK1pRythohQB9BV79eXwf7XUSqCtDPolm7eDUE02ASSqK3j/q1IBavpqPddFIKvzZ/gspSBFdURrGerQSKlMmLjR2wsyi2FsAWtI1U6qic99N+LNFgOs1QkzD8CsK0aDbZ4tUc9w9eZT2bf48Vgnci/D/BAFFGUMEfsa2h8jUVbFX7vmeNYBJkMhWtvyb2OzMTLV516z/kiI+wSWiAEjySTx4AThnr2dBkmdAQOz1rBFUwXl8Hp5oryGNnb47QAo+z4LYpwKCOxHwl04A/KHufPk+4TijZxatpp5epvEFlMgtnr4pCwfsNAsLLrsLHZKYh2U/P/IShQS6ajSC9RqWKSv80tDVEaIehVP7iqBFM4RcEnMgMmK4HvXjVzTk/7WYJCKrTBAJJaKuagPCaIxCc0rhhLyJ1WjTrtt2ILmR9WWiCogy0jTarTGai0MneJluypgslKPWcqXbT6BiuSbMmMGmGNQSGOUYg6Kt+nOJ1p+NUFq+q2Uw3UYkKhogtXn1V2OtM0xDRl5/6CEHNML+LV1WNkEjlO12PgI+wSYSI2UKPk1bY9JM8QqLB9LqI1A94TJrAKdsZ0chhKcuu7QwLRZ929nIWkw2uXbyaskkoycJ+lZBWeLWXaTD9UbabRaSp/ropE+1mgPDuIBtVVoHom128mgbCW8SxWdy/saQVnrBb8KbHNyjK4v6hb0stEMKniij00QIhfBoVhT7Gw8fS0tLx9PEC68mBzxanT1LZT+XD1tbWL/20EBbfCNHAKPQxJoQFz3Erlee1Cj8XpZLqvE1Ca/AIglD4RoyKotDHQjFjdWE1aRVxbauo60UTmEDQlArfCFIUzC//y7MXNGHhj7ArDZWfF3Xd0gsGEDDBuyUFvpZCQmu18r0VgiJV3epQv9oDb2NdwbtStOWHr6WQgCAduHYBgstCYAUodDhGqT/bA2+17hiFHxNtVIo2vfK1lCH7FcT/Az+wQ539QDgpjvFSpJ4ct4nC2XuIosxaptR1Q2rddoUfE23Usx9fxJy0osg8EParzr4AQ6lD/f0eeO93iCZKBQhKffK1FBIQPqTykXLuMSEonT4Sdd2SzldSvWjDL9+oURT+R7m7UGT23taEVm4AwdtesoAOfHXenvlGkO5HoY8xIbQG0ti/FrM1sFRwWHwjRviR6oBs72NMm8F/FiUwCotvhAi/VB6R7X20bx/Dp8Yo9NECIXyqy3I/AX2rs0AIn7BxxddZ3L+va2pqzqvrEQazntU08OplWrmN9bwtbCRbf9NPK2HxjRjhNTv2LMi2NZoPRd+YXI+A18ALqDxlCPVQyqjOUa8eflh8I0jYvQQbV4zMsn61kzbgO6sUihmrC6tDuwHXFoi6XjSBCQQdqfCNuK+QTcmlbtEnToVCbavCgqquNdz4FPO2ELPCAAImeN9MgW9UCb8ouphF/blI2mCnCgQ109cJQZGq7nS4udxDQ+UOeYVOAYZOn3yjbiJuZEE/bjBts62Y4sDdESC4LgRWI1T8IPr4ragzxkNjat13iN9tBQzXiS/AgJ9bDfTIN8qEfYz+QQW/4s3UT+O70Ad9TyU34WMQdq2bWZK0m8qBDOUW0OYBAsFu/UJMhHLlYmZupJm6S8zYGgOjNg+Ntikq/3fyzTY0DR0PRVvsx6XebXkGBrmPUVUaNUOXAIHjHkrqquJiAYZiB2ZNHhpucogmigUIin3yzSUw7E2Tz4A29jqBQAIBufBzyrnBQlA6nWPe8uY6X0kbRRt++eaamXiLyoWQzGe34P2WyRz0Mg3I7CGpo4RyoGEGEBz1kgV04Kvz9sw3Rx1IlCB2XpUklxjWqSFiQiAIoX1JQvsXHTazAFPBYfHN4TzDTuZ+L2YnZzC1vZiFQI6JEhiFxTfHcw0ogezO7hkIlsKhFLbpP+9XqH7Ivoa2ZIFgyQLBkslHIM8eq4vbybFrCaMR4o+Fq1jJ+xtq467+3YohezTCzxDTk4C2UQlj6fVGKpuVcEj/bimLTAMA8CcBiF/ZobE+An6OtofA8BmVmXaIrLMIc/EfAsNOKqPtUNmoASnPC8J/sDY9z8NHRBMnycO/b4csP4GA9wSvU5lFIPi3Ha4czyM40F+p/J4A0GGHKT+BcJj1JHr+a4cnP4HQIjTA30Jop5L1/JfxbYfvlrIECLD/tWGle3XtYrVN9lFBHv8nsyUf4aMlCwRL+UD/F2AAZDs5F9dqVQcAAAAASUVORK5CYII=) 0 -26px no-repeat;cursor:pointer}div.dark_rounded .pp_contract:hover{background:url(data:image/png;base64,iVBORw0KGgoAAAANSUhEUgAAAIIAAAB3CAYAAADPXJhXAAAAGXRFWHRTb2Z0d2FyZQBBZG9iZSBJbWFnZVJlYWR5ccllPAAAD45JREFUeNrsXW1sFMcZHpvDQCDm03wZgiEmicN3gEZ8xnwYlxYIKIEflZIgBfEDqUqlVCUVqmKq/kikJGp/UhFhIdEfpPmRKrRFIGNQiEkAtaKACRgwThwHrBgwEAwhpu8znrmMJ7N3u3u7d7d380qj29udfWd23mfer52bK3j48CGzZCm2fft2x4uTJ0+eQh/LqMyjMp3KhIDaHSg+76TjIQF2lO7ubnb//v3C77//vg/KDz/8UPDgwYMuUa2F6vyP6jRQObht27bTNTU1eTNLCuhhTQAoo4+NNDCv0KCUYQBliRpJAJDAAQJGAGAEgPh5+UyFhYW8FBQUoFyhspvq11LdS3mhEQwgqKSP12ngVmGwMDCxWCw+UFEDAQDQ1dXFAYBP/ZlwrGoN1CdwTKDzfygqKppNl965e/fuobwCAkBAg/EWDcaz+N63b9+48OWARQ0EJER2+/ZtDgL9meJqUTwbPkn4cQ1C2uAXVLdkwIABW3MdDDHNHEATPCtnDCjK5uDevXvszp07HATqM0mtoNbXgYG6QjvMpePX+/Xr10z8LucqENSpsRHmgKMjFov0Q0Gw8AOgDaQmkM9Es5s9+uijzClaGjRoEK+j3kO8ftmnT5+NOa8REB0Ix5A/vNuQUs46DDhmDw0W69+/P1e/+A6imcTPq+r6u+++4/dh5mHQUVAHwoPgUMAbfMAP9aSTp85YlbcOAvBHAR/UwflHHnmEPffcc/z+o0ePslu3bvXSDADBggULeN3Dhw/z54IZAT+q9wr15QPq2+lcNg3LEB14uRGD09nZyQW1ePFi/gkBXrhwgTU1NbG5c+fy69euXeMDjMHF9Rs3brA5c+awMWPGcCGcPXuW3zNkyBCuxseOHcuefPJJDo62tjZ2/vx5DoLy8nIOItwD4SAC+Oabb7hwTQDFPRKMknAPQDh8+HAu8E8++YT7DyBoCZzDc3z77be8rowmwI/6P4EAhVD6dC6bhnl4WC8OIQZ0xIgRbNOmTVyIECZ4vPjii6yjo4MtW7aMVVRUxFUzhAIQbNmyhYOkpaWFg2Tt2rVszZo1rLW1lQNgw4YNvC4AMHXqVFZW1oPPFStWcABNnDiRTZo0ibdt8l9U71/1BeQ5aAIIGgJfuHAhB6nUBBIEqCNDTKkdxee8XHcWp2NQpTedzDSg7vXr19lLL73EhVlbW8sGDx7MZ3djY2MvR1MKBLP9mWee4TN4x44d7ObNm3zW4Xx1dTUX7IQJPfmqPXv2cLPw+eefs/Hjx8dNQl1dHRcSZi/Ah5mt91XNeZieSYIBgsf9ixYtipswCQKpSSQQACbRh+m5DoQJctB0j9pEGKiSkhI2cOBAdvDgQS6UYcOG8XshXOlsqQR7PXr0aH4MlY6ZjnMXL17k52ASoFWefvpp9t5777Hm5mZ25swZdurUKT5jQUuWLGEzZ87kQAPgrl69mjBq0J9JChZmAwKHSUPfQdBWEgSqJlABRjwey4s8gm5TnUjaT+kr4DuEKgWAgZYCkdfUe3Cs3iNt8aeffsrvhUmZMmUKB0txcTFraGjgdSD4y5cv89kLjYS6Omhlf5I9E+qppgXHMGNuxyBXfYQrXrKGmJEQBAh2FmoefgHMBLQBvG0JBDhjuI4B/uqrr/j50tJSXre9vR0RS1xL4PjEiRNs165dbPPmzfz80KFD46bh3Llz3ME7fvw4v9/UZ5EijjuVTv2vrKzkWkxGKTjGOafQWWiWllwFQh88PNnKRfSQU70kjyAc2NRZs2axadOmceFjJq9evZrt27ePrVy5Mh7KjRo1itv6+vp6Nn/+fDZjxgwODDiHy5cv5wLGtXXr1rF58+bx7B76BcAcO3aMAwn3oX/wD8aNG8c/oc7hS5jMgpzx+jNJEIwcOZID4MCBA+zSpUvcP4GfA5MHR1a/DyEogaGOtNDfcxkIpXS8Us68ZCTjeMzwL774gjuAMhw8cuQIDxshRDiCGHA4ZSgIKyFYEIABHwP1UWCroRWg9nENgjh06BDnD6HDRIA/nErwAiG8BGhMzqwKhkQgQC4BpgTPkggMAgg7CQif5SIQ+NtHkVD6mAakzItWkHYVBYMuE0pQo9AQ0leQOX4IHsLENZlQQn2YExxDIHpyCoKWSShpv9X7dFUutRB4oV/4lM+E9quqqnj/JAhUAuBwHfVxHUCWZoHauUKHq3I1oRR/DU1gqKGBflMVXlRJhq0AAgCnPhPAAMHqIFDBgPslCCSICZh/JDC+mQ9RQy2hfjbNqFVR95yhMaBRoE3UBBNIFbCJdIBA4xCvfaRlavMhakAM30wf79KDfxb1l04yYsBzYDYDEH6eSaxZOE5AejeX3zz2AoIAQz0N4hs0eB+b3ttHVSugwAl1+0yoI8zBP4nP1rxbmCLBQP5CM82GkzQQkV6qJsEg31JCwHapmksgKGaihgDxAd64Ucmrxat03i5etZSfVGiHwJIFgqXePkJFRcVDk6OVaF2CuuBDp8bGRlcrXDLVriWfGkFd7q06YInqBuX1Z6LdvAWCOojyFa6+zEudqaZBV+/zKuh0t2vJAQjqQK9fvz7+HcemmYhjrC2U5+SxV2Go7RrWBzoe6+csCALUCHK27d27lwvWLaEu7vGjntV2gzAhllJ0FlU17AUMKgh0Hl60gqre9XYlf6fzujmxlAIQVJXrRRuoAoJgvNpqk6rXBZ0MEG4iDUseNIIcTF0ATmSq50cYJiFKjaS3Ic+pYLAACDh8DGJA/ahnp3Z1gZuAYX2E4Ii/a0BiJ1Gixuvs9pJQykS7lpIklFLVCn7vz1S7lgzhY1CmwYuaNrWrm4Nkx0GGoXkPhKDCL6/JnUTt6j5BopDWJpUCihrUmekUrzuFjcnqudUIeh9M/Lwmuyz5CB/dxOuJwshUzYuTiUjWH5tDCCGPIAViitcThXj4TPRiyE3IKe930ixO5/22a8nBR3ATr7uJ9/1kFoMQpNUKAeYREr3rdzvQYjscT3mEdLdrKUH4mEhtO9UxhW1+1yOks11LDj6CaRDdzMYwEkHpaNeSAxAylZq1KeEsA4JdvGrJLl61ZHYW7eJV6yz+ZEC9LiL16yzKRbN6fsLURhCpbUsOQAhKraaiEdwK1pRythohQB9BV79eXwf7XUSqCtDPolm7eDUE02ASSqK3j/q1IBavpqPddFIKvzZ/gspSBFdURrGerQSKlMmLjR2wsyi2FsAWtI1U6qic99N+LNFgOs1QkzD8CsK0aDbZ4tUc9w9eZT2bf48Vgnci/D/BAFFGUMEfsa2h8jUVbFX7vmeNYBJkMhWtvyb2OzMTLV516z/kiI+wSWiAEjySTx4AThnr2dBkmdAQOz1rBFUwXl8Hp5oryGNnb47QAo+z4LYpwKCOxHwl04A/KHufPk+4TijZxatpp5epvEFlMgtnr4pCwfsNAsLLrsLHZKYh2U/P/IShQS6ajSC9RqWKSv80tDVEaIehVP7iqBFM4RcEnMgMmK4HvXjVzTk/7WYJCKrTBAJJaKuagPCaIxCc0rhhLyJ1WjTrtt2ILmR9WWiCogy0jTarTGai0MneJluypgslKPWcqXbT6BiuSbMmMGmGNQSGOUYg6Kt+nOJ1p+NUFq+q2Uw3UYkKhogtXn1V2OtM0xDRl5/6CEHNML+LV1WNkEjlO12PgI+wSYSI2UKPk1bY9JM8QqLB9LqI1A94TJrAKdsZ0chhKcuu7QwLRZ929nIWkw2uXbyaskkoycJ+lZBWeLWXaTD9UbabRaSp/ropE+1mgPDuIBtVVoHom128mgbCW8SxWdy/saQVnrBb8KbHNyjK4v6hb0stEMKniij00QIhfBoVhT7Gw8fS0tLx9PEC68mBzxanT1LZT+XD1tbWL/20EBbfCNHAKPQxJoQFz3Erlee1Cj8XpZLqvE1Ca/AIglD4RoyKotDHQjFjdWE1aRVxbauo60UTmEDQlArfCFIUzC//y7MXNGHhj7ArDZWfF3Xd0gsGEDDBuyUFvpZCQmu18r0VgiJV3epQv9oDb2NdwbtStOWHr6WQgCAduHYBgstCYAUodDhGqT/bA2+17hiFHxNtVIo2vfK1lCH7FcT/Az+wQ539QDgpjvFSpJ4ct4nC2XuIosxaptR1Q2rddoUfE23Usx9fxJy0osg8EParzr4AQ6lD/f0eeO93iCZKBQhKffK1FBIQPqTykXLuMSEonT4Sdd2SzldSvWjDL9+oURT+R7m7UGT23taEVm4AwdtesoAOfHXenvlGkO5HoY8xIbQG0ti/FrM1sFRwWHwjRviR6oBs72NMm8F/FiUwCotvhAi/VB6R7X20bx/Dp8Yo9NECIXyqy3I/AX2rs0AIn7BxxddZ3L+va2pqzqvrEQazntU08OplWrmN9bwtbCRbf9NPK2HxjRjhNTv2LMi2NZoPRd+YXI+A18ALqDxlCPVQyqjOUa8eflh8I0jYvQQbV4zMsn61kzbgO6sUihmrC6tDuwHXFoi6XjSBCQQdqfCNuK+QTcmlbtEnToVCbavCgqquNdz4FPO2ELPCAAImeN9MgW9UCb8ouphF/blI2mCnCgQ109cJQZGq7nS4udxDQ+UOeYVOAYZOn3yjbiJuZEE/bjBts62Y4sDdESC4LgRWI1T8IPr4ragzxkNjat13iN9tBQzXiS/AgJ9bDfTIN8qEfYz+QQW/4s3UT+O70Ad9TyU34WMQdq2bWZK0m8qBDOUW0OYBAsFu/UJMhHLlYmZupJm6S8zYGgOjNg+Ntikq/3fyzTY0DR0PRVvsx6XebXkGBrmPUVUaNUOXAIHjHkrqquJiAYZiB2ZNHhpucogmigUIin3yzSUw7E2Tz4A29jqBQAIBufBzyrnBQlA6nWPe8uY6X0kbRRt++eaamXiLyoWQzGe34P2WyRz0Mg3I7CGpo4RyoGEGEBz1kgV04Kvz9sw3Rx1IlCB2XpUklxjWqSFiQiAIoX1JQvsXHTazAFPBYfHN4TzDTuZ+L2YnZzC1vZiFQI6JEhiFxTfHcw0ogezO7hkIlsKhFLbpP+9XqH7Ivoa2ZIFgyQLBkslHIM8eq4vbybFrCaMR4o+Fq1jJ+xtq467+3YohezTCzxDTk4C2UQlj6fVGKpuVcEj/bimLTAMA8CcBiF/ZobE+An6OtofA8BmVmXaIrLMIc/EfAsNOKqPtUNmoASnPC8J/sDY9z8NHRBMnycO/b4csP4GA9wSvU5lFIPi3Ha4czyM40F+p/J4A0GGHKT+BcJj1JHr+a4cnP4HQIjTA30Jop5L1/JfxbYfvlrIECLD/tWGle3XtYrVN9lFBHv8nsyUf4aMlCwRL+UD/F2AAZDs5F9dqVQcAAAAASUVORK5CYII=) 0 -47px no-repeat;cursor:pointer}div.dark_rounded .pp_close{width:75px;height:22px;background:url(data:image/png;base64,iVBORw0KGgoAAAANSUhEUgAAAIIAAAB3CAYAAADPXJhXAAAAGXRFWHRTb2Z0d2FyZQBBZG9iZSBJbWFnZVJlYWR5ccllPAAAD45JREFUeNrsXW1sFMcZHpvDQCDm03wZgiEmicN3gEZ8xnwYlxYIKIEflZIgBfEDqUqlVCUVqmKq/kikJGp/UhFhIdEfpPmRKrRFIGNQiEkAtaKACRgwThwHrBgwEAwhpu8znrmMJ7N3u3u7d7d380qj29udfWd23mfer52bK3j48CGzZCm2fft2x4uTJ0+eQh/LqMyjMp3KhIDaHSg+76TjIQF2lO7ubnb//v3C77//vg/KDz/8UPDgwYMuUa2F6vyP6jRQObht27bTNTU1eTNLCuhhTQAoo4+NNDCv0KCUYQBliRpJAJDAAQJGAGAEgPh5+UyFhYW8FBQUoFyhspvq11LdS3mhEQwgqKSP12ngVmGwMDCxWCw+UFEDAQDQ1dXFAYBP/ZlwrGoN1CdwTKDzfygqKppNl965e/fuobwCAkBAg/EWDcaz+N63b9+48OWARQ0EJER2+/ZtDgL9meJqUTwbPkn4cQ1C2uAXVLdkwIABW3MdDDHNHEATPCtnDCjK5uDevXvszp07HATqM0mtoNbXgYG6QjvMpePX+/Xr10z8LucqENSpsRHmgKMjFov0Q0Gw8AOgDaQmkM9Es5s9+uijzClaGjRoEK+j3kO8ftmnT5+NOa8REB0Ix5A/vNuQUs46DDhmDw0W69+/P1e/+A6imcTPq+r6u+++4/dh5mHQUVAHwoPgUMAbfMAP9aSTp85YlbcOAvBHAR/UwflHHnmEPffcc/z+o0ePslu3bvXSDADBggULeN3Dhw/z54IZAT+q9wr15QPq2+lcNg3LEB14uRGD09nZyQW1ePFi/gkBXrhwgTU1NbG5c+fy69euXeMDjMHF9Rs3brA5c+awMWPGcCGcPXuW3zNkyBCuxseOHcuefPJJDo62tjZ2/vx5DoLy8nIOItwD4SAC+Oabb7hwTQDFPRKMknAPQDh8+HAu8E8++YT7DyBoCZzDc3z77be8rowmwI/6P4EAhVD6dC6bhnl4WC8OIQZ0xIgRbNOmTVyIECZ4vPjii6yjo4MtW7aMVVRUxFUzhAIQbNmyhYOkpaWFg2Tt2rVszZo1rLW1lQNgw4YNvC4AMHXqVFZW1oPPFStWcABNnDiRTZo0ibdt8l9U71/1BeQ5aAIIGgJfuHAhB6nUBBIEqCNDTKkdxee8XHcWp2NQpTedzDSg7vXr19lLL73EhVlbW8sGDx7MZ3djY2MvR1MKBLP9mWee4TN4x44d7ObNm3zW4Xx1dTUX7IQJPfmqPXv2cLPw+eefs/Hjx8dNQl1dHRcSZi/Ah5mt91XNeZieSYIBgsf9ixYtipswCQKpSSQQACbRh+m5DoQJctB0j9pEGKiSkhI2cOBAdvDgQS6UYcOG8XshXOlsqQR7PXr0aH4MlY6ZjnMXL17k52ASoFWefvpp9t5777Hm5mZ25swZdurUKT5jQUuWLGEzZ87kQAPgrl69mjBq0J9JChZmAwKHSUPfQdBWEgSqJlABRjwey4s8gm5TnUjaT+kr4DuEKgWAgZYCkdfUe3Cs3iNt8aeffsrvhUmZMmUKB0txcTFraGjgdSD4y5cv89kLjYS6Omhlf5I9E+qppgXHMGNuxyBXfYQrXrKGmJEQBAh2FmoefgHMBLQBvG0JBDhjuI4B/uqrr/j50tJSXre9vR0RS1xL4PjEiRNs165dbPPmzfz80KFD46bh3Llz3ME7fvw4v9/UZ5EijjuVTv2vrKzkWkxGKTjGOafQWWiWllwFQh88PNnKRfSQU70kjyAc2NRZs2axadOmceFjJq9evZrt27ePrVy5Mh7KjRo1itv6+vp6Nn/+fDZjxgwODDiHy5cv5wLGtXXr1rF58+bx7B76BcAcO3aMAwn3oX/wD8aNG8c/oc7hS5jMgpzx+jNJEIwcOZID4MCBA+zSpUvcP4GfA5MHR1a/DyEogaGOtNDfcxkIpXS8Us68ZCTjeMzwL774gjuAMhw8cuQIDxshRDiCGHA4ZSgIKyFYEIABHwP1UWCroRWg9nENgjh06BDnD6HDRIA/nErwAiG8BGhMzqwKhkQgQC4BpgTPkggMAgg7CQif5SIQ+NtHkVD6mAakzItWkHYVBYMuE0pQo9AQ0leQOX4IHsLENZlQQn2YExxDIHpyCoKWSShpv9X7dFUutRB4oV/4lM+E9quqqnj/JAhUAuBwHfVxHUCWZoHauUKHq3I1oRR/DU1gqKGBflMVXlRJhq0AAgCnPhPAAMHqIFDBgPslCCSICZh/JDC+mQ9RQy2hfjbNqFVR95yhMaBRoE3UBBNIFbCJdIBA4xCvfaRlavMhakAM30wf79KDfxb1l04yYsBzYDYDEH6eSaxZOE5AejeX3zz2AoIAQz0N4hs0eB+b3ttHVSugwAl1+0yoI8zBP4nP1rxbmCLBQP5CM82GkzQQkV6qJsEg31JCwHapmksgKGaihgDxAd64Ucmrxat03i5etZSfVGiHwJIFgqXePkJFRcVDk6OVaF2CuuBDp8bGRlcrXDLVriWfGkFd7q06YInqBuX1Z6LdvAWCOojyFa6+zEudqaZBV+/zKuh0t2vJAQjqQK9fvz7+HcemmYhjrC2U5+SxV2Go7RrWBzoe6+csCALUCHK27d27lwvWLaEu7vGjntV2gzAhllJ0FlU17AUMKgh0Hl60gqre9XYlf6fzujmxlAIQVJXrRRuoAoJgvNpqk6rXBZ0MEG4iDUseNIIcTF0ATmSq50cYJiFKjaS3Ic+pYLAACDh8DGJA/ahnp3Z1gZuAYX2E4Ii/a0BiJ1Gixuvs9pJQykS7lpIklFLVCn7vz1S7lgzhY1CmwYuaNrWrm4Nkx0GGoXkPhKDCL6/JnUTt6j5BopDWJpUCihrUmekUrzuFjcnqudUIeh9M/Lwmuyz5CB/dxOuJwshUzYuTiUjWH5tDCCGPIAViitcThXj4TPRiyE3IKe930ixO5/22a8nBR3ATr7uJ9/1kFoMQpNUKAeYREr3rdzvQYjscT3mEdLdrKUH4mEhtO9UxhW1+1yOks11LDj6CaRDdzMYwEkHpaNeSAxAylZq1KeEsA4JdvGrJLl61ZHYW7eJV6yz+ZEC9LiL16yzKRbN6fsLURhCpbUsOQAhKraaiEdwK1pRythohQB9BV79eXwf7XUSqCtDPolm7eDUE02ASSqK3j/q1IBavpqPddFIKvzZ/gspSBFdURrGerQSKlMmLjR2wsyi2FsAWtI1U6qic99N+LNFgOs1QkzD8CsK0aDbZ4tUc9w9eZT2bf48Vgnci/D/BAFFGUMEfsa2h8jUVbFX7vmeNYBJkMhWtvyb2OzMTLV516z/kiI+wSWiAEjySTx4AThnr2dBkmdAQOz1rBFUwXl8Hp5oryGNnb47QAo+z4LYpwKCOxHwl04A/KHufPk+4TijZxatpp5epvEFlMgtnr4pCwfsNAsLLrsLHZKYh2U/P/IShQS6ajSC9RqWKSv80tDVEaIehVP7iqBFM4RcEnMgMmK4HvXjVzTk/7WYJCKrTBAJJaKuagPCaIxCc0rhhLyJ1WjTrtt2ILmR9WWiCogy0jTarTGai0MneJluypgslKPWcqXbT6BiuSbMmMGmGNQSGOUYg6Kt+nOJ1p+NUFq+q2Uw3UYkKhogtXn1V2OtM0xDRl5/6CEHNML+LV1WNkEjlO12PgI+wSYSI2UKPk1bY9JM8QqLB9LqI1A94TJrAKdsZ0chhKcuu7QwLRZ929nIWkw2uXbyaskkoycJ+lZBWeLWXaTD9UbabRaSp/ropE+1mgPDuIBtVVoHom128mgbCW8SxWdy/saQVnrBb8KbHNyjK4v6hb0stEMKniij00QIhfBoVhT7Gw8fS0tLx9PEC68mBzxanT1LZT+XD1tbWL/20EBbfCNHAKPQxJoQFz3Erlee1Cj8XpZLqvE1Ca/AIglD4RoyKotDHQjFjdWE1aRVxbauo60UTmEDQlArfCFIUzC//y7MXNGHhj7ArDZWfF3Xd0gsGEDDBuyUFvpZCQmu18r0VgiJV3epQv9oDb2NdwbtStOWHr6WQgCAduHYBgstCYAUodDhGqT/bA2+17hiFHxNtVIo2vfK1lCH7FcT/Az+wQ539QDgpjvFSpJ4ct4nC2XuIosxaptR1Q2rddoUfE23Usx9fxJy0osg8EParzr4AQ6lD/f0eeO93iCZKBQhKffK1FBIQPqTykXLuMSEonT4Sdd2SzldSvWjDL9+oURT+R7m7UGT23taEVm4AwdtesoAOfHXenvlGkO5HoY8xIbQG0ti/FrM1sFRwWHwjRviR6oBs72NMm8F/FiUwCotvhAi/VB6R7X20bx/Dp8Yo9NECIXyqy3I/AX2rs0AIn7BxxddZ3L+va2pqzqvrEQazntU08OplWrmN9bwtbCRbf9NPK2HxjRjhNTv2LMi2NZoPRd+YXI+A18ALqDxlCPVQyqjOUa8eflh8I0jYvQQbV4zMsn61kzbgO6sUihmrC6tDuwHXFoi6XjSBCQQdqfCNuK+QTcmlbtEnToVCbavCgqquNdz4FPO2ELPCAAImeN9MgW9UCb8ouphF/blI2mCnCgQ109cJQZGq7nS4udxDQ+UOeYVOAYZOn3yjbiJuZEE/bjBts62Y4sDdESC4LgRWI1T8IPr4ragzxkNjat13iN9tBQzXiS/AgJ9bDfTIN8qEfYz+QQW/4s3UT+O70Ad9TyU34WMQdq2bWZK0m8qBDOUW0OYBAsFu/UJMhHLlYmZupJm6S8zYGgOjNg+Ntikq/3fyzTY0DR0PRVvsx6XebXkGBrmPUVUaNUOXAIHjHkrqquJiAYZiB2ZNHhpucogmigUIin3yzSUw7E2Tz4A29jqBQAIBufBzyrnBQlA6nWPe8uY6X0kbRRt++eaamXiLyoWQzGe34P2WyRz0Mg3I7CGpo4RyoGEGEBz1kgV04Kvz9sw3Rx1IlCB2XpUklxjWqSFiQiAIoX1JQvsXHTazAFPBYfHN4TzDTuZ+L2YnZzC1vZiFQI6JEhiFxTfHcw0ogezO7hkIlsKhFLbpP+9XqH7Ivoa2ZIFgyQLBkslHIM8eq4vbybFrCaMR4o+Fq1jJ+xtq467+3YohezTCzxDTk4C2UQlj6fVGKpuVcEj/bimLTAMA8CcBiF/ZobE+An6OtofA8BmVmXaIrLMIc/EfAsNOKqPtUNmoASnPC8J/sDY9z8NHRBMnycO/b4csP4GA9wSvU5lFIPi3Ha4czyM40F+p/J4A0GGHKT+BcJj1JHr+a4cnP4HQIjTA30Jop5L1/JfxbYfvlrIECLD/tWGle3XtYrVN9lFBHv8nsyUf4aMlCwRL+UD/F2AAZDs5F9dqVQcAAAAASUVORK5CYII=) -1px -1px no-repeat;cursor:pointer}div.dark_rounded .pp_description{margin-right:85px;color:#fff}div.dark_rounded .pp_nav .pp_play{background:url(data:image/png;base64,iVBORw0KGgoAAAANSUhEUgAAAIIAAAB3CAYAAADPXJhXAAAAGXRFWHRTb2Z0d2FyZQBBZG9iZSBJbWFnZVJlYWR5ccllPAAAD45JREFUeNrsXW1sFMcZHpvDQCDm03wZgiEmicN3gEZ8xnwYlxYIKIEflZIgBfEDqUqlVCUVqmKq/kikJGp/UhFhIdEfpPmRKrRFIGNQiEkAtaKACRgwThwHrBgwEAwhpu8znrmMJ7N3u3u7d7d380qj29udfWd23mfer52bK3j48CGzZCm2fft2x4uTJ0+eQh/LqMyjMp3KhIDaHSg+76TjIQF2lO7ubnb//v3C77//vg/KDz/8UPDgwYMuUa2F6vyP6jRQObht27bTNTU1eTNLCuhhTQAoo4+NNDCv0KCUYQBliRpJAJDAAQJGAGAEgPh5+UyFhYW8FBQUoFyhspvq11LdS3mhEQwgqKSP12ngVmGwMDCxWCw+UFEDAQDQ1dXFAYBP/ZlwrGoN1CdwTKDzfygqKppNl965e/fuobwCAkBAg/EWDcaz+N63b9+48OWARQ0EJER2+/ZtDgL9meJqUTwbPkn4cQ1C2uAXVLdkwIABW3MdDDHNHEATPCtnDCjK5uDevXvszp07HATqM0mtoNbXgYG6QjvMpePX+/Xr10z8LucqENSpsRHmgKMjFov0Q0Gw8AOgDaQmkM9Es5s9+uijzClaGjRoEK+j3kO8ftmnT5+NOa8REB0Ix5A/vNuQUs46DDhmDw0W69+/P1e/+A6imcTPq+r6u+++4/dh5mHQUVAHwoPgUMAbfMAP9aSTp85YlbcOAvBHAR/UwflHHnmEPffcc/z+o0ePslu3bvXSDADBggULeN3Dhw/z54IZAT+q9wr15QPq2+lcNg3LEB14uRGD09nZyQW1ePFi/gkBXrhwgTU1NbG5c+fy69euXeMDjMHF9Rs3brA5c+awMWPGcCGcPXuW3zNkyBCuxseOHcuefPJJDo62tjZ2/vx5DoLy8nIOItwD4SAC+Oabb7hwTQDFPRKMknAPQDh8+HAu8E8++YT7DyBoCZzDc3z77be8rowmwI/6P4EAhVD6dC6bhnl4WC8OIQZ0xIgRbNOmTVyIECZ4vPjii6yjo4MtW7aMVVRUxFUzhAIQbNmyhYOkpaWFg2Tt2rVszZo1rLW1lQNgw4YNvC4AMHXqVFZW1oPPFStWcABNnDiRTZo0ibdt8l9U71/1BeQ5aAIIGgJfuHAhB6nUBBIEqCNDTKkdxee8XHcWp2NQpTedzDSg7vXr19lLL73EhVlbW8sGDx7MZ3djY2MvR1MKBLP9mWee4TN4x44d7ObNm3zW4Xx1dTUX7IQJPfmqPXv2cLPw+eefs/Hjx8dNQl1dHRcSZi/Ah5mt91XNeZieSYIBgsf9ixYtipswCQKpSSQQACbRh+m5DoQJctB0j9pEGKiSkhI2cOBAdvDgQS6UYcOG8XshXOlsqQR7PXr0aH4MlY6ZjnMXL17k52ASoFWefvpp9t5777Hm5mZ25swZdurUKT5jQUuWLGEzZ87kQAPgrl69mjBq0J9JChZmAwKHSUPfQdBWEgSqJlABRjwey4s8gm5TnUjaT+kr4DuEKgWAgZYCkdfUe3Cs3iNt8aeffsrvhUmZMmUKB0txcTFraGjgdSD4y5cv89kLjYS6Omhlf5I9E+qppgXHMGNuxyBXfYQrXrKGmJEQBAh2FmoefgHMBLQBvG0JBDhjuI4B/uqrr/j50tJSXre9vR0RS1xL4PjEiRNs165dbPPmzfz80KFD46bh3Llz3ME7fvw4v9/UZ5EijjuVTv2vrKzkWkxGKTjGOafQWWiWllwFQh88PNnKRfSQU70kjyAc2NRZs2axadOmceFjJq9evZrt27ePrVy5Mh7KjRo1itv6+vp6Nn/+fDZjxgwODDiHy5cv5wLGtXXr1rF58+bx7B76BcAcO3aMAwn3oX/wD8aNG8c/oc7hS5jMgpzx+jNJEIwcOZID4MCBA+zSpUvcP4GfA5MHR1a/DyEogaGOtNDfcxkIpXS8Us68ZCTjeMzwL774gjuAMhw8cuQIDxshRDiCGHA4ZSgIKyFYEIABHwP1UWCroRWg9nENgjh06BDnD6HDRIA/nErwAiG8BGhMzqwKhkQgQC4BpgTPkggMAgg7CQif5SIQ+NtHkVD6mAakzItWkHYVBYMuE0pQo9AQ0leQOX4IHsLENZlQQn2YExxDIHpyCoKWSShpv9X7dFUutRB4oV/4lM+E9quqqnj/JAhUAuBwHfVxHUCWZoHauUKHq3I1oRR/DU1gqKGBflMVXlRJhq0AAgCnPhPAAMHqIFDBgPslCCSICZh/JDC+mQ9RQy2hfjbNqFVR95yhMaBRoE3UBBNIFbCJdIBA4xCvfaRlavMhakAM30wf79KDfxb1l04yYsBzYDYDEH6eSaxZOE5AejeX3zz2AoIAQz0N4hs0eB+b3ttHVSugwAl1+0yoI8zBP4nP1rxbmCLBQP5CM82GkzQQkV6qJsEg31JCwHapmksgKGaihgDxAd64Ucmrxat03i5etZSfVGiHwJIFgqXePkJFRcVDk6OVaF2CuuBDp8bGRlcrXDLVriWfGkFd7q06YInqBuX1Z6LdvAWCOojyFa6+zEudqaZBV+/zKuh0t2vJAQjqQK9fvz7+HcemmYhjrC2U5+SxV2Go7RrWBzoe6+csCALUCHK27d27lwvWLaEu7vGjntV2gzAhllJ0FlU17AUMKgh0Hl60gqre9XYlf6fzujmxlAIQVJXrRRuoAoJgvNpqk6rXBZ0MEG4iDUseNIIcTF0ATmSq50cYJiFKjaS3Ic+pYLAACDh8DGJA/ahnp3Z1gZuAYX2E4Ii/a0BiJ1Gixuvs9pJQykS7lpIklFLVCn7vz1S7lgzhY1CmwYuaNrWrm4Nkx0GGoXkPhKDCL6/JnUTt6j5BopDWJpUCihrUmekUrzuFjcnqudUIeh9M/Lwmuyz5CB/dxOuJwshUzYuTiUjWH5tDCCGPIAViitcThXj4TPRiyE3IKe930ixO5/22a8nBR3ATr7uJ9/1kFoMQpNUKAeYREr3rdzvQYjscT3mEdLdrKUH4mEhtO9UxhW1+1yOks11LDj6CaRDdzMYwEkHpaNeSAxAylZq1KeEsA4JdvGrJLl61ZHYW7eJV6yz+ZEC9LiL16yzKRbN6fsLURhCpbUsOQAhKraaiEdwK1pRythohQB9BV79eXwf7XUSqCtDPolm7eDUE02ASSqK3j/q1IBavpqPddFIKvzZ/gspSBFdURrGerQSKlMmLjR2wsyi2FsAWtI1U6qic99N+LNFgOs1QkzD8CsK0aDbZ4tUc9w9eZT2bf48Vgnci/D/BAFFGUMEfsa2h8jUVbFX7vmeNYBJkMhWtvyb2OzMTLV516z/kiI+wSWiAEjySTx4AThnr2dBkmdAQOz1rBFUwXl8Hp5oryGNnb47QAo+z4LYpwKCOxHwl04A/KHufPk+4TijZxatpp5epvEFlMgtnr4pCwfsNAsLLrsLHZKYh2U/P/IShQS6ajSC9RqWKSv80tDVEaIehVP7iqBFM4RcEnMgMmK4HvXjVzTk/7WYJCKrTBAJJaKuagPCaIxCc0rhhLyJ1WjTrtt2ILmR9WWiCogy0jTarTGai0MneJluypgslKPWcqXbT6BiuSbMmMGmGNQSGOUYg6Kt+nOJ1p+NUFq+q2Uw3UYkKhogtXn1V2OtM0xDRl5/6CEHNML+LV1WNkEjlO12PgI+wSYSI2UKPk1bY9JM8QqLB9LqI1A94TJrAKdsZ0chhKcuu7QwLRZ929nIWkw2uXbyaskkoycJ+lZBWeLWXaTD9UbabRaSp/ropE+1mgPDuIBtVVoHom128mgbCW8SxWdy/saQVnrBb8KbHNyjK4v6hb0stEMKniij00QIhfBoVhT7Gw8fS0tLx9PEC68mBzxanT1LZT+XD1tbWL/20EBbfCNHAKPQxJoQFz3Erlee1Cj8XpZLqvE1Ca/AIglD4RoyKotDHQjFjdWE1aRVxbauo60UTmEDQlArfCFIUzC//y7MXNGHhj7ArDZWfF3Xd0gsGEDDBuyUFvpZCQmu18r0VgiJV3epQv9oDb2NdwbtStOWHr6WQgCAduHYBgstCYAUodDhGqT/bA2+17hiFHxNtVIo2vfK1lCH7FcT/Az+wQ539QDgpjvFSpJ4ct4nC2XuIosxaptR1Q2rddoUfE23Usx9fxJy0osg8EParzr4AQ6lD/f0eeO93iCZKBQhKffK1FBIQPqTykXLuMSEonT4Sdd2SzldSvWjDL9+oURT+R7m7UGT23taEVm4AwdtesoAOfHXenvlGkO5HoY8xIbQG0ti/FrM1sFRwWHwjRviR6oBs72NMm8F/FiUwCotvhAi/VB6R7X20bx/Dp8Yo9NECIXyqy3I/AX2rs0AIn7BxxddZ3L+va2pqzqvrEQazntU08OplWrmN9bwtbCRbf9NPK2HxjRjhNTv2LMi2NZoPRd+YXI+A18ALqDxlCPVQyqjOUa8eflh8I0jYvQQbV4zMsn61kzbgO6sUihmrC6tDuwHXFoi6XjSBCQQdqfCNuK+QTcmlbtEnToVCbavCgqquNdz4FPO2ELPCAAImeN9MgW9UCb8ouphF/blI2mCnCgQ109cJQZGq7nS4udxDQ+UOeYVOAYZOn3yjbiJuZEE/bjBts62Y4sDdESC4LgRWI1T8IPr4ragzxkNjat13iN9tBQzXiS/AgJ9bDfTIN8qEfYz+QQW/4s3UT+O70Ad9TyU34WMQdq2bWZK0m8qBDOUW0OYBAsFu/UJMhHLlYmZupJm6S8zYGgOjNg+Ntikq/3fyzTY0DR0PRVvsx6XebXkGBrmPUVUaNUOXAIHjHkrqquJiAYZiB2ZNHhpucogmigUIin3yzSUw7E2Tz4A29jqBQAIBufBzyrnBQlA6nWPe8uY6X0kbRRt++eaamXiLyoWQzGe34P2WyRz0Mg3I7CGpo4RyoGEGEBz1kgV04Kvz9sw3Rx1IlCB2XpUklxjWqSFiQiAIoX1JQvsXHTazAFPBYfHN4TzDTuZ+L2YnZzC1vZiFQI6JEhiFxTfHcw0ogezO7hkIlsKhFLbpP+9XqH7Ivoa2ZIFgyQLBkslHIM8eq4vbybFrCaMR4o+Fq1jJ+xtq467+3YohezTCzxDTk4C2UQlj6fVGKpuVcEj/bimLTAMA8CcBiF/ZobE+An6OtofA8BmVmXaIrLMIc/EfAsNOKqPtUNmoASnPC8J/sDY9z8NHRBMnycO/b4csP4GA9wSvU5lFIPi3Ha4czyM40F+p/J4A0GGHKT+BcJj1JHr+a4cnP4HQIjTA30Jop5L1/JfxbYfvlrIECLD/tWGle3XtYrVN9lFBHv8nsyUf4aMlCwRL+UD/F2AAZDs5F9dqVQcAAAAASUVORK5CYII=) -1px -100px no-repeat;height:15px;width:14px}div.dark_rounded .pp_nav .pp_pause{background:url(data:image/png;base64,iVBORw0KGgoAAAANSUhEUgAAAIIAAAB3CAYAAADPXJhXAAAAGXRFWHRTb2Z0d2FyZQBBZG9iZSBJbWFnZVJlYWR5ccllPAAAD45JREFUeNrsXW1sFMcZHpvDQCDm03wZgiEmicN3gEZ8xnwYlxYIKIEflZIgBfEDqUqlVCUVqmKq/kikJGp/UhFhIdEfpPmRKrRFIGNQiEkAtaKACRgwThwHrBgwEAwhpu8znrmMJ7N3u3u7d7d380qj29udfWd23mfer52bK3j48CGzZCm2fft2x4uTJ0+eQh/LqMyjMp3KhIDaHSg+76TjIQF2lO7ubnb//v3C77//vg/KDz/8UPDgwYMuUa2F6vyP6jRQObht27bTNTU1eTNLCuhhTQAoo4+NNDCv0KCUYQBliRpJAJDAAQJGAGAEgPh5+UyFhYW8FBQUoFyhspvq11LdS3mhEQwgqKSP12ngVmGwMDCxWCw+UFEDAQDQ1dXFAYBP/ZlwrGoN1CdwTKDzfygqKppNl965e/fuobwCAkBAg/EWDcaz+N63b9+48OWARQ0EJER2+/ZtDgL9meJqUTwbPkn4cQ1C2uAXVLdkwIABW3MdDDHNHEATPCtnDCjK5uDevXvszp07HATqM0mtoNbXgYG6QjvMpePX+/Xr10z8LucqENSpsRHmgKMjFov0Q0Gw8AOgDaQmkM9Es5s9+uijzClaGjRoEK+j3kO8ftmnT5+NOa8REB0Ix5A/vNuQUs46DDhmDw0W69+/P1e/+A6imcTPq+r6u+++4/dh5mHQUVAHwoPgUMAbfMAP9aSTp85YlbcOAvBHAR/UwflHHnmEPffcc/z+o0ePslu3bvXSDADBggULeN3Dhw/z54IZAT+q9wr15QPq2+lcNg3LEB14uRGD09nZyQW1ePFi/gkBXrhwgTU1NbG5c+fy69euXeMDjMHF9Rs3brA5c+awMWPGcCGcPXuW3zNkyBCuxseOHcuefPJJDo62tjZ2/vx5DoLy8nIOItwD4SAC+Oabb7hwTQDFPRKMknAPQDh8+HAu8E8++YT7DyBoCZzDc3z77be8rowmwI/6P4EAhVD6dC6bhnl4WC8OIQZ0xIgRbNOmTVyIECZ4vPjii6yjo4MtW7aMVVRUxFUzhAIQbNmyhYOkpaWFg2Tt2rVszZo1rLW1lQNgw4YNvC4AMHXqVFZW1oPPFStWcABNnDiRTZo0ibdt8l9U71/1BeQ5aAIIGgJfuHAhB6nUBBIEqCNDTKkdxee8XHcWp2NQpTedzDSg7vXr19lLL73EhVlbW8sGDx7MZ3djY2MvR1MKBLP9mWee4TN4x44d7ObNm3zW4Xx1dTUX7IQJPfmqPXv2cLPw+eefs/Hjx8dNQl1dHRcSZi/Ah5mt91XNeZieSYIBgsf9ixYtipswCQKpSSQQACbRh+m5DoQJctB0j9pEGKiSkhI2cOBAdvDgQS6UYcOG8XshXOlsqQR7PXr0aH4MlY6ZjnMXL17k52ASoFWefvpp9t5777Hm5mZ25swZdurUKT5jQUuWLGEzZ87kQAPgrl69mjBq0J9JChZmAwKHSUPfQdBWEgSqJlABRjwey4s8gm5TnUjaT+kr4DuEKgWAgZYCkdfUe3Cs3iNt8aeffsrvhUmZMmUKB0txcTFraGjgdSD4y5cv89kLjYS6Omhlf5I9E+qppgXHMGNuxyBXfYQrXrKGmJEQBAh2FmoefgHMBLQBvG0JBDhjuI4B/uqrr/j50tJSXre9vR0RS1xL4PjEiRNs165dbPPmzfz80KFD46bh3Llz3ME7fvw4v9/UZ5EijjuVTv2vrKzkWkxGKTjGOafQWWiWllwFQh88PNnKRfSQU70kjyAc2NRZs2axadOmceFjJq9evZrt27ePrVy5Mh7KjRo1itv6+vp6Nn/+fDZjxgwODDiHy5cv5wLGtXXr1rF58+bx7B76BcAcO3aMAwn3oX/wD8aNG8c/oc7hS5jMgpzx+jNJEIwcOZID4MCBA+zSpUvcP4GfA5MHR1a/DyEogaGOtNDfcxkIpXS8Us68ZCTjeMzwL774gjuAMhw8cuQIDxshRDiCGHA4ZSgIKyFYEIABHwP1UWCroRWg9nENgjh06BDnD6HDRIA/nErwAiG8BGhMzqwKhkQgQC4BpgTPkggMAgg7CQif5SIQ+NtHkVD6mAakzItWkHYVBYMuE0pQo9AQ0leQOX4IHsLENZlQQn2YExxDIHpyCoKWSShpv9X7dFUutRB4oV/4lM+E9quqqnj/JAhUAuBwHfVxHUCWZoHauUKHq3I1oRR/DU1gqKGBflMVXlRJhq0AAgCnPhPAAMHqIFDBgPslCCSICZh/JDC+mQ9RQy2hfjbNqFVR95yhMaBRoE3UBBNIFbCJdIBA4xCvfaRlavMhakAM30wf79KDfxb1l04yYsBzYDYDEH6eSaxZOE5AejeX3zz2AoIAQz0N4hs0eB+b3ttHVSugwAl1+0yoI8zBP4nP1rxbmCLBQP5CM82GkzQQkV6qJsEg31JCwHapmksgKGaihgDxAd64Ucmrxat03i5etZSfVGiHwJIFgqXePkJFRcVDk6OVaF2CuuBDp8bGRlcrXDLVriWfGkFd7q06YInqBuX1Z6LdvAWCOojyFa6+zEudqaZBV+/zKuh0t2vJAQjqQK9fvz7+HcemmYhjrC2U5+SxV2Go7RrWBzoe6+csCALUCHK27d27lwvWLaEu7vGjntV2gzAhllJ0FlU17AUMKgh0Hl60gqre9XYlf6fzujmxlAIQVJXrRRuoAoJgvNpqk6rXBZ0MEG4iDUseNIIcTF0ATmSq50cYJiFKjaS3Ic+pYLAACDh8DGJA/ahnp3Z1gZuAYX2E4Ii/a0BiJ1Gixuvs9pJQykS7lpIklFLVCn7vz1S7lgzhY1CmwYuaNrWrm4Nkx0GGoXkPhKDCL6/JnUTt6j5BopDWJpUCihrUmekUrzuFjcnqudUIeh9M/Lwmuyz5CB/dxOuJwshUzYuTiUjWH5tDCCGPIAViitcThXj4TPRiyE3IKe930ixO5/22a8nBR3ATr7uJ9/1kFoMQpNUKAeYREr3rdzvQYjscT3mEdLdrKUH4mEhtO9UxhW1+1yOks11LDj6CaRDdzMYwEkHpaNeSAxAylZq1KeEsA4JdvGrJLl61ZHYW7eJV6yz+ZEC9LiL16yzKRbN6fsLURhCpbUsOQAhKraaiEdwK1pRythohQB9BV79eXwf7XUSqCtDPolm7eDUE02ASSqK3j/q1IBavpqPddFIKvzZ/gspSBFdURrGerQSKlMmLjR2wsyi2FsAWtI1U6qic99N+LNFgOs1QkzD8CsK0aDbZ4tUc9w9eZT2bf48Vgnci/D/BAFFGUMEfsa2h8jUVbFX7vmeNYBJkMhWtvyb2OzMTLV516z/kiI+wSWiAEjySTx4AThnr2dBkmdAQOz1rBFUwXl8Hp5oryGNnb47QAo+z4LYpwKCOxHwl04A/KHufPk+4TijZxatpp5epvEFlMgtnr4pCwfsNAsLLrsLHZKYh2U/P/IShQS6ajSC9RqWKSv80tDVEaIehVP7iqBFM4RcEnMgMmK4HvXjVzTk/7WYJCKrTBAJJaKuagPCaIxCc0rhhLyJ1WjTrtt2ILmR9WWiCogy0jTarTGai0MneJluypgslKPWcqXbT6BiuSbMmMGmGNQSGOUYg6Kt+nOJ1p+NUFq+q2Uw3UYkKhogtXn1V2OtM0xDRl5/6CEHNML+LV1WNkEjlO12PgI+wSYSI2UKPk1bY9JM8QqLB9LqI1A94TJrAKdsZ0chhKcuu7QwLRZ929nIWkw2uXbyaskkoycJ+lZBWeLWXaTD9UbabRaSp/ropE+1mgPDuIBtVVoHom128mgbCW8SxWdy/saQVnrBb8KbHNyjK4v6hb0stEMKniij00QIhfBoVhT7Gw8fS0tLx9PEC68mBzxanT1LZT+XD1tbWL/20EBbfCNHAKPQxJoQFz3Erlee1Cj8XpZLqvE1Ca/AIglD4RoyKotDHQjFjdWE1aRVxbauo60UTmEDQlArfCFIUzC//y7MXNGHhj7ArDZWfF3Xd0gsGEDDBuyUFvpZCQmu18r0VgiJV3epQv9oDb2NdwbtStOWHr6WQgCAduHYBgstCYAUodDhGqT/bA2+17hiFHxNtVIo2vfK1lCH7FcT/Az+wQ539QDgpjvFSpJ4ct4nC2XuIosxaptR1Q2rddoUfE23Usx9fxJy0osg8EParzr4AQ6lD/f0eeO93iCZKBQhKffK1FBIQPqTykXLuMSEonT4Sdd2SzldSvWjDL9+oURT+R7m7UGT23taEVm4AwdtesoAOfHXenvlGkO5HoY8xIbQG0ti/FrM1sFRwWHwjRviR6oBs72NMm8F/FiUwCotvhAi/VB6R7X20bx/Dp8Yo9NECIXyqy3I/AX2rs0AIn7BxxddZ3L+va2pqzqvrEQazntU08OplWrmN9bwtbCRbf9NPK2HxjRjhNTv2LMi2NZoPRd+YXI+A18ALqDxlCPVQyqjOUa8eflh8I0jYvQQbV4zMsn61kzbgO6sUihmrC6tDuwHXFoi6XjSBCQQdqfCNuK+QTcmlbtEnToVCbavCgqquNdz4FPO2ELPCAAImeN9MgW9UCb8ouphF/blI2mCnCgQ109cJQZGq7nS4udxDQ+UOeYVOAYZOn3yjbiJuZEE/bjBts62Y4sDdESC4LgRWI1T8IPr4ragzxkNjat13iN9tBQzXiS/AgJ9bDfTIN8qEfYz+QQW/4s3UT+O70Ad9TyU34WMQdq2bWZK0m8qBDOUW0OYBAsFu/UJMhHLlYmZupJm6S8zYGgOjNg+Ntikq/3fyzTY0DR0PRVvsx6XebXkGBrmPUVUaNUOXAIHjHkrqquJiAYZiB2ZNHhpucogmigUIin3yzSUw7E2Tz4A29jqBQAIBufBzyrnBQlA6nWPe8uY6X0kbRRt++eaamXiLyoWQzGe34P2WyRz0Mg3I7CGpo4RyoGEGEBz1kgV04Kvz9sw3Rx1IlCB2XpUklxjWqSFiQiAIoX1JQvsXHTazAFPBYfHN4TzDTuZ+L2YnZzC1vZiFQI6JEhiFxTfHcw0ogezO7hkIlsKhFLbpP+9XqH7Ivoa2ZIFgyQLBkslHIM8eq4vbybFrCaMR4o+Fq1jJ+xtq467+3YohezTCzxDTk4C2UQlj6fVGKpuVcEj/bimLTAMA8CcBiF/ZobE+An6OtofA8BmVmXaIrLMIc/EfAsNOKqPtUNmoASnPC8J/sDY9z8NHRBMnycO/b4csP4GA9wSvU5lFIPi3Ha4czyM40F+p/J4A0GGHKT+BcJj1JHr+a4cnP4HQIjTA30Jop5L1/JfxbYfvlrIECLD/tWGle3XtYrVN9lFBHv8nsyUf4aMlCwRL+UD/F2AAZDs5F9dqVQcAAAAASUVORK5CYII=) -24px -100px no-repeat;height:15px;width:14px}div.dark_rounded .pp_arrow_previous{background:url(data:image/png;base64,iVBORw0KGgoAAAANSUhEUgAAAIIAAAB3CAYAAADPXJhXAAAAGXRFWHRTb2Z0d2FyZQBBZG9iZSBJbWFnZVJlYWR5ccllPAAAD45JREFUeNrsXW1sFMcZHpvDQCDm03wZgiEmicN3gEZ8xnwYlxYIKIEflZIgBfEDqUqlVCUVqmKq/kikJGp/UhFhIdEfpPmRKrRFIGNQiEkAtaKACRgwThwHrBgwEAwhpu8znrmMJ7N3u3u7d7d380qj29udfWd23mfer52bK3j48CGzZCm2fft2x4uTJ0+eQh/LqMyjMp3KhIDaHSg+76TjIQF2lO7ubnb//v3C77//vg/KDz/8UPDgwYMuUa2F6vyP6jRQObht27bTNTU1eTNLCuhhTQAoo4+NNDCv0KCUYQBliRpJAJDAAQJGAGAEgPh5+UyFhYW8FBQUoFyhspvq11LdS3mhEQwgqKSP12ngVmGwMDCxWCw+UFEDAQDQ1dXFAYBP/ZlwrGoN1CdwTKDzfygqKppNl965e/fuobwCAkBAg/EWDcaz+N63b9+48OWARQ0EJER2+/ZtDgL9meJqUTwbPkn4cQ1C2uAXVLdkwIABW3MdDDHNHEATPCtnDCjK5uDevXvszp07HATqM0mtoNbXgYG6QjvMpePX+/Xr10z8LucqENSpsRHmgKMjFov0Q0Gw8AOgDaQmkM9Es5s9+uijzClaGjRoEK+j3kO8ftmnT5+NOa8REB0Ix5A/vNuQUs46DDhmDw0W69+/P1e/+A6imcTPq+r6u+++4/dh5mHQUVAHwoPgUMAbfMAP9aSTp85YlbcOAvBHAR/UwflHHnmEPffcc/z+o0ePslu3bvXSDADBggULeN3Dhw/z54IZAT+q9wr15QPq2+lcNg3LEB14uRGD09nZyQW1ePFi/gkBXrhwgTU1NbG5c+fy69euXeMDjMHF9Rs3brA5c+awMWPGcCGcPXuW3zNkyBCuxseOHcuefPJJDo62tjZ2/vx5DoLy8nIOItwD4SAC+Oabb7hwTQDFPRKMknAPQDh8+HAu8E8++YT7DyBoCZzDc3z77be8rowmwI/6P4EAhVD6dC6bhnl4WC8OIQZ0xIgRbNOmTVyIECZ4vPjii6yjo4MtW7aMVVRUxFUzhAIQbNmyhYOkpaWFg2Tt2rVszZo1rLW1lQNgw4YNvC4AMHXqVFZW1oPPFStWcABNnDiRTZo0ibdt8l9U71/1BeQ5aAIIGgJfuHAhB6nUBBIEqCNDTKkdxee8XHcWp2NQpTedzDSg7vXr19lLL73EhVlbW8sGDx7MZ3djY2MvR1MKBLP9mWee4TN4x44d7ObNm3zW4Xx1dTUX7IQJPfmqPXv2cLPw+eefs/Hjx8dNQl1dHRcSZi/Ah5mt91XNeZieSYIBgsf9ixYtipswCQKpSSQQACbRh+m5DoQJctB0j9pEGKiSkhI2cOBAdvDgQS6UYcOG8XshXOlsqQR7PXr0aH4MlY6ZjnMXL17k52ASoFWefvpp9t5777Hm5mZ25swZdurUKT5jQUuWLGEzZ87kQAPgrl69mjBq0J9JChZmAwKHSUPfQdBWEgSqJlABRjwey4s8gm5TnUjaT+kr4DuEKgWAgZYCkdfUe3Cs3iNt8aeffsrvhUmZMmUKB0txcTFraGjgdSD4y5cv89kLjYS6Omhlf5I9E+qppgXHMGNuxyBXfYQrXrKGmJEQBAh2FmoefgHMBLQBvG0JBDhjuI4B/uqrr/j50tJSXre9vR0RS1xL4PjEiRNs165dbPPmzfz80KFD46bh3Llz3ME7fvw4v9/UZ5EijjuVTv2vrKzkWkxGKTjGOafQWWiWllwFQh88PNnKRfSQU70kjyAc2NRZs2axadOmceFjJq9evZrt27ePrVy5Mh7KjRo1itv6+vp6Nn/+fDZjxgwODDiHy5cv5wLGtXXr1rF58+bx7B76BcAcO3aMAwn3oX/wD8aNG8c/oc7hS5jMgpzx+jNJEIwcOZID4MCBA+zSpUvcP4GfA5MHR1a/DyEogaGOtNDfcxkIpXS8Us68ZCTjeMzwL774gjuAMhw8cuQIDxshRDiCGHA4ZSgIKyFYEIABHwP1UWCroRWg9nENgjh06BDnD6HDRIA/nErwAiG8BGhMzqwKhkQgQC4BpgTPkggMAgg7CQif5SIQ+NtHkVD6mAakzItWkHYVBYMuE0pQo9AQ0leQOX4IHsLENZlQQn2YExxDIHpyCoKWSShpv9X7dFUutRB4oV/4lM+E9quqqnj/JAhUAuBwHfVxHUCWZoHauUKHq3I1oRR/DU1gqKGBflMVXlRJhq0AAgCnPhPAAMHqIFDBgPslCCSICZh/JDC+mQ9RQy2hfjbNqFVR95yhMaBRoE3UBBNIFbCJdIBA4xCvfaRlavMhakAM30wf79KDfxb1l04yYsBzYDYDEH6eSaxZOE5AejeX3zz2AoIAQz0N4hs0eB+b3ttHVSugwAl1+0yoI8zBP4nP1rxbmCLBQP5CM82GkzQQkV6qJsEg31JCwHapmksgKGaihgDxAd64Ucmrxat03i5etZSfVGiHwJIFgqXePkJFRcVDk6OVaF2CuuBDp8bGRlcrXDLVriWfGkFd7q06YInqBuX1Z6LdvAWCOojyFa6+zEudqaZBV+/zKuh0t2vJAQjqQK9fvz7+HcemmYhjrC2U5+SxV2Go7RrWBzoe6+csCALUCHK27d27lwvWLaEu7vGjntV2gzAhllJ0FlU17AUMKgh0Hl60gqre9XYlf6fzujmxlAIQVJXrRRuoAoJgvNpqk6rXBZ0MEG4iDUseNIIcTF0ATmSq50cYJiFKjaS3Ic+pYLAACDh8DGJA/ahnp3Z1gZuAYX2E4Ii/a0BiJ1Gixuvs9pJQykS7lpIklFLVCn7vz1S7lgzhY1CmwYuaNrWrm4Nkx0GGoXkPhKDCL6/JnUTt6j5BopDWJpUCihrUmekUrzuFjcnqudUIeh9M/Lwmuyz5CB/dxOuJwshUzYuTiUjWH5tDCCGPIAViitcThXj4TPRiyE3IKe930ixO5/22a8nBR3ATr7uJ9/1kFoMQpNUKAeYREr3rdzvQYjscT3mEdLdrKUH4mEhtO9UxhW1+1yOks11LDj6CaRDdzMYwEkHpaNeSAxAylZq1KeEsA4JdvGrJLl61ZHYW7eJV6yz+ZEC9LiL16yzKRbN6fsLURhCpbUsOQAhKraaiEdwK1pRythohQB9BV79eXwf7XUSqCtDPolm7eDUE02ASSqK3j/q1IBavpqPddFIKvzZ/gspSBFdURrGerQSKlMmLjR2wsyi2FsAWtI1U6qic99N+LNFgOs1QkzD8CsK0aDbZ4tUc9w9eZT2bf48Vgnci/D/BAFFGUMEfsa2h8jUVbFX7vmeNYBJkMhWtvyb2OzMTLV516z/kiI+wSWiAEjySTx4AThnr2dBkmdAQOz1rBFUwXl8Hp5oryGNnb47QAo+z4LYpwKCOxHwl04A/KHufPk+4TijZxatpp5epvEFlMgtnr4pCwfsNAsLLrsLHZKYh2U/P/IShQS6ajSC9RqWKSv80tDVEaIehVP7iqBFM4RcEnMgMmK4HvXjVzTk/7WYJCKrTBAJJaKuagPCaIxCc0rhhLyJ1WjTrtt2ILmR9WWiCogy0jTarTGai0MneJluypgslKPWcqXbT6BiuSbMmMGmGNQSGOUYg6Kt+nOJ1p+NUFq+q2Uw3UYkKhogtXn1V2OtM0xDRl5/6CEHNML+LV1WNkEjlO12PgI+wSYSI2UKPk1bY9JM8QqLB9LqI1A94TJrAKdsZ0chhKcuu7QwLRZ929nIWkw2uXbyaskkoycJ+lZBWeLWXaTD9UbabRaSp/ropE+1mgPDuIBtVVoHom128mgbCW8SxWdy/saQVnrBb8KbHNyjK4v6hb0stEMKniij00QIhfBoVhT7Gw8fS0tLx9PEC68mBzxanT1LZT+XD1tbWL/20EBbfCNHAKPQxJoQFz3Erlee1Cj8XpZLqvE1Ca/AIglD4RoyKotDHQjFjdWE1aRVxbauo60UTmEDQlArfCFIUzC//y7MXNGHhj7ArDZWfF3Xd0gsGEDDBuyUFvpZCQmu18r0VgiJV3epQv9oDb2NdwbtStOWHr6WQgCAduHYBgstCYAUodDhGqT/bA2+17hiFHxNtVIo2vfK1lCH7FcT/Az+wQ539QDgpjvFSpJ4ct4nC2XuIosxaptR1Q2rddoUfE23Usx9fxJy0osg8EParzr4AQ6lD/f0eeO93iCZKBQhKffK1FBIQPqTykXLuMSEonT4Sdd2SzldSvWjDL9+oURT+R7m7UGT23taEVm4AwdtesoAOfHXenvlGkO5HoY8xIbQG0ti/FrM1sFRwWHwjRviR6oBs72NMm8F/FiUwCotvhAi/VB6R7X20bx/Dp8Yo9NECIXyqy3I/AX2rs0AIn7BxxddZ3L+va2pqzqvrEQazntU08OplWrmN9bwtbCRbf9NPK2HxjRjhNTv2LMi2NZoPRd+YXI+A18ALqDxlCPVQyqjOUa8eflh8I0jYvQQbV4zMsn61kzbgO6sUihmrC6tDuwHXFoi6XjSBCQQdqfCNuK+QTcmlbtEnToVCbavCgqquNdz4FPO2ELPCAAImeN9MgW9UCb8ouphF/blI2mCnCgQ109cJQZGq7nS4udxDQ+UOeYVOAYZOn3yjbiJuZEE/bjBts62Y4sDdESC4LgRWI1T8IPr4ragzxkNjat13iN9tBQzXiS/AgJ9bDfTIN8qEfYz+QQW/4s3UT+O70Ad9TyU34WMQdq2bWZK0m8qBDOUW0OYBAsFu/UJMhHLlYmZupJm6S8zYGgOjNg+Ntikq/3fyzTY0DR0PRVvsx6XebXkGBrmPUVUaNUOXAIHjHkrqquJiAYZiB2ZNHhpucogmigUIin3yzSUw7E2Tz4A29jqBQAIBufBzyrnBQlA6nWPe8uY6X0kbRRt++eaamXiLyoWQzGe34P2WyRz0Mg3I7CGpo4RyoGEGEBz1kgV04Kvz9sw3Rx1IlCB2XpUklxjWqSFiQiAIoX1JQvsXHTazAFPBYfHN4TzDTuZ+L2YnZzC1vZiFQI6JEhiFxTfHcw0ogezO7hkIlsKhFLbpP+9XqH7Ivoa2ZIFgyQLBkslHIM8eq4vbybFrCaMR4o+Fq1jJ+xtq467+3YohezTCzxDTk4C2UQlj6fVGKpuVcEj/bimLTAMA8CcBiF/ZobE+An6OtofA8BmVmXaIrLMIc/EfAsNOKqPtUNmoASnPC8J/sDY9z8NHRBMnycO/b4csP4GA9wSvU5lFIPi3Ha4czyM40F+p/J4A0GGHKT+BcJj1JHr+a4cnP4HQIjTA30Jop5L1/JfxbYfvlrIECLD/tWGle3XtYrVN9lFBHv8nsyUf4aMlCwRL+UD/F2AAZDs5F9dqVQcAAAAASUVORK5CYII=) 0 -71px no-repeat}div.dark_rounded .pp_arrow_next{background:url(data:image/png;base64,iVBORw0KGgoAAAANSUhEUgAAAIIAAAB3CAYAAADPXJhXAAAAGXRFWHRTb2Z0d2FyZQBBZG9iZSBJbWFnZVJlYWR5ccllPAAAD45JREFUeNrsXW1sFMcZHpvDQCDm03wZgiEmicN3gEZ8xnwYlxYIKIEflZIgBfEDqUqlVCUVqmKq/kikJGp/UhFhIdEfpPmRKrRFIGNQiEkAtaKACRgwThwHrBgwEAwhpu8znrmMJ7N3u3u7d7d380qj29udfWd23mfer52bK3j48CGzZCm2fft2x4uTJ0+eQh/LqMyjMp3KhIDaHSg+76TjIQF2lO7ubnb//v3C77//vg/KDz/8UPDgwYMuUa2F6vyP6jRQObht27bTNTU1eTNLCuhhTQAoo4+NNDCv0KCUYQBliRpJAJDAAQJGAGAEgPh5+UyFhYW8FBQUoFyhspvq11LdS3mhEQwgqKSP12ngVmGwMDCxWCw+UFEDAQDQ1dXFAYBP/ZlwrGoN1CdwTKDzfygqKppNl965e/fuobwCAkBAg/EWDcaz+N63b9+48OWARQ0EJER2+/ZtDgL9meJqUTwbPkn4cQ1C2uAXVLdkwIABW3MdDDHNHEATPCtnDCjK5uDevXvszp07HATqM0mtoNbXgYG6QjvMpePX+/Xr10z8LucqENSpsRHmgKMjFov0Q0Gw8AOgDaQmkM9Es5s9+uijzClaGjRoEK+j3kO8ftmnT5+NOa8REB0Ix5A/vNuQUs46DDhmDw0W69+/P1e/+A6imcTPq+r6u+++4/dh5mHQUVAHwoPgUMAbfMAP9aSTp85YlbcOAvBHAR/UwflHHnmEPffcc/z+o0ePslu3bvXSDADBggULeN3Dhw/z54IZAT+q9wr15QPq2+lcNg3LEB14uRGD09nZyQW1ePFi/gkBXrhwgTU1NbG5c+fy69euXeMDjMHF9Rs3brA5c+awMWPGcCGcPXuW3zNkyBCuxseOHcuefPJJDo62tjZ2/vx5DoLy8nIOItwD4SAC+Oabb7hwTQDFPRKMknAPQDh8+HAu8E8++YT7DyBoCZzDc3z77be8rowmwI/6P4EAhVD6dC6bhnl4WC8OIQZ0xIgRbNOmTVyIECZ4vPjii6yjo4MtW7aMVVRUxFUzhAIQbNmyhYOkpaWFg2Tt2rVszZo1rLW1lQNgw4YNvC4AMHXqVFZW1oPPFStWcABNnDiRTZo0ibdt8l9U71/1BeQ5aAIIGgJfuHAhB6nUBBIEqCNDTKkdxee8XHcWp2NQpTedzDSg7vXr19lLL73EhVlbW8sGDx7MZ3djY2MvR1MKBLP9mWee4TN4x44d7ObNm3zW4Xx1dTUX7IQJPfmqPXv2cLPw+eefs/Hjx8dNQl1dHRcSZi/Ah5mt91XNeZieSYIBgsf9ixYtipswCQKpSSQQACbRh+m5DoQJctB0j9pEGKiSkhI2cOBAdvDgQS6UYcOG8XshXOlsqQR7PXr0aH4MlY6ZjnMXL17k52ASoFWefvpp9t5777Hm5mZ25swZdurUKT5jQUuWLGEzZ87kQAPgrl69mjBq0J9JChZmAwKHSUPfQdBWEgSqJlABRjwey4s8gm5TnUjaT+kr4DuEKgWAgZYCkdfUe3Cs3iNt8aeffsrvhUmZMmUKB0txcTFraGjgdSD4y5cv89kLjYS6Omhlf5I9E+qppgXHMGNuxyBXfYQrXrKGmJEQBAh2FmoefgHMBLQBvG0JBDhjuI4B/uqrr/j50tJSXre9vR0RS1xL4PjEiRNs165dbPPmzfz80KFD46bh3Llz3ME7fvw4v9/UZ5EijjuVTv2vrKzkWkxGKTjGOafQWWiWllwFQh88PNnKRfSQU70kjyAc2NRZs2axadOmceFjJq9evZrt27ePrVy5Mh7KjRo1itv6+vp6Nn/+fDZjxgwODDiHy5cv5wLGtXXr1rF58+bx7B76BcAcO3aMAwn3oX/wD8aNG8c/oc7hS5jMgpzx+jNJEIwcOZID4MCBA+zSpUvcP4GfA5MHR1a/DyEogaGOtNDfcxkIpXS8Us68ZCTjeMzwL774gjuAMhw8cuQIDxshRDiCGHA4ZSgIKyFYEIABHwP1UWCroRWg9nENgjh06BDnD6HDRIA/nErwAiG8BGhMzqwKhkQgQC4BpgTPkggMAgg7CQif5SIQ+NtHkVD6mAakzItWkHYVBYMuE0pQo9AQ0leQOX4IHsLENZlQQn2YExxDIHpyCoKWSShpv9X7dFUutRB4oV/4lM+E9quqqnj/JAhUAuBwHfVxHUCWZoHauUKHq3I1oRR/DU1gqKGBflMVXlRJhq0AAgCnPhPAAMHqIFDBgPslCCSICZh/JDC+mQ9RQy2hfjbNqFVR95yhMaBRoE3UBBNIFbCJdIBA4xCvfaRlavMhakAM30wf79KDfxb1l04yYsBzYDYDEH6eSaxZOE5AejeX3zz2AoIAQz0N4hs0eB+b3ttHVSugwAl1+0yoI8zBP4nP1rxbmCLBQP5CM82GkzQQkV6qJsEg31JCwHapmksgKGaihgDxAd64Ucmrxat03i5etZSfVGiHwJIFgqXePkJFRcVDk6OVaF2CuuBDp8bGRlcrXDLVriWfGkFd7q06YInqBuX1Z6LdvAWCOojyFa6+zEudqaZBV+/zKuh0t2vJAQjqQK9fvz7+HcemmYhjrC2U5+SxV2Go7RrWBzoe6+csCALUCHK27d27lwvWLaEu7vGjntV2gzAhllJ0FlU17AUMKgh0Hl60gqre9XYlf6fzujmxlAIQVJXrRRuoAoJgvNpqk6rXBZ0MEG4iDUseNIIcTF0ATmSq50cYJiFKjaS3Ic+pYLAACDh8DGJA/ahnp3Z1gZuAYX2E4Ii/a0BiJ1Gixuvs9pJQykS7lpIklFLVCn7vz1S7lgzhY1CmwYuaNrWrm4Nkx0GGoXkPhKDCL6/JnUTt6j5BopDWJpUCihrUmekUrzuFjcnqudUIeh9M/Lwmuyz5CB/dxOuJwshUzYuTiUjWH5tDCCGPIAViitcThXj4TPRiyE3IKe930ixO5/22a8nBR3ATr7uJ9/1kFoMQpNUKAeYREr3rdzvQYjscT3mEdLdrKUH4mEhtO9UxhW1+1yOks11LDj6CaRDdzMYwEkHpaNeSAxAylZq1KeEsA4JdvGrJLl61ZHYW7eJV6yz+ZEC9LiL16yzKRbN6fsLURhCpbUsOQAhKraaiEdwK1pRythohQB9BV79eXwf7XUSqCtDPolm7eDUE02ASSqK3j/q1IBavpqPddFIKvzZ/gspSBFdURrGerQSKlMmLjR2wsyi2FsAWtI1U6qic99N+LNFgOs1QkzD8CsK0aDbZ4tUc9w9eZT2bf48Vgnci/D/BAFFGUMEfsa2h8jUVbFX7vmeNYBJkMhWtvyb2OzMTLV516z/kiI+wSWiAEjySTx4AThnr2dBkmdAQOz1rBFUwXl8Hp5oryGNnb47QAo+z4LYpwKCOxHwl04A/KHufPk+4TijZxatpp5epvEFlMgtnr4pCwfsNAsLLrsLHZKYh2U/P/IShQS6ajSC9RqWKSv80tDVEaIehVP7iqBFM4RcEnMgMmK4HvXjVzTk/7WYJCKrTBAJJaKuagPCaIxCc0rhhLyJ1WjTrtt2ILmR9WWiCogy0jTarTGai0MneJluypgslKPWcqXbT6BiuSbMmMGmGNQSGOUYg6Kt+nOJ1p+NUFq+q2Uw3UYkKhogtXn1V2OtM0xDRl5/6CEHNML+LV1WNkEjlO12PgI+wSYSI2UKPk1bY9JM8QqLB9LqI1A94TJrAKdsZ0chhKcuu7QwLRZ929nIWkw2uXbyaskkoycJ+lZBWeLWXaTD9UbabRaSp/ropE+1mgPDuIBtVVoHom128mgbCW8SxWdy/saQVnrBb8KbHNyjK4v6hb0stEMKniij00QIhfBoVhT7Gw8fS0tLx9PEC68mBzxanT1LZT+XD1tbWL/20EBbfCNHAKPQxJoQFz3Erlee1Cj8XpZLqvE1Ca/AIglD4RoyKotDHQjFjdWE1aRVxbauo60UTmEDQlArfCFIUzC//y7MXNGHhj7ArDZWfF3Xd0gsGEDDBuyUFvpZCQmu18r0VgiJV3epQv9oDb2NdwbtStOWHr6WQgCAduHYBgstCYAUodDhGqT/bA2+17hiFHxNtVIo2vfK1lCH7FcT/Az+wQ539QDgpjvFSpJ4ct4nC2XuIosxaptR1Q2rddoUfE23Usx9fxJy0osg8EParzr4AQ6lD/f0eeO93iCZKBQhKffK1FBIQPqTykXLuMSEonT4Sdd2SzldSvWjDL9+oURT+R7m7UGT23taEVm4AwdtesoAOfHXenvlGkO5HoY8xIbQG0ti/FrM1sFRwWHwjRviR6oBs72NMm8F/FiUwCotvhAi/VB6R7X20bx/Dp8Yo9NECIXyqy3I/AX2rs0AIn7BxxddZ3L+va2pqzqvrEQazntU08OplWrmN9bwtbCRbf9NPK2HxjRjhNTv2LMi2NZoPRd+YXI+A18ALqDxlCPVQyqjOUa8eflh8I0jYvQQbV4zMsn61kzbgO6sUihmrC6tDuwHXFoi6XjSBCQQdqfCNuK+QTcmlbtEnToVCbavCgqquNdz4FPO2ELPCAAImeN9MgW9UCb8ouphF/blI2mCnCgQ109cJQZGq7nS4udxDQ+UOeYVOAYZOn3yjbiJuZEE/bjBts62Y4sDdESC4LgRWI1T8IPr4ragzxkNjat13iN9tBQzXiS/AgJ9bDfTIN8qEfYz+QQW/4s3UT+O70Ad9TyU34WMQdq2bWZK0m8qBDOUW0OYBAsFu/UJMhHLlYmZupJm6S8zYGgOjNg+Ntikq/3fyzTY0DR0PRVvsx6XebXkGBrmPUVUaNUOXAIHjHkrqquJiAYZiB2ZNHhpucogmigUIin3yzSUw7E2Tz4A29jqBQAIBufBzyrnBQlA6nWPe8uY6X0kbRRt++eaamXiLyoWQzGe34P2WyRz0Mg3I7CGpo4RyoGEGEBz1kgV04Kvz9sw3Rx1IlCB2XpUklxjWqSFiQiAIoX1JQvsXHTazAFPBYfHN4TzDTuZ+L2YnZzC1vZiFQI6JEhiFxTfHcw0ogezO7hkIlsKhFLbpP+9XqH7Ivoa2ZIFgyQLBkslHIM8eq4vbybFrCaMR4o+Fq1jJ+xtq467+3YohezTCzxDTk4C2UQlj6fVGKpuVcEj/bimLTAMA8CcBiF/ZobE+An6OtofA8BmVmXaIrLMIc/EfAsNOKqPtUNmoASnPC8J/sDY9z8NHRBMnycO/b4csP4GA9wSvU5lFIPi3Ha4czyM40F+p/J4A0GGHKT+BcJj1JHr+a4cnP4HQIjTA30Jop5L1/JfxbYfvlrIECLD/tWGle3XtYrVN9lFBHv8nsyUf4aMlCwRL+UD/F2AAZDs5F9dqVQcAAAAASUVORK5CYII=) -22px -71px no-repeat}div.dark_rounded .pp_bottom .pp_left{background:url(data:image/png;base64,iVBORw0KGgoAAAANSUhEUgAAAIIAAAB3CAYAAADPXJhXAAAAGXRFWHRTb2Z0d2FyZQBBZG9iZSBJbWFnZVJlYWR5ccllPAAAD45JREFUeNrsXW1sFMcZHpvDQCDm03wZgiEmicN3gEZ8xnwYlxYIKIEflZIgBfEDqUqlVCUVqmKq/kikJGp/UhFhIdEfpPmRKrRFIGNQiEkAtaKACRgwThwHrBgwEAwhpu8znrmMJ7N3u3u7d7d380qj29udfWd23mfer52bK3j48CGzZCm2fft2x4uTJ0+eQh/LqMyjMp3KhIDaHSg+76TjIQF2lO7ubnb//v3C77//vg/KDz/8UPDgwYMuUa2F6vyP6jRQObht27bTNTU1eTNLCuhhTQAoo4+NNDCv0KCUYQBliRpJAJDAAQJGAGAEgPh5+UyFhYW8FBQUoFyhspvq11LdS3mhEQwgqKSP12ngVmGwMDCxWCw+UFEDAQDQ1dXFAYBP/ZlwrGoN1CdwTKDzfygqKppNl965e/fuobwCAkBAg/EWDcaz+N63b9+48OWARQ0EJER2+/ZtDgL9meJqUTwbPkn4cQ1C2uAXVLdkwIABW3MdDDHNHEATPCtnDCjK5uDevXvszp07HATqM0mtoNbXgYG6QjvMpePX+/Xr10z8LucqENSpsRHmgKMjFov0Q0Gw8AOgDaQmkM9Es5s9+uijzClaGjRoEK+j3kO8ftmnT5+NOa8REB0Ix5A/vNuQUs46DDhmDw0W69+/P1e/+A6imcTPq+r6u+++4/dh5mHQUVAHwoPgUMAbfMAP9aSTp85YlbcOAvBHAR/UwflHHnmEPffcc/z+o0ePslu3bvXSDADBggULeN3Dhw/z54IZAT+q9wr15QPq2+lcNg3LEB14uRGD09nZyQW1ePFi/gkBXrhwgTU1NbG5c+fy69euXeMDjMHF9Rs3brA5c+awMWPGcCGcPXuW3zNkyBCuxseOHcuefPJJDo62tjZ2/vx5DoLy8nIOItwD4SAC+Oabb7hwTQDFPRKMknAPQDh8+HAu8E8++YT7DyBoCZzDc3z77be8rowmwI/6P4EAhVD6dC6bhnl4WC8OIQZ0xIgRbNOmTVyIECZ4vPjii6yjo4MtW7aMVVRUxFUzhAIQbNmyhYOkpaWFg2Tt2rVszZo1rLW1lQNgw4YNvC4AMHXqVFZW1oPPFStWcABNnDiRTZo0ibdt8l9U71/1BeQ5aAIIGgJfuHAhB6nUBBIEqCNDTKkdxee8XHcWp2NQpTedzDSg7vXr19lLL73EhVlbW8sGDx7MZ3djY2MvR1MKBLP9mWee4TN4x44d7ObNm3zW4Xx1dTUX7IQJPfmqPXv2cLPw+eefs/Hjx8dNQl1dHRcSZi/Ah5mt91XNeZieSYIBgsf9ixYtipswCQKpSSQQACbRh+m5DoQJctB0j9pEGKiSkhI2cOBAdvDgQS6UYcOG8XshXOlsqQR7PXr0aH4MlY6ZjnMXL17k52ASoFWefvpp9t5777Hm5mZ25swZdurUKT5jQUuWLGEzZ87kQAPgrl69mjBq0J9JChZmAwKHSUPfQdBWEgSqJlABRjwey4s8gm5TnUjaT+kr4DuEKgWAgZYCkdfUe3Cs3iNt8aeffsrvhUmZMmUKB0txcTFraGjgdSD4y5cv89kLjYS6Omhlf5I9E+qppgXHMGNuxyBXfYQrXrKGmJEQBAh2FmoefgHMBLQBvG0JBDhjuI4B/uqrr/j50tJSXre9vR0RS1xL4PjEiRNs165dbPPmzfz80KFD46bh3Llz3ME7fvw4v9/UZ5EijjuVTv2vrKzkWkxGKTjGOafQWWiWllwFQh88PNnKRfSQU70kjyAc2NRZs2axadOmceFjJq9evZrt27ePrVy5Mh7KjRo1itv6+vp6Nn/+fDZjxgwODDiHy5cv5wLGtXXr1rF58+bx7B76BcAcO3aMAwn3oX/wD8aNG8c/oc7hS5jMgpzx+jNJEIwcOZID4MCBA+zSpUvcP4GfA5MHR1a/DyEogaGOtNDfcxkIpXS8Us68ZCTjeMzwL774gjuAMhw8cuQIDxshRDiCGHA4ZSgIKyFYEIABHwP1UWCroRWg9nENgjh06BDnD6HDRIA/nErwAiG8BGhMzqwKhkQgQC4BpgTPkggMAgg7CQif5SIQ+NtHkVD6mAakzItWkHYVBYMuE0pQo9AQ0leQOX4IHsLENZlQQn2YExxDIHpyCoKWSShpv9X7dFUutRB4oV/4lM+E9quqqnj/JAhUAuBwHfVxHUCWZoHauUKHq3I1oRR/DU1gqKGBflMVXlRJhq0AAgCnPhPAAMHqIFDBgPslCCSICZh/JDC+mQ9RQy2hfjbNqFVR95yhMaBRoE3UBBNIFbCJdIBA4xCvfaRlavMhakAM30wf79KDfxb1l04yYsBzYDYDEH6eSaxZOE5AejeX3zz2AoIAQz0N4hs0eB+b3ttHVSugwAl1+0yoI8zBP4nP1rxbmCLBQP5CM82GkzQQkV6qJsEg31JCwHapmksgKGaihgDxAd64Ucmrxat03i5etZSfVGiHwJIFgqXePkJFRcVDk6OVaF2CuuBDp8bGRlcrXDLVriWfGkFd7q06YInqBuX1Z6LdvAWCOojyFa6+zEudqaZBV+/zKuh0t2vJAQjqQK9fvz7+HcemmYhjrC2U5+SxV2Go7RrWBzoe6+csCALUCHK27d27lwvWLaEu7vGjntV2gzAhllJ0FlU17AUMKgh0Hl60gqre9XYlf6fzujmxlAIQVJXrRRuoAoJgvNpqk6rXBZ0MEG4iDUseNIIcTF0ATmSq50cYJiFKjaS3Ic+pYLAACDh8DGJA/ahnp3Z1gZuAYX2E4Ii/a0BiJ1Gixuvs9pJQykS7lpIklFLVCn7vz1S7lgzhY1CmwYuaNrWrm4Nkx0GGoXkPhKDCL6/JnUTt6j5BopDWJpUCihrUmekUrzuFjcnqudUIeh9M/Lwmuyz5CB/dxOuJwshUzYuTiUjWH5tDCCGPIAViitcThXj4TPRiyE3IKe930ixO5/22a8nBR3ATr7uJ9/1kFoMQpNUKAeYREr3rdzvQYjscT3mEdLdrKUH4mEhtO9UxhW1+1yOks11LDj6CaRDdzMYwEkHpaNeSAxAylZq1KeEsA4JdvGrJLl61ZHYW7eJV6yz+ZEC9LiL16yzKRbN6fsLURhCpbUsOQAhKraaiEdwK1pRythohQB9BV79eXwf7XUSqCtDPolm7eDUE02ASSqK3j/q1IBavpqPddFIKvzZ/gspSBFdURrGerQSKlMmLjR2wsyi2FsAWtI1U6qic99N+LNFgOs1QkzD8CsK0aDbZ4tUc9w9eZT2bf48Vgnci/D/BAFFGUMEfsa2h8jUVbFX7vmeNYBJkMhWtvyb2OzMTLV516z/kiI+wSWiAEjySTx4AThnr2dBkmdAQOz1rBFUwXl8Hp5oryGNnb47QAo+z4LYpwKCOxHwl04A/KHufPk+4TijZxatpp5epvEFlMgtnr4pCwfsNAsLLrsLHZKYh2U/P/IShQS6ajSC9RqWKSv80tDVEaIehVP7iqBFM4RcEnMgMmK4HvXjVzTk/7WYJCKrTBAJJaKuagPCaIxCc0rhhLyJ1WjTrtt2ILmR9WWiCogy0jTarTGai0MneJluypgslKPWcqXbT6BiuSbMmMGmGNQSGOUYg6Kt+nOJ1p+NUFq+q2Uw3UYkKhogtXn1V2OtM0xDRl5/6CEHNML+LV1WNkEjlO12PgI+wSYSI2UKPk1bY9JM8QqLB9LqI1A94TJrAKdsZ0chhKcuu7QwLRZ929nIWkw2uXbyaskkoycJ+lZBWeLWXaTD9UbabRaSp/ropE+1mgPDuIBtVVoHom128mgbCW8SxWdy/saQVnrBb8KbHNyjK4v6hb0stEMKniij00QIhfBoVhT7Gw8fS0tLx9PEC68mBzxanT1LZT+XD1tbWL/20EBbfCNHAKPQxJoQFz3Erlee1Cj8XpZLqvE1Ca/AIglD4RoyKotDHQjFjdWE1aRVxbauo60UTmEDQlArfCFIUzC//y7MXNGHhj7ArDZWfF3Xd0gsGEDDBuyUFvpZCQmu18r0VgiJV3epQv9oDb2NdwbtStOWHr6WQgCAduHYBgstCYAUodDhGqT/bA2+17hiFHxNtVIo2vfK1lCH7FcT/Az+wQ539QDgpjvFSpJ4ct4nC2XuIosxaptR1Q2rddoUfE23Usx9fxJy0osg8EParzr4AQ6lD/f0eeO93iCZKBQhKffK1FBIQPqTykXLuMSEonT4Sdd2SzldSvWjDL9+oURT+R7m7UGT23taEVm4AwdtesoAOfHXenvlGkO5HoY8xIbQG0ti/FrM1sFRwWHwjRviR6oBs72NMm8F/FiUwCotvhAi/VB6R7X20bx/Dp8Yo9NECIXyqy3I/AX2rs0AIn7BxxddZ3L+va2pqzqvrEQazntU08OplWrmN9bwtbCRbf9NPK2HxjRjhNTv2LMi2NZoPRd+YXI+A18ALqDxlCPVQyqjOUa8eflh8I0jYvQQbV4zMsn61kzbgO6sUihmrC6tDuwHXFoi6XjSBCQQdqfCNuK+QTcmlbtEnToVCbavCgqquNdz4FPO2ELPCAAImeN9MgW9UCb8ouphF/blI2mCnCgQ109cJQZGq7nS4udxDQ+UOeYVOAYZOn3yjbiJuZEE/bjBts62Y4sDdESC4LgRWI1T8IPr4ragzxkNjat13iN9tBQzXiS/AgJ9bDfTIN8qEfYz+QQW/4s3UT+O70Ad9TyU34WMQdq2bWZK0m8qBDOUW0OYBAsFu/UJMhHLlYmZupJm6S8zYGgOjNg+Ntikq/3fyzTY0DR0PRVvsx6XebXkGBrmPUVUaNUOXAIHjHkrqquJiAYZiB2ZNHhpucogmigUIin3yzSUw7E2Tz4A29jqBQAIBufBzyrnBQlA6nWPe8uY6X0kbRRt++eaamXiLyoWQzGe34P2WyRz0Mg3I7CGpo4RyoGEGEBz1kgV04Kvz9sw3Rx1IlCB2XpUklxjWqSFiQiAIoX1JQvsXHTazAFPBYfHN4TzDTuZ+L2YnZzC1vZiFQI6JEhiFxTfHcw0ogezO7hkIlsKhFLbpP+9XqH7Ivoa2ZIFgyQLBkslHIM8eq4vbybFrCaMR4o+Fq1jJ+xtq467+3YohezTCzxDTk4C2UQlj6fVGKpuVcEj/bimLTAMA8CcBiF/ZobE+An6OtofA8BmVmXaIrLMIc/EfAsNOKqPtUNmoASnPC8J/sDY9z8NHRBMnycO/b4csP4GA9wSvU5lFIPi3Ha4czyM40F+p/J4A0GGHKT+BcJj1JHr+a4cnP4HQIjTA30Jop5L1/JfxbYfvlrIECLD/tWGle3XtYrVN9lFBHv8nsyUf4aMlCwRL+UD/F2AAZDs5F9dqVQcAAAAASUVORK5CYII=) -88px -80px no-repeat}div.dark_rounded .pp_bottom .pp_right{background:url(data:image/png;base64,iVBORw0KGgoAAAANSUhEUgAAAIIAAAB3CAYAAADPXJhXAAAAGXRFWHRTb2Z0d2FyZQBBZG9iZSBJbWFnZVJlYWR5ccllPAAAD45JREFUeNrsXW1sFMcZHpvDQCDm03wZgiEmicN3gEZ8xnwYlxYIKIEflZIgBfEDqUqlVCUVqmKq/kikJGp/UhFhIdEfpPmRKrRFIGNQiEkAtaKACRgwThwHrBgwEAwhpu8znrmMJ7N3u3u7d7d380qj29udfWd23mfer52bK3j48CGzZCm2fft2x4uTJ0+eQh/LqMyjMp3KhIDaHSg+76TjIQF2lO7ubnb//v3C77//vg/KDz/8UPDgwYMuUa2F6vyP6jRQObht27bTNTU1eTNLCuhhTQAoo4+NNDCv0KCUYQBliRpJAJDAAQJGAGAEgPh5+UyFhYW8FBQUoFyhspvq11LdS3mhEQwgqKSP12ngVmGwMDCxWCw+UFEDAQDQ1dXFAYBP/ZlwrGoN1CdwTKDzfygqKppNl965e/fuobwCAkBAg/EWDcaz+N63b9+48OWARQ0EJER2+/ZtDgL9meJqUTwbPkn4cQ1C2uAXVLdkwIABW3MdDDHNHEATPCtnDCjK5uDevXvszp07HATqM0mtoNbXgYG6QjvMpePX+/Xr10z8LucqENSpsRHmgKMjFov0Q0Gw8AOgDaQmkM9Es5s9+uijzClaGjRoEK+j3kO8ftmnT5+NOa8REB0Ix5A/vNuQUs46DDhmDw0W69+/P1e/+A6imcTPq+r6u+++4/dh5mHQUVAHwoPgUMAbfMAP9aSTp85YlbcOAvBHAR/UwflHHnmEPffcc/z+o0ePslu3bvXSDADBggULeN3Dhw/z54IZAT+q9wr15QPq2+lcNg3LEB14uRGD09nZyQW1ePFi/gkBXrhwgTU1NbG5c+fy69euXeMDjMHF9Rs3brA5c+awMWPGcCGcPXuW3zNkyBCuxseOHcuefPJJDo62tjZ2/vx5DoLy8nIOItwD4SAC+Oabb7hwTQDFPRKMknAPQDh8+HAu8E8++YT7DyBoCZzDc3z77be8rowmwI/6P4EAhVD6dC6bhnl4WC8OIQZ0xIgRbNOmTVyIECZ4vPjii6yjo4MtW7aMVVRUxFUzhAIQbNmyhYOkpaWFg2Tt2rVszZo1rLW1lQNgw4YNvC4AMHXqVFZW1oPPFStWcABNnDiRTZo0ibdt8l9U71/1BeQ5aAIIGgJfuHAhB6nUBBIEqCNDTKkdxee8XHcWp2NQpTedzDSg7vXr19lLL73EhVlbW8sGDx7MZ3djY2MvR1MKBLP9mWee4TN4x44d7ObNm3zW4Xx1dTUX7IQJPfmqPXv2cLPw+eefs/Hjx8dNQl1dHRcSZi/Ah5mt91XNeZieSYIBgsf9ixYtipswCQKpSSQQACbRh+m5DoQJctB0j9pEGKiSkhI2cOBAdvDgQS6UYcOG8XshXOlsqQR7PXr0aH4MlY6ZjnMXL17k52ASoFWefvpp9t5777Hm5mZ25swZdurUKT5jQUuWLGEzZ87kQAPgrl69mjBq0J9JChZmAwKHSUPfQdBWEgSqJlABRjwey4s8gm5TnUjaT+kr4DuEKgWAgZYCkdfUe3Cs3iNt8aeffsrvhUmZMmUKB0txcTFraGjgdSD4y5cv89kLjYS6Omhlf5I9E+qppgXHMGNuxyBXfYQrXrKGmJEQBAh2FmoefgHMBLQBvG0JBDhjuI4B/uqrr/j50tJSXre9vR0RS1xL4PjEiRNs165dbPPmzfz80KFD46bh3Llz3ME7fvw4v9/UZ5EijjuVTv2vrKzkWkxGKTjGOafQWWiWllwFQh88PNnKRfSQU70kjyAc2NRZs2axadOmceFjJq9evZrt27ePrVy5Mh7KjRo1itv6+vp6Nn/+fDZjxgwODDiHy5cv5wLGtXXr1rF58+bx7B76BcAcO3aMAwn3oX/wD8aNG8c/oc7hS5jMgpzx+jNJEIwcOZID4MCBA+zSpUvcP4GfA5MHR1a/DyEogaGOtNDfcxkIpXS8Us68ZCTjeMzwL774gjuAMhw8cuQIDxshRDiCGHA4ZSgIKyFYEIABHwP1UWCroRWg9nENgjh06BDnD6HDRIA/nErwAiG8BGhMzqwKhkQgQC4BpgTPkggMAgg7CQif5SIQ+NtHkVD6mAakzItWkHYVBYMuE0pQo9AQ0leQOX4IHsLENZlQQn2YExxDIHpyCoKWSShpv9X7dFUutRB4oV/4lM+E9quqqnj/JAhUAuBwHfVxHUCWZoHauUKHq3I1oRR/DU1gqKGBflMVXlRJhq0AAgCnPhPAAMHqIFDBgPslCCSICZh/JDC+mQ9RQy2hfjbNqFVR95yhMaBRoE3UBBNIFbCJdIBA4xCvfaRlavMhakAM30wf79KDfxb1l04yYsBzYDYDEH6eSaxZOE5AejeX3zz2AoIAQz0N4hs0eB+b3ttHVSugwAl1+0yoI8zBP4nP1rxbmCLBQP5CM82GkzQQkV6qJsEg31JCwHapmksgKGaihgDxAd64Ucmrxat03i5etZSfVGiHwJIFgqXePkJFRcVDk6OVaF2CuuBDp8bGRlcrXDLVriWfGkFd7q06YInqBuX1Z6LdvAWCOojyFa6+zEudqaZBV+/zKuh0t2vJAQjqQK9fvz7+HcemmYhjrC2U5+SxV2Go7RrWBzoe6+csCALUCHK27d27lwvWLaEu7vGjntV2gzAhllJ0FlU17AUMKgh0Hl60gqre9XYlf6fzujmxlAIQVJXrRRuoAoJgvNpqk6rXBZ0MEG4iDUseNIIcTF0ATmSq50cYJiFKjaS3Ic+pYLAACDh8DGJA/ahnp3Z1gZuAYX2E4Ii/a0BiJ1Gixuvs9pJQykS7lpIklFLVCn7vz1S7lgzhY1CmwYuaNrWrm4Nkx0GGoXkPhKDCL6/JnUTt6j5BopDWJpUCihrUmekUrzuFjcnqudUIeh9M/Lwmuyz5CB/dxOuJwshUzYuTiUjWH5tDCCGPIAViitcThXj4TPRiyE3IKe930ixO5/22a8nBR3ATr7uJ9/1kFoMQpNUKAeYREr3rdzvQYjscT3mEdLdrKUH4mEhtO9UxhW1+1yOks11LDj6CaRDdzMYwEkHpaNeSAxAylZq1KeEsA4JdvGrJLl61ZHYW7eJV6yz+ZEC9LiL16yzKRbN6fsLURhCpbUsOQAhKraaiEdwK1pRythohQB9BV79eXwf7XUSqCtDPolm7eDUE02ASSqK3j/q1IBavpqPddFIKvzZ/gspSBFdURrGerQSKlMmLjR2wsyi2FsAWtI1U6qic99N+LNFgOs1QkzD8CsK0aDbZ4tUc9w9eZT2bf48Vgnci/D/BAFFGUMEfsa2h8jUVbFX7vmeNYBJkMhWtvyb2OzMTLV516z/kiI+wSWiAEjySTx4AThnr2dBkmdAQOz1rBFUwXl8Hp5oryGNnb47QAo+z4LYpwKCOxHwl04A/KHufPk+4TijZxatpp5epvEFlMgtnr4pCwfsNAsLLrsLHZKYh2U/P/IShQS6ajSC9RqWKSv80tDVEaIehVP7iqBFM4RcEnMgMmK4HvXjVzTk/7WYJCKrTBAJJaKuagPCaIxCc0rhhLyJ1WjTrtt2ILmR9WWiCogy0jTarTGai0MneJluypgslKPWcqXbT6BiuSbMmMGmGNQSGOUYg6Kt+nOJ1p+NUFq+q2Uw3UYkKhogtXn1V2OtM0xDRl5/6CEHNML+LV1WNkEjlO12PgI+wSYSI2UKPk1bY9JM8QqLB9LqI1A94TJrAKdsZ0chhKcuu7QwLRZ929nIWkw2uXbyaskkoycJ+lZBWeLWXaTD9UbabRaSp/ropE+1mgPDuIBtVVoHom128mgbCW8SxWdy/saQVnrBb8KbHNyjK4v6hb0stEMKniij00QIhfBoVhT7Gw8fS0tLx9PEC68mBzxanT1LZT+XD1tbWL/20EBbfCNHAKPQxJoQFz3Erlee1Cj8XpZLqvE1Ca/AIglD4RoyKotDHQjFjdWE1aRVxbauo60UTmEDQlArfCFIUzC//y7MXNGHhj7ArDZWfF3Xd0gsGEDDBuyUFvpZCQmu18r0VgiJV3epQv9oDb2NdwbtStOWHr6WQgCAduHYBgstCYAUodDhGqT/bA2+17hiFHxNtVIo2vfK1lCH7FcT/Az+wQ539QDgpjvFSpJ4ct4nC2XuIosxaptR1Q2rddoUfE23Usx9fxJy0osg8EParzr4AQ6lD/f0eeO93iCZKBQhKffK1FBIQPqTykXLuMSEonT4Sdd2SzldSvWjDL9+oURT+R7m7UGT23taEVm4AwdtesoAOfHXenvlGkO5HoY8xIbQG0ti/FrM1sFRwWHwjRviR6oBs72NMm8F/FiUwCotvhAi/VB6R7X20bx/Dp8Yo9NECIXyqy3I/AX2rs0AIn7BxxddZ3L+va2pqzqvrEQazntU08OplWrmN9bwtbCRbf9NPK2HxjRjhNTv2LMi2NZoPRd+YXI+A18ALqDxlCPVQyqjOUa8eflh8I0jYvQQbV4zMsn61kzbgO6sUihmrC6tDuwHXFoi6XjSBCQQdqfCNuK+QTcmlbtEnToVCbavCgqquNdz4FPO2ELPCAAImeN9MgW9UCb8ouphF/blI2mCnCgQ109cJQZGq7nS4udxDQ+UOeYVOAYZOn3yjbiJuZEE/bjBts62Y4sDdESC4LgRWI1T8IPr4ragzxkNjat13iN9tBQzXiS/AgJ9bDfTIN8qEfYz+QQW/4s3UT+O70Ad9TyU34WMQdq2bWZK0m8qBDOUW0OYBAsFu/UJMhHLlYmZupJm6S8zYGgOjNg+Ntikq/3fyzTY0DR0PRVvsx6XebXkGBrmPUVUaNUOXAIHjHkrqquJiAYZiB2ZNHhpucogmigUIin3yzSUw7E2Tz4A29jqBQAIBufBzyrnBQlA6nWPe8uY6X0kbRRt++eaamXiLyoWQzGe34P2WyRz0Mg3I7CGpo4RyoGEGEBz1kgV04Kvz9sw3Rx1IlCB2XpUklxjWqSFiQiAIoX1JQvsXHTazAFPBYfHN4TzDTuZ+L2YnZzC1vZiFQI6JEhiFxTfHcw0ogezO7hkIlsKhFLbpP+9XqH7Ivoa2ZIFgyQLBkslHIM8eq4vbybFrCaMR4o+Fq1jJ+xtq467+3YohezTCzxDTk4C2UQlj6fVGKpuVcEj/bimLTAMA8CcBiF/ZobE+An6OtofA8BmVmXaIrLMIc/EfAsNOKqPtUNmoASnPC8J/sDY9z8NHRBMnycO/b4csP4GA9wSvU5lFIPi3Ha4czyM40F+p/J4A0GGHKT+BcJj1JHr+a4cnP4HQIjTA30Jop5L1/JfxbYfvlrIECLD/tWGle3XtYrVN9lFBHv8nsyUf4aMlCwRL+UD/F2AAZDs5F9dqVQcAAAAASUVORK5CYII=) -110px -80px no-repeat}div.dark_rounded .pp_loaderIcon{background:url(data:image/gif;base64,R0lGODlhGAAYAPQAADIyMv///1hYWDU1NUpKSnBwcENDQ4uLi11dXYCAgFBQUHd3d2NjYzs7O5+fn5KSkmpqaqqqqgAAAAAAAAAAAAAAAAAAAAAAAAAAAAAAAAAAAAAAAAAAAAAAAAAAAAAAACH/C05FVFNDQVBFMi4wAwEAAAAh/hpDcmVhdGVkIHdpdGggYWpheGxvYWQuaW5mbwAh+QQJBwAAACwAAAAAGAAYAAAFriAgjiQAQWVaDgr5POSgkoTDjFE0NoQ8iw8HQZQTDQjDn4jhSABhAAOhoTqSDg7qSUQwxEaEwwFhXHhHgzOA1xshxAnfTzotGRaHglJqkJcaVEqCgyoCBQkJBQKDDXQGDYaIioyOgYSXA36XIgYMBWRzXZoKBQUMmil0lgalLSIClgBpO0g+s26nUWddXyoEDIsACq5SsTMMDIECwUdJPw0Mzsu0qHYkw72bBmozIQAh+QQJBwAAACwAAAAAGAAYAAAFsCAgjiTAMGVaDgR5HKQwqKNxIKPjjFCk0KNXC6ATKSI7oAhxWIhezwhENTCQEoeGCdWIPEgzESGxEIgGBWstEW4QCGGAIJEoxGmGt5ZkgCRQQHkGd2CESoeIIwoMBQUMP4cNeQQGDYuNj4iSb5WJnmeGng0CDGaBlIQEJziHk3sABidDAHBgagButSKvAAoyuHuUYHgCkAZqebw0AgLBQyyzNKO3byNuoSS8x8OfwIchACH5BAkHAAAALAAAAAAYABgAAAW4ICCOJIAgZVoOBJkkpDKoo5EI43GMjNPSokXCINKJCI4HcCRIQEQvqIOhGhBHhUTDhGo4diOZyFAoKEQDxra2mAEgjghOpCgz3LTBIxJ5kgwMBShACREHZ1V4Kg1rS44pBAgMDAg/Sw0GBAQGDZGTlY+YmpyPpSQDiqYiDQoCliqZBqkGAgKIS5kEjQ21VwCyp76dBHiNvz+MR74AqSOdVwbQuo+abppo10ssjdkAnc0rf8vgl8YqIQAh+QQJBwAAACwAAAAAGAAYAAAFrCAgjiQgCGVaDgZZFCQxqKNRKGOSjMjR0qLXTyciHA7AkaLACMIAiwOC1iAxCrMToHHYjWQiA4NBEA0Q1RpWxHg4cMXxNDk4OBxNUkPAQAEXDgllKgMzQA1pSYopBgonCj9JEA8REQ8QjY+RQJOVl4ugoYssBJuMpYYjDQSliwasiQOwNakALKqsqbWvIohFm7V6rQAGP6+JQLlFg7KDQLKJrLjBKbvAor3IKiEAIfkECQcAAAAsAAAAABgAGAAABbUgII4koChlmhokw5DEoI4NQ4xFMQoJO4uuhignMiQWvxGBIQC+AJBEUyUcIRiyE6CR0CllW4HABxBURTUw4nC4FcWo5CDBRpQaCoF7VjgsyCUDYDMNZ0mHdwYEBAaGMwwHDg4HDA2KjI4qkJKUiJ6faJkiA4qAKQkRB3E0i6YpAw8RERAjA4tnBoMApCMQDhFTuySKoSKMJAq6rD4GzASiJYtgi6PUcs9Kew0xh7rNJMqIhYchACH5BAkHAAAALAAAAAAYABgAAAW0ICCOJEAQZZo2JIKQxqCOjWCMDDMqxT2LAgELkBMZCoXfyCBQiFwiRsGpku0EshNgUNAtrYPT0GQVNRBWwSKBMp98P24iISgNDAS4ipGA6JUpA2WAhDR4eWM/CAkHBwkIDYcGiTOLjY+FmZkNlCN3eUoLDmwlDW+AAwcODl5bYl8wCVYMDw5UWzBtnAANEQ8kBIM0oAAGPgcREIQnVloAChEOqARjzgAQEbczg8YkWJq8nSUhACH5BAkHAAAALAAAAAAYABgAAAWtICCOJGAYZZoOpKKQqDoORDMKwkgwtiwSBBYAJ2owGL5RgxBziQQMgkwoMkhNqAEDARPSaiMDFdDIiRSFQowMXE8Z6RdpYHWnEAWGPVkajPmARVZMPUkCBQkJBQINgwaFPoeJi4GVlQ2Qc3VJBQcLV0ptfAMJBwdcIl+FYjALQgimoGNWIhAQZA4HXSpLMQ8PIgkOSHxAQhERPw7ASTSFyCMMDqBTJL8tf3y2fCEAIfkECQcAAAAsAAAAABgAGAAABa8gII4k0DRlmg6kYZCoOg5EDBDEaAi2jLO3nEkgkMEIL4BLpBAkVy3hCTAQKGAznM0AFNFGBAbj2cA9jQixcGZAGgECBu/9HnTp+FGjjezJFAwFBQwKe2Z+KoCChHmNjVMqA21nKQwJEJRlbnUFCQlFXlpeCWcGBUACCwlrdw8RKGImBwktdyMQEQciB7oACwcIeA4RVwAODiIGvHQKERAjxyMIB5QlVSTLYLZ0sW8hACH5BAkHAAAALAAAAAAYABgAAAW0ICCOJNA0ZZoOpGGQrDoOBCoSxNgQsQzgMZyIlvOJdi+AS2SoyXrK4umWPM5wNiV0UDUIBNkdoepTfMkA7thIECiyRtUAGq8fm2O4jIBgMBA1eAZ6Knx+gHaJR4QwdCMKBxEJRggFDGgQEREPjjAMBQUKIwIRDhBDC2QNDDEKoEkDoiMHDigICGkJBS2dDA6TAAnAEAkCdQ8ORQcHTAkLcQQODLPMIgIJaCWxJMIkPIoAt3EhACH5BAkHAAAALAAAAAAYABgAAAWtICCOJNA0ZZoOpGGQrDoOBCoSxNgQsQzgMZyIlvOJdi+AS2SoyXrK4umWHM5wNiV0UN3xdLiqr+mENcWpM9TIbrsBkEck8oC0DQqBQGGIz+t3eXtob0ZTPgNrIwQJDgtGAgwCWSIMDg4HiiUIDAxFAAoODwxDBWINCEGdSTQkCQcoegADBaQ6MggHjwAFBZUFCm0HB0kJCUy9bAYHCCPGIwqmRq0jySMGmj6yRiEAIfkECQcAAAAsAAAAABgAGAAABbIgII4k0DRlmg6kYZCsOg4EKhLE2BCxDOAxnIiW84l2L4BLZKipBopW8XRLDkeCiAMyMvQAA+uON4JEIo+vqukkKQ6RhLHplVGN+LyKcXA4Dgx5DWwGDXx+gIKENnqNdzIDaiMECwcFRgQCCowiCAcHCZIlCgICVgSfCEMMnA0CXaU2YSQFoQAKUQMMqjoyAglcAAyBAAIMRUYLCUkFlybDeAYJryLNk6xGNCTQXY0juHghACH5BAkHAAAALAAAAAAYABgAAAWzICCOJNA0ZVoOAmkY5KCSSgSNBDE2hDyLjohClBMNij8RJHIQvZwEVOpIekRQJyJs5AMoHA+GMbE1lnm9EcPhOHRnhpwUl3AsknHDm5RN+v8qCAkHBwkIfw1xBAYNgoSGiIqMgJQifZUjBhAJYj95ewIJCQV7KYpzBAkLLQADCHOtOpY5PgNlAAykAEUsQ1wzCgWdCIdeArczBQVbDJ0NAqyeBb64nQAGArBTt8R8mLuyPyEAOwAAAAAAAAAAAA==) center center no-repeat}div.dark_square .pp_left,div.dark_square .pp_middle,div.dark_square .pp_right,div.dark_square .pp_content{background:#000}div.dark_square .pp_description{color:#fff;margin:0 85px 0 0}div.dark_square .pp_loaderIcon{background:url(data:image/gif;base64,R0lGODlhGAAYAPQAADIyMv///1hYWDU1NUpKSnBwcENDQ4uLi11dXYCAgFBQUHd3d2NjYzs7O5+fn5KSkmpqaqqqqgAAAAAAAAAAAAAAAAAAAAAAAAAAAAAAAAAAAAAAAAAAAAAAAAAAAAAAACH/C05FVFNDQVBFMi4wAwEAAAAh/hpDcmVhdGVkIHdpdGggYWpheGxvYWQuaW5mbwAh+QQJBwAAACwAAAAAGAAYAAAFriAgjiQAQWVaDgr5POSgkoTDjFE0NoQ8iw8HQZQTDQjDn4jhSABhAAOhoTqSDg7qSUQwxEaEwwFhXHhHgzOA1xshxAnfTzotGRaHglJqkJcaVEqCgyoCBQkJBQKDDXQGDYaIioyOgYSXA36XIgYMBWRzXZoKBQUMmil0lgalLSIClgBpO0g+s26nUWddXyoEDIsACq5SsTMMDIECwUdJPw0Mzsu0qHYkw72bBmozIQAh+QQJBwAAACwAAAAAGAAYAAAFsCAgjiTAMGVaDgR5HKQwqKNxIKPjjFCk0KNXC6ATKSI7oAhxWIhezwhENTCQEoeGCdWIPEgzESGxEIgGBWstEW4QCGGAIJEoxGmGt5ZkgCRQQHkGd2CESoeIIwoMBQUMP4cNeQQGDYuNj4iSb5WJnmeGng0CDGaBlIQEJziHk3sABidDAHBgagButSKvAAoyuHuUYHgCkAZqebw0AgLBQyyzNKO3byNuoSS8x8OfwIchACH5BAkHAAAALAAAAAAYABgAAAW4ICCOJIAgZVoOBJkkpDKoo5EI43GMjNPSokXCINKJCI4HcCRIQEQvqIOhGhBHhUTDhGo4diOZyFAoKEQDxra2mAEgjghOpCgz3LTBIxJ5kgwMBShACREHZ1V4Kg1rS44pBAgMDAg/Sw0GBAQGDZGTlY+YmpyPpSQDiqYiDQoCliqZBqkGAgKIS5kEjQ21VwCyp76dBHiNvz+MR74AqSOdVwbQuo+abppo10ssjdkAnc0rf8vgl8YqIQAh+QQJBwAAACwAAAAAGAAYAAAFrCAgjiQgCGVaDgZZFCQxqKNRKGOSjMjR0qLXTyciHA7AkaLACMIAiwOC1iAxCrMToHHYjWQiA4NBEA0Q1RpWxHg4cMXxNDk4OBxNUkPAQAEXDgllKgMzQA1pSYopBgonCj9JEA8REQ8QjY+RQJOVl4ugoYssBJuMpYYjDQSliwasiQOwNakALKqsqbWvIohFm7V6rQAGP6+JQLlFg7KDQLKJrLjBKbvAor3IKiEAIfkECQcAAAAsAAAAABgAGAAABbUgII4koChlmhokw5DEoI4NQ4xFMQoJO4uuhignMiQWvxGBIQC+AJBEUyUcIRiyE6CR0CllW4HABxBURTUw4nC4FcWo5CDBRpQaCoF7VjgsyCUDYDMNZ0mHdwYEBAaGMwwHDg4HDA2KjI4qkJKUiJ6faJkiA4qAKQkRB3E0i6YpAw8RERAjA4tnBoMApCMQDhFTuySKoSKMJAq6rD4GzASiJYtgi6PUcs9Kew0xh7rNJMqIhYchACH5BAkHAAAALAAAAAAYABgAAAW0ICCOJEAQZZo2JIKQxqCOjWCMDDMqxT2LAgELkBMZCoXfyCBQiFwiRsGpku0EshNgUNAtrYPT0GQVNRBWwSKBMp98P24iISgNDAS4ipGA6JUpA2WAhDR4eWM/CAkHBwkIDYcGiTOLjY+FmZkNlCN3eUoLDmwlDW+AAwcODl5bYl8wCVYMDw5UWzBtnAANEQ8kBIM0oAAGPgcREIQnVloAChEOqARjzgAQEbczg8YkWJq8nSUhACH5BAkHAAAALAAAAAAYABgAAAWtICCOJGAYZZoOpKKQqDoORDMKwkgwtiwSBBYAJ2owGL5RgxBziQQMgkwoMkhNqAEDARPSaiMDFdDIiRSFQowMXE8Z6RdpYHWnEAWGPVkajPmARVZMPUkCBQkJBQINgwaFPoeJi4GVlQ2Qc3VJBQcLV0ptfAMJBwdcIl+FYjALQgimoGNWIhAQZA4HXSpLMQ8PIgkOSHxAQhERPw7ASTSFyCMMDqBTJL8tf3y2fCEAIfkECQcAAAAsAAAAABgAGAAABa8gII4k0DRlmg6kYZCoOg5EDBDEaAi2jLO3nEkgkMEIL4BLpBAkVy3hCTAQKGAznM0AFNFGBAbj2cA9jQixcGZAGgECBu/9HnTp+FGjjezJFAwFBQwKe2Z+KoCChHmNjVMqA21nKQwJEJRlbnUFCQlFXlpeCWcGBUACCwlrdw8RKGImBwktdyMQEQciB7oACwcIeA4RVwAODiIGvHQKERAjxyMIB5QlVSTLYLZ0sW8hACH5BAkHAAAALAAAAAAYABgAAAW0ICCOJNA0ZZoOpGGQrDoOBCoSxNgQsQzgMZyIlvOJdi+AS2SoyXrK4umWPM5wNiV0UDUIBNkdoepTfMkA7thIECiyRtUAGq8fm2O4jIBgMBA1eAZ6Knx+gHaJR4QwdCMKBxEJRggFDGgQEREPjjAMBQUKIwIRDhBDC2QNDDEKoEkDoiMHDigICGkJBS2dDA6TAAnAEAkCdQ8ORQcHTAkLcQQODLPMIgIJaCWxJMIkPIoAt3EhACH5BAkHAAAALAAAAAAYABgAAAWtICCOJNA0ZZoOpGGQrDoOBCoSxNgQsQzgMZyIlvOJdi+AS2SoyXrK4umWHM5wNiV0UN3xdLiqr+mENcWpM9TIbrsBkEck8oC0DQqBQGGIz+t3eXtob0ZTPgNrIwQJDgtGAgwCWSIMDg4HiiUIDAxFAAoODwxDBWINCEGdSTQkCQcoegADBaQ6MggHjwAFBZUFCm0HB0kJCUy9bAYHCCPGIwqmRq0jySMGmj6yRiEAIfkECQcAAAAsAAAAABgAGAAABbIgII4k0DRlmg6kYZCsOg4EKhLE2BCxDOAxnIiW84l2L4BLZKipBopW8XRLDkeCiAMyMvQAA+uON4JEIo+vqukkKQ6RhLHplVGN+LyKcXA4Dgx5DWwGDXx+gIKENnqNdzIDaiMECwcFRgQCCowiCAcHCZIlCgICVgSfCEMMnA0CXaU2YSQFoQAKUQMMqjoyAglcAAyBAAIMRUYLCUkFlybDeAYJryLNk6xGNCTQXY0juHghACH5BAkHAAAALAAAAAAYABgAAAWzICCOJNA0ZVoOAmkY5KCSSgSNBDE2hDyLjohClBMNij8RJHIQvZwEVOpIekRQJyJs5AMoHA+GMbE1lnm9EcPhOHRnhpwUl3AsknHDm5RN+v8qCAkHBwkIfw1xBAYNgoSGiIqMgJQifZUjBhAJYj95ewIJCQV7KYpzBAkLLQADCHOtOpY5PgNlAAykAEUsQ1wzCgWdCIdeArczBQVbDJ0NAqyeBb64nQAGArBTt8R8mLuyPyEAOwAAAAAAAAAAAA==) center center no-repeat}div.dark_square .pp_expand{background:url(data:image/png;base64,iVBORw0KGgoAAAANSUhEUgAAAEwAAAB3CAYAAACpKqZFAAAAGXRFWHRTb2Z0d2FyZQBBZG9iZSBJbWFnZVJlYWR5ccllPAAADVVJREFUeNrsXWlsFMkVLh/cYO7DDGBARqzNfUUyp8GA1wmwII4fkdAiBfiBhJRoIwhCCKPkB5Z2SaT9RVgJbyTygxU/Ii0hiMsgruVQVmTBHObyMjJgcdhgbnDeV1RNiqa6p6unZ3pG6ZJK01396r16X7336nXVeJzV2trKwuK+5G7ZsoUNGzbM7vkIqmVUS6iOplrgk9xO4rMlFUrCKFDfvXvHXr16lf369esc1Ldv32a9efPmhSCrJ5r/EM0pqgc3btz4E7paeWVVVlZywJ4/fx5r7NChw2D6WEEMPqfOgyFI1kwrEigCBmAxAooRULF2qVN2djavWVlZqLep/o3oqzdt2nTjAwtTb7p06QLGpXT5BX3OA1MwyM3NjTHMNLAA1IsXLzhQ+LTqhGvVCkFPIBZQ+6a2bdtOqKqq+nL9+vVHJM8PEABY1GkrMedgtWnThlEnlpOTk7FgwXOePHnCnj17xqw6SbCEVXEd8Qw0KGSJv6Q+hFnVTMk3p7S0lPXs2RNEcMM/kpBZ6Cw7SeQzqcLN4HYvX75kLS0t3LJUnSRITgXgCX4RArfXrFmzTh06dOixajYr4IbcT3NzM3olg6IADNYFsFSdKD7z0GOXHXTu3JnTqH2I168ItBVqDBshAjwncptqgB6ziIHB/GHm7du35zOJe5R27drxdtVN4B7oh1nG4FBBAyWhICp4gw/4gU4Ga2kdGKfK2woW+KOCD2jQ3rFjRzZjxgze/8SJE9xVVUsDWFOmTOG0R48e5XrB0sCP6D7funXrdxKwMqyGJrMIJs3NzVyh6dOn808oeu3aNVZXV8cmTZrEn9+/f58PBIPA88ePH7OJEyey/Px8PthLly7xPt26dePu079/fzZ8+HAOYkNDA7t69SoHq7CwkIMtYw1WvLt373IQdBOJPnLSZEEfTBZCEIA5fvw4e/r0aWzBQxv0ePDgAaeVrgl+NP4CAr5MumQJGuP5tVoguFevXmzlypVcWSgNHkuWLGEPHz5kZWVlrKioKOYSGDzAWrNmDQezvr6eg7lw4UK2YMECFo1GOVDLli3jtABq5MiRbPDg9/M4d+5cDvSQIUPY0KFDuWxdmqOudnJFVK0blgVAAMzUqVP5ZErLkmCBRqYe0tvEZ4m0sNEQLlfCeC4J2kePHrHly5dzpaurq1nXrl25tdTW1sZ8X+Y/4AfrGT9+PLeI7du3s6amJj6LaC8vL+cAFBS8z4t37drF3fHMmTNs4MCBMVc8fPgwVwbWgEmCpVjHquaMOp0kaAAI/adNmxYLHRIsaZkSMIAuxjBaAlYgmauzYlfAsHfv3qxTp07s4MGDfPA9evTgfQGCDJpqQTzp168fv4YrwXLQdv36dd4GV4SVFhcXs23btrFbt26xixcvsgsXLnALQJk5cyYbO3YsnxBMzL179xyTVatOEgC4K4BBKMHYUWD9EizVstSJIB6Dcq1AuCnSv2Uswz2UlwPFgOTA5TO1D67VPjJWnDx5kveFK48YMYKDmpeXx06dOsVpANDNmze5NcDCQWudXDmeeDqBTnVpXCN8xMNAxrDbJokpZhgDRkEcgHshbsE9YV3yNQtgIKjiOQZy584d3h6JRDhtY2Nj7D0WVofrc+fOsZ07d7LVq1fz9u7du8dc8vLlyzxQnz17lvfXjVkmoXJxsBs/8k94hVyVcY02u5RKWGq9TFyn0c1Ik3dFKAGfHzduHBs1ahQHCZYxf/58tnfvXlZRURFb4vv27ctjUU1NDZs8eTIbM2YMBxBBfvbs2RwIPFu0aBErKSnh2TbGBWBPnz7NAUc/jA/xa8CAAfwTbqQmo6o7Sguy6iTB6tOnDwfqwIED7MaNGzx+Ig4j1GBBsvYTbzuHJWARaquQMxmvyDwIFnPlyhUeyGWacOzYMZ5OQFkEdAwMwRUV6QYAQAGAiIGgR0UsgZXB3fAMAz5y5AjnD3DgmuCPxQG8UJB2AFzdoqSC5gQWcjG4MHRxAk0A9o3crUDi+j11HGxiZdLvUTE4mbjCfGFxMpahwBIAEJTGM5m4gh5ujGsM3JoEAxCZ7Mr4ovazupC0avDCuPApdYL8OXPm8PFJsKybD3gOejzHhEt3JDm36XKelHaRBvEtDXKzCWBgBOvSJY9QyK5Y3Ujto+sHUJz4Wa1fKMiramUAAEDguRUsFLThOeglWIp1fbtu3bqf1OmpJgETaIbmuV0t07UANCgJ61QTWQmaU7ECCdCJ114CvvqD7R1yhVv08RUR/JDpL9+qlcntHC86iT2zswT4Vxs2bLj50X4YgVZDwv5AQr6HoEzbA7OzMlQsJm51Ag1oqf8/ic96dQPxI9gBGgXTW4TueeqQ0VvUEjS5qwEgfNuitrzOwD0rqdN3eEOn+n91CELtzocgYXFfskMIQsCSWngMo3fAVl3AdNoXUzfmrKW2ttbVTmRQcpNuYepxlBpInWj9WuWCkBsXMFWY3Bqxbu+qM68bnNrPFJBUy00YMHVAS5cujd3jWjezuMbeu2yT16aDVuVq9s9tr61tqfxCTbY6Syi7d+/mALgtoEUfL26hyvXDdVMW9FXzNwFNBcvKw8TKVLeyypX87dqtbpwSwFRTN7EuVREoYBpLdC5mBSQecG5W1qRYmBRqHahd0dF5GbROWWnhVhmyTQUt1V8IzPZTsBe3sJNrBUYHYBAxjL9LIoF0SghNrcUkcQ1Crm+Ja6JW5rV/UHITSiv8ckkT99DJtbphvGs/0xOjxNUPgaZJpJNca8xySnVSmbzmWmfaLt+xSyfi0bm1MOsYdPxMk+qkphVu8h2n9CJRt7ZzzXjjSWUO9lEepiavbmZTzZecXpDdpCKyv52l2rV7levLy3e8fMdNvuQl0/dD4VRZ2Qd5mNNek9sBia9hGuVhqZbr636Y036VmzTC635YKuX69vJtOrvJSDhTITdhwCgG+WrK+IMvlzsdgchNGDAK3L4eRuCxywUjELm+vUvGG2R4CBIegiQW9K2CTQ8jvAZ9efiiS1R1hy+JvpL58i7plwslmlbEA0D3qpTyYzbdK4bpNovXwwhVUS+HL6k+BMm2upj6Tuc0eN0rlB+HIKmQ64uF2bmHbvC6QXvdk1KP9kzlypf+QHYrnHY+nfbDVAW8zLTTIYjb+BbYMVsi2yyJ5lqZ8vsZ4SGI17QinkvGO7L3kp74efiSUgvTLcsAwsn9dM/9PgRx05bIgpPQq5Hu9SPZhxF2hy9u5QZxIJJtFw/ibVVbB++XWwQl1/UkY4u6uLi41a8AarJVrMqV75JuV2FrWpOqLepcayzx+7jMNIbp8ju3cSyleVi8vSaTwwgvIOsAsvsqVFrthzntV9ntRXmd6fAQxAf3zYhDkFR8r0pXgpLra1oRlhCwELAgSyyG7NixYyB9LKZaTnWCaD5PdT/VPatWrfoZDW7/vlLS+c03LSyMlMJf3H5N9c9UP6XaW9RPRdvXgsaoJItvoBYmLABKfaa011EttND+g+raaDT6sxvGkUhEx1fH24hvOljYYotS9VRLNbSfCVq3ZbEGLCZ41yfAN3DAypX7KBSiuBK1oS834K2lFbxLhSwvfAMHTAbiRgHWTaFYFipd5iv0Ewx4q7T5Cj8mZJQKmaZ80z6t8ON3ZTL7t2ksgJ0X11i9amgRGCJWuFZUxQqYQuumqLSNCj8mZNQImaZ8Awdsv7q4CdAiNvT7DXjvt0k1IgKsiEe+gQO2RyztsgwSCjFNWrHHgLeVryw1QoZXvsECJjLtKotyuhysSmblbooNX6bJwYz4pkXQpwHjZyzXUv0d1X+JuNUortG2VtAYlWTxDTTTN92Mc/vF282bNyeFb7hbEW7vhICFRSm58vSF8qOu9FEkVjH5OtQgdhdqKTg3ocHtvlWy+KaFhYktngr2fp8KinUStVC0VQgao5IsvoGuksICoNQnSvtDqj0stJep7otGo01uGEciER1fHW8jvulgYUUWpTDwag3tJ4LWbSnSgMUE76YE+AYOmJp5N0MhiivNNvSFBrwLbZLZZgFas0e+wQZ9JRC3CLAeCcUqRRzCr///XtDkG/BWab8kfk8V0B4RX4D2GxHT8jPJwuIVP368NfP+R5mDhTUoK9gKmvmdwgJ063yDAe8GxdXWET9pXZV03R2y2P9+z7UhkyysTrnPE6Dl2dDXGfCus0k18gRYeR75Bg5YrVjaZekqFGKatKLWgLeVrywrhAyvfIMFTGTaJyzK6XKwEzIrd7m1o+PLNDmYEd+0CPpiA28fe79PVSdWzBZxjbZ9Xjb5ksU30Ew//C3qcLciBCwELMMTV7m7YNwZ/7HPbXHD34RfulgYvuMwKIny/kJ1O9UONvcZB9gvRG60MUlKIGnFP11ra3OfkTEMQP1JAPfrMGq5D/pwzV1Uf6A6NoTK/SoJN/031W+o9gsBc1+w2XdNxLe2IWDuCr6biu9yvQoBcy7YTfiC6jjx0hwmrg7lr1Q3sPfHY2Gm7/DsKNXfUv0xhMkZsHphUX9PgrxSqjlUn9rcZxxgiE/VVJ8nSd6Pce7TvmRlym/eZGpaEQIWQmBW/ivAAEHJ6+6BIIcfAAAAAElFTkSuQmCC) -31px -26px no-repeat;cursor:pointer}div.dark_square .pp_expand:hover{background:url(data:image/png;base64,iVBORw0KGgoAAAANSUhEUgAAAEwAAAB3CAYAAACpKqZFAAAAGXRFWHRTb2Z0d2FyZQBBZG9iZSBJbWFnZVJlYWR5ccllPAAADVVJREFUeNrsXWlsFMkVLh/cYO7DDGBARqzNfUUyp8GA1wmwII4fkdAiBfiBhJRoIwhCCKPkB5Z2SaT9RVgJbyTygxU/Ii0hiMsgruVQVmTBHObyMjJgcdhgbnDeV1RNiqa6p6unZ3pG6ZJK01396r16X7336nXVeJzV2trKwuK+5G7ZsoUNGzbM7vkIqmVUS6iOplrgk9xO4rMlFUrCKFDfvXvHXr16lf369esc1Ldv32a9efPmhSCrJ5r/EM0pqgc3btz4E7paeWVVVlZywJ4/fx5r7NChw2D6WEEMPqfOgyFI1kwrEigCBmAxAooRULF2qVN2djavWVlZqLep/o3oqzdt2nTjAwtTb7p06QLGpXT5BX3OA1MwyM3NjTHMNLAA1IsXLzhQ+LTqhGvVCkFPIBZQ+6a2bdtOqKqq+nL9+vVHJM8PEABY1GkrMedgtWnThlEnlpOTk7FgwXOePHnCnj17xqw6SbCEVXEd8Qw0KGSJv6Q+hFnVTMk3p7S0lPXs2RNEcMM/kpBZ6Cw7SeQzqcLN4HYvX75kLS0t3LJUnSRITgXgCX4RArfXrFmzTh06dOixajYr4IbcT3NzM3olg6IADNYFsFSdKD7z0GOXHXTu3JnTqH2I168ItBVqDBshAjwncptqgB6ziIHB/GHm7du35zOJe5R27drxdtVN4B7oh1nG4FBBAyWhICp4gw/4gU4Ga2kdGKfK2woW+KOCD2jQ3rFjRzZjxgze/8SJE9xVVUsDWFOmTOG0R48e5XrB0sCP6D7funXrdxKwMqyGJrMIJs3NzVyh6dOn808oeu3aNVZXV8cmTZrEn9+/f58PBIPA88ePH7OJEyey/Px8PthLly7xPt26dePu079/fzZ8+HAOYkNDA7t69SoHq7CwkIMtYw1WvLt373IQdBOJPnLSZEEfTBZCEIA5fvw4e/r0aWzBQxv0ePDgAaeVrgl+NP4CAr5MumQJGuP5tVoguFevXmzlypVcWSgNHkuWLGEPHz5kZWVlrKioKOYSGDzAWrNmDQezvr6eg7lw4UK2YMECFo1GOVDLli3jtABq5MiRbPDg9/M4d+5cDvSQIUPY0KFDuWxdmqOudnJFVK0blgVAAMzUqVP5ZErLkmCBRqYe0tvEZ4m0sNEQLlfCeC4J2kePHrHly5dzpaurq1nXrl25tdTW1sZ8X+Y/4AfrGT9+PLeI7du3s6amJj6LaC8vL+cAFBS8z4t37drF3fHMmTNs4MCBMVc8fPgwVwbWgEmCpVjHquaMOp0kaAAI/adNmxYLHRIsaZkSMIAuxjBaAlYgmauzYlfAsHfv3qxTp07s4MGDfPA9evTgfQGCDJpqQTzp168fv4YrwXLQdv36dd4GV4SVFhcXs23btrFbt26xixcvsgsXLnALQJk5cyYbO3YsnxBMzL179xyTVatOEgC4K4BBKMHYUWD9EizVstSJIB6Dcq1AuCnSv2Uswz2UlwPFgOTA5TO1D67VPjJWnDx5kveFK48YMYKDmpeXx06dOsVpANDNmze5NcDCQWudXDmeeDqBTnVpXCN8xMNAxrDbJokpZhgDRkEcgHshbsE9YV3yNQtgIKjiOQZy584d3h6JRDhtY2Nj7D0WVofrc+fOsZ07d7LVq1fz9u7du8dc8vLlyzxQnz17lvfXjVkmoXJxsBs/8k94hVyVcY02u5RKWGq9TFyn0c1Ik3dFKAGfHzduHBs1ahQHCZYxf/58tnfvXlZRURFb4vv27ctjUU1NDZs8eTIbM2YMBxBBfvbs2RwIPFu0aBErKSnh2TbGBWBPnz7NAUc/jA/xa8CAAfwTbqQmo6o7Sguy6iTB6tOnDwfqwIED7MaNGzx+Ig4j1GBBsvYTbzuHJWARaquQMxmvyDwIFnPlyhUeyGWacOzYMZ5OQFkEdAwMwRUV6QYAQAGAiIGgR0UsgZXB3fAMAz5y5AjnD3DgmuCPxQG8UJB2AFzdoqSC5gQWcjG4MHRxAk0A9o3crUDi+j11HGxiZdLvUTE4mbjCfGFxMpahwBIAEJTGM5m4gh5ujGsM3JoEAxCZ7Mr4ovazupC0avDCuPApdYL8OXPm8PFJsKybD3gOejzHhEt3JDm36XKelHaRBvEtDXKzCWBgBOvSJY9QyK5Y3Ujto+sHUJz4Wa1fKMiramUAAEDguRUsFLThOeglWIp1fbtu3bqf1OmpJgETaIbmuV0t07UANCgJ61QTWQmaU7ECCdCJ114CvvqD7R1yhVv08RUR/JDpL9+qlcntHC86iT2zswT4Vxs2bLj50X4YgVZDwv5AQr6HoEzbA7OzMlQsJm51Ag1oqf8/ic96dQPxI9gBGgXTW4TueeqQ0VvUEjS5qwEgfNuitrzOwD0rqdN3eEOn+n91CELtzocgYXFfskMIQsCSWngMo3fAVl3AdNoXUzfmrKW2ttbVTmRQcpNuYepxlBpInWj9WuWCkBsXMFWY3Bqxbu+qM68bnNrPFJBUy00YMHVAS5cujd3jWjezuMbeu2yT16aDVuVq9s9tr61tqfxCTbY6Syi7d+/mALgtoEUfL26hyvXDdVMW9FXzNwFNBcvKw8TKVLeyypX87dqtbpwSwFRTN7EuVREoYBpLdC5mBSQecG5W1qRYmBRqHahd0dF5GbROWWnhVhmyTQUt1V8IzPZTsBe3sJNrBUYHYBAxjL9LIoF0SghNrcUkcQ1Crm+Ja6JW5rV/UHITSiv8ckkT99DJtbphvGs/0xOjxNUPgaZJpJNca8xySnVSmbzmWmfaLt+xSyfi0bm1MOsYdPxMk+qkphVu8h2n9CJRt7ZzzXjjSWUO9lEepiavbmZTzZecXpDdpCKyv52l2rV7levLy3e8fMdNvuQl0/dD4VRZ2Qd5mNNek9sBia9hGuVhqZbr636Y036VmzTC635YKuX69vJtOrvJSDhTITdhwCgG+WrK+IMvlzsdgchNGDAK3L4eRuCxywUjELm+vUvGG2R4CBIegiQW9K2CTQ8jvAZ9efiiS1R1hy+JvpL58i7plwslmlbEA0D3qpTyYzbdK4bpNovXwwhVUS+HL6k+BMm2upj6Tuc0eN0rlB+HIKmQ64uF2bmHbvC6QXvdk1KP9kzlypf+QHYrnHY+nfbDVAW8zLTTIYjb+BbYMVsi2yyJ5lqZ8vsZ4SGI17QinkvGO7L3kp74efiSUgvTLcsAwsn9dM/9PgRx05bIgpPQq5Hu9SPZhxF2hy9u5QZxIJJtFw/ibVVbB++XWwQl1/UkY4u6uLi41a8AarJVrMqV75JuV2FrWpOqLepcayzx+7jMNIbp8ju3cSyleVi8vSaTwwgvIOsAsvsqVFrthzntV9ntRXmd6fAQxAf3zYhDkFR8r0pXgpLra1oRlhCwELAgSyyG7NixYyB9LKZaTnWCaD5PdT/VPatWrfoZDW7/vlLS+c03LSyMlMJf3H5N9c9UP6XaW9RPRdvXgsaoJItvoBYmLABKfaa011EttND+g+raaDT6sxvGkUhEx1fH24hvOljYYotS9VRLNbSfCVq3ZbEGLCZ41yfAN3DAypX7KBSiuBK1oS834K2lFbxLhSwvfAMHTAbiRgHWTaFYFipd5iv0Ewx4q7T5Cj8mZJQKmaZ80z6t8ON3ZTL7t2ksgJ0X11i9amgRGCJWuFZUxQqYQuumqLSNCj8mZNQImaZ8Awdsv7q4CdAiNvT7DXjvt0k1IgKsiEe+gQO2RyztsgwSCjFNWrHHgLeVryw1QoZXvsECJjLtKotyuhysSmblbooNX6bJwYz4pkXQpwHjZyzXUv0d1X+JuNUortG2VtAYlWTxDTTTN92Mc/vF282bNyeFb7hbEW7vhICFRSm58vSF8qOu9FEkVjH5OtQgdhdqKTg3ocHtvlWy+KaFhYktngr2fp8KinUStVC0VQgao5IsvoGuksICoNQnSvtDqj0stJep7otGo01uGEciER1fHW8jvulgYUUWpTDwag3tJ4LWbSnSgMUE76YE+AYOmJp5N0MhiivNNvSFBrwLbZLZZgFas0e+wQZ9JRC3CLAeCcUqRRzCr///XtDkG/BWab8kfk8V0B4RX4D2GxHT8jPJwuIVP368NfP+R5mDhTUoK9gKmvmdwgJ063yDAe8GxdXWET9pXZV03R2y2P9+z7UhkyysTrnPE6Dl2dDXGfCus0k18gRYeR75Bg5YrVjaZekqFGKatKLWgLeVrywrhAyvfIMFTGTaJyzK6XKwEzIrd7m1o+PLNDmYEd+0CPpiA28fe79PVSdWzBZxjbZ9Xjb5ksU30Ew//C3qcLciBCwELMMTV7m7YNwZ/7HPbXHD34RfulgYvuMwKIny/kJ1O9UONvcZB9gvRG60MUlKIGnFP11ra3OfkTEMQP1JAPfrMGq5D/pwzV1Uf6A6NoTK/SoJN/031W+o9gsBc1+w2XdNxLe2IWDuCr6biu9yvQoBcy7YTfiC6jjx0hwmrg7lr1Q3sPfHY2Gm7/DsKNXfUv0xhMkZsHphUX9PgrxSqjlUn9rcZxxgiE/VVJ8nSd6Pce7TvmRlym/eZGpaEQIWQmBW/ivAAEHJ6+6BIIcfAAAAAElFTkSuQmCC) -31px -47px no-repeat;cursor:pointer}div.dark_square .pp_contract{background:url(data:image/png;base64,iVBORw0KGgoAAAANSUhEUgAAAEwAAAB3CAYAAACpKqZFAAAAGXRFWHRTb2Z0d2FyZQBBZG9iZSBJbWFnZVJlYWR5ccllPAAADVVJREFUeNrsXWlsFMkVLh/cYO7DDGBARqzNfUUyp8GA1wmwII4fkdAiBfiBhJRoIwhCCKPkB5Z2SaT9RVgJbyTygxU/Ii0hiMsgruVQVmTBHObyMjJgcdhgbnDeV1RNiqa6p6unZ3pG6ZJK01396r16X7336nXVeJzV2trKwuK+5G7ZsoUNGzbM7vkIqmVUS6iOplrgk9xO4rMlFUrCKFDfvXvHXr16lf369esc1Ldv32a9efPmhSCrJ5r/EM0pqgc3btz4E7paeWVVVlZywJ4/fx5r7NChw2D6WEEMPqfOgyFI1kwrEigCBmAxAooRULF2qVN2djavWVlZqLep/o3oqzdt2nTjAwtTb7p06QLGpXT5BX3OA1MwyM3NjTHMNLAA1IsXLzhQ+LTqhGvVCkFPIBZQ+6a2bdtOqKqq+nL9+vVHJM8PEABY1GkrMedgtWnThlEnlpOTk7FgwXOePHnCnj17xqw6SbCEVXEd8Qw0KGSJv6Q+hFnVTMk3p7S0lPXs2RNEcMM/kpBZ6Cw7SeQzqcLN4HYvX75kLS0t3LJUnSRITgXgCX4RArfXrFmzTh06dOixajYr4IbcT3NzM3olg6IADNYFsFSdKD7z0GOXHXTu3JnTqH2I168ItBVqDBshAjwncptqgB6ziIHB/GHm7du35zOJe5R27drxdtVN4B7oh1nG4FBBAyWhICp4gw/4gU4Ga2kdGKfK2woW+KOCD2jQ3rFjRzZjxgze/8SJE9xVVUsDWFOmTOG0R48e5XrB0sCP6D7funXrdxKwMqyGJrMIJs3NzVyh6dOn808oeu3aNVZXV8cmTZrEn9+/f58PBIPA88ePH7OJEyey/Px8PthLly7xPt26dePu079/fzZ8+HAOYkNDA7t69SoHq7CwkIMtYw1WvLt373IQdBOJPnLSZEEfTBZCEIA5fvw4e/r0aWzBQxv0ePDgAaeVrgl+NP4CAr5MumQJGuP5tVoguFevXmzlypVcWSgNHkuWLGEPHz5kZWVlrKioKOYSGDzAWrNmDQezvr6eg7lw4UK2YMECFo1GOVDLli3jtABq5MiRbPDg9/M4d+5cDvSQIUPY0KFDuWxdmqOudnJFVK0blgVAAMzUqVP5ZErLkmCBRqYe0tvEZ4m0sNEQLlfCeC4J2kePHrHly5dzpaurq1nXrl25tdTW1sZ8X+Y/4AfrGT9+PLeI7du3s6amJj6LaC8vL+cAFBS8z4t37drF3fHMmTNs4MCBMVc8fPgwVwbWgEmCpVjHquaMOp0kaAAI/adNmxYLHRIsaZkSMIAuxjBaAlYgmauzYlfAsHfv3qxTp07s4MGDfPA9evTgfQGCDJpqQTzp168fv4YrwXLQdv36dd4GV4SVFhcXs23btrFbt26xixcvsgsXLnALQJk5cyYbO3YsnxBMzL179xyTVatOEgC4K4BBKMHYUWD9EizVstSJIB6Dcq1AuCnSv2Uswz2UlwPFgOTA5TO1D67VPjJWnDx5kveFK48YMYKDmpeXx06dOsVpANDNmze5NcDCQWudXDmeeDqBTnVpXCN8xMNAxrDbJokpZhgDRkEcgHshbsE9YV3yNQtgIKjiOQZy584d3h6JRDhtY2Nj7D0WVofrc+fOsZ07d7LVq1fz9u7du8dc8vLlyzxQnz17lvfXjVkmoXJxsBs/8k94hVyVcY02u5RKWGq9TFyn0c1Ik3dFKAGfHzduHBs1ahQHCZYxf/58tnfvXlZRURFb4vv27ctjUU1NDZs8eTIbM2YMBxBBfvbs2RwIPFu0aBErKSnh2TbGBWBPnz7NAUc/jA/xa8CAAfwTbqQmo6o7Sguy6iTB6tOnDwfqwIED7MaNGzx+Ig4j1GBBsvYTbzuHJWARaquQMxmvyDwIFnPlyhUeyGWacOzYMZ5OQFkEdAwMwRUV6QYAQAGAiIGgR0UsgZXB3fAMAz5y5AjnD3DgmuCPxQG8UJB2AFzdoqSC5gQWcjG4MHRxAk0A9o3crUDi+j11HGxiZdLvUTE4mbjCfGFxMpahwBIAEJTGM5m4gh5ujGsM3JoEAxCZ7Mr4ovazupC0avDCuPApdYL8OXPm8PFJsKybD3gOejzHhEt3JDm36XKelHaRBvEtDXKzCWBgBOvSJY9QyK5Y3Ujto+sHUJz4Wa1fKMiramUAAEDguRUsFLThOeglWIp1fbtu3bqf1OmpJgETaIbmuV0t07UANCgJ61QTWQmaU7ECCdCJ114CvvqD7R1yhVv08RUR/JDpL9+qlcntHC86iT2zswT4Vxs2bLj50X4YgVZDwv5AQr6HoEzbA7OzMlQsJm51Ag1oqf8/ic96dQPxI9gBGgXTW4TueeqQ0VvUEjS5qwEgfNuitrzOwD0rqdN3eEOn+n91CELtzocgYXFfskMIQsCSWngMo3fAVl3AdNoXUzfmrKW2ttbVTmRQcpNuYepxlBpInWj9WuWCkBsXMFWY3Bqxbu+qM68bnNrPFJBUy00YMHVAS5cujd3jWjezuMbeu2yT16aDVuVq9s9tr61tqfxCTbY6Syi7d+/mALgtoEUfL26hyvXDdVMW9FXzNwFNBcvKw8TKVLeyypX87dqtbpwSwFRTN7EuVREoYBpLdC5mBSQecG5W1qRYmBRqHahd0dF5GbROWWnhVhmyTQUt1V8IzPZTsBe3sJNrBUYHYBAxjL9LIoF0SghNrcUkcQ1Crm+Ja6JW5rV/UHITSiv8ckkT99DJtbphvGs/0xOjxNUPgaZJpJNca8xySnVSmbzmWmfaLt+xSyfi0bm1MOsYdPxMk+qkphVu8h2n9CJRt7ZzzXjjSWUO9lEepiavbmZTzZecXpDdpCKyv52l2rV7levLy3e8fMdNvuQl0/dD4VRZ2Qd5mNNek9sBia9hGuVhqZbr636Y036VmzTC635YKuX69vJtOrvJSDhTITdhwCgG+WrK+IMvlzsdgchNGDAK3L4eRuCxywUjELm+vUvGG2R4CBIegiQW9K2CTQ8jvAZ9efiiS1R1hy+JvpL58i7plwslmlbEA0D3qpTyYzbdK4bpNovXwwhVUS+HL6k+BMm2upj6Tuc0eN0rlB+HIKmQ64uF2bmHbvC6QXvdk1KP9kzlypf+QHYrnHY+nfbDVAW8zLTTIYjb+BbYMVsi2yyJ5lqZ8vsZ4SGI17QinkvGO7L3kp74efiSUgvTLcsAwsn9dM/9PgRx05bIgpPQq5Hu9SPZhxF2hy9u5QZxIJJtFw/ibVVbB++XWwQl1/UkY4u6uLi41a8AarJVrMqV75JuV2FrWpOqLepcayzx+7jMNIbp8ju3cSyleVi8vSaTwwgvIOsAsvsqVFrthzntV9ntRXmd6fAQxAf3zYhDkFR8r0pXgpLra1oRlhCwELAgSyyG7NixYyB9LKZaTnWCaD5PdT/VPatWrfoZDW7/vlLS+c03LSyMlMJf3H5N9c9UP6XaW9RPRdvXgsaoJItvoBYmLABKfaa011EttND+g+raaDT6sxvGkUhEx1fH24hvOljYYotS9VRLNbSfCVq3ZbEGLCZ41yfAN3DAypX7KBSiuBK1oS834K2lFbxLhSwvfAMHTAbiRgHWTaFYFipd5iv0Ewx4q7T5Cj8mZJQKmaZ80z6t8ON3ZTL7t2ksgJ0X11i9amgRGCJWuFZUxQqYQuumqLSNCj8mZNQImaZ8Awdsv7q4CdAiNvT7DXjvt0k1IgKsiEe+gQO2RyztsgwSCjFNWrHHgLeVryw1QoZXvsECJjLtKotyuhysSmblbooNX6bJwYz4pkXQpwHjZyzXUv0d1X+JuNUortG2VtAYlWTxDTTTN92Mc/vF282bNyeFb7hbEW7vhICFRSm58vSF8qOu9FEkVjH5OtQgdhdqKTg3ocHtvlWy+KaFhYktngr2fp8KinUStVC0VQgao5IsvoGuksICoNQnSvtDqj0stJep7otGo01uGEciER1fHW8jvulgYUUWpTDwag3tJ4LWbSnSgMUE76YE+AYOmJp5N0MhiivNNvSFBrwLbZLZZgFas0e+wQZ9JRC3CLAeCcUqRRzCr///XtDkG/BWab8kfk8V0B4RX4D2GxHT8jPJwuIVP368NfP+R5mDhTUoK9gKmvmdwgJ063yDAe8GxdXWET9pXZV03R2y2P9+z7UhkyysTrnPE6Dl2dDXGfCus0k18gRYeR75Bg5YrVjaZekqFGKatKLWgLeVrywrhAyvfIMFTGTaJyzK6XKwEzIrd7m1o+PLNDmYEd+0CPpiA28fe79PVSdWzBZxjbZ9Xjb5ksU30Ew//C3qcLciBCwELMMTV7m7YNwZ/7HPbXHD34RfulgYvuMwKIny/kJ1O9UONvcZB9gvRG60MUlKIGnFP11ra3OfkTEMQP1JAPfrMGq5D/pwzV1Uf6A6NoTK/SoJN/031W+o9gsBc1+w2XdNxLe2IWDuCr6biu9yvQoBcy7YTfiC6jjx0hwmrg7lr1Q3sPfHY2Gm7/DsKNXfUv0xhMkZsHphUX9PgrxSqjlUn9rcZxxgiE/VVJ8nSd6Pce7TvmRlym/eZGpaEQIWQmBW/ivAAEHJ6+6BIIcfAAAAAElFTkSuQmCC) 0 -26px no-repeat;cursor:pointer}div.dark_square .pp_contract:hover{background:url(data:image/png;base64,iVBORw0KGgoAAAANSUhEUgAAAEwAAAB3CAYAAACpKqZFAAAAGXRFWHRTb2Z0d2FyZQBBZG9iZSBJbWFnZVJlYWR5ccllPAAADVVJREFUeNrsXWlsFMkVLh/cYO7DDGBARqzNfUUyp8GA1wmwII4fkdAiBfiBhJRoIwhCCKPkB5Z2SaT9RVgJbyTygxU/Ii0hiMsgruVQVmTBHObyMjJgcdhgbnDeV1RNiqa6p6unZ3pG6ZJK01396r16X7336nXVeJzV2trKwuK+5G7ZsoUNGzbM7vkIqmVUS6iOplrgk9xO4rMlFUrCKFDfvXvHXr16lf369esc1Ldv32a9efPmhSCrJ5r/EM0pqgc3btz4E7paeWVVVlZywJ4/fx5r7NChw2D6WEEMPqfOgyFI1kwrEigCBmAxAooRULF2qVN2djavWVlZqLep/o3oqzdt2nTjAwtTb7p06QLGpXT5BX3OA1MwyM3NjTHMNLAA1IsXLzhQ+LTqhGvVCkFPIBZQ+6a2bdtOqKqq+nL9+vVHJM8PEABY1GkrMedgtWnThlEnlpOTk7FgwXOePHnCnj17xqw6SbCEVXEd8Qw0KGSJv6Q+hFnVTMk3p7S0lPXs2RNEcMM/kpBZ6Cw7SeQzqcLN4HYvX75kLS0t3LJUnSRITgXgCX4RArfXrFmzTh06dOixajYr4IbcT3NzM3olg6IADNYFsFSdKD7z0GOXHXTu3JnTqH2I168ItBVqDBshAjwncptqgB6ziIHB/GHm7du35zOJe5R27drxdtVN4B7oh1nG4FBBAyWhICp4gw/4gU4Ga2kdGKfK2woW+KOCD2jQ3rFjRzZjxgze/8SJE9xVVUsDWFOmTOG0R48e5XrB0sCP6D7funXrdxKwMqyGJrMIJs3NzVyh6dOn808oeu3aNVZXV8cmTZrEn9+/f58PBIPA88ePH7OJEyey/Px8PthLly7xPt26dePu079/fzZ8+HAOYkNDA7t69SoHq7CwkIMtYw1WvLt373IQdBOJPnLSZEEfTBZCEIA5fvw4e/r0aWzBQxv0ePDgAaeVrgl+NP4CAr5MumQJGuP5tVoguFevXmzlypVcWSgNHkuWLGEPHz5kZWVlrKioKOYSGDzAWrNmDQezvr6eg7lw4UK2YMECFo1GOVDLli3jtABq5MiRbPDg9/M4d+5cDvSQIUPY0KFDuWxdmqOudnJFVK0blgVAAMzUqVP5ZErLkmCBRqYe0tvEZ4m0sNEQLlfCeC4J2kePHrHly5dzpaurq1nXrl25tdTW1sZ8X+Y/4AfrGT9+PLeI7du3s6amJj6LaC8vL+cAFBS8z4t37drF3fHMmTNs4MCBMVc8fPgwVwbWgEmCpVjHquaMOp0kaAAI/adNmxYLHRIsaZkSMIAuxjBaAlYgmauzYlfAsHfv3qxTp07s4MGDfPA9evTgfQGCDJpqQTzp168fv4YrwXLQdv36dd4GV4SVFhcXs23btrFbt26xixcvsgsXLnALQJk5cyYbO3YsnxBMzL179xyTVatOEgC4K4BBKMHYUWD9EizVstSJIB6Dcq1AuCnSv2Uswz2UlwPFgOTA5TO1D67VPjJWnDx5kveFK48YMYKDmpeXx06dOsVpANDNmze5NcDCQWudXDmeeDqBTnVpXCN8xMNAxrDbJokpZhgDRkEcgHshbsE9YV3yNQtgIKjiOQZy584d3h6JRDhtY2Nj7D0WVofrc+fOsZ07d7LVq1fz9u7du8dc8vLlyzxQnz17lvfXjVkmoXJxsBs/8k94hVyVcY02u5RKWGq9TFyn0c1Ik3dFKAGfHzduHBs1ahQHCZYxf/58tnfvXlZRURFb4vv27ctjUU1NDZs8eTIbM2YMBxBBfvbs2RwIPFu0aBErKSnh2TbGBWBPnz7NAUc/jA/xa8CAAfwTbqQmo6o7Sguy6iTB6tOnDwfqwIED7MaNGzx+Ig4j1GBBsvYTbzuHJWARaquQMxmvyDwIFnPlyhUeyGWacOzYMZ5OQFkEdAwMwRUV6QYAQAGAiIGgR0UsgZXB3fAMAz5y5AjnD3DgmuCPxQG8UJB2AFzdoqSC5gQWcjG4MHRxAk0A9o3crUDi+j11HGxiZdLvUTE4mbjCfGFxMpahwBIAEJTGM5m4gh5ujGsM3JoEAxCZ7Mr4ovazupC0avDCuPApdYL8OXPm8PFJsKybD3gOejzHhEt3JDm36XKelHaRBvEtDXKzCWBgBOvSJY9QyK5Y3Ujto+sHUJz4Wa1fKMiramUAAEDguRUsFLThOeglWIp1fbtu3bqf1OmpJgETaIbmuV0t07UANCgJ61QTWQmaU7ECCdCJ114CvvqD7R1yhVv08RUR/JDpL9+qlcntHC86iT2zswT4Vxs2bLj50X4YgVZDwv5AQr6HoEzbA7OzMlQsJm51Ag1oqf8/ic96dQPxI9gBGgXTW4TueeqQ0VvUEjS5qwEgfNuitrzOwD0rqdN3eEOn+n91CELtzocgYXFfskMIQsCSWngMo3fAVl3AdNoXUzfmrKW2ttbVTmRQcpNuYepxlBpInWj9WuWCkBsXMFWY3Bqxbu+qM68bnNrPFJBUy00YMHVAS5cujd3jWjezuMbeu2yT16aDVuVq9s9tr61tqfxCTbY6Syi7d+/mALgtoEUfL26hyvXDdVMW9FXzNwFNBcvKw8TKVLeyypX87dqtbpwSwFRTN7EuVREoYBpLdC5mBSQecG5W1qRYmBRqHahd0dF5GbROWWnhVhmyTQUt1V8IzPZTsBe3sJNrBUYHYBAxjL9LIoF0SghNrcUkcQ1Crm+Ja6JW5rV/UHITSiv8ckkT99DJtbphvGs/0xOjxNUPgaZJpJNca8xySnVSmbzmWmfaLt+xSyfi0bm1MOsYdPxMk+qkphVu8h2n9CJRt7ZzzXjjSWUO9lEepiavbmZTzZecXpDdpCKyv52l2rV7levLy3e8fMdNvuQl0/dD4VRZ2Qd5mNNek9sBia9hGuVhqZbr636Y036VmzTC635YKuX69vJtOrvJSDhTITdhwCgG+WrK+IMvlzsdgchNGDAK3L4eRuCxywUjELm+vUvGG2R4CBIegiQW9K2CTQ8jvAZ9efiiS1R1hy+JvpL58i7plwslmlbEA0D3qpTyYzbdK4bpNovXwwhVUS+HL6k+BMm2upj6Tuc0eN0rlB+HIKmQ64uF2bmHbvC6QXvdk1KP9kzlypf+QHYrnHY+nfbDVAW8zLTTIYjb+BbYMVsi2yyJ5lqZ8vsZ4SGI17QinkvGO7L3kp74efiSUgvTLcsAwsn9dM/9PgRx05bIgpPQq5Hu9SPZhxF2hy9u5QZxIJJtFw/ibVVbB++XWwQl1/UkY4u6uLi41a8AarJVrMqV75JuV2FrWpOqLepcayzx+7jMNIbp8ju3cSyleVi8vSaTwwgvIOsAsvsqVFrthzntV9ntRXmd6fAQxAf3zYhDkFR8r0pXgpLra1oRlhCwELAgSyyG7NixYyB9LKZaTnWCaD5PdT/VPatWrfoZDW7/vlLS+c03LSyMlMJf3H5N9c9UP6XaW9RPRdvXgsaoJItvoBYmLABKfaa011EttND+g+raaDT6sxvGkUhEx1fH24hvOljYYotS9VRLNbSfCVq3ZbEGLCZ41yfAN3DAypX7KBSiuBK1oS834K2lFbxLhSwvfAMHTAbiRgHWTaFYFipd5iv0Ewx4q7T5Cj8mZJQKmaZ80z6t8ON3ZTL7t2ksgJ0X11i9amgRGCJWuFZUxQqYQuumqLSNCj8mZNQImaZ8Awdsv7q4CdAiNvT7DXjvt0k1IgKsiEe+gQO2RyztsgwSCjFNWrHHgLeVryw1QoZXvsECJjLtKotyuhysSmblbooNX6bJwYz4pkXQpwHjZyzXUv0d1X+JuNUortG2VtAYlWTxDTTTN92Mc/vF282bNyeFb7hbEW7vhICFRSm58vSF8qOu9FEkVjH5OtQgdhdqKTg3ocHtvlWy+KaFhYktngr2fp8KinUStVC0VQgao5IsvoGuksICoNQnSvtDqj0stJep7otGo01uGEciER1fHW8jvulgYUUWpTDwag3tJ4LWbSnSgMUE76YE+AYOmJp5N0MhiivNNvSFBrwLbZLZZgFas0e+wQZ9JRC3CLAeCcUqRRzCr///XtDkG/BWab8kfk8V0B4RX4D2GxHT8jPJwuIVP368NfP+R5mDhTUoK9gKmvmdwgJ063yDAe8GxdXWET9pXZV03R2y2P9+z7UhkyysTrnPE6Dl2dDXGfCus0k18gRYeR75Bg5YrVjaZekqFGKatKLWgLeVrywrhAyvfIMFTGTaJyzK6XKwEzIrd7m1o+PLNDmYEd+0CPpiA28fe79PVSdWzBZxjbZ9Xjb5ksU30Ew//C3qcLciBCwELMMTV7m7YNwZ/7HPbXHD34RfulgYvuMwKIny/kJ1O9UONvcZB9gvRG60MUlKIGnFP11ra3OfkTEMQP1JAPfrMGq5D/pwzV1Uf6A6NoTK/SoJN/031W+o9gsBc1+w2XdNxLe2IWDuCr6biu9yvQoBcy7YTfiC6jjx0hwmrg7lr1Q3sPfHY2Gm7/DsKNXfUv0xhMkZsHphUX9PgrxSqjlUn9rcZxxgiE/VVJ8nSd6Pce7TvmRlym/eZGpaEQIWQmBW/ivAAEHJ6+6BIIcfAAAAAElFTkSuQmCC) 0 -47px no-repeat;cursor:pointer}div.dark_square .pp_close{width:75px;height:22px;background:url(data:image/png;base64,iVBORw0KGgoAAAANSUhEUgAAAEwAAAB3CAYAAACpKqZFAAAAGXRFWHRTb2Z0d2FyZQBBZG9iZSBJbWFnZVJlYWR5ccllPAAADVVJREFUeNrsXWlsFMkVLh/cYO7DDGBARqzNfUUyp8GA1wmwII4fkdAiBfiBhJRoIwhCCKPkB5Z2SaT9RVgJbyTygxU/Ii0hiMsgruVQVmTBHObyMjJgcdhgbnDeV1RNiqa6p6unZ3pG6ZJK01396r16X7336nXVeJzV2trKwuK+5G7ZsoUNGzbM7vkIqmVUS6iOplrgk9xO4rMlFUrCKFDfvXvHXr16lf369esc1Ldv32a9efPmhSCrJ5r/EM0pqgc3btz4E7paeWVVVlZywJ4/fx5r7NChw2D6WEEMPqfOgyFI1kwrEigCBmAxAooRULF2qVN2djavWVlZqLep/o3oqzdt2nTjAwtTb7p06QLGpXT5BX3OA1MwyM3NjTHMNLAA1IsXLzhQ+LTqhGvVCkFPIBZQ+6a2bdtOqKqq+nL9+vVHJM8PEABY1GkrMedgtWnThlEnlpOTk7FgwXOePHnCnj17xqw6SbCEVXEd8Qw0KGSJv6Q+hFnVTMk3p7S0lPXs2RNEcMM/kpBZ6Cw7SeQzqcLN4HYvX75kLS0t3LJUnSRITgXgCX4RArfXrFmzTh06dOixajYr4IbcT3NzM3olg6IADNYFsFSdKD7z0GOXHXTu3JnTqH2I168ItBVqDBshAjwncptqgB6ziIHB/GHm7du35zOJe5R27drxdtVN4B7oh1nG4FBBAyWhICp4gw/4gU4Ga2kdGKfK2woW+KOCD2jQ3rFjRzZjxgze/8SJE9xVVUsDWFOmTOG0R48e5XrB0sCP6D7funXrdxKwMqyGJrMIJs3NzVyh6dOn808oeu3aNVZXV8cmTZrEn9+/f58PBIPA88ePH7OJEyey/Px8PthLly7xPt26dePu079/fzZ8+HAOYkNDA7t69SoHq7CwkIMtYw1WvLt373IQdBOJPnLSZEEfTBZCEIA5fvw4e/r0aWzBQxv0ePDgAaeVrgl+NP4CAr5MumQJGuP5tVoguFevXmzlypVcWSgNHkuWLGEPHz5kZWVlrKioKOYSGDzAWrNmDQezvr6eg7lw4UK2YMECFo1GOVDLli3jtABq5MiRbPDg9/M4d+5cDvSQIUPY0KFDuWxdmqOudnJFVK0blgVAAMzUqVP5ZErLkmCBRqYe0tvEZ4m0sNEQLlfCeC4J2kePHrHly5dzpaurq1nXrl25tdTW1sZ8X+Y/4AfrGT9+PLeI7du3s6amJj6LaC8vL+cAFBS8z4t37drF3fHMmTNs4MCBMVc8fPgwVwbWgEmCpVjHquaMOp0kaAAI/adNmxYLHRIsaZkSMIAuxjBaAlYgmauzYlfAsHfv3qxTp07s4MGDfPA9evTgfQGCDJpqQTzp168fv4YrwXLQdv36dd4GV4SVFhcXs23btrFbt26xixcvsgsXLnALQJk5cyYbO3YsnxBMzL179xyTVatOEgC4K4BBKMHYUWD9EizVstSJIB6Dcq1AuCnSv2Uswz2UlwPFgOTA5TO1D67VPjJWnDx5kveFK48YMYKDmpeXx06dOsVpANDNmze5NcDCQWudXDmeeDqBTnVpXCN8xMNAxrDbJokpZhgDRkEcgHshbsE9YV3yNQtgIKjiOQZy584d3h6JRDhtY2Nj7D0WVofrc+fOsZ07d7LVq1fz9u7du8dc8vLlyzxQnz17lvfXjVkmoXJxsBs/8k94hVyVcY02u5RKWGq9TFyn0c1Ik3dFKAGfHzduHBs1ahQHCZYxf/58tnfvXlZRURFb4vv27ctjUU1NDZs8eTIbM2YMBxBBfvbs2RwIPFu0aBErKSnh2TbGBWBPnz7NAUc/jA/xa8CAAfwTbqQmo6o7Sguy6iTB6tOnDwfqwIED7MaNGzx+Ig4j1GBBsvYTbzuHJWARaquQMxmvyDwIFnPlyhUeyGWacOzYMZ5OQFkEdAwMwRUV6QYAQAGAiIGgR0UsgZXB3fAMAz5y5AjnD3DgmuCPxQG8UJB2AFzdoqSC5gQWcjG4MHRxAk0A9o3crUDi+j11HGxiZdLvUTE4mbjCfGFxMpahwBIAEJTGM5m4gh5ujGsM3JoEAxCZ7Mr4ovazupC0avDCuPApdYL8OXPm8PFJsKybD3gOejzHhEt3JDm36XKelHaRBvEtDXKzCWBgBOvSJY9QyK5Y3Ujto+sHUJz4Wa1fKMiramUAAEDguRUsFLThOeglWIp1fbtu3bqf1OmpJgETaIbmuV0t07UANCgJ61QTWQmaU7ECCdCJ114CvvqD7R1yhVv08RUR/JDpL9+qlcntHC86iT2zswT4Vxs2bLj50X4YgVZDwv5AQr6HoEzbA7OzMlQsJm51Ag1oqf8/ic96dQPxI9gBGgXTW4TueeqQ0VvUEjS5qwEgfNuitrzOwD0rqdN3eEOn+n91CELtzocgYXFfskMIQsCSWngMo3fAVl3AdNoXUzfmrKW2ttbVTmRQcpNuYepxlBpInWj9WuWCkBsXMFWY3Bqxbu+qM68bnNrPFJBUy00YMHVAS5cujd3jWjezuMbeu2yT16aDVuVq9s9tr61tqfxCTbY6Syi7d+/mALgtoEUfL26hyvXDdVMW9FXzNwFNBcvKw8TKVLeyypX87dqtbpwSwFRTN7EuVREoYBpLdC5mBSQecG5W1qRYmBRqHahd0dF5GbROWWnhVhmyTQUt1V8IzPZTsBe3sJNrBUYHYBAxjL9LIoF0SghNrcUkcQ1Crm+Ja6JW5rV/UHITSiv8ckkT99DJtbphvGs/0xOjxNUPgaZJpJNca8xySnVSmbzmWmfaLt+xSyfi0bm1MOsYdPxMk+qkphVu8h2n9CJRt7ZzzXjjSWUO9lEepiavbmZTzZecXpDdpCKyv52l2rV7levLy3e8fMdNvuQl0/dD4VRZ2Qd5mNNek9sBia9hGuVhqZbr636Y036VmzTC635YKuX69vJtOrvJSDhTITdhwCgG+WrK+IMvlzsdgchNGDAK3L4eRuCxywUjELm+vUvGG2R4CBIegiQW9K2CTQ8jvAZ9efiiS1R1hy+JvpL58i7plwslmlbEA0D3qpTyYzbdK4bpNovXwwhVUS+HL6k+BMm2upj6Tuc0eN0rlB+HIKmQ64uF2bmHbvC6QXvdk1KP9kzlypf+QHYrnHY+nfbDVAW8zLTTIYjb+BbYMVsi2yyJ5lqZ8vsZ4SGI17QinkvGO7L3kp74efiSUgvTLcsAwsn9dM/9PgRx05bIgpPQq5Hu9SPZhxF2hy9u5QZxIJJtFw/ibVVbB++XWwQl1/UkY4u6uLi41a8AarJVrMqV75JuV2FrWpOqLepcayzx+7jMNIbp8ju3cSyleVi8vSaTwwgvIOsAsvsqVFrthzntV9ntRXmd6fAQxAf3zYhDkFR8r0pXgpLra1oRlhCwELAgSyyG7NixYyB9LKZaTnWCaD5PdT/VPatWrfoZDW7/vlLS+c03LSyMlMJf3H5N9c9UP6XaW9RPRdvXgsaoJItvoBYmLABKfaa011EttND+g+raaDT6sxvGkUhEx1fH24hvOljYYotS9VRLNbSfCVq3ZbEGLCZ41yfAN3DAypX7KBSiuBK1oS834K2lFbxLhSwvfAMHTAbiRgHWTaFYFipd5iv0Ewx4q7T5Cj8mZJQKmaZ80z6t8ON3ZTL7t2ksgJ0X11i9amgRGCJWuFZUxQqYQuumqLSNCj8mZNQImaZ8Awdsv7q4CdAiNvT7DXjvt0k1IgKsiEe+gQO2RyztsgwSCjFNWrHHgLeVryw1QoZXvsECJjLtKotyuhysSmblbooNX6bJwYz4pkXQpwHjZyzXUv0d1X+JuNUortG2VtAYlWTxDTTTN92Mc/vF282bNyeFb7hbEW7vhICFRSm58vSF8qOu9FEkVjH5OtQgdhdqKTg3ocHtvlWy+KaFhYktngr2fp8KinUStVC0VQgao5IsvoGuksICoNQnSvtDqj0stJep7otGo01uGEciER1fHW8jvulgYUUWpTDwag3tJ4LWbSnSgMUE76YE+AYOmJp5N0MhiivNNvSFBrwLbZLZZgFas0e+wQZ9JRC3CLAeCcUqRRzCr///XtDkG/BWab8kfk8V0B4RX4D2GxHT8jPJwuIVP368NfP+R5mDhTUoK9gKmvmdwgJ063yDAe8GxdXWET9pXZV03R2y2P9+z7UhkyysTrnPE6Dl2dDXGfCus0k18gRYeR75Bg5YrVjaZekqFGKatKLWgLeVrywrhAyvfIMFTGTaJyzK6XKwEzIrd7m1o+PLNDmYEd+0CPpiA28fe79PVSdWzBZxjbZ9Xjb5ksU30Ew//C3qcLciBCwELMMTV7m7YNwZ/7HPbXHD34RfulgYvuMwKIny/kJ1O9UONvcZB9gvRG60MUlKIGnFP11ra3OfkTEMQP1JAPfrMGq5D/pwzV1Uf6A6NoTK/SoJN/031W+o9gsBc1+w2XdNxLe2IWDuCr6biu9yvQoBcy7YTfiC6jjx0hwmrg7lr1Q3sPfHY2Gm7/DsKNXfUv0xhMkZsHphUX9PgrxSqjlUn9rcZxxgiE/VVJ8nSd6Pce7TvmRlym/eZGpaEQIWQmBW/ivAAEHJ6+6BIIcfAAAAAElFTkSuQmCC) -1px -1px no-repeat;cursor:pointer}div.dark_square .pp_nav{clear:none}div.dark_square .pp_nav .pp_play{background:url(data:image/png;base64,iVBORw0KGgoAAAANSUhEUgAAAEwAAAB3CAYAAACpKqZFAAAAGXRFWHRTb2Z0d2FyZQBBZG9iZSBJbWFnZVJlYWR5ccllPAAADVVJREFUeNrsXWlsFMkVLh/cYO7DDGBARqzNfUUyp8GA1wmwII4fkdAiBfiBhJRoIwhCCKPkB5Z2SaT9RVgJbyTygxU/Ii0hiMsgruVQVmTBHObyMjJgcdhgbnDeV1RNiqa6p6unZ3pG6ZJK01396r16X7336nXVeJzV2trKwuK+5G7ZsoUNGzbM7vkIqmVUS6iOplrgk9xO4rMlFUrCKFDfvXvHXr16lf369esc1Ldv32a9efPmhSCrJ5r/EM0pqgc3btz4E7paeWVVVlZywJ4/fx5r7NChw2D6WEEMPqfOgyFI1kwrEigCBmAxAooRULF2qVN2djavWVlZqLep/o3oqzdt2nTjAwtTb7p06QLGpXT5BX3OA1MwyM3NjTHMNLAA1IsXLzhQ+LTqhGvVCkFPIBZQ+6a2bdtOqKqq+nL9+vVHJM8PEABY1GkrMedgtWnThlEnlpOTk7FgwXOePHnCnj17xqw6SbCEVXEd8Qw0KGSJv6Q+hFnVTMk3p7S0lPXs2RNEcMM/kpBZ6Cw7SeQzqcLN4HYvX75kLS0t3LJUnSRITgXgCX4RArfXrFmzTh06dOixajYr4IbcT3NzM3olg6IADNYFsFSdKD7z0GOXHXTu3JnTqH2I168ItBVqDBshAjwncptqgB6ziIHB/GHm7du35zOJe5R27drxdtVN4B7oh1nG4FBBAyWhICp4gw/4gU4Ga2kdGKfK2woW+KOCD2jQ3rFjRzZjxgze/8SJE9xVVUsDWFOmTOG0R48e5XrB0sCP6D7funXrdxKwMqyGJrMIJs3NzVyh6dOn808oeu3aNVZXV8cmTZrEn9+/f58PBIPA88ePH7OJEyey/Px8PthLly7xPt26dePu079/fzZ8+HAOYkNDA7t69SoHq7CwkIMtYw1WvLt373IQdBOJPnLSZEEfTBZCEIA5fvw4e/r0aWzBQxv0ePDgAaeVrgl+NP4CAr5MumQJGuP5tVoguFevXmzlypVcWSgNHkuWLGEPHz5kZWVlrKioKOYSGDzAWrNmDQezvr6eg7lw4UK2YMECFo1GOVDLli3jtABq5MiRbPDg9/M4d+5cDvSQIUPY0KFDuWxdmqOudnJFVK0blgVAAMzUqVP5ZErLkmCBRqYe0tvEZ4m0sNEQLlfCeC4J2kePHrHly5dzpaurq1nXrl25tdTW1sZ8X+Y/4AfrGT9+PLeI7du3s6amJj6LaC8vL+cAFBS8z4t37drF3fHMmTNs4MCBMVc8fPgwVwbWgEmCpVjHquaMOp0kaAAI/adNmxYLHRIsaZkSMIAuxjBaAlYgmauzYlfAsHfv3qxTp07s4MGDfPA9evTgfQGCDJpqQTzp168fv4YrwXLQdv36dd4GV4SVFhcXs23btrFbt26xixcvsgsXLnALQJk5cyYbO3YsnxBMzL179xyTVatOEgC4K4BBKMHYUWD9EizVstSJIB6Dcq1AuCnSv2Uswz2UlwPFgOTA5TO1D67VPjJWnDx5kveFK48YMYKDmpeXx06dOsVpANDNmze5NcDCQWudXDmeeDqBTnVpXCN8xMNAxrDbJokpZhgDRkEcgHshbsE9YV3yNQtgIKjiOQZy584d3h6JRDhtY2Nj7D0WVofrc+fOsZ07d7LVq1fz9u7du8dc8vLlyzxQnz17lvfXjVkmoXJxsBs/8k94hVyVcY02u5RKWGq9TFyn0c1Ik3dFKAGfHzduHBs1ahQHCZYxf/58tnfvXlZRURFb4vv27ctjUU1NDZs8eTIbM2YMBxBBfvbs2RwIPFu0aBErKSnh2TbGBWBPnz7NAUc/jA/xa8CAAfwTbqQmo6o7Sguy6iTB6tOnDwfqwIED7MaNGzx+Ig4j1GBBsvYTbzuHJWARaquQMxmvyDwIFnPlyhUeyGWacOzYMZ5OQFkEdAwMwRUV6QYAQAGAiIGgR0UsgZXB3fAMAz5y5AjnD3DgmuCPxQG8UJB2AFzdoqSC5gQWcjG4MHRxAk0A9o3crUDi+j11HGxiZdLvUTE4mbjCfGFxMpahwBIAEJTGM5m4gh5ujGsM3JoEAxCZ7Mr4ovazupC0avDCuPApdYL8OXPm8PFJsKybD3gOejzHhEt3JDm36XKelHaRBvEtDXKzCWBgBOvSJY9QyK5Y3Ujto+sHUJz4Wa1fKMiramUAAEDguRUsFLThOeglWIp1fbtu3bqf1OmpJgETaIbmuV0t07UANCgJ61QTWQmaU7ECCdCJ114CvvqD7R1yhVv08RUR/JDpL9+qlcntHC86iT2zswT4Vxs2bLj50X4YgVZDwv5AQr6HoEzbA7OzMlQsJm51Ag1oqf8/ic96dQPxI9gBGgXTW4TueeqQ0VvUEjS5qwEgfNuitrzOwD0rqdN3eEOn+n91CELtzocgYXFfskMIQsCSWngMo3fAVl3AdNoXUzfmrKW2ttbVTmRQcpNuYepxlBpInWj9WuWCkBsXMFWY3Bqxbu+qM68bnNrPFJBUy00YMHVAS5cujd3jWjezuMbeu2yT16aDVuVq9s9tr61tqfxCTbY6Syi7d+/mALgtoEUfL26hyvXDdVMW9FXzNwFNBcvKw8TKVLeyypX87dqtbpwSwFRTN7EuVREoYBpLdC5mBSQecG5W1qRYmBRqHahd0dF5GbROWWnhVhmyTQUt1V8IzPZTsBe3sJNrBUYHYBAxjL9LIoF0SghNrcUkcQ1Crm+Ja6JW5rV/UHITSiv8ckkT99DJtbphvGs/0xOjxNUPgaZJpJNca8xySnVSmbzmWmfaLt+xSyfi0bm1MOsYdPxMk+qkphVu8h2n9CJRt7ZzzXjjSWUO9lEepiavbmZTzZecXpDdpCKyv52l2rV7levLy3e8fMdNvuQl0/dD4VRZ2Qd5mNNek9sBia9hGuVhqZbr636Y036VmzTC635YKuX69vJtOrvJSDhTITdhwCgG+WrK+IMvlzsdgchNGDAK3L4eRuCxywUjELm+vUvGG2R4CBIegiQW9K2CTQ8jvAZ9efiiS1R1hy+JvpL58i7plwslmlbEA0D3qpTyYzbdK4bpNovXwwhVUS+HL6k+BMm2upj6Tuc0eN0rlB+HIKmQ64uF2bmHbvC6QXvdk1KP9kzlypf+QHYrnHY+nfbDVAW8zLTTIYjb+BbYMVsi2yyJ5lqZ8vsZ4SGI17QinkvGO7L3kp74efiSUgvTLcsAwsn9dM/9PgRx05bIgpPQq5Hu9SPZhxF2hy9u5QZxIJJtFw/ibVVbB++XWwQl1/UkY4u6uLi41a8AarJVrMqV75JuV2FrWpOqLepcayzx+7jMNIbp8ju3cSyleVi8vSaTwwgvIOsAsvsqVFrthzntV9ntRXmd6fAQxAf3zYhDkFR8r0pXgpLra1oRlhCwELAgSyyG7NixYyB9LKZaTnWCaD5PdT/VPatWrfoZDW7/vlLS+c03LSyMlMJf3H5N9c9UP6XaW9RPRdvXgsaoJItvoBYmLABKfaa011EttND+g+raaDT6sxvGkUhEx1fH24hvOljYYotS9VRLNbSfCVq3ZbEGLCZ41yfAN3DAypX7KBSiuBK1oS834K2lFbxLhSwvfAMHTAbiRgHWTaFYFipd5iv0Ewx4q7T5Cj8mZJQKmaZ80z6t8ON3ZTL7t2ksgJ0X11i9amgRGCJWuFZUxQqYQuumqLSNCj8mZNQImaZ8Awdsv7q4CdAiNvT7DXjvt0k1IgKsiEe+gQO2RyztsgwSCjFNWrHHgLeVryw1QoZXvsECJjLtKotyuhysSmblbooNX6bJwYz4pkXQpwHjZyzXUv0d1X+JuNUortG2VtAYlWTxDTTTN92Mc/vF282bNyeFb7hbEW7vhICFRSm58vSF8qOu9FEkVjH5OtQgdhdqKTg3ocHtvlWy+KaFhYktngr2fp8KinUStVC0VQgao5IsvoGuksICoNQnSvtDqj0stJep7otGo01uGEciER1fHW8jvulgYUUWpTDwag3tJ4LWbSnSgMUE76YE+AYOmJp5N0MhiivNNvSFBrwLbZLZZgFas0e+wQZ9JRC3CLAeCcUqRRzCr///XtDkG/BWab8kfk8V0B4RX4D2GxHT8jPJwuIVP368NfP+R5mDhTUoK9gKmvmdwgJ063yDAe8GxdXWET9pXZV03R2y2P9+z7UhkyysTrnPE6Dl2dDXGfCus0k18gRYeR75Bg5YrVjaZekqFGKatKLWgLeVrywrhAyvfIMFTGTaJyzK6XKwEzIrd7m1o+PLNDmYEd+0CPpiA28fe79PVSdWzBZxjbZ9Xjb5ksU30Ew//C3qcLciBCwELMMTV7m7YNwZ/7HPbXHD34RfulgYvuMwKIny/kJ1O9UONvcZB9gvRG60MUlKIGnFP11ra3OfkTEMQP1JAPfrMGq5D/pwzV1Uf6A6NoTK/SoJN/031W+o9gsBc1+w2XdNxLe2IWDuCr6biu9yvQoBcy7YTfiC6jjx0hwmrg7lr1Q3sPfHY2Gm7/DsKNXfUv0xhMkZsHphUX9PgrxSqjlUn9rcZxxgiE/VVJ8nSd6Pce7TvmRlym/eZGpaEQIWQmBW/ivAAEHJ6+6BIIcfAAAAAElFTkSuQmCC) -1px -100px no-repeat;height:15px;width:14px}div.dark_square .pp_nav .pp_pause{background:url(data:image/png;base64,iVBORw0KGgoAAAANSUhEUgAAAEwAAAB3CAYAAACpKqZFAAAAGXRFWHRTb2Z0d2FyZQBBZG9iZSBJbWFnZVJlYWR5ccllPAAADVVJREFUeNrsXWlsFMkVLh/cYO7DDGBARqzNfUUyp8GA1wmwII4fkdAiBfiBhJRoIwhCCKPkB5Z2SaT9RVgJbyTygxU/Ii0hiMsgruVQVmTBHObyMjJgcdhgbnDeV1RNiqa6p6unZ3pG6ZJK01396r16X7336nXVeJzV2trKwuK+5G7ZsoUNGzbM7vkIqmVUS6iOplrgk9xO4rMlFUrCKFDfvXvHXr16lf369esc1Ldv32a9efPmhSCrJ5r/EM0pqgc3btz4E7paeWVVVlZywJ4/fx5r7NChw2D6WEEMPqfOgyFI1kwrEigCBmAxAooRULF2qVN2djavWVlZqLep/o3oqzdt2nTjAwtTb7p06QLGpXT5BX3OA1MwyM3NjTHMNLAA1IsXLzhQ+LTqhGvVCkFPIBZQ+6a2bdtOqKqq+nL9+vVHJM8PEABY1GkrMedgtWnThlEnlpOTk7FgwXOePHnCnj17xqw6SbCEVXEd8Qw0KGSJv6Q+hFnVTMk3p7S0lPXs2RNEcMM/kpBZ6Cw7SeQzqcLN4HYvX75kLS0t3LJUnSRITgXgCX4RArfXrFmzTh06dOixajYr4IbcT3NzM3olg6IADNYFsFSdKD7z0GOXHXTu3JnTqH2I168ItBVqDBshAjwncptqgB6ziIHB/GHm7du35zOJe5R27drxdtVN4B7oh1nG4FBBAyWhICp4gw/4gU4Ga2kdGKfK2woW+KOCD2jQ3rFjRzZjxgze/8SJE9xVVUsDWFOmTOG0R48e5XrB0sCP6D7funXrdxKwMqyGJrMIJs3NzVyh6dOn808oeu3aNVZXV8cmTZrEn9+/f58PBIPA88ePH7OJEyey/Px8PthLly7xPt26dePu079/fzZ8+HAOYkNDA7t69SoHq7CwkIMtYw1WvLt373IQdBOJPnLSZEEfTBZCEIA5fvw4e/r0aWzBQxv0ePDgAaeVrgl+NP4CAr5MumQJGuP5tVoguFevXmzlypVcWSgNHkuWLGEPHz5kZWVlrKioKOYSGDzAWrNmDQezvr6eg7lw4UK2YMECFo1GOVDLli3jtABq5MiRbPDg9/M4d+5cDvSQIUPY0KFDuWxdmqOudnJFVK0blgVAAMzUqVP5ZErLkmCBRqYe0tvEZ4m0sNEQLlfCeC4J2kePHrHly5dzpaurq1nXrl25tdTW1sZ8X+Y/4AfrGT9+PLeI7du3s6amJj6LaC8vL+cAFBS8z4t37drF3fHMmTNs4MCBMVc8fPgwVwbWgEmCpVjHquaMOp0kaAAI/adNmxYLHRIsaZkSMIAuxjBaAlYgmauzYlfAsHfv3qxTp07s4MGDfPA9evTgfQGCDJpqQTzp168fv4YrwXLQdv36dd4GV4SVFhcXs23btrFbt26xixcvsgsXLnALQJk5cyYbO3YsnxBMzL179xyTVatOEgC4K4BBKMHYUWD9EizVstSJIB6Dcq1AuCnSv2Uswz2UlwPFgOTA5TO1D67VPjJWnDx5kveFK48YMYKDmpeXx06dOsVpANDNmze5NcDCQWudXDmeeDqBTnVpXCN8xMNAxrDbJokpZhgDRkEcgHshbsE9YV3yNQtgIKjiOQZy584d3h6JRDhtY2Nj7D0WVofrc+fOsZ07d7LVq1fz9u7du8dc8vLlyzxQnz17lvfXjVkmoXJxsBs/8k94hVyVcY02u5RKWGq9TFyn0c1Ik3dFKAGfHzduHBs1ahQHCZYxf/58tnfvXlZRURFb4vv27ctjUU1NDZs8eTIbM2YMBxBBfvbs2RwIPFu0aBErKSnh2TbGBWBPnz7NAUc/jA/xa8CAAfwTbqQmo6o7Sguy6iTB6tOnDwfqwIED7MaNGzx+Ig4j1GBBsvYTbzuHJWARaquQMxmvyDwIFnPlyhUeyGWacOzYMZ5OQFkEdAwMwRUV6QYAQAGAiIGgR0UsgZXB3fAMAz5y5AjnD3DgmuCPxQG8UJB2AFzdoqSC5gQWcjG4MHRxAk0A9o3crUDi+j11HGxiZdLvUTE4mbjCfGFxMpahwBIAEJTGM5m4gh5ujGsM3JoEAxCZ7Mr4ovazupC0avDCuPApdYL8OXPm8PFJsKybD3gOejzHhEt3JDm36XKelHaRBvEtDXKzCWBgBOvSJY9QyK5Y3Ujto+sHUJz4Wa1fKMiramUAAEDguRUsFLThOeglWIp1fbtu3bqf1OmpJgETaIbmuV0t07UANCgJ61QTWQmaU7ECCdCJ114CvvqD7R1yhVv08RUR/JDpL9+qlcntHC86iT2zswT4Vxs2bLj50X4YgVZDwv5AQr6HoEzbA7OzMlQsJm51Ag1oqf8/ic96dQPxI9gBGgXTW4TueeqQ0VvUEjS5qwEgfNuitrzOwD0rqdN3eEOn+n91CELtzocgYXFfskMIQsCSWngMo3fAVl3AdNoXUzfmrKW2ttbVTmRQcpNuYepxlBpInWj9WuWCkBsXMFWY3Bqxbu+qM68bnNrPFJBUy00YMHVAS5cujd3jWjezuMbeu2yT16aDVuVq9s9tr61tqfxCTbY6Syi7d+/mALgtoEUfL26hyvXDdVMW9FXzNwFNBcvKw8TKVLeyypX87dqtbpwSwFRTN7EuVREoYBpLdC5mBSQecG5W1qRYmBRqHahd0dF5GbROWWnhVhmyTQUt1V8IzPZTsBe3sJNrBUYHYBAxjL9LIoF0SghNrcUkcQ1Crm+Ja6JW5rV/UHITSiv8ckkT99DJtbphvGs/0xOjxNUPgaZJpJNca8xySnVSmbzmWmfaLt+xSyfi0bm1MOsYdPxMk+qkphVu8h2n9CJRt7ZzzXjjSWUO9lEepiavbmZTzZecXpDdpCKyv52l2rV7levLy3e8fMdNvuQl0/dD4VRZ2Qd5mNNek9sBia9hGuVhqZbr636Y036VmzTC635YKuX69vJtOrvJSDhTITdhwCgG+WrK+IMvlzsdgchNGDAK3L4eRuCxywUjELm+vUvGG2R4CBIegiQW9K2CTQ8jvAZ9efiiS1R1hy+JvpL58i7plwslmlbEA0D3qpTyYzbdK4bpNovXwwhVUS+HL6k+BMm2upj6Tuc0eN0rlB+HIKmQ64uF2bmHbvC6QXvdk1KP9kzlypf+QHYrnHY+nfbDVAW8zLTTIYjb+BbYMVsi2yyJ5lqZ8vsZ4SGI17QinkvGO7L3kp74efiSUgvTLcsAwsn9dM/9PgRx05bIgpPQq5Hu9SPZhxF2hy9u5QZxIJJtFw/ibVVbB++XWwQl1/UkY4u6uLi41a8AarJVrMqV75JuV2FrWpOqLepcayzx+7jMNIbp8ju3cSyleVi8vSaTwwgvIOsAsvsqVFrthzntV9ntRXmd6fAQxAf3zYhDkFR8r0pXgpLra1oRlhCwELAgSyyG7NixYyB9LKZaTnWCaD5PdT/VPatWrfoZDW7/vlLS+c03LSyMlMJf3H5N9c9UP6XaW9RPRdvXgsaoJItvoBYmLABKfaa011EttND+g+raaDT6sxvGkUhEx1fH24hvOljYYotS9VRLNbSfCVq3ZbEGLCZ41yfAN3DAypX7KBSiuBK1oS834K2lFbxLhSwvfAMHTAbiRgHWTaFYFipd5iv0Ewx4q7T5Cj8mZJQKmaZ80z6t8ON3ZTL7t2ksgJ0X11i9amgRGCJWuFZUxQqYQuumqLSNCj8mZNQImaZ8Awdsv7q4CdAiNvT7DXjvt0k1IgKsiEe+gQO2RyztsgwSCjFNWrHHgLeVryw1QoZXvsECJjLtKotyuhysSmblbooNX6bJwYz4pkXQpwHjZyzXUv0d1X+JuNUortG2VtAYlWTxDTTTN92Mc/vF282bNyeFb7hbEW7vhICFRSm58vSF8qOu9FEkVjH5OtQgdhdqKTg3ocHtvlWy+KaFhYktngr2fp8KinUStVC0VQgao5IsvoGuksICoNQnSvtDqj0stJep7otGo01uGEciER1fHW8jvulgYUUWpTDwag3tJ4LWbSnSgMUE76YE+AYOmJp5N0MhiivNNvSFBrwLbZLZZgFas0e+wQZ9JRC3CLAeCcUqRRzCr///XtDkG/BWab8kfk8V0B4RX4D2GxHT8jPJwuIVP368NfP+R5mDhTUoK9gKmvmdwgJ063yDAe8GxdXWET9pXZV03R2y2P9+z7UhkyysTrnPE6Dl2dDXGfCus0k18gRYeR75Bg5YrVjaZekqFGKatKLWgLeVrywrhAyvfIMFTGTaJyzK6XKwEzIrd7m1o+PLNDmYEd+0CPpiA28fe79PVSdWzBZxjbZ9Xjb5ksU30Ew//C3qcLciBCwELMMTV7m7YNwZ/7HPbXHD34RfulgYvuMwKIny/kJ1O9UONvcZB9gvRG60MUlKIGnFP11ra3OfkTEMQP1JAPfrMGq5D/pwzV1Uf6A6NoTK/SoJN/031W+o9gsBc1+w2XdNxLe2IWDuCr6biu9yvQoBcy7YTfiC6jjx0hwmrg7lr1Q3sPfHY2Gm7/DsKNXfUv0xhMkZsHphUX9PgrxSqjlUn9rcZxxgiE/VVJ8nSd6Pce7TvmRlym/eZGpaEQIWQmBW/ivAAEHJ6+6BIIcfAAAAAElFTkSuQmCC) -24px -100px no-repeat;height:15px;width:14px}div.dark_square .pp_arrow_previous{background:url(data:image/png;base64,iVBORw0KGgoAAAANSUhEUgAAAEwAAAB3CAYAAACpKqZFAAAAGXRFWHRTb2Z0d2FyZQBBZG9iZSBJbWFnZVJlYWR5ccllPAAADVVJREFUeNrsXWlsFMkVLh/cYO7DDGBARqzNfUUyp8GA1wmwII4fkdAiBfiBhJRoIwhCCKPkB5Z2SaT9RVgJbyTygxU/Ii0hiMsgruVQVmTBHObyMjJgcdhgbnDeV1RNiqa6p6unZ3pG6ZJK01396r16X7336nXVeJzV2trKwuK+5G7ZsoUNGzbM7vkIqmVUS6iOplrgk9xO4rMlFUrCKFDfvXvHXr16lf369esc1Ldv32a9efPmhSCrJ5r/EM0pqgc3btz4E7paeWVVVlZywJ4/fx5r7NChw2D6WEEMPqfOgyFI1kwrEigCBmAxAooRULF2qVN2djavWVlZqLep/o3oqzdt2nTjAwtTb7p06QLGpXT5BX3OA1MwyM3NjTHMNLAA1IsXLzhQ+LTqhGvVCkFPIBZQ+6a2bdtOqKqq+nL9+vVHJM8PEABY1GkrMedgtWnThlEnlpOTk7FgwXOePHnCnj17xqw6SbCEVXEd8Qw0KGSJv6Q+hFnVTMk3p7S0lPXs2RNEcMM/kpBZ6Cw7SeQzqcLN4HYvX75kLS0t3LJUnSRITgXgCX4RArfXrFmzTh06dOixajYr4IbcT3NzM3olg6IADNYFsFSdKD7z0GOXHXTu3JnTqH2I168ItBVqDBshAjwncptqgB6ziIHB/GHm7du35zOJe5R27drxdtVN4B7oh1nG4FBBAyWhICp4gw/4gU4Ga2kdGKfK2woW+KOCD2jQ3rFjRzZjxgze/8SJE9xVVUsDWFOmTOG0R48e5XrB0sCP6D7funXrdxKwMqyGJrMIJs3NzVyh6dOn808oeu3aNVZXV8cmTZrEn9+/f58PBIPA88ePH7OJEyey/Px8PthLly7xPt26dePu079/fzZ8+HAOYkNDA7t69SoHq7CwkIMtYw1WvLt373IQdBOJPnLSZEEfTBZCEIA5fvw4e/r0aWzBQxv0ePDgAaeVrgl+NP4CAr5MumQJGuP5tVoguFevXmzlypVcWSgNHkuWLGEPHz5kZWVlrKioKOYSGDzAWrNmDQezvr6eg7lw4UK2YMECFo1GOVDLli3jtABq5MiRbPDg9/M4d+5cDvSQIUPY0KFDuWxdmqOudnJFVK0blgVAAMzUqVP5ZErLkmCBRqYe0tvEZ4m0sNEQLlfCeC4J2kePHrHly5dzpaurq1nXrl25tdTW1sZ8X+Y/4AfrGT9+PLeI7du3s6amJj6LaC8vL+cAFBS8z4t37drF3fHMmTNs4MCBMVc8fPgwVwbWgEmCpVjHquaMOp0kaAAI/adNmxYLHRIsaZkSMIAuxjBaAlYgmauzYlfAsHfv3qxTp07s4MGDfPA9evTgfQGCDJpqQTzp168fv4YrwXLQdv36dd4GV4SVFhcXs23btrFbt26xixcvsgsXLnALQJk5cyYbO3YsnxBMzL179xyTVatOEgC4K4BBKMHYUWD9EizVstSJIB6Dcq1AuCnSv2Uswz2UlwPFgOTA5TO1D67VPjJWnDx5kveFK48YMYKDmpeXx06dOsVpANDNmze5NcDCQWudXDmeeDqBTnVpXCN8xMNAxrDbJokpZhgDRkEcgHshbsE9YV3yNQtgIKjiOQZy584d3h6JRDhtY2Nj7D0WVofrc+fOsZ07d7LVq1fz9u7du8dc8vLlyzxQnz17lvfXjVkmoXJxsBs/8k94hVyVcY02u5RKWGq9TFyn0c1Ik3dFKAGfHzduHBs1ahQHCZYxf/58tnfvXlZRURFb4vv27ctjUU1NDZs8eTIbM2YMBxBBfvbs2RwIPFu0aBErKSnh2TbGBWBPnz7NAUc/jA/xa8CAAfwTbqQmo6o7Sguy6iTB6tOnDwfqwIED7MaNGzx+Ig4j1GBBsvYTbzuHJWARaquQMxmvyDwIFnPlyhUeyGWacOzYMZ5OQFkEdAwMwRUV6QYAQAGAiIGgR0UsgZXB3fAMAz5y5AjnD3DgmuCPxQG8UJB2AFzdoqSC5gQWcjG4MHRxAk0A9o3crUDi+j11HGxiZdLvUTE4mbjCfGFxMpahwBIAEJTGM5m4gh5ujGsM3JoEAxCZ7Mr4ovazupC0avDCuPApdYL8OXPm8PFJsKybD3gOejzHhEt3JDm36XKelHaRBvEtDXKzCWBgBOvSJY9QyK5Y3Ujto+sHUJz4Wa1fKMiramUAAEDguRUsFLThOeglWIp1fbtu3bqf1OmpJgETaIbmuV0t07UANCgJ61QTWQmaU7ECCdCJ114CvvqD7R1yhVv08RUR/JDpL9+qlcntHC86iT2zswT4Vxs2bLj50X4YgVZDwv5AQr6HoEzbA7OzMlQsJm51Ag1oqf8/ic96dQPxI9gBGgXTW4TueeqQ0VvUEjS5qwEgfNuitrzOwD0rqdN3eEOn+n91CELtzocgYXFfskMIQsCSWngMo3fAVl3AdNoXUzfmrKW2ttbVTmRQcpNuYepxlBpInWj9WuWCkBsXMFWY3Bqxbu+qM68bnNrPFJBUy00YMHVAS5cujd3jWjezuMbeu2yT16aDVuVq9s9tr61tqfxCTbY6Syi7d+/mALgtoEUfL26hyvXDdVMW9FXzNwFNBcvKw8TKVLeyypX87dqtbpwSwFRTN7EuVREoYBpLdC5mBSQecG5W1qRYmBRqHahd0dF5GbROWWnhVhmyTQUt1V8IzPZTsBe3sJNrBUYHYBAxjL9LIoF0SghNrcUkcQ1Crm+Ja6JW5rV/UHITSiv8ckkT99DJtbphvGs/0xOjxNUPgaZJpJNca8xySnVSmbzmWmfaLt+xSyfi0bm1MOsYdPxMk+qkphVu8h2n9CJRt7ZzzXjjSWUO9lEepiavbmZTzZecXpDdpCKyv52l2rV7levLy3e8fMdNvuQl0/dD4VRZ2Qd5mNNek9sBia9hGuVhqZbr636Y036VmzTC635YKuX69vJtOrvJSDhTITdhwCgG+WrK+IMvlzsdgchNGDAK3L4eRuCxywUjELm+vUvGG2R4CBIegiQW9K2CTQ8jvAZ9efiiS1R1hy+JvpL58i7plwslmlbEA0D3qpTyYzbdK4bpNovXwwhVUS+HL6k+BMm2upj6Tuc0eN0rlB+HIKmQ64uF2bmHbvC6QXvdk1KP9kzlypf+QHYrnHY+nfbDVAW8zLTTIYjb+BbYMVsi2yyJ5lqZ8vsZ4SGI17QinkvGO7L3kp74efiSUgvTLcsAwsn9dM/9PgRx05bIgpPQq5Hu9SPZhxF2hy9u5QZxIJJtFw/ibVVbB++XWwQl1/UkY4u6uLi41a8AarJVrMqV75JuV2FrWpOqLepcayzx+7jMNIbp8ju3cSyleVi8vSaTwwgvIOsAsvsqVFrthzntV9ntRXmd6fAQxAf3zYhDkFR8r0pXgpLra1oRlhCwELAgSyyG7NixYyB9LKZaTnWCaD5PdT/VPatWrfoZDW7/vlLS+c03LSyMlMJf3H5N9c9UP6XaW9RPRdvXgsaoJItvoBYmLABKfaa011EttND+g+raaDT6sxvGkUhEx1fH24hvOljYYotS9VRLNbSfCVq3ZbEGLCZ41yfAN3DAypX7KBSiuBK1oS834K2lFbxLhSwvfAMHTAbiRgHWTaFYFipd5iv0Ewx4q7T5Cj8mZJQKmaZ80z6t8ON3ZTL7t2ksgJ0X11i9amgRGCJWuFZUxQqYQuumqLSNCj8mZNQImaZ8Awdsv7q4CdAiNvT7DXjvt0k1IgKsiEe+gQO2RyztsgwSCjFNWrHHgLeVryw1QoZXvsECJjLtKotyuhysSmblbooNX6bJwYz4pkXQpwHjZyzXUv0d1X+JuNUortG2VtAYlWTxDTTTN92Mc/vF282bNyeFb7hbEW7vhICFRSm58vSF8qOu9FEkVjH5OtQgdhdqKTg3ocHtvlWy+KaFhYktngr2fp8KinUStVC0VQgao5IsvoGuksICoNQnSvtDqj0stJep7otGo01uGEciER1fHW8jvulgYUUWpTDwag3tJ4LWbSnSgMUE76YE+AYOmJp5N0MhiivNNvSFBrwLbZLZZgFas0e+wQZ9JRC3CLAeCcUqRRzCr///XtDkG/BWab8kfk8V0B4RX4D2GxHT8jPJwuIVP368NfP+R5mDhTUoK9gKmvmdwgJ063yDAe8GxdXWET9pXZV03R2y2P9+z7UhkyysTrnPE6Dl2dDXGfCus0k18gRYeR75Bg5YrVjaZekqFGKatKLWgLeVrywrhAyvfIMFTGTaJyzK6XKwEzIrd7m1o+PLNDmYEd+0CPpiA28fe79PVSdWzBZxjbZ9Xjb5ksU30Ew//C3qcLciBCwELMMTV7m7YNwZ/7HPbXHD34RfulgYvuMwKIny/kJ1O9UONvcZB9gvRG60MUlKIGnFP11ra3OfkTEMQP1JAPfrMGq5D/pwzV1Uf6A6NoTK/SoJN/031W+o9gsBc1+w2XdNxLe2IWDuCr6biu9yvQoBcy7YTfiC6jjx0hwmrg7lr1Q3sPfHY2Gm7/DsKNXfUv0xhMkZsHphUX9PgrxSqjlUn9rcZxxgiE/VVJ8nSd6Pce7TvmRlym/eZGpaEQIWQmBW/ivAAEHJ6+6BIIcfAAAAAElFTkSuQmCC) 0 -71px no-repeat}div.dark_square .pp_arrow_next{background:url(data:image/png;base64,iVBORw0KGgoAAAANSUhEUgAAAEwAAAB3CAYAAACpKqZFAAAAGXRFWHRTb2Z0d2FyZQBBZG9iZSBJbWFnZVJlYWR5ccllPAAADVVJREFUeNrsXWlsFMkVLh/cYO7DDGBARqzNfUUyp8GA1wmwII4fkdAiBfiBhJRoIwhCCKPkB5Z2SaT9RVgJbyTygxU/Ii0hiMsgruVQVmTBHObyMjJgcdhgbnDeV1RNiqa6p6unZ3pG6ZJK01396r16X7336nXVeJzV2trKwuK+5G7ZsoUNGzbM7vkIqmVUS6iOplrgk9xO4rMlFUrCKFDfvXvHXr16lf369esc1Ldv32a9efPmhSCrJ5r/EM0pqgc3btz4E7paeWVVVlZywJ4/fx5r7NChw2D6WEEMPqfOgyFI1kwrEigCBmAxAooRULF2qVN2djavWVlZqLep/o3oqzdt2nTjAwtTb7p06QLGpXT5BX3OA1MwyM3NjTHMNLAA1IsXLzhQ+LTqhGvVCkFPIBZQ+6a2bdtOqKqq+nL9+vVHJM8PEABY1GkrMedgtWnThlEnlpOTk7FgwXOePHnCnj17xqw6SbCEVXEd8Qw0KGSJv6Q+hFnVTMk3p7S0lPXs2RNEcMM/kpBZ6Cw7SeQzqcLN4HYvX75kLS0t3LJUnSRITgXgCX4RArfXrFmzTh06dOixajYr4IbcT3NzM3olg6IADNYFsFSdKD7z0GOXHXTu3JnTqH2I168ItBVqDBshAjwncptqgB6ziIHB/GHm7du35zOJe5R27drxdtVN4B7oh1nG4FBBAyWhICp4gw/4gU4Ga2kdGKfK2woW+KOCD2jQ3rFjRzZjxgze/8SJE9xVVUsDWFOmTOG0R48e5XrB0sCP6D7funXrdxKwMqyGJrMIJs3NzVyh6dOn808oeu3aNVZXV8cmTZrEn9+/f58PBIPA88ePH7OJEyey/Px8PthLly7xPt26dePu079/fzZ8+HAOYkNDA7t69SoHq7CwkIMtYw1WvLt373IQdBOJPnLSZEEfTBZCEIA5fvw4e/r0aWzBQxv0ePDgAaeVrgl+NP4CAr5MumQJGuP5tVoguFevXmzlypVcWSgNHkuWLGEPHz5kZWVlrKioKOYSGDzAWrNmDQezvr6eg7lw4UK2YMECFo1GOVDLli3jtABq5MiRbPDg9/M4d+5cDvSQIUPY0KFDuWxdmqOudnJFVK0blgVAAMzUqVP5ZErLkmCBRqYe0tvEZ4m0sNEQLlfCeC4J2kePHrHly5dzpaurq1nXrl25tdTW1sZ8X+Y/4AfrGT9+PLeI7du3s6amJj6LaC8vL+cAFBS8z4t37drF3fHMmTNs4MCBMVc8fPgwVwbWgEmCpVjHquaMOp0kaAAI/adNmxYLHRIsaZkSMIAuxjBaAlYgmauzYlfAsHfv3qxTp07s4MGDfPA9evTgfQGCDJpqQTzp168fv4YrwXLQdv36dd4GV4SVFhcXs23btrFbt26xixcvsgsXLnALQJk5cyYbO3YsnxBMzL179xyTVatOEgC4K4BBKMHYUWD9EizVstSJIB6Dcq1AuCnSv2Uswz2UlwPFgOTA5TO1D67VPjJWnDx5kveFK48YMYKDmpeXx06dOsVpANDNmze5NcDCQWudXDmeeDqBTnVpXCN8xMNAxrDbJokpZhgDRkEcgHshbsE9YV3yNQtgIKjiOQZy584d3h6JRDhtY2Nj7D0WVofrc+fOsZ07d7LVq1fz9u7du8dc8vLlyzxQnz17lvfXjVkmoXJxsBs/8k94hVyVcY02u5RKWGq9TFyn0c1Ik3dFKAGfHzduHBs1ahQHCZYxf/58tnfvXlZRURFb4vv27ctjUU1NDZs8eTIbM2YMBxBBfvbs2RwIPFu0aBErKSnh2TbGBWBPnz7NAUc/jA/xa8CAAfwTbqQmo6o7Sguy6iTB6tOnDwfqwIED7MaNGzx+Ig4j1GBBsvYTbzuHJWARaquQMxmvyDwIFnPlyhUeyGWacOzYMZ5OQFkEdAwMwRUV6QYAQAGAiIGgR0UsgZXB3fAMAz5y5AjnD3DgmuCPxQG8UJB2AFzdoqSC5gQWcjG4MHRxAk0A9o3crUDi+j11HGxiZdLvUTE4mbjCfGFxMpahwBIAEJTGM5m4gh5ujGsM3JoEAxCZ7Mr4ovazupC0avDCuPApdYL8OXPm8PFJsKybD3gOejzHhEt3JDm36XKelHaRBvEtDXKzCWBgBOvSJY9QyK5Y3Ujto+sHUJz4Wa1fKMiramUAAEDguRUsFLThOeglWIp1fbtu3bqf1OmpJgETaIbmuV0t07UANCgJ61QTWQmaU7ECCdCJ114CvvqD7R1yhVv08RUR/JDpL9+qlcntHC86iT2zswT4Vxs2bLj50X4YgVZDwv5AQr6HoEzbA7OzMlQsJm51Ag1oqf8/ic96dQPxI9gBGgXTW4TueeqQ0VvUEjS5qwEgfNuitrzOwD0rqdN3eEOn+n91CELtzocgYXFfskMIQsCSWngMo3fAVl3AdNoXUzfmrKW2ttbVTmRQcpNuYepxlBpInWj9WuWCkBsXMFWY3Bqxbu+qM68bnNrPFJBUy00YMHVAS5cujd3jWjezuMbeu2yT16aDVuVq9s9tr61tqfxCTbY6Syi7d+/mALgtoEUfL26hyvXDdVMW9FXzNwFNBcvKw8TKVLeyypX87dqtbpwSwFRTN7EuVREoYBpLdC5mBSQecG5W1qRYmBRqHahd0dF5GbROWWnhVhmyTQUt1V8IzPZTsBe3sJNrBUYHYBAxjL9LIoF0SghNrcUkcQ1Crm+Ja6JW5rV/UHITSiv8ckkT99DJtbphvGs/0xOjxNUPgaZJpJNca8xySnVSmbzmWmfaLt+xSyfi0bm1MOsYdPxMk+qkphVu8h2n9CJRt7ZzzXjjSWUO9lEepiavbmZTzZecXpDdpCKyv52l2rV7levLy3e8fMdNvuQl0/dD4VRZ2Qd5mNNek9sBia9hGuVhqZbr636Y036VmzTC635YKuX69vJtOrvJSDhTITdhwCgG+WrK+IMvlzsdgchNGDAK3L4eRuCxywUjELm+vUvGG2R4CBIegiQW9K2CTQ8jvAZ9efiiS1R1hy+JvpL58i7plwslmlbEA0D3qpTyYzbdK4bpNovXwwhVUS+HL6k+BMm2upj6Tuc0eN0rlB+HIKmQ64uF2bmHbvC6QXvdk1KP9kzlypf+QHYrnHY+nfbDVAW8zLTTIYjb+BbYMVsi2yyJ5lqZ8vsZ4SGI17QinkvGO7L3kp74efiSUgvTLcsAwsn9dM/9PgRx05bIgpPQq5Hu9SPZhxF2hy9u5QZxIJJtFw/ibVVbB++XWwQl1/UkY4u6uLi41a8AarJVrMqV75JuV2FrWpOqLepcayzx+7jMNIbp8ju3cSyleVi8vSaTwwgvIOsAsvsqVFrthzntV9ntRXmd6fAQxAf3zYhDkFR8r0pXgpLra1oRlhCwELAgSyyG7NixYyB9LKZaTnWCaD5PdT/VPatWrfoZDW7/vlLS+c03LSyMlMJf3H5N9c9UP6XaW9RPRdvXgsaoJItvoBYmLABKfaa011EttND+g+raaDT6sxvGkUhEx1fH24hvOljYYotS9VRLNbSfCVq3ZbEGLCZ41yfAN3DAypX7KBSiuBK1oS834K2lFbxLhSwvfAMHTAbiRgHWTaFYFipd5iv0Ewx4q7T5Cj8mZJQKmaZ80z6t8ON3ZTL7t2ksgJ0X11i9amgRGCJWuFZUxQqYQuumqLSNCj8mZNQImaZ8Awdsv7q4CdAiNvT7DXjvt0k1IgKsiEe+gQO2RyztsgwSCjFNWrHHgLeVryw1QoZXvsECJjLtKotyuhysSmblbooNX6bJwYz4pkXQpwHjZyzXUv0d1X+JuNUortG2VtAYlWTxDTTTN92Mc/vF282bNyeFb7hbEW7vhICFRSm58vSF8qOu9FEkVjH5OtQgdhdqKTg3ocHtvlWy+KaFhYktngr2fp8KinUStVC0VQgao5IsvoGuksICoNQnSvtDqj0stJep7otGo01uGEciER1fHW8jvulgYUUWpTDwag3tJ4LWbSnSgMUE76YE+AYOmJp5N0MhiivNNvSFBrwLbZLZZgFas0e+wQZ9JRC3CLAeCcUqRRzCr///XtDkG/BWab8kfk8V0B4RX4D2GxHT8jPJwuIVP368NfP+R5mDhTUoK9gKmvmdwgJ063yDAe8GxdXWET9pXZV03R2y2P9+z7UhkyysTrnPE6Dl2dDXGfCus0k18gRYeR75Bg5YrVjaZekqFGKatKLWgLeVrywrhAyvfIMFTGTaJyzK6XKwEzIrd7m1o+PLNDmYEd+0CPpiA28fe79PVSdWzBZxjbZ9Xjb5ksU30Ew//C3qcLciBCwELMMTV7m7YNwZ/7HPbXHD34RfulgYvuMwKIny/kJ1O9UONvcZB9gvRG60MUlKIGnFP11ra3OfkTEMQP1JAPfrMGq5D/pwzV1Uf6A6NoTK/SoJN/031W+o9gsBc1+w2XdNxLe2IWDuCr6biu9yvQoBcy7YTfiC6jjx0hwmrg7lr1Q3sPfHY2Gm7/DsKNXfUv0xhMkZsHphUX9PgrxSqjlUn9rcZxxgiE/VVJ8nSd6Pce7TvmRlym/eZGpaEQIWQmBW/ivAAEHJ6+6BIIcfAAAAAElFTkSuQmCC) -22px -71px no-repeat}div.dark_square .pp_next:hover{background:url(data:image/png;base64,iVBORw0KGgoAAAANSUhEUgAAAD0AAAAWCAYAAABzCZQcAAAAGXRFWHRTb2Z0d2FyZQBBZG9iZSBJbWFnZVJlYWR5ccllPAAABSVJREFUeNrMmMlLZEkQxqO03FcUFA+DCypoqQcRmlZccANRUTw4oIfpg3cv42UYET3YgtBHz/MHiApzcFxmxIMgOhe9KG6HHnBXxH2rqokvqCiyX1eVZV+qEpL3Kl9mvvxFfBGZr2xut5tsNhuNj4+Tj+Lg5418/ch9SvmajUZu+xoXF1cQFRXlio2NddrtdhfmCEFJ8Fzv3jPIrjcPDw/eRgbK4csnl8v1C9ccGIavUlEiIiKKXl9fxVgMTNHR0RQTE0ORkZEUYvj3QaMkJiaS0+msY8hf+dqqKgAYg3qB0I4K8JeXF1IDYDwbLFTgPwbtAR5jiA/4zfIVWLMoEK7wMLwP6NvbW4wXY8THx4c1uN2UNDwMYPWuetUEwG+rEdAX4AgR7Qu5hyu46cZPkLRYwiNnVEByshLp+ioAQz81EsBRoQCrgcLK05y5HZ6kJcnIXCxitKamRuBWVlZExmYxlQB4SBzQ8DSqNTzw/OnpSa4IH1TcQylq6OfnZ2nzeobbsC6sD8bFGBTMg3H+FIjwQ7Wuwe4Z0IgsbYVBwQLu7+8pPT2dqqqqBPzm5uabBRlZ3RvjWBAWh5ebModBMjIyRD2Xl5dScZ+Xl0fHx8d0cnJCZWVlMl6TJ+Y5ODig/Px8eY4xeAd+4xn6an5RJ6D94uJC3odnvuT90fSYuUXB4gDFBFgcwE2p4+X6MjWUZnY1hlkeHx+pqKiIWlpaqLe3l+7u7qRfQ0ODGBZAjY2NVFdXR7m5uWKMnJwcOjw8pMLCQurp6ZE+aWlp1NbWJgpISUmRvhUVFdTa2krFxcUyBuv0tQa7RwqleKgysEoFAAAHMBZWXV1Ns7Oz3/VVw8FQqGo4U15WY1RWVtLq6qrcY/uDslD29/dpYmJCgJKTkyk1NZWmpqaov7+fOjs7KTMzk87OzmhtbU12i+vrayopKaGuri7ph/dgHMLTyqOrydaFmN5Sj6vnAH51dSWx2tzcLG3az5zY9HygZDY/Py/5AvNZCzwMwL6+PqqvrxeJwpBzc3Mif0BPT0+LMeAIVI31hIQEUQI8DSUE3Kc1KfjNepxETC+pV3wVwELKmhzNMWqIyclJUU93d7fXWPA2ChLm9va2GATzYG2APj8/986FkAMY5kRc69q0r78tM0LP0tYM5wsYcQYLYhEzMzP+90Hj9BaoQJaLi4uUlZX13bPT01NaXl6m9fV12t3dFSAkVEh7b29PjNLR0SHKMzP9e/bpzUDQCoysC+CFhYXAk3qgrZlbtxJtS0pKos3NTUlm5taEAvnW1tZKciovLxcPt7e3i3QRswgNJCyHw+E9FCnDmw70yGqVB/0cLLC5Zfk7sPgCRsEOgAQE7wEacQgAZHTMj7adnR2RKNowBwyxtbUlz5aWliQEMH5jY4MKCgro6OhIlIDxaH8L2ob4Gh0dLeWJ/+QXZVtTPCzb1NQkEwUDjH761aWHDxNej6t4DzIrgPAbIBhn/jYNj3kwFvcYh/H6ZajzaOzrwchfiNk824xtbGxshO9/N19mggPmLWD9SNGTEO5D+Ln5Zky72Wp/MNisnqHNgpgLBlg9gitgg01oIfvgGB4ePuDU/4UX+q8v8GCBAavQYf+VNTIy4h4cHPyH97vfGPwvX9/S/mJYJW2Ch6uXrZ+WAHcNDQ39zZt+PyeKzwzxVeVqGkA/Ja3xq+Dh7GUzkX3zx+DAwAAII/laxttEA4N8YBAH9/vJc5j5jwHzuc2JPwfxxyBXdwg8/EN/DP4vwADzqyH4OmxBwwAAAABJRU5ErkJggg==) center right no-repeat;cursor:pointer}div.dark_square .pp_previous:hover{background:url(data:image/png;base64,iVBORw0KGgoAAAANSUhEUgAAAD0AAAAWCAYAAABzCZQcAAAAGXRFWHRTb2Z0d2FyZQBBZG9iZSBJbWFnZVJlYWR5ccllPAAABURJREFUeNrUWElLLFcUPj04j4gTiIqioLgQRAhOKE4YtwpZZJN/IARciQtXgsrDRVAUxUhw2ATcBSIJcSQoAU2MUdQ4NCpOOM9D534nfZpr5/Zrk8Cj34FL3aq6dep85zvDrbIPDQ1d0X+XMNfxmj6QPD4+Wu/v720PDw/Wp6cn6/PzsxXXX15e/lCHX9XxZ3Xth6ampiV17jTpsPT19TnpIxAFhhRYuru7IwWWnE4nX8OAWK1WHhaLBWNbXfrm9vb265aWlj89wVtGR0f9HjTAXlxc0NXVFYMFMLvdLgB5jThBsexeo5zwnYqId83NzT/Cb6LP+jEAPj09pcvLSz4PCAigwMBAndW/2VNHm83G97AGwJUDPlXzVsV2hY4VOUH+OhRLdH5+Tjc3N6/Y1QXgTOcAjrWK/fygoKAvGxsbMwS4XzN9fX3NAwLAwq5JwsPDKTg4mEFLfuMZlyNqoqOjv1BTG4LC7ukpCLyMsJKCgRdJ2AgDOEL0kMI1FBq5JwUGa6BH1mIO/Tji3MQg3g3AyFM8pzPpuRaAi4qK+N7ExATrlrV4P+xROj5XbH/b3t6+YDd5TVU9io+Pf+W5vb09zq2QkBBKS0tjowTU6uoqGw/lWVlZ/FJhBYDW19cpMzOTdcBheBb6IyMjaXNz082IZy6r9iQF6RUIqdiQiIgIBgxbT05OWL+JSHUtRa1Fbv9mBA22srOzGcDy8jLFxcVRTU0N9ff3szHV1dV0eHjIL0lJSeF7AwMD5HA4qLKykhnCXFiem5ujiooKmp2dpfn5edZRV1fH71pcXGSDPUU3Xj8CsDhBGBbAMzMz7uqtPwfHYa6c+wmC04oTzwEmxJu9vb3U1tbG84KCAm4bkMnJSerp6eH7kMTERHYWZGNjgzo7O9lJw8PDzNj29jbl5ubS8fExp0JsbCwtLCzwXAw02SAG60OkpKTkFWBJR9NaV5rkIDjtvooJPJ6cnMxzKJf8iomJoaSkJCouLubz3d1dd5imp6dTQ0MDnwPk1NQUM1xfX08JCQmUkZHB6xBFYWFhxveCMT2fdQAAV1tbS6oq09nZ2T8Am6q5y4HJDFqS3ltodXV18fHo6IiNDw0N5fPy8nIeEg1wiAiiYWVlhY0C+5LXEOQ2GEd6wGDoM9mgbTt97tRkl/ZGsfhsWa2tre4wRigJmyMjI9Td3c1z5BUMl6oNQKiiYHdtbY2fw72trS0qLCzkVEBog2VvLUgvYCYZGxtjsIi4srIyYzHUBboUkQ6vfVrf6UjbkGou4QaGdnZ2aHp6mnJycji/sImAIIRLS0spPz+f8vLyOHIAEAUN1RaytLTEncCb4D3vAw0ZHx9n4LDNF3BX61pGxBu1AhzCGSxFRUW5t31iCK4DCKo68gmsoYqnpqZy+0Koo/ojd9He4DTo3N/f57DHeoQt9HoTU+/2FGxN3wocupTNc8gI41cW8gO9GsaCDTFONhUYUC5hC4ZdLYHB6PmF6gyWcYSjsBaOQ6RI5TYJdAAU3qX3ZZMgeqqqqngdnCC7OI8NkkNF5mcqJc2bExgvYejpLQDV+6rsst4iKGwYbxHRq7dPX4xjnSdg0aXIGFGAf0djsJOfChwMB8lmw1d1lq8wE4FKvld7h2EEkF+DFoYAXJj+F21Jrwu/qBrz1eDg4AY6IHLar0HLh47kpbRFX+EuRRcMA3BHR8dPLsDoqU6/Bq0Dl74tX3jv+12kxIEcRkhrDD/K3xO7qs7/56feB/sxKCAV2/xjUIW6TYG3qOtW17Z1FX1Y3Zs7ODiYcBWtJ41hd3j8JcAAJ3IhvjEWLJYAAAAASUVORK5CYII=) center left no-repeat;cursor:pointer}div.light_square .pp_expand{background:url(data:image/png;base64,iVBORw0KGgoAAAANSUhEUgAAAEwAAAB3CAYAAACpKqZFAAAAGXRFWHRTb2Z0d2FyZQBBZG9iZSBJbWFnZVJlYWR5ccllPAAADVVJREFUeNrsXWlsFMkVLh/cYO7DDGBARqzNfUUyp8GA1wmwII4fkdAiBfiBhJRoIwhCCKPkB5Z2SaT9RVgJbyTygxU/Ii0hiMsgruVQVmTBHObyMjJgcdhgbnDeV1RNiqa6p6unZ3pG6ZJK01396r16X7336nXVeJzV2trKwuK+5G7ZsoUNGzbM7vkIqmVUS6iOplrgk9xO4rMlFUrCKFDfvXvHXr16lf369esc1Ldv32a9efPmhSCrJ5r/EM0pqgc3btz4E7paeWVVVlZywJ4/fx5r7NChw2D6WEEMPqfOgyFI1kwrEigCBmAxAooRULF2qVN2djavWVlZqLep/o3oqzdt2nTjAwtTb7p06QLGpXT5BX3OA1MwyM3NjTHMNLAA1IsXLzhQ+LTqhGvVCkFPIBZQ+6a2bdtOqKqq+nL9+vVHJM8PEABY1GkrMedgtWnThlEnlpOTk7FgwXOePHnCnj17xqw6SbCEVXEd8Qw0KGSJv6Q+hFnVTMk3p7S0lPXs2RNEcMM/kpBZ6Cw7SeQzqcLN4HYvX75kLS0t3LJUnSRITgXgCX4RArfXrFmzTh06dOixajYr4IbcT3NzM3olg6IADNYFsFSdKD7z0GOXHXTu3JnTqH2I168ItBVqDBshAjwncptqgB6ziIHB/GHm7du35zOJe5R27drxdtVN4B7oh1nG4FBBAyWhICp4gw/4gU4Ga2kdGKfK2woW+KOCD2jQ3rFjRzZjxgze/8SJE9xVVUsDWFOmTOG0R48e5XrB0sCP6D7funXrdxKwMqyGJrMIJs3NzVyh6dOn808oeu3aNVZXV8cmTZrEn9+/f58PBIPA88ePH7OJEyey/Px8PthLly7xPt26dePu079/fzZ8+HAOYkNDA7t69SoHq7CwkIMtYw1WvLt373IQdBOJPnLSZEEfTBZCEIA5fvw4e/r0aWzBQxv0ePDgAaeVrgl+NP4CAr5MumQJGuP5tVoguFevXmzlypVcWSgNHkuWLGEPHz5kZWVlrKioKOYSGDzAWrNmDQezvr6eg7lw4UK2YMECFo1GOVDLli3jtABq5MiRbPDg9/M4d+5cDvSQIUPY0KFDuWxdmqOudnJFVK0blgVAAMzUqVP5ZErLkmCBRqYe0tvEZ4m0sNEQLlfCeC4J2kePHrHly5dzpaurq1nXrl25tdTW1sZ8X+Y/4AfrGT9+PLeI7du3s6amJj6LaC8vL+cAFBS8z4t37drF3fHMmTNs4MCBMVc8fPgwVwbWgEmCpVjHquaMOp0kaAAI/adNmxYLHRIsaZkSMIAuxjBaAlYgmauzYlfAsHfv3qxTp07s4MGDfPA9evTgfQGCDJpqQTzp168fv4YrwXLQdv36dd4GV4SVFhcXs23btrFbt26xixcvsgsXLnALQJk5cyYbO3YsnxBMzL179xyTVatOEgC4K4BBKMHYUWD9EizVstSJIB6Dcq1AuCnSv2Uswz2UlwPFgOTA5TO1D67VPjJWnDx5kveFK48YMYKDmpeXx06dOsVpANDNmze5NcDCQWudXDmeeDqBTnVpXCN8xMNAxrDbJokpZhgDRkEcgHshbsE9YV3yNQtgIKjiOQZy584d3h6JRDhtY2Nj7D0WVofrc+fOsZ07d7LVq1fz9u7du8dc8vLlyzxQnz17lvfXjVkmoXJxsBs/8k94hVyVcY02u5RKWGq9TFyn0c1Ik3dFKAGfHzduHBs1ahQHCZYxf/58tnfvXlZRURFb4vv27ctjUU1NDZs8eTIbM2YMBxBBfvbs2RwIPFu0aBErKSnh2TbGBWBPnz7NAUc/jA/xa8CAAfwTbqQmo6o7Sguy6iTB6tOnDwfqwIED7MaNGzx+Ig4j1GBBsvYTbzuHJWARaquQMxmvyDwIFnPlyhUeyGWacOzYMZ5OQFkEdAwMwRUV6QYAQAGAiIGgR0UsgZXB3fAMAz5y5AjnD3DgmuCPxQG8UJB2AFzdoqSC5gQWcjG4MHRxAk0A9o3crUDi+j11HGxiZdLvUTE4mbjCfGFxMpahwBIAEJTGM5m4gh5ujGsM3JoEAxCZ7Mr4ovazupC0avDCuPApdYL8OXPm8PFJsKybD3gOejzHhEt3JDm36XKelHaRBvEtDXKzCWBgBOvSJY9QyK5Y3Ujto+sHUJz4Wa1fKMiramUAAEDguRUsFLThOeglWIp1fbtu3bqf1OmpJgETaIbmuV0t07UANCgJ61QTWQmaU7ECCdCJ114CvvqD7R1yhVv08RUR/JDpL9+qlcntHC86iT2zswT4Vxs2bLj50X4YgVZDwv5AQr6HoEzbA7OzMlQsJm51Ag1oqf8/ic96dQPxI9gBGgXTW4TueeqQ0VvUEjS5qwEgfNuitrzOwD0rqdN3eEOn+n91CELtzocgYXFfskMIQsCSWngMo3fAVl3AdNoXUzfmrKW2ttbVTmRQcpNuYepxlBpInWj9WuWCkBsXMFWY3Bqxbu+qM68bnNrPFJBUy00YMHVAS5cujd3jWjezuMbeu2yT16aDVuVq9s9tr61tqfxCTbY6Syi7d+/mALgtoEUfL26hyvXDdVMW9FXzNwFNBcvKw8TKVLeyypX87dqtbpwSwFRTN7EuVREoYBpLdC5mBSQecG5W1qRYmBRqHahd0dF5GbROWWnhVhmyTQUt1V8IzPZTsBe3sJNrBUYHYBAxjL9LIoF0SghNrcUkcQ1Crm+Ja6JW5rV/UHITSiv8ckkT99DJtbphvGs/0xOjxNUPgaZJpJNca8xySnVSmbzmWmfaLt+xSyfi0bm1MOsYdPxMk+qkphVu8h2n9CJRt7ZzzXjjSWUO9lEepiavbmZTzZecXpDdpCKyv52l2rV7levLy3e8fMdNvuQl0/dD4VRZ2Qd5mNNek9sBia9hGuVhqZbr636Y036VmzTC635YKuX69vJtOrvJSDhTITdhwCgG+WrK+IMvlzsdgchNGDAK3L4eRuCxywUjELm+vUvGG2R4CBIegiQW9K2CTQ8jvAZ9efiiS1R1hy+JvpL58i7plwslmlbEA0D3qpTyYzbdK4bpNovXwwhVUS+HL6k+BMm2upj6Tuc0eN0rlB+HIKmQ64uF2bmHbvC6QXvdk1KP9kzlypf+QHYrnHY+nfbDVAW8zLTTIYjb+BbYMVsi2yyJ5lqZ8vsZ4SGI17QinkvGO7L3kp74efiSUgvTLcsAwsn9dM/9PgRx05bIgpPQq5Hu9SPZhxF2hy9u5QZxIJJtFw/ibVVbB++XWwQl1/UkY4u6uLi41a8AarJVrMqV75JuV2FrWpOqLepcayzx+7jMNIbp8ju3cSyleVi8vSaTwwgvIOsAsvsqVFrthzntV9ntRXmd6fAQxAf3zYhDkFR8r0pXgpLra1oRlhCwELAgSyyG7NixYyB9LKZaTnWCaD5PdT/VPatWrfoZDW7/vlLS+c03LSyMlMJf3H5N9c9UP6XaW9RPRdvXgsaoJItvoBYmLABKfaa011EttND+g+raaDT6sxvGkUhEx1fH24hvOljYYotS9VRLNbSfCVq3ZbEGLCZ41yfAN3DAypX7KBSiuBK1oS834K2lFbxLhSwvfAMHTAbiRgHWTaFYFipd5iv0Ewx4q7T5Cj8mZJQKmaZ80z6t8ON3ZTL7t2ksgJ0X11i9amgRGCJWuFZUxQqYQuumqLSNCj8mZNQImaZ8Awdsv7q4CdAiNvT7DXjvt0k1IgKsiEe+gQO2RyztsgwSCjFNWrHHgLeVryw1QoZXvsECJjLtKotyuhysSmblbooNX6bJwYz4pkXQpwHjZyzXUv0d1X+JuNUortG2VtAYlWTxDTTTN92Mc/vF282bNyeFb7hbEW7vhICFRSm58vSF8qOu9FEkVjH5OtQgdhdqKTg3ocHtvlWy+KaFhYktngr2fp8KinUStVC0VQgao5IsvoGuksICoNQnSvtDqj0stJep7otGo01uGEciER1fHW8jvulgYUUWpTDwag3tJ4LWbSnSgMUE76YE+AYOmJp5N0MhiivNNvSFBrwLbZLZZgFas0e+wQZ9JRC3CLAeCcUqRRzCr///XtDkG/BWab8kfk8V0B4RX4D2GxHT8jPJwuIVP368NfP+R5mDhTUoK9gKmvmdwgJ063yDAe8GxdXWET9pXZV03R2y2P9+z7UhkyysTrnPE6Dl2dDXGfCus0k18gRYeR75Bg5YrVjaZekqFGKatKLWgLeVrywrhAyvfIMFTGTaJyzK6XKwEzIrd7m1o+PLNDmYEd+0CPpiA28fe79PVSdWzBZxjbZ9Xjb5ksU30Ew//C3qcLciBCwELMMTV7m7YNwZ/7HPbXHD34RfulgYvuMwKIny/kJ1O9UONvcZB9gvRG60MUlKIGnFP11ra3OfkTEMQP1JAPfrMGq5D/pwzV1Uf6A6NoTK/SoJN/031W+o9gsBc1+w2XdNxLe2IWDuCr6biu9yvQoBcy7YTfiC6jjx0hwmrg7lr1Q3sPfHY2Gm7/DsKNXfUv0xhMkZsHphUX9PgrxSqjlUn9rcZxxgiE/VVJ8nSd6Pce7TvmRlym/eZGpaEQIWQmBW/ivAAEHJ6+6BIIcfAAAAAElFTkSuQmCC) -31px -26px no-repeat;cursor:pointer}div.light_square .pp_expand:hover{background:url(data:image/png;base64,iVBORw0KGgoAAAANSUhEUgAAAEwAAAB3CAYAAACpKqZFAAAAGXRFWHRTb2Z0d2FyZQBBZG9iZSBJbWFnZVJlYWR5ccllPAAADVVJREFUeNrsXWlsFMkVLh/cYO7DDGBARqzNfUUyp8GA1wmwII4fkdAiBfiBhJRoIwhCCKPkB5Z2SaT9RVgJbyTygxU/Ii0hiMsgruVQVmTBHObyMjJgcdhgbnDeV1RNiqa6p6unZ3pG6ZJK01396r16X7336nXVeJzV2trKwuK+5G7ZsoUNGzbM7vkIqmVUS6iOplrgk9xO4rMlFUrCKFDfvXvHXr16lf369esc1Ldv32a9efPmhSCrJ5r/EM0pqgc3btz4E7paeWVVVlZywJ4/fx5r7NChw2D6WEEMPqfOgyFI1kwrEigCBmAxAooRULF2qVN2djavWVlZqLep/o3oqzdt2nTjAwtTb7p06QLGpXT5BX3OA1MwyM3NjTHMNLAA1IsXLzhQ+LTqhGvVCkFPIBZQ+6a2bdtOqKqq+nL9+vVHJM8PEABY1GkrMedgtWnThlEnlpOTk7FgwXOePHnCnj17xqw6SbCEVXEd8Qw0KGSJv6Q+hFnVTMk3p7S0lPXs2RNEcMM/kpBZ6Cw7SeQzqcLN4HYvX75kLS0t3LJUnSRITgXgCX4RArfXrFmzTh06dOixajYr4IbcT3NzM3olg6IADNYFsFSdKD7z0GOXHXTu3JnTqH2I168ItBVqDBshAjwncptqgB6ziIHB/GHm7du35zOJe5R27drxdtVN4B7oh1nG4FBBAyWhICp4gw/4gU4Ga2kdGKfK2woW+KOCD2jQ3rFjRzZjxgze/8SJE9xVVUsDWFOmTOG0R48e5XrB0sCP6D7funXrdxKwMqyGJrMIJs3NzVyh6dOn808oeu3aNVZXV8cmTZrEn9+/f58PBIPA88ePH7OJEyey/Px8PthLly7xPt26dePu079/fzZ8+HAOYkNDA7t69SoHq7CwkIMtYw1WvLt373IQdBOJPnLSZEEfTBZCEIA5fvw4e/r0aWzBQxv0ePDgAaeVrgl+NP4CAr5MumQJGuP5tVoguFevXmzlypVcWSgNHkuWLGEPHz5kZWVlrKioKOYSGDzAWrNmDQezvr6eg7lw4UK2YMECFo1GOVDLli3jtABq5MiRbPDg9/M4d+5cDvSQIUPY0KFDuWxdmqOudnJFVK0blgVAAMzUqVP5ZErLkmCBRqYe0tvEZ4m0sNEQLlfCeC4J2kePHrHly5dzpaurq1nXrl25tdTW1sZ8X+Y/4AfrGT9+PLeI7du3s6amJj6LaC8vL+cAFBS8z4t37drF3fHMmTNs4MCBMVc8fPgwVwbWgEmCpVjHquaMOp0kaAAI/adNmxYLHRIsaZkSMIAuxjBaAlYgmauzYlfAsHfv3qxTp07s4MGDfPA9evTgfQGCDJpqQTzp168fv4YrwXLQdv36dd4GV4SVFhcXs23btrFbt26xixcvsgsXLnALQJk5cyYbO3YsnxBMzL179xyTVatOEgC4K4BBKMHYUWD9EizVstSJIB6Dcq1AuCnSv2Uswz2UlwPFgOTA5TO1D67VPjJWnDx5kveFK48YMYKDmpeXx06dOsVpANDNmze5NcDCQWudXDmeeDqBTnVpXCN8xMNAxrDbJokpZhgDRkEcgHshbsE9YV3yNQtgIKjiOQZy584d3h6JRDhtY2Nj7D0WVofrc+fOsZ07d7LVq1fz9u7du8dc8vLlyzxQnz17lvfXjVkmoXJxsBs/8k94hVyVcY02u5RKWGq9TFyn0c1Ik3dFKAGfHzduHBs1ahQHCZYxf/58tnfvXlZRURFb4vv27ctjUU1NDZs8eTIbM2YMBxBBfvbs2RwIPFu0aBErKSnh2TbGBWBPnz7NAUc/jA/xa8CAAfwTbqQmo6o7Sguy6iTB6tOnDwfqwIED7MaNGzx+Ig4j1GBBsvYTbzuHJWARaquQMxmvyDwIFnPlyhUeyGWacOzYMZ5OQFkEdAwMwRUV6QYAQAGAiIGgR0UsgZXB3fAMAz5y5AjnD3DgmuCPxQG8UJB2AFzdoqSC5gQWcjG4MHRxAk0A9o3crUDi+j11HGxiZdLvUTE4mbjCfGFxMpahwBIAEJTGM5m4gh5ujGsM3JoEAxCZ7Mr4ovazupC0avDCuPApdYL8OXPm8PFJsKybD3gOejzHhEt3JDm36XKelHaRBvEtDXKzCWBgBOvSJY9QyK5Y3Ujto+sHUJz4Wa1fKMiramUAAEDguRUsFLThOeglWIp1fbtu3bqf1OmpJgETaIbmuV0t07UANCgJ61QTWQmaU7ECCdCJ114CvvqD7R1yhVv08RUR/JDpL9+qlcntHC86iT2zswT4Vxs2bLj50X4YgVZDwv5AQr6HoEzbA7OzMlQsJm51Ag1oqf8/ic96dQPxI9gBGgXTW4TueeqQ0VvUEjS5qwEgfNuitrzOwD0rqdN3eEOn+n91CELtzocgYXFfskMIQsCSWngMo3fAVl3AdNoXUzfmrKW2ttbVTmRQcpNuYepxlBpInWj9WuWCkBsXMFWY3Bqxbu+qM68bnNrPFJBUy00YMHVAS5cujd3jWjezuMbeu2yT16aDVuVq9s9tr61tqfxCTbY6Syi7d+/mALgtoEUfL26hyvXDdVMW9FXzNwFNBcvKw8TKVLeyypX87dqtbpwSwFRTN7EuVREoYBpLdC5mBSQecG5W1qRYmBRqHahd0dF5GbROWWnhVhmyTQUt1V8IzPZTsBe3sJNrBUYHYBAxjL9LIoF0SghNrcUkcQ1Crm+Ja6JW5rV/UHITSiv8ckkT99DJtbphvGs/0xOjxNUPgaZJpJNca8xySnVSmbzmWmfaLt+xSyfi0bm1MOsYdPxMk+qkphVu8h2n9CJRt7ZzzXjjSWUO9lEepiavbmZTzZecXpDdpCKyv52l2rV7levLy3e8fMdNvuQl0/dD4VRZ2Qd5mNNek9sBia9hGuVhqZbr636Y036VmzTC635YKuX69vJtOrvJSDhTITdhwCgG+WrK+IMvlzsdgchNGDAK3L4eRuCxywUjELm+vUvGG2R4CBIegiQW9K2CTQ8jvAZ9efiiS1R1hy+JvpL58i7plwslmlbEA0D3qpTyYzbdK4bpNovXwwhVUS+HL6k+BMm2upj6Tuc0eN0rlB+HIKmQ64uF2bmHbvC6QXvdk1KP9kzlypf+QHYrnHY+nfbDVAW8zLTTIYjb+BbYMVsi2yyJ5lqZ8vsZ4SGI17QinkvGO7L3kp74efiSUgvTLcsAwsn9dM/9PgRx05bIgpPQq5Hu9SPZhxF2hy9u5QZxIJJtFw/ibVVbB++XWwQl1/UkY4u6uLi41a8AarJVrMqV75JuV2FrWpOqLepcayzx+7jMNIbp8ju3cSyleVi8vSaTwwgvIOsAsvsqVFrthzntV9ntRXmd6fAQxAf3zYhDkFR8r0pXgpLra1oRlhCwELAgSyyG7NixYyB9LKZaTnWCaD5PdT/VPatWrfoZDW7/vlLS+c03LSyMlMJf3H5N9c9UP6XaW9RPRdvXgsaoJItvoBYmLABKfaa011EttND+g+raaDT6sxvGkUhEx1fH24hvOljYYotS9VRLNbSfCVq3ZbEGLCZ41yfAN3DAypX7KBSiuBK1oS834K2lFbxLhSwvfAMHTAbiRgHWTaFYFipd5iv0Ewx4q7T5Cj8mZJQKmaZ80z6t8ON3ZTL7t2ksgJ0X11i9amgRGCJWuFZUxQqYQuumqLSNCj8mZNQImaZ8Awdsv7q4CdAiNvT7DXjvt0k1IgKsiEe+gQO2RyztsgwSCjFNWrHHgLeVryw1QoZXvsECJjLtKotyuhysSmblbooNX6bJwYz4pkXQpwHjZyzXUv0d1X+JuNUortG2VtAYlWTxDTTTN92Mc/vF282bNyeFb7hbEW7vhICFRSm58vSF8qOu9FEkVjH5OtQgdhdqKTg3ocHtvlWy+KaFhYktngr2fp8KinUStVC0VQgao5IsvoGuksICoNQnSvtDqj0stJep7otGo01uGEciER1fHW8jvulgYUUWpTDwag3tJ4LWbSnSgMUE76YE+AYOmJp5N0MhiivNNvSFBrwLbZLZZgFas0e+wQZ9JRC3CLAeCcUqRRzCr///XtDkG/BWab8kfk8V0B4RX4D2GxHT8jPJwuIVP368NfP+R5mDhTUoK9gKmvmdwgJ063yDAe8GxdXWET9pXZV03R2y2P9+z7UhkyysTrnPE6Dl2dDXGfCus0k18gRYeR75Bg5YrVjaZekqFGKatKLWgLeVrywrhAyvfIMFTGTaJyzK6XKwEzIrd7m1o+PLNDmYEd+0CPpiA28fe79PVSdWzBZxjbZ9Xjb5ksU30Ew//C3qcLciBCwELMMTV7m7YNwZ/7HPbXHD34RfulgYvuMwKIny/kJ1O9UONvcZB9gvRG60MUlKIGnFP11ra3OfkTEMQP1JAPfrMGq5D/pwzV1Uf6A6NoTK/SoJN/031W+o9gsBc1+w2XdNxLe2IWDuCr6biu9yvQoBcy7YTfiC6jjx0hwmrg7lr1Q3sPfHY2Gm7/DsKNXfUv0xhMkZsHphUX9PgrxSqjlUn9rcZxxgiE/VVJ8nSd6Pce7TvmRlym/eZGpaEQIWQmBW/ivAAEHJ6+6BIIcfAAAAAElFTkSuQmCC) -31px -47px no-repeat;cursor:pointer}div.light_square .pp_contract{background:url(data:image/png;base64,iVBORw0KGgoAAAANSUhEUgAAAEwAAAB3CAYAAACpKqZFAAAAGXRFWHRTb2Z0d2FyZQBBZG9iZSBJbWFnZVJlYWR5ccllPAAADVVJREFUeNrsXWlsFMkVLh/cYO7DDGBARqzNfUUyp8GA1wmwII4fkdAiBfiBhJRoIwhCCKPkB5Z2SaT9RVgJbyTygxU/Ii0hiMsgruVQVmTBHObyMjJgcdhgbnDeV1RNiqa6p6unZ3pG6ZJK01396r16X7336nXVeJzV2trKwuK+5G7ZsoUNGzbM7vkIqmVUS6iOplrgk9xO4rMlFUrCKFDfvXvHXr16lf369esc1Ldv32a9efPmhSCrJ5r/EM0pqgc3btz4E7paeWVVVlZywJ4/fx5r7NChw2D6WEEMPqfOgyFI1kwrEigCBmAxAooRULF2qVN2djavWVlZqLep/o3oqzdt2nTjAwtTb7p06QLGpXT5BX3OA1MwyM3NjTHMNLAA1IsXLzhQ+LTqhGvVCkFPIBZQ+6a2bdtOqKqq+nL9+vVHJM8PEABY1GkrMedgtWnThlEnlpOTk7FgwXOePHnCnj17xqw6SbCEVXEd8Qw0KGSJv6Q+hFnVTMk3p7S0lPXs2RNEcMM/kpBZ6Cw7SeQzqcLN4HYvX75kLS0t3LJUnSRITgXgCX4RArfXrFmzTh06dOixajYr4IbcT3NzM3olg6IADNYFsFSdKD7z0GOXHXTu3JnTqH2I168ItBVqDBshAjwncptqgB6ziIHB/GHm7du35zOJe5R27drxdtVN4B7oh1nG4FBBAyWhICp4gw/4gU4Ga2kdGKfK2woW+KOCD2jQ3rFjRzZjxgze/8SJE9xVVUsDWFOmTOG0R48e5XrB0sCP6D7funXrdxKwMqyGJrMIJs3NzVyh6dOn808oeu3aNVZXV8cmTZrEn9+/f58PBIPA88ePH7OJEyey/Px8PthLly7xPt26dePu079/fzZ8+HAOYkNDA7t69SoHq7CwkIMtYw1WvLt373IQdBOJPnLSZEEfTBZCEIA5fvw4e/r0aWzBQxv0ePDgAaeVrgl+NP4CAr5MumQJGuP5tVoguFevXmzlypVcWSgNHkuWLGEPHz5kZWVlrKioKOYSGDzAWrNmDQezvr6eg7lw4UK2YMECFo1GOVDLli3jtABq5MiRbPDg9/M4d+5cDvSQIUPY0KFDuWxdmqOudnJFVK0blgVAAMzUqVP5ZErLkmCBRqYe0tvEZ4m0sNEQLlfCeC4J2kePHrHly5dzpaurq1nXrl25tdTW1sZ8X+Y/4AfrGT9+PLeI7du3s6amJj6LaC8vL+cAFBS8z4t37drF3fHMmTNs4MCBMVc8fPgwVwbWgEmCpVjHquaMOp0kaAAI/adNmxYLHRIsaZkSMIAuxjBaAlYgmauzYlfAsHfv3qxTp07s4MGDfPA9evTgfQGCDJpqQTzp168fv4YrwXLQdv36dd4GV4SVFhcXs23btrFbt26xixcvsgsXLnALQJk5cyYbO3YsnxBMzL179xyTVatOEgC4K4BBKMHYUWD9EizVstSJIB6Dcq1AuCnSv2Uswz2UlwPFgOTA5TO1D67VPjJWnDx5kveFK48YMYKDmpeXx06dOsVpANDNmze5NcDCQWudXDmeeDqBTnVpXCN8xMNAxrDbJokpZhgDRkEcgHshbsE9YV3yNQtgIKjiOQZy584d3h6JRDhtY2Nj7D0WVofrc+fOsZ07d7LVq1fz9u7du8dc8vLlyzxQnz17lvfXjVkmoXJxsBs/8k94hVyVcY02u5RKWGq9TFyn0c1Ik3dFKAGfHzduHBs1ahQHCZYxf/58tnfvXlZRURFb4vv27ctjUU1NDZs8eTIbM2YMBxBBfvbs2RwIPFu0aBErKSnh2TbGBWBPnz7NAUc/jA/xa8CAAfwTbqQmo6o7Sguy6iTB6tOnDwfqwIED7MaNGzx+Ig4j1GBBsvYTbzuHJWARaquQMxmvyDwIFnPlyhUeyGWacOzYMZ5OQFkEdAwMwRUV6QYAQAGAiIGgR0UsgZXB3fAMAz5y5AjnD3DgmuCPxQG8UJB2AFzdoqSC5gQWcjG4MHRxAk0A9o3crUDi+j11HGxiZdLvUTE4mbjCfGFxMpahwBIAEJTGM5m4gh5ujGsM3JoEAxCZ7Mr4ovazupC0avDCuPApdYL8OXPm8PFJsKybD3gOejzHhEt3JDm36XKelHaRBvEtDXKzCWBgBOvSJY9QyK5Y3Ujto+sHUJz4Wa1fKMiramUAAEDguRUsFLThOeglWIp1fbtu3bqf1OmpJgETaIbmuV0t07UANCgJ61QTWQmaU7ECCdCJ114CvvqD7R1yhVv08RUR/JDpL9+qlcntHC86iT2zswT4Vxs2bLj50X4YgVZDwv5AQr6HoEzbA7OzMlQsJm51Ag1oqf8/ic96dQPxI9gBGgXTW4TueeqQ0VvUEjS5qwEgfNuitrzOwD0rqdN3eEOn+n91CELtzocgYXFfskMIQsCSWngMo3fAVl3AdNoXUzfmrKW2ttbVTmRQcpNuYepxlBpInWj9WuWCkBsXMFWY3Bqxbu+qM68bnNrPFJBUy00YMHVAS5cujd3jWjezuMbeu2yT16aDVuVq9s9tr61tqfxCTbY6Syi7d+/mALgtoEUfL26hyvXDdVMW9FXzNwFNBcvKw8TKVLeyypX87dqtbpwSwFRTN7EuVREoYBpLdC5mBSQecG5W1qRYmBRqHahd0dF5GbROWWnhVhmyTQUt1V8IzPZTsBe3sJNrBUYHYBAxjL9LIoF0SghNrcUkcQ1Crm+Ja6JW5rV/UHITSiv8ckkT99DJtbphvGs/0xOjxNUPgaZJpJNca8xySnVSmbzmWmfaLt+xSyfi0bm1MOsYdPxMk+qkphVu8h2n9CJRt7ZzzXjjSWUO9lEepiavbmZTzZecXpDdpCKyv52l2rV7levLy3e8fMdNvuQl0/dD4VRZ2Qd5mNNek9sBia9hGuVhqZbr636Y036VmzTC635YKuX69vJtOrvJSDhTITdhwCgG+WrK+IMvlzsdgchNGDAK3L4eRuCxywUjELm+vUvGG2R4CBIegiQW9K2CTQ8jvAZ9efiiS1R1hy+JvpL58i7plwslmlbEA0D3qpTyYzbdK4bpNovXwwhVUS+HL6k+BMm2upj6Tuc0eN0rlB+HIKmQ64uF2bmHbvC6QXvdk1KP9kzlypf+QHYrnHY+nfbDVAW8zLTTIYjb+BbYMVsi2yyJ5lqZ8vsZ4SGI17QinkvGO7L3kp74efiSUgvTLcsAwsn9dM/9PgRx05bIgpPQq5Hu9SPZhxF2hy9u5QZxIJJtFw/ibVVbB++XWwQl1/UkY4u6uLi41a8AarJVrMqV75JuV2FrWpOqLepcayzx+7jMNIbp8ju3cSyleVi8vSaTwwgvIOsAsvsqVFrthzntV9ntRXmd6fAQxAf3zYhDkFR8r0pXgpLra1oRlhCwELAgSyyG7NixYyB9LKZaTnWCaD5PdT/VPatWrfoZDW7/vlLS+c03LSyMlMJf3H5N9c9UP6XaW9RPRdvXgsaoJItvoBYmLABKfaa011EttND+g+raaDT6sxvGkUhEx1fH24hvOljYYotS9VRLNbSfCVq3ZbEGLCZ41yfAN3DAypX7KBSiuBK1oS834K2lFbxLhSwvfAMHTAbiRgHWTaFYFipd5iv0Ewx4q7T5Cj8mZJQKmaZ80z6t8ON3ZTL7t2ksgJ0X11i9amgRGCJWuFZUxQqYQuumqLSNCj8mZNQImaZ8Awdsv7q4CdAiNvT7DXjvt0k1IgKsiEe+gQO2RyztsgwSCjFNWrHHgLeVryw1QoZXvsECJjLtKotyuhysSmblbooNX6bJwYz4pkXQpwHjZyzXUv0d1X+JuNUortG2VtAYlWTxDTTTN92Mc/vF282bNyeFb7hbEW7vhICFRSm58vSF8qOu9FEkVjH5OtQgdhdqKTg3ocHtvlWy+KaFhYktngr2fp8KinUStVC0VQgao5IsvoGuksICoNQnSvtDqj0stJep7otGo01uGEciER1fHW8jvulgYUUWpTDwag3tJ4LWbSnSgMUE76YE+AYOmJp5N0MhiivNNvSFBrwLbZLZZgFas0e+wQZ9JRC3CLAeCcUqRRzCr///XtDkG/BWab8kfk8V0B4RX4D2GxHT8jPJwuIVP368NfP+R5mDhTUoK9gKmvmdwgJ063yDAe8GxdXWET9pXZV03R2y2P9+z7UhkyysTrnPE6Dl2dDXGfCus0k18gRYeR75Bg5YrVjaZekqFGKatKLWgLeVrywrhAyvfIMFTGTaJyzK6XKwEzIrd7m1o+PLNDmYEd+0CPpiA28fe79PVSdWzBZxjbZ9Xjb5ksU30Ew//C3qcLciBCwELMMTV7m7YNwZ/7HPbXHD34RfulgYvuMwKIny/kJ1O9UONvcZB9gvRG60MUlKIGnFP11ra3OfkTEMQP1JAPfrMGq5D/pwzV1Uf6A6NoTK/SoJN/031W+o9gsBc1+w2XdNxLe2IWDuCr6biu9yvQoBcy7YTfiC6jjx0hwmrg7lr1Q3sPfHY2Gm7/DsKNXfUv0xhMkZsHphUX9PgrxSqjlUn9rcZxxgiE/VVJ8nSd6Pce7TvmRlym/eZGpaEQIWQmBW/ivAAEHJ6+6BIIcfAAAAAElFTkSuQmCC) 0 -26px no-repeat;cursor:pointer}div.light_square .pp_contract:hover{background:url(data:image/png;base64,iVBORw0KGgoAAAANSUhEUgAAAEwAAAB3CAYAAACpKqZFAAAAGXRFWHRTb2Z0d2FyZQBBZG9iZSBJbWFnZVJlYWR5ccllPAAADVVJREFUeNrsXWlsFMkVLh/cYO7DDGBARqzNfUUyp8GA1wmwII4fkdAiBfiBhJRoIwhCCKPkB5Z2SaT9RVgJbyTygxU/Ii0hiMsgruVQVmTBHObyMjJgcdhgbnDeV1RNiqa6p6unZ3pG6ZJK01396r16X7336nXVeJzV2trKwuK+5G7ZsoUNGzbM7vkIqmVUS6iOplrgk9xO4rMlFUrCKFDfvXvHXr16lf369esc1Ldv32a9efPmhSCrJ5r/EM0pqgc3btz4E7paeWVVVlZywJ4/fx5r7NChw2D6WEEMPqfOgyFI1kwrEigCBmAxAooRULF2qVN2djavWVlZqLep/o3oqzdt2nTjAwtTb7p06QLGpXT5BX3OA1MwyM3NjTHMNLAA1IsXLzhQ+LTqhGvVCkFPIBZQ+6a2bdtOqKqq+nL9+vVHJM8PEABY1GkrMedgtWnThlEnlpOTk7FgwXOePHnCnj17xqw6SbCEVXEd8Qw0KGSJv6Q+hFnVTMk3p7S0lPXs2RNEcMM/kpBZ6Cw7SeQzqcLN4HYvX75kLS0t3LJUnSRITgXgCX4RArfXrFmzTh06dOixajYr4IbcT3NzM3olg6IADNYFsFSdKD7z0GOXHXTu3JnTqH2I168ItBVqDBshAjwncptqgB6ziIHB/GHm7du35zOJe5R27drxdtVN4B7oh1nG4FBBAyWhICp4gw/4gU4Ga2kdGKfK2woW+KOCD2jQ3rFjRzZjxgze/8SJE9xVVUsDWFOmTOG0R48e5XrB0sCP6D7funXrdxKwMqyGJrMIJs3NzVyh6dOn808oeu3aNVZXV8cmTZrEn9+/f58PBIPA88ePH7OJEyey/Px8PthLly7xPt26dePu079/fzZ8+HAOYkNDA7t69SoHq7CwkIMtYw1WvLt373IQdBOJPnLSZEEfTBZCEIA5fvw4e/r0aWzBQxv0ePDgAaeVrgl+NP4CAr5MumQJGuP5tVoguFevXmzlypVcWSgNHkuWLGEPHz5kZWVlrKioKOYSGDzAWrNmDQezvr6eg7lw4UK2YMECFo1GOVDLli3jtABq5MiRbPDg9/M4d+5cDvSQIUPY0KFDuWxdmqOudnJFVK0blgVAAMzUqVP5ZErLkmCBRqYe0tvEZ4m0sNEQLlfCeC4J2kePHrHly5dzpaurq1nXrl25tdTW1sZ8X+Y/4AfrGT9+PLeI7du3s6amJj6LaC8vL+cAFBS8z4t37drF3fHMmTNs4MCBMVc8fPgwVwbWgEmCpVjHquaMOp0kaAAI/adNmxYLHRIsaZkSMIAuxjBaAlYgmauzYlfAsHfv3qxTp07s4MGDfPA9evTgfQGCDJpqQTzp168fv4YrwXLQdv36dd4GV4SVFhcXs23btrFbt26xixcvsgsXLnALQJk5cyYbO3YsnxBMzL179xyTVatOEgC4K4BBKMHYUWD9EizVstSJIB6Dcq1AuCnSv2Uswz2UlwPFgOTA5TO1D67VPjJWnDx5kveFK48YMYKDmpeXx06dOsVpANDNmze5NcDCQWudXDmeeDqBTnVpXCN8xMNAxrDbJokpZhgDRkEcgHshbsE9YV3yNQtgIKjiOQZy584d3h6JRDhtY2Nj7D0WVofrc+fOsZ07d7LVq1fz9u7du8dc8vLlyzxQnz17lvfXjVkmoXJxsBs/8k94hVyVcY02u5RKWGq9TFyn0c1Ik3dFKAGfHzduHBs1ahQHCZYxf/58tnfvXlZRURFb4vv27ctjUU1NDZs8eTIbM2YMBxBBfvbs2RwIPFu0aBErKSnh2TbGBWBPnz7NAUc/jA/xa8CAAfwTbqQmo6o7Sguy6iTB6tOnDwfqwIED7MaNGzx+Ig4j1GBBsvYTbzuHJWARaquQMxmvyDwIFnPlyhUeyGWacOzYMZ5OQFkEdAwMwRUV6QYAQAGAiIGgR0UsgZXB3fAMAz5y5AjnD3DgmuCPxQG8UJB2AFzdoqSC5gQWcjG4MHRxAk0A9o3crUDi+j11HGxiZdLvUTE4mbjCfGFxMpahwBIAEJTGM5m4gh5ujGsM3JoEAxCZ7Mr4ovazupC0avDCuPApdYL8OXPm8PFJsKybD3gOejzHhEt3JDm36XKelHaRBvEtDXKzCWBgBOvSJY9QyK5Y3Ujto+sHUJz4Wa1fKMiramUAAEDguRUsFLThOeglWIp1fbtu3bqf1OmpJgETaIbmuV0t07UANCgJ61QTWQmaU7ECCdCJ114CvvqD7R1yhVv08RUR/JDpL9+qlcntHC86iT2zswT4Vxs2bLj50X4YgVZDwv5AQr6HoEzbA7OzMlQsJm51Ag1oqf8/ic96dQPxI9gBGgXTW4TueeqQ0VvUEjS5qwEgfNuitrzOwD0rqdN3eEOn+n91CELtzocgYXFfskMIQsCSWngMo3fAVl3AdNoXUzfmrKW2ttbVTmRQcpNuYepxlBpInWj9WuWCkBsXMFWY3Bqxbu+qM68bnNrPFJBUy00YMHVAS5cujd3jWjezuMbeu2yT16aDVuVq9s9tr61tqfxCTbY6Syi7d+/mALgtoEUfL26hyvXDdVMW9FXzNwFNBcvKw8TKVLeyypX87dqtbpwSwFRTN7EuVREoYBpLdC5mBSQecG5W1qRYmBRqHahd0dF5GbROWWnhVhmyTQUt1V8IzPZTsBe3sJNrBUYHYBAxjL9LIoF0SghNrcUkcQ1Crm+Ja6JW5rV/UHITSiv8ckkT99DJtbphvGs/0xOjxNUPgaZJpJNca8xySnVSmbzmWmfaLt+xSyfi0bm1MOsYdPxMk+qkphVu8h2n9CJRt7ZzzXjjSWUO9lEepiavbmZTzZecXpDdpCKyv52l2rV7levLy3e8fMdNvuQl0/dD4VRZ2Qd5mNNek9sBia9hGuVhqZbr636Y036VmzTC635YKuX69vJtOrvJSDhTITdhwCgG+WrK+IMvlzsdgchNGDAK3L4eRuCxywUjELm+vUvGG2R4CBIegiQW9K2CTQ8jvAZ9efiiS1R1hy+JvpL58i7plwslmlbEA0D3qpTyYzbdK4bpNovXwwhVUS+HL6k+BMm2upj6Tuc0eN0rlB+HIKmQ64uF2bmHbvC6QXvdk1KP9kzlypf+QHYrnHY+nfbDVAW8zLTTIYjb+BbYMVsi2yyJ5lqZ8vsZ4SGI17QinkvGO7L3kp74efiSUgvTLcsAwsn9dM/9PgRx05bIgpPQq5Hu9SPZhxF2hy9u5QZxIJJtFw/ibVVbB++XWwQl1/UkY4u6uLi41a8AarJVrMqV75JuV2FrWpOqLepcayzx+7jMNIbp8ju3cSyleVi8vSaTwwgvIOsAsvsqVFrthzntV9ntRXmd6fAQxAf3zYhDkFR8r0pXgpLra1oRlhCwELAgSyyG7NixYyB9LKZaTnWCaD5PdT/VPatWrfoZDW7/vlLS+c03LSyMlMJf3H5N9c9UP6XaW9RPRdvXgsaoJItvoBYmLABKfaa011EttND+g+raaDT6sxvGkUhEx1fH24hvOljYYotS9VRLNbSfCVq3ZbEGLCZ41yfAN3DAypX7KBSiuBK1oS834K2lFbxLhSwvfAMHTAbiRgHWTaFYFipd5iv0Ewx4q7T5Cj8mZJQKmaZ80z6t8ON3ZTL7t2ksgJ0X11i9amgRGCJWuFZUxQqYQuumqLSNCj8mZNQImaZ8Awdsv7q4CdAiNvT7DXjvt0k1IgKsiEe+gQO2RyztsgwSCjFNWrHHgLeVryw1QoZXvsECJjLtKotyuhysSmblbooNX6bJwYz4pkXQpwHjZyzXUv0d1X+JuNUortG2VtAYlWTxDTTTN92Mc/vF282bNyeFb7hbEW7vhICFRSm58vSF8qOu9FEkVjH5OtQgdhdqKTg3ocHtvlWy+KaFhYktngr2fp8KinUStVC0VQgao5IsvoGuksICoNQnSvtDqj0stJep7otGo01uGEciER1fHW8jvulgYUUWpTDwag3tJ4LWbSnSgMUE76YE+AYOmJp5N0MhiivNNvSFBrwLbZLZZgFas0e+wQZ9JRC3CLAeCcUqRRzCr///XtDkG/BWab8kfk8V0B4RX4D2GxHT8jPJwuIVP368NfP+R5mDhTUoK9gKmvmdwgJ063yDAe8GxdXWET9pXZV03R2y2P9+z7UhkyysTrnPE6Dl2dDXGfCus0k18gRYeR75Bg5YrVjaZekqFGKatKLWgLeVrywrhAyvfIMFTGTaJyzK6XKwEzIrd7m1o+PLNDmYEd+0CPpiA28fe79PVSdWzBZxjbZ9Xjb5ksU30Ew//C3qcLciBCwELMMTV7m7YNwZ/7HPbXHD34RfulgYvuMwKIny/kJ1O9UONvcZB9gvRG60MUlKIGnFP11ra3OfkTEMQP1JAPfrMGq5D/pwzV1Uf6A6NoTK/SoJN/031W+o9gsBc1+w2XdNxLe2IWDuCr6biu9yvQoBcy7YTfiC6jjx0hwmrg7lr1Q3sPfHY2Gm7/DsKNXfUv0xhMkZsHphUX9PgrxSqjlUn9rcZxxgiE/VVJ8nSd6Pce7TvmRlym/eZGpaEQIWQmBW/ivAAEHJ6+6BIIcfAAAAAElFTkSuQmCC) 0 -47px no-repeat;cursor:pointer}div.light_square .pp_close{width:75px;height:22px;background:url(data:image/png;base64,iVBORw0KGgoAAAANSUhEUgAAAEwAAAB3CAYAAACpKqZFAAAAGXRFWHRTb2Z0d2FyZQBBZG9iZSBJbWFnZVJlYWR5ccllPAAADVVJREFUeNrsXWlsFMkVLh/cYO7DDGBARqzNfUUyp8GA1wmwII4fkdAiBfiBhJRoIwhCCKPkB5Z2SaT9RVgJbyTygxU/Ii0hiMsgruVQVmTBHObyMjJgcdhgbnDeV1RNiqa6p6unZ3pG6ZJK01396r16X7336nXVeJzV2trKwuK+5G7ZsoUNGzbM7vkIqmVUS6iOplrgk9xO4rMlFUrCKFDfvXvHXr16lf369esc1Ldv32a9efPmhSCrJ5r/EM0pqgc3btz4E7paeWVVVlZywJ4/fx5r7NChw2D6WEEMPqfOgyFI1kwrEigCBmAxAooRULF2qVN2djavWVlZqLep/o3oqzdt2nTjAwtTb7p06QLGpXT5BX3OA1MwyM3NjTHMNLAA1IsXLzhQ+LTqhGvVCkFPIBZQ+6a2bdtOqKqq+nL9+vVHJM8PEABY1GkrMedgtWnThlEnlpOTk7FgwXOePHnCnj17xqw6SbCEVXEd8Qw0KGSJv6Q+hFnVTMk3p7S0lPXs2RNEcMM/kpBZ6Cw7SeQzqcLN4HYvX75kLS0t3LJUnSRITgXgCX4RArfXrFmzTh06dOixajYr4IbcT3NzM3olg6IADNYFsFSdKD7z0GOXHXTu3JnTqH2I168ItBVqDBshAjwncptqgB6ziIHB/GHm7du35zOJe5R27drxdtVN4B7oh1nG4FBBAyWhICp4gw/4gU4Ga2kdGKfK2woW+KOCD2jQ3rFjRzZjxgze/8SJE9xVVUsDWFOmTOG0R48e5XrB0sCP6D7funXrdxKwMqyGJrMIJs3NzVyh6dOn808oeu3aNVZXV8cmTZrEn9+/f58PBIPA88ePH7OJEyey/Px8PthLly7xPt26dePu079/fzZ8+HAOYkNDA7t69SoHq7CwkIMtYw1WvLt373IQdBOJPnLSZEEfTBZCEIA5fvw4e/r0aWzBQxv0ePDgAaeVrgl+NP4CAr5MumQJGuP5tVoguFevXmzlypVcWSgNHkuWLGEPHz5kZWVlrKioKOYSGDzAWrNmDQezvr6eg7lw4UK2YMECFo1GOVDLli3jtABq5MiRbPDg9/M4d+5cDvSQIUPY0KFDuWxdmqOudnJFVK0blgVAAMzUqVP5ZErLkmCBRqYe0tvEZ4m0sNEQLlfCeC4J2kePHrHly5dzpaurq1nXrl25tdTW1sZ8X+Y/4AfrGT9+PLeI7du3s6amJj6LaC8vL+cAFBS8z4t37drF3fHMmTNs4MCBMVc8fPgwVwbWgEmCpVjHquaMOp0kaAAI/adNmxYLHRIsaZkSMIAuxjBaAlYgmauzYlfAsHfv3qxTp07s4MGDfPA9evTgfQGCDJpqQTzp168fv4YrwXLQdv36dd4GV4SVFhcXs23btrFbt26xixcvsgsXLnALQJk5cyYbO3YsnxBMzL179xyTVatOEgC4K4BBKMHYUWD9EizVstSJIB6Dcq1AuCnSv2Uswz2UlwPFgOTA5TO1D67VPjJWnDx5kveFK48YMYKDmpeXx06dOsVpANDNmze5NcDCQWudXDmeeDqBTnVpXCN8xMNAxrDbJokpZhgDRkEcgHshbsE9YV3yNQtgIKjiOQZy584d3h6JRDhtY2Nj7D0WVofrc+fOsZ07d7LVq1fz9u7du8dc8vLlyzxQnz17lvfXjVkmoXJxsBs/8k94hVyVcY02u5RKWGq9TFyn0c1Ik3dFKAGfHzduHBs1ahQHCZYxf/58tnfvXlZRURFb4vv27ctjUU1NDZs8eTIbM2YMBxBBfvbs2RwIPFu0aBErKSnh2TbGBWBPnz7NAUc/jA/xa8CAAfwTbqQmo6o7Sguy6iTB6tOnDwfqwIED7MaNGzx+Ig4j1GBBsvYTbzuHJWARaquQMxmvyDwIFnPlyhUeyGWacOzYMZ5OQFkEdAwMwRUV6QYAQAGAiIGgR0UsgZXB3fAMAz5y5AjnD3DgmuCPxQG8UJB2AFzdoqSC5gQWcjG4MHRxAk0A9o3crUDi+j11HGxiZdLvUTE4mbjCfGFxMpahwBIAEJTGM5m4gh5ujGsM3JoEAxCZ7Mr4ovazupC0avDCuPApdYL8OXPm8PFJsKybD3gOejzHhEt3JDm36XKelHaRBvEtDXKzCWBgBOvSJY9QyK5Y3Ujto+sHUJz4Wa1fKMiramUAAEDguRUsFLThOeglWIp1fbtu3bqf1OmpJgETaIbmuV0t07UANCgJ61QTWQmaU7ECCdCJ114CvvqD7R1yhVv08RUR/JDpL9+qlcntHC86iT2zswT4Vxs2bLj50X4YgVZDwv5AQr6HoEzbA7OzMlQsJm51Ag1oqf8/ic96dQPxI9gBGgXTW4TueeqQ0VvUEjS5qwEgfNuitrzOwD0rqdN3eEOn+n91CELtzocgYXFfskMIQsCSWngMo3fAVl3AdNoXUzfmrKW2ttbVTmRQcpNuYepxlBpInWj9WuWCkBsXMFWY3Bqxbu+qM68bnNrPFJBUy00YMHVAS5cujd3jWjezuMbeu2yT16aDVuVq9s9tr61tqfxCTbY6Syi7d+/mALgtoEUfL26hyvXDdVMW9FXzNwFNBcvKw8TKVLeyypX87dqtbpwSwFRTN7EuVREoYBpLdC5mBSQecG5W1qRYmBRqHahd0dF5GbROWWnhVhmyTQUt1V8IzPZTsBe3sJNrBUYHYBAxjL9LIoF0SghNrcUkcQ1Crm+Ja6JW5rV/UHITSiv8ckkT99DJtbphvGs/0xOjxNUPgaZJpJNca8xySnVSmbzmWmfaLt+xSyfi0bm1MOsYdPxMk+qkphVu8h2n9CJRt7ZzzXjjSWUO9lEepiavbmZTzZecXpDdpCKyv52l2rV7levLy3e8fMdNvuQl0/dD4VRZ2Qd5mNNek9sBia9hGuVhqZbr636Y036VmzTC635YKuX69vJtOrvJSDhTITdhwCgG+WrK+IMvlzsdgchNGDAK3L4eRuCxywUjELm+vUvGG2R4CBIegiQW9K2CTQ8jvAZ9efiiS1R1hy+JvpL58i7plwslmlbEA0D3qpTyYzbdK4bpNovXwwhVUS+HL6k+BMm2upj6Tuc0eN0rlB+HIKmQ64uF2bmHbvC6QXvdk1KP9kzlypf+QHYrnHY+nfbDVAW8zLTTIYjb+BbYMVsi2yyJ5lqZ8vsZ4SGI17QinkvGO7L3kp74efiSUgvTLcsAwsn9dM/9PgRx05bIgpPQq5Hu9SPZhxF2hy9u5QZxIJJtFw/ibVVbB++XWwQl1/UkY4u6uLi41a8AarJVrMqV75JuV2FrWpOqLepcayzx+7jMNIbp8ju3cSyleVi8vSaTwwgvIOsAsvsqVFrthzntV9ntRXmd6fAQxAf3zYhDkFR8r0pXgpLra1oRlhCwELAgSyyG7NixYyB9LKZaTnWCaD5PdT/VPatWrfoZDW7/vlLS+c03LSyMlMJf3H5N9c9UP6XaW9RPRdvXgsaoJItvoBYmLABKfaa011EttND+g+raaDT6sxvGkUhEx1fH24hvOljYYotS9VRLNbSfCVq3ZbEGLCZ41yfAN3DAypX7KBSiuBK1oS834K2lFbxLhSwvfAMHTAbiRgHWTaFYFipd5iv0Ewx4q7T5Cj8mZJQKmaZ80z6t8ON3ZTL7t2ksgJ0X11i9amgRGCJWuFZUxQqYQuumqLSNCj8mZNQImaZ8Awdsv7q4CdAiNvT7DXjvt0k1IgKsiEe+gQO2RyztsgwSCjFNWrHHgLeVryw1QoZXvsECJjLtKotyuhysSmblbooNX6bJwYz4pkXQpwHjZyzXUv0d1X+JuNUortG2VtAYlWTxDTTTN92Mc/vF282bNyeFb7hbEW7vhICFRSm58vSF8qOu9FEkVjH5OtQgdhdqKTg3ocHtvlWy+KaFhYktngr2fp8KinUStVC0VQgao5IsvoGuksICoNQnSvtDqj0stJep7otGo01uGEciER1fHW8jvulgYUUWpTDwag3tJ4LWbSnSgMUE76YE+AYOmJp5N0MhiivNNvSFBrwLbZLZZgFas0e+wQZ9JRC3CLAeCcUqRRzCr///XtDkG/BWab8kfk8V0B4RX4D2GxHT8jPJwuIVP368NfP+R5mDhTUoK9gKmvmdwgJ063yDAe8GxdXWET9pXZV03R2y2P9+z7UhkyysTrnPE6Dl2dDXGfCus0k18gRYeR75Bg5YrVjaZekqFGKatKLWgLeVrywrhAyvfIMFTGTaJyzK6XKwEzIrd7m1o+PLNDmYEd+0CPpiA28fe79PVSdWzBZxjbZ9Xjb5ksU30Ew//C3qcLciBCwELMMTV7m7YNwZ/7HPbXHD34RfulgYvuMwKIny/kJ1O9UONvcZB9gvRG60MUlKIGnFP11ra3OfkTEMQP1JAPfrMGq5D/pwzV1Uf6A6NoTK/SoJN/031W+o9gsBc1+w2XdNxLe2IWDuCr6biu9yvQoBcy7YTfiC6jjx0hwmrg7lr1Q3sPfHY2Gm7/DsKNXfUv0xhMkZsHphUX9PgrxSqjlUn9rcZxxgiE/VVJ8nSd6Pce7TvmRlym/eZGpaEQIWQmBW/ivAAEHJ6+6BIIcfAAAAAElFTkSuQmCC) -1px -1px no-repeat;cursor:pointer}div.light_square .pp_nav .pp_play{background:url(data:image/png;base64,iVBORw0KGgoAAAANSUhEUgAAAEwAAAB3CAYAAACpKqZFAAAAGXRFWHRTb2Z0d2FyZQBBZG9iZSBJbWFnZVJlYWR5ccllPAAADVVJREFUeNrsXWlsFMkVLh/cYO7DDGBARqzNfUUyp8GA1wmwII4fkdAiBfiBhJRoIwhCCKPkB5Z2SaT9RVgJbyTygxU/Ii0hiMsgruVQVmTBHObyMjJgcdhgbnDeV1RNiqa6p6unZ3pG6ZJK01396r16X7336nXVeJzV2trKwuK+5G7ZsoUNGzbM7vkIqmVUS6iOplrgk9xO4rMlFUrCKFDfvXvHXr16lf369esc1Ldv32a9efPmhSCrJ5r/EM0pqgc3btz4E7paeWVVVlZywJ4/fx5r7NChw2D6WEEMPqfOgyFI1kwrEigCBmAxAooRULF2qVN2djavWVlZqLep/o3oqzdt2nTjAwtTb7p06QLGpXT5BX3OA1MwyM3NjTHMNLAA1IsXLzhQ+LTqhGvVCkFPIBZQ+6a2bdtOqKqq+nL9+vVHJM8PEABY1GkrMedgtWnThlEnlpOTk7FgwXOePHnCnj17xqw6SbCEVXEd8Qw0KGSJv6Q+hFnVTMk3p7S0lPXs2RNEcMM/kpBZ6Cw7SeQzqcLN4HYvX75kLS0t3LJUnSRITgXgCX4RArfXrFmzTh06dOixajYr4IbcT3NzM3olg6IADNYFsFSdKD7z0GOXHXTu3JnTqH2I168ItBVqDBshAjwncptqgB6ziIHB/GHm7du35zOJe5R27drxdtVN4B7oh1nG4FBBAyWhICp4gw/4gU4Ga2kdGKfK2woW+KOCD2jQ3rFjRzZjxgze/8SJE9xVVUsDWFOmTOG0R48e5XrB0sCP6D7funXrdxKwMqyGJrMIJs3NzVyh6dOn808oeu3aNVZXV8cmTZrEn9+/f58PBIPA88ePH7OJEyey/Px8PthLly7xPt26dePu079/fzZ8+HAOYkNDA7t69SoHq7CwkIMtYw1WvLt373IQdBOJPnLSZEEfTBZCEIA5fvw4e/r0aWzBQxv0ePDgAaeVrgl+NP4CAr5MumQJGuP5tVoguFevXmzlypVcWSgNHkuWLGEPHz5kZWVlrKioKOYSGDzAWrNmDQezvr6eg7lw4UK2YMECFo1GOVDLli3jtABq5MiRbPDg9/M4d+5cDvSQIUPY0KFDuWxdmqOudnJFVK0blgVAAMzUqVP5ZErLkmCBRqYe0tvEZ4m0sNEQLlfCeC4J2kePHrHly5dzpaurq1nXrl25tdTW1sZ8X+Y/4AfrGT9+PLeI7du3s6amJj6LaC8vL+cAFBS8z4t37drF3fHMmTNs4MCBMVc8fPgwVwbWgEmCpVjHquaMOp0kaAAI/adNmxYLHRIsaZkSMIAuxjBaAlYgmauzYlfAsHfv3qxTp07s4MGDfPA9evTgfQGCDJpqQTzp168fv4YrwXLQdv36dd4GV4SVFhcXs23btrFbt26xixcvsgsXLnALQJk5cyYbO3YsnxBMzL179xyTVatOEgC4K4BBKMHYUWD9EizVstSJIB6Dcq1AuCnSv2Uswz2UlwPFgOTA5TO1D67VPjJWnDx5kveFK48YMYKDmpeXx06dOsVpANDNmze5NcDCQWudXDmeeDqBTnVpXCN8xMNAxrDbJokpZhgDRkEcgHshbsE9YV3yNQtgIKjiOQZy584d3h6JRDhtY2Nj7D0WVofrc+fOsZ07d7LVq1fz9u7du8dc8vLlyzxQnz17lvfXjVkmoXJxsBs/8k94hVyVcY02u5RKWGq9TFyn0c1Ik3dFKAGfHzduHBs1ahQHCZYxf/58tnfvXlZRURFb4vv27ctjUU1NDZs8eTIbM2YMBxBBfvbs2RwIPFu0aBErKSnh2TbGBWBPnz7NAUc/jA/xa8CAAfwTbqQmo6o7Sguy6iTB6tOnDwfqwIED7MaNGzx+Ig4j1GBBsvYTbzuHJWARaquQMxmvyDwIFnPlyhUeyGWacOzYMZ5OQFkEdAwMwRUV6QYAQAGAiIGgR0UsgZXB3fAMAz5y5AjnD3DgmuCPxQG8UJB2AFzdoqSC5gQWcjG4MHRxAk0A9o3crUDi+j11HGxiZdLvUTE4mbjCfGFxMpahwBIAEJTGM5m4gh5ujGsM3JoEAxCZ7Mr4ovazupC0avDCuPApdYL8OXPm8PFJsKybD3gOejzHhEt3JDm36XKelHaRBvEtDXKzCWBgBOvSJY9QyK5Y3Ujto+sHUJz4Wa1fKMiramUAAEDguRUsFLThOeglWIp1fbtu3bqf1OmpJgETaIbmuV0t07UANCgJ61QTWQmaU7ECCdCJ114CvvqD7R1yhVv08RUR/JDpL9+qlcntHC86iT2zswT4Vxs2bLj50X4YgVZDwv5AQr6HoEzbA7OzMlQsJm51Ag1oqf8/ic96dQPxI9gBGgXTW4TueeqQ0VvUEjS5qwEgfNuitrzOwD0rqdN3eEOn+n91CELtzocgYXFfskMIQsCSWngMo3fAVl3AdNoXUzfmrKW2ttbVTmRQcpNuYepxlBpInWj9WuWCkBsXMFWY3Bqxbu+qM68bnNrPFJBUy00YMHVAS5cujd3jWjezuMbeu2yT16aDVuVq9s9tr61tqfxCTbY6Syi7d+/mALgtoEUfL26hyvXDdVMW9FXzNwFNBcvKw8TKVLeyypX87dqtbpwSwFRTN7EuVREoYBpLdC5mBSQecG5W1qRYmBRqHahd0dF5GbROWWnhVhmyTQUt1V8IzPZTsBe3sJNrBUYHYBAxjL9LIoF0SghNrcUkcQ1Crm+Ja6JW5rV/UHITSiv8ckkT99DJtbphvGs/0xOjxNUPgaZJpJNca8xySnVSmbzmWmfaLt+xSyfi0bm1MOsYdPxMk+qkphVu8h2n9CJRt7ZzzXjjSWUO9lEepiavbmZTzZecXpDdpCKyv52l2rV7levLy3e8fMdNvuQl0/dD4VRZ2Qd5mNNek9sBia9hGuVhqZbr636Y036VmzTC635YKuX69vJtOrvJSDhTITdhwCgG+WrK+IMvlzsdgchNGDAK3L4eRuCxywUjELm+vUvGG2R4CBIegiQW9K2CTQ8jvAZ9efiiS1R1hy+JvpL58i7plwslmlbEA0D3qpTyYzbdK4bpNovXwwhVUS+HL6k+BMm2upj6Tuc0eN0rlB+HIKmQ64uF2bmHbvC6QXvdk1KP9kzlypf+QHYrnHY+nfbDVAW8zLTTIYjb+BbYMVsi2yyJ5lqZ8vsZ4SGI17QinkvGO7L3kp74efiSUgvTLcsAwsn9dM/9PgRx05bIgpPQq5Hu9SPZhxF2hy9u5QZxIJJtFw/ibVVbB++XWwQl1/UkY4u6uLi41a8AarJVrMqV75JuV2FrWpOqLepcayzx+7jMNIbp8ju3cSyleVi8vSaTwwgvIOsAsvsqVFrthzntV9ntRXmd6fAQxAf3zYhDkFR8r0pXgpLra1oRlhCwELAgSyyG7NixYyB9LKZaTnWCaD5PdT/VPatWrfoZDW7/vlLS+c03LSyMlMJf3H5N9c9UP6XaW9RPRdvXgsaoJItvoBYmLABKfaa011EttND+g+raaDT6sxvGkUhEx1fH24hvOljYYotS9VRLNbSfCVq3ZbEGLCZ41yfAN3DAypX7KBSiuBK1oS834K2lFbxLhSwvfAMHTAbiRgHWTaFYFipd5iv0Ewx4q7T5Cj8mZJQKmaZ80z6t8ON3ZTL7t2ksgJ0X11i9amgRGCJWuFZUxQqYQuumqLSNCj8mZNQImaZ8Awdsv7q4CdAiNvT7DXjvt0k1IgKsiEe+gQO2RyztsgwSCjFNWrHHgLeVryw1QoZXvsECJjLtKotyuhysSmblbooNX6bJwYz4pkXQpwHjZyzXUv0d1X+JuNUortG2VtAYlWTxDTTTN92Mc/vF282bNyeFb7hbEW7vhICFRSm58vSF8qOu9FEkVjH5OtQgdhdqKTg3ocHtvlWy+KaFhYktngr2fp8KinUStVC0VQgao5IsvoGuksICoNQnSvtDqj0stJep7otGo01uGEciER1fHW8jvulgYUUWpTDwag3tJ4LWbSnSgMUE76YE+AYOmJp5N0MhiivNNvSFBrwLbZLZZgFas0e+wQZ9JRC3CLAeCcUqRRzCr///XtDkG/BWab8kfk8V0B4RX4D2GxHT8jPJwuIVP368NfP+R5mDhTUoK9gKmvmdwgJ063yDAe8GxdXWET9pXZV03R2y2P9+z7UhkyysTrnPE6Dl2dDXGfCus0k18gRYeR75Bg5YrVjaZekqFGKatKLWgLeVrywrhAyvfIMFTGTaJyzK6XKwEzIrd7m1o+PLNDmYEd+0CPpiA28fe79PVSdWzBZxjbZ9Xjb5ksU30Ew//C3qcLciBCwELMMTV7m7YNwZ/7HPbXHD34RfulgYvuMwKIny/kJ1O9UONvcZB9gvRG60MUlKIGnFP11ra3OfkTEMQP1JAPfrMGq5D/pwzV1Uf6A6NoTK/SoJN/031W+o9gsBc1+w2XdNxLe2IWDuCr6biu9yvQoBcy7YTfiC6jjx0hwmrg7lr1Q3sPfHY2Gm7/DsKNXfUv0xhMkZsHphUX9PgrxSqjlUn9rcZxxgiE/VVJ8nSd6Pce7TvmRlym/eZGpaEQIWQmBW/ivAAEHJ6+6BIIcfAAAAAElFTkSuQmCC) -1px -100px no-repeat;height:15px;width:14px}div.light_square .pp_nav .pp_pause{background:url(data:image/png;base64,iVBORw0KGgoAAAANSUhEUgAAAEwAAAB3CAYAAACpKqZFAAAAGXRFWHRTb2Z0d2FyZQBBZG9iZSBJbWFnZVJlYWR5ccllPAAADVVJREFUeNrsXWlsFMkVLh/cYO7DDGBARqzNfUUyp8GA1wmwII4fkdAiBfiBhJRoIwhCCKPkB5Z2SaT9RVgJbyTygxU/Ii0hiMsgruVQVmTBHObyMjJgcdhgbnDeV1RNiqa6p6unZ3pG6ZJK01396r16X7336nXVeJzV2trKwuK+5G7ZsoUNGzbM7vkIqmVUS6iOplrgk9xO4rMlFUrCKFDfvXvHXr16lf369esc1Ldv32a9efPmhSCrJ5r/EM0pqgc3btz4E7paeWVVVlZywJ4/fx5r7NChw2D6WEEMPqfOgyFI1kwrEigCBmAxAooRULF2qVN2djavWVlZqLep/o3oqzdt2nTjAwtTb7p06QLGpXT5BX3OA1MwyM3NjTHMNLAA1IsXLzhQ+LTqhGvVCkFPIBZQ+6a2bdtOqKqq+nL9+vVHJM8PEABY1GkrMedgtWnThlEnlpOTk7FgwXOePHnCnj17xqw6SbCEVXEd8Qw0KGSJv6Q+hFnVTMk3p7S0lPXs2RNEcMM/kpBZ6Cw7SeQzqcLN4HYvX75kLS0t3LJUnSRITgXgCX4RArfXrFmzTh06dOixajYr4IbcT3NzM3olg6IADNYFsFSdKD7z0GOXHXTu3JnTqH2I168ItBVqDBshAjwncptqgB6ziIHB/GHm7du35zOJe5R27drxdtVN4B7oh1nG4FBBAyWhICp4gw/4gU4Ga2kdGKfK2woW+KOCD2jQ3rFjRzZjxgze/8SJE9xVVUsDWFOmTOG0R48e5XrB0sCP6D7funXrdxKwMqyGJrMIJs3NzVyh6dOn808oeu3aNVZXV8cmTZrEn9+/f58PBIPA88ePH7OJEyey/Px8PthLly7xPt26dePu079/fzZ8+HAOYkNDA7t69SoHq7CwkIMtYw1WvLt373IQdBOJPnLSZEEfTBZCEIA5fvw4e/r0aWzBQxv0ePDgAaeVrgl+NP4CAr5MumQJGuP5tVoguFevXmzlypVcWSgNHkuWLGEPHz5kZWVlrKioKOYSGDzAWrNmDQezvr6eg7lw4UK2YMECFo1GOVDLli3jtABq5MiRbPDg9/M4d+5cDvSQIUPY0KFDuWxdmqOudnJFVK0blgVAAMzUqVP5ZErLkmCBRqYe0tvEZ4m0sNEQLlfCeC4J2kePHrHly5dzpaurq1nXrl25tdTW1sZ8X+Y/4AfrGT9+PLeI7du3s6amJj6LaC8vL+cAFBS8z4t37drF3fHMmTNs4MCBMVc8fPgwVwbWgEmCpVjHquaMOp0kaAAI/adNmxYLHRIsaZkSMIAuxjBaAlYgmauzYlfAsHfv3qxTp07s4MGDfPA9evTgfQGCDJpqQTzp168fv4YrwXLQdv36dd4GV4SVFhcXs23btrFbt26xixcvsgsXLnALQJk5cyYbO3YsnxBMzL179xyTVatOEgC4K4BBKMHYUWD9EizVstSJIB6Dcq1AuCnSv2Uswz2UlwPFgOTA5TO1D67VPjJWnDx5kveFK48YMYKDmpeXx06dOsVpANDNmze5NcDCQWudXDmeeDqBTnVpXCN8xMNAxrDbJokpZhgDRkEcgHshbsE9YV3yNQtgIKjiOQZy584d3h6JRDhtY2Nj7D0WVofrc+fOsZ07d7LVq1fz9u7du8dc8vLlyzxQnz17lvfXjVkmoXJxsBs/8k94hVyVcY02u5RKWGq9TFyn0c1Ik3dFKAGfHzduHBs1ahQHCZYxf/58tnfvXlZRURFb4vv27ctjUU1NDZs8eTIbM2YMBxBBfvbs2RwIPFu0aBErKSnh2TbGBWBPnz7NAUc/jA/xa8CAAfwTbqQmo6o7Sguy6iTB6tOnDwfqwIED7MaNGzx+Ig4j1GBBsvYTbzuHJWARaquQMxmvyDwIFnPlyhUeyGWacOzYMZ5OQFkEdAwMwRUV6QYAQAGAiIGgR0UsgZXB3fAMAz5y5AjnD3DgmuCPxQG8UJB2AFzdoqSC5gQWcjG4MHRxAk0A9o3crUDi+j11HGxiZdLvUTE4mbjCfGFxMpahwBIAEJTGM5m4gh5ujGsM3JoEAxCZ7Mr4ovazupC0avDCuPApdYL8OXPm8PFJsKybD3gOejzHhEt3JDm36XKelHaRBvEtDXKzCWBgBOvSJY9QyK5Y3Ujto+sHUJz4Wa1fKMiramUAAEDguRUsFLThOeglWIp1fbtu3bqf1OmpJgETaIbmuV0t07UANCgJ61QTWQmaU7ECCdCJ114CvvqD7R1yhVv08RUR/JDpL9+qlcntHC86iT2zswT4Vxs2bLj50X4YgVZDwv5AQr6HoEzbA7OzMlQsJm51Ag1oqf8/ic96dQPxI9gBGgXTW4TueeqQ0VvUEjS5qwEgfNuitrzOwD0rqdN3eEOn+n91CELtzocgYXFfskMIQsCSWngMo3fAVl3AdNoXUzfmrKW2ttbVTmRQcpNuYepxlBpInWj9WuWCkBsXMFWY3Bqxbu+qM68bnNrPFJBUy00YMHVAS5cujd3jWjezuMbeu2yT16aDVuVq9s9tr61tqfxCTbY6Syi7d+/mALgtoEUfL26hyvXDdVMW9FXzNwFNBcvKw8TKVLeyypX87dqtbpwSwFRTN7EuVREoYBpLdC5mBSQecG5W1qRYmBRqHahd0dF5GbROWWnhVhmyTQUt1V8IzPZTsBe3sJNrBUYHYBAxjL9LIoF0SghNrcUkcQ1Crm+Ja6JW5rV/UHITSiv8ckkT99DJtbphvGs/0xOjxNUPgaZJpJNca8xySnVSmbzmWmfaLt+xSyfi0bm1MOsYdPxMk+qkphVu8h2n9CJRt7ZzzXjjSWUO9lEepiavbmZTzZecXpDdpCKyv52l2rV7levLy3e8fMdNvuQl0/dD4VRZ2Qd5mNNek9sBia9hGuVhqZbr636Y036VmzTC635YKuX69vJtOrvJSDhTITdhwCgG+WrK+IMvlzsdgchNGDAK3L4eRuCxywUjELm+vUvGG2R4CBIegiQW9K2CTQ8jvAZ9efiiS1R1hy+JvpL58i7plwslmlbEA0D3qpTyYzbdK4bpNovXwwhVUS+HL6k+BMm2upj6Tuc0eN0rlB+HIKmQ64uF2bmHbvC6QXvdk1KP9kzlypf+QHYrnHY+nfbDVAW8zLTTIYjb+BbYMVsi2yyJ5lqZ8vsZ4SGI17QinkvGO7L3kp74efiSUgvTLcsAwsn9dM/9PgRx05bIgpPQq5Hu9SPZhxF2hy9u5QZxIJJtFw/ibVVbB++XWwQl1/UkY4u6uLi41a8AarJVrMqV75JuV2FrWpOqLepcayzx+7jMNIbp8ju3cSyleVi8vSaTwwgvIOsAsvsqVFrthzntV9ntRXmd6fAQxAf3zYhDkFR8r0pXgpLra1oRlhCwELAgSyyG7NixYyB9LKZaTnWCaD5PdT/VPatWrfoZDW7/vlLS+c03LSyMlMJf3H5N9c9UP6XaW9RPRdvXgsaoJItvoBYmLABKfaa011EttND+g+raaDT6sxvGkUhEx1fH24hvOljYYotS9VRLNbSfCVq3ZbEGLCZ41yfAN3DAypX7KBSiuBK1oS834K2lFbxLhSwvfAMHTAbiRgHWTaFYFipd5iv0Ewx4q7T5Cj8mZJQKmaZ80z6t8ON3ZTL7t2ksgJ0X11i9amgRGCJWuFZUxQqYQuumqLSNCj8mZNQImaZ8Awdsv7q4CdAiNvT7DXjvt0k1IgKsiEe+gQO2RyztsgwSCjFNWrHHgLeVryw1QoZXvsECJjLtKotyuhysSmblbooNX6bJwYz4pkXQpwHjZyzXUv0d1X+JuNUortG2VtAYlWTxDTTTN92Mc/vF282bNyeFb7hbEW7vhICFRSm58vSF8qOu9FEkVjH5OtQgdhdqKTg3ocHtvlWy+KaFhYktngr2fp8KinUStVC0VQgao5IsvoGuksICoNQnSvtDqj0stJep7otGo01uGEciER1fHW8jvulgYUUWpTDwag3tJ4LWbSnSgMUE76YE+AYOmJp5N0MhiivNNvSFBrwLbZLZZgFas0e+wQZ9JRC3CLAeCcUqRRzCr///XtDkG/BWab8kfk8V0B4RX4D2GxHT8jPJwuIVP368NfP+R5mDhTUoK9gKmvmdwgJ063yDAe8GxdXWET9pXZV03R2y2P9+z7UhkyysTrnPE6Dl2dDXGfCus0k18gRYeR75Bg5YrVjaZekqFGKatKLWgLeVrywrhAyvfIMFTGTaJyzK6XKwEzIrd7m1o+PLNDmYEd+0CPpiA28fe79PVSdWzBZxjbZ9Xjb5ksU30Ew//C3qcLciBCwELMMTV7m7YNwZ/7HPbXHD34RfulgYvuMwKIny/kJ1O9UONvcZB9gvRG60MUlKIGnFP11ra3OfkTEMQP1JAPfrMGq5D/pwzV1Uf6A6NoTK/SoJN/031W+o9gsBc1+w2XdNxLe2IWDuCr6biu9yvQoBcy7YTfiC6jjx0hwmrg7lr1Q3sPfHY2Gm7/DsKNXfUv0xhMkZsHphUX9PgrxSqjlUn9rcZxxgiE/VVJ8nSd6Pce7TvmRlym/eZGpaEQIWQmBW/ivAAEHJ6+6BIIcfAAAAAElFTkSuQmCC) -24px -100px no-repeat;height:15px;width:14px}div.light_square .pp_arrow_previous{background:url(data:image/png;base64,iVBORw0KGgoAAAANSUhEUgAAAEwAAAB3CAYAAACpKqZFAAAAGXRFWHRTb2Z0d2FyZQBBZG9iZSBJbWFnZVJlYWR5ccllPAAADVVJREFUeNrsXWlsFMkVLh/cYO7DDGBARqzNfUUyp8GA1wmwII4fkdAiBfiBhJRoIwhCCKPkB5Z2SaT9RVgJbyTygxU/Ii0hiMsgruVQVmTBHObyMjJgcdhgbnDeV1RNiqa6p6unZ3pG6ZJK01396r16X7336nXVeJzV2trKwuK+5G7ZsoUNGzbM7vkIqmVUS6iOplrgk9xO4rMlFUrCKFDfvXvHXr16lf369esc1Ldv32a9efPmhSCrJ5r/EM0pqgc3btz4E7paeWVVVlZywJ4/fx5r7NChw2D6WEEMPqfOgyFI1kwrEigCBmAxAooRULF2qVN2djavWVlZqLep/o3oqzdt2nTjAwtTb7p06QLGpXT5BX3OA1MwyM3NjTHMNLAA1IsXLzhQ+LTqhGvVCkFPIBZQ+6a2bdtOqKqq+nL9+vVHJM8PEABY1GkrMedgtWnThlEnlpOTk7FgwXOePHnCnj17xqw6SbCEVXEd8Qw0KGSJv6Q+hFnVTMk3p7S0lPXs2RNEcMM/kpBZ6Cw7SeQzqcLN4HYvX75kLS0t3LJUnSRITgXgCX4RArfXrFmzTh06dOixajYr4IbcT3NzM3olg6IADNYFsFSdKD7z0GOXHXTu3JnTqH2I168ItBVqDBshAjwncptqgB6ziIHB/GHm7du35zOJe5R27drxdtVN4B7oh1nG4FBBAyWhICp4gw/4gU4Ga2kdGKfK2woW+KOCD2jQ3rFjRzZjxgze/8SJE9xVVUsDWFOmTOG0R48e5XrB0sCP6D7funXrdxKwMqyGJrMIJs3NzVyh6dOn808oeu3aNVZXV8cmTZrEn9+/f58PBIPA88ePH7OJEyey/Px8PthLly7xPt26dePu079/fzZ8+HAOYkNDA7t69SoHq7CwkIMtYw1WvLt373IQdBOJPnLSZEEfTBZCEIA5fvw4e/r0aWzBQxv0ePDgAaeVrgl+NP4CAr5MumQJGuP5tVoguFevXmzlypVcWSgNHkuWLGEPHz5kZWVlrKioKOYSGDzAWrNmDQezvr6eg7lw4UK2YMECFo1GOVDLli3jtABq5MiRbPDg9/M4d+5cDvSQIUPY0KFDuWxdmqOudnJFVK0blgVAAMzUqVP5ZErLkmCBRqYe0tvEZ4m0sNEQLlfCeC4J2kePHrHly5dzpaurq1nXrl25tdTW1sZ8X+Y/4AfrGT9+PLeI7du3s6amJj6LaC8vL+cAFBS8z4t37drF3fHMmTNs4MCBMVc8fPgwVwbWgEmCpVjHquaMOp0kaAAI/adNmxYLHRIsaZkSMIAuxjBaAlYgmauzYlfAsHfv3qxTp07s4MGDfPA9evTgfQGCDJpqQTzp168fv4YrwXLQdv36dd4GV4SVFhcXs23btrFbt26xixcvsgsXLnALQJk5cyYbO3YsnxBMzL179xyTVatOEgC4K4BBKMHYUWD9EizVstSJIB6Dcq1AuCnSv2Uswz2UlwPFgOTA5TO1D67VPjJWnDx5kveFK48YMYKDmpeXx06dOsVpANDNmze5NcDCQWudXDmeeDqBTnVpXCN8xMNAxrDbJokpZhgDRkEcgHshbsE9YV3yNQtgIKjiOQZy584d3h6JRDhtY2Nj7D0WVofrc+fOsZ07d7LVq1fz9u7du8dc8vLlyzxQnz17lvfXjVkmoXJxsBs/8k94hVyVcY02u5RKWGq9TFyn0c1Ik3dFKAGfHzduHBs1ahQHCZYxf/58tnfvXlZRURFb4vv27ctjUU1NDZs8eTIbM2YMBxBBfvbs2RwIPFu0aBErKSnh2TbGBWBPnz7NAUc/jA/xa8CAAfwTbqQmo6o7Sguy6iTB6tOnDwfqwIED7MaNGzx+Ig4j1GBBsvYTbzuHJWARaquQMxmvyDwIFnPlyhUeyGWacOzYMZ5OQFkEdAwMwRUV6QYAQAGAiIGgR0UsgZXB3fAMAz5y5AjnD3DgmuCPxQG8UJB2AFzdoqSC5gQWcjG4MHRxAk0A9o3crUDi+j11HGxiZdLvUTE4mbjCfGFxMpahwBIAEJTGM5m4gh5ujGsM3JoEAxCZ7Mr4ovazupC0avDCuPApdYL8OXPm8PFJsKybD3gOejzHhEt3JDm36XKelHaRBvEtDXKzCWBgBOvSJY9QyK5Y3Ujto+sHUJz4Wa1fKMiramUAAEDguRUsFLThOeglWIp1fbtu3bqf1OmpJgETaIbmuV0t07UANCgJ61QTWQmaU7ECCdCJ114CvvqD7R1yhVv08RUR/JDpL9+qlcntHC86iT2zswT4Vxs2bLj50X4YgVZDwv5AQr6HoEzbA7OzMlQsJm51Ag1oqf8/ic96dQPxI9gBGgXTW4TueeqQ0VvUEjS5qwEgfNuitrzOwD0rqdN3eEOn+n91CELtzocgYXFfskMIQsCSWngMo3fAVl3AdNoXUzfmrKW2ttbVTmRQcpNuYepxlBpInWj9WuWCkBsXMFWY3Bqxbu+qM68bnNrPFJBUy00YMHVAS5cujd3jWjezuMbeu2yT16aDVuVq9s9tr61tqfxCTbY6Syi7d+/mALgtoEUfL26hyvXDdVMW9FXzNwFNBcvKw8TKVLeyypX87dqtbpwSwFRTN7EuVREoYBpLdC5mBSQecG5W1qRYmBRqHahd0dF5GbROWWnhVhmyTQUt1V8IzPZTsBe3sJNrBUYHYBAxjL9LIoF0SghNrcUkcQ1Crm+Ja6JW5rV/UHITSiv8ckkT99DJtbphvGs/0xOjxNUPgaZJpJNca8xySnVSmbzmWmfaLt+xSyfi0bm1MOsYdPxMk+qkphVu8h2n9CJRt7ZzzXjjSWUO9lEepiavbmZTzZecXpDdpCKyv52l2rV7levLy3e8fMdNvuQl0/dD4VRZ2Qd5mNNek9sBia9hGuVhqZbr636Y036VmzTC635YKuX69vJtOrvJSDhTITdhwCgG+WrK+IMvlzsdgchNGDAK3L4eRuCxywUjELm+vUvGG2R4CBIegiQW9K2CTQ8jvAZ9efiiS1R1hy+JvpL58i7plwslmlbEA0D3qpTyYzbdK4bpNovXwwhVUS+HL6k+BMm2upj6Tuc0eN0rlB+HIKmQ64uF2bmHbvC6QXvdk1KP9kzlypf+QHYrnHY+nfbDVAW8zLTTIYjb+BbYMVsi2yyJ5lqZ8vsZ4SGI17QinkvGO7L3kp74efiSUgvTLcsAwsn9dM/9PgRx05bIgpPQq5Hu9SPZhxF2hy9u5QZxIJJtFw/ibVVbB++XWwQl1/UkY4u6uLi41a8AarJVrMqV75JuV2FrWpOqLepcayzx+7jMNIbp8ju3cSyleVi8vSaTwwgvIOsAsvsqVFrthzntV9ntRXmd6fAQxAf3zYhDkFR8r0pXgpLra1oRlhCwELAgSyyG7NixYyB9LKZaTnWCaD5PdT/VPatWrfoZDW7/vlLS+c03LSyMlMJf3H5N9c9UP6XaW9RPRdvXgsaoJItvoBYmLABKfaa011EttND+g+raaDT6sxvGkUhEx1fH24hvOljYYotS9VRLNbSfCVq3ZbEGLCZ41yfAN3DAypX7KBSiuBK1oS834K2lFbxLhSwvfAMHTAbiRgHWTaFYFipd5iv0Ewx4q7T5Cj8mZJQKmaZ80z6t8ON3ZTL7t2ksgJ0X11i9amgRGCJWuFZUxQqYQuumqLSNCj8mZNQImaZ8Awdsv7q4CdAiNvT7DXjvt0k1IgKsiEe+gQO2RyztsgwSCjFNWrHHgLeVryw1QoZXvsECJjLtKotyuhysSmblbooNX6bJwYz4pkXQpwHjZyzXUv0d1X+JuNUortG2VtAYlWTxDTTTN92Mc/vF282bNyeFb7hbEW7vhICFRSm58vSF8qOu9FEkVjH5OtQgdhdqKTg3ocHtvlWy+KaFhYktngr2fp8KinUStVC0VQgao5IsvoGuksICoNQnSvtDqj0stJep7otGo01uGEciER1fHW8jvulgYUUWpTDwag3tJ4LWbSnSgMUE76YE+AYOmJp5N0MhiivNNvSFBrwLbZLZZgFas0e+wQZ9JRC3CLAeCcUqRRzCr///XtDkG/BWab8kfk8V0B4RX4D2GxHT8jPJwuIVP368NfP+R5mDhTUoK9gKmvmdwgJ063yDAe8GxdXWET9pXZV03R2y2P9+z7UhkyysTrnPE6Dl2dDXGfCus0k18gRYeR75Bg5YrVjaZekqFGKatKLWgLeVrywrhAyvfIMFTGTaJyzK6XKwEzIrd7m1o+PLNDmYEd+0CPpiA28fe79PVSdWzBZxjbZ9Xjb5ksU30Ew//C3qcLciBCwELMMTV7m7YNwZ/7HPbXHD34RfulgYvuMwKIny/kJ1O9UONvcZB9gvRG60MUlKIGnFP11ra3OfkTEMQP1JAPfrMGq5D/pwzV1Uf6A6NoTK/SoJN/031W+o9gsBc1+w2XdNxLe2IWDuCr6biu9yvQoBcy7YTfiC6jjx0hwmrg7lr1Q3sPfHY2Gm7/DsKNXfUv0xhMkZsHphUX9PgrxSqjlUn9rcZxxgiE/VVJ8nSd6Pce7TvmRlym/eZGpaEQIWQmBW/ivAAEHJ6+6BIIcfAAAAAElFTkSuQmCC) 0 -71px no-repeat}div.light_square .pp_arrow_next{background:url(data:image/png;base64,iVBORw0KGgoAAAANSUhEUgAAAEwAAAB3CAYAAACpKqZFAAAAGXRFWHRTb2Z0d2FyZQBBZG9iZSBJbWFnZVJlYWR5ccllPAAADVVJREFUeNrsXWlsFMkVLh/cYO7DDGBARqzNfUUyp8GA1wmwII4fkdAiBfiBhJRoIwhCCKPkB5Z2SaT9RVgJbyTygxU/Ii0hiMsgruVQVmTBHObyMjJgcdhgbnDeV1RNiqa6p6unZ3pG6ZJK01396r16X7336nXVeJzV2trKwuK+5G7ZsoUNGzbM7vkIqmVUS6iOplrgk9xO4rMlFUrCKFDfvXvHXr16lf369esc1Ldv32a9efPmhSCrJ5r/EM0pqgc3btz4E7paeWVVVlZywJ4/fx5r7NChw2D6WEEMPqfOgyFI1kwrEigCBmAxAooRULF2qVN2djavWVlZqLep/o3oqzdt2nTjAwtTb7p06QLGpXT5BX3OA1MwyM3NjTHMNLAA1IsXLzhQ+LTqhGvVCkFPIBZQ+6a2bdtOqKqq+nL9+vVHJM8PEABY1GkrMedgtWnThlEnlpOTk7FgwXOePHnCnj17xqw6SbCEVXEd8Qw0KGSJv6Q+hFnVTMk3p7S0lPXs2RNEcMM/kpBZ6Cw7SeQzqcLN4HYvX75kLS0t3LJUnSRITgXgCX4RArfXrFmzTh06dOixajYr4IbcT3NzM3olg6IADNYFsFSdKD7z0GOXHXTu3JnTqH2I168ItBVqDBshAjwncptqgB6ziIHB/GHm7du35zOJe5R27drxdtVN4B7oh1nG4FBBAyWhICp4gw/4gU4Ga2kdGKfK2woW+KOCD2jQ3rFjRzZjxgze/8SJE9xVVUsDWFOmTOG0R48e5XrB0sCP6D7funXrdxKwMqyGJrMIJs3NzVyh6dOn808oeu3aNVZXV8cmTZrEn9+/f58PBIPA88ePH7OJEyey/Px8PthLly7xPt26dePu079/fzZ8+HAOYkNDA7t69SoHq7CwkIMtYw1WvLt373IQdBOJPnLSZEEfTBZCEIA5fvw4e/r0aWzBQxv0ePDgAaeVrgl+NP4CAr5MumQJGuP5tVoguFevXmzlypVcWSgNHkuWLGEPHz5kZWVlrKioKOYSGDzAWrNmDQezvr6eg7lw4UK2YMECFo1GOVDLli3jtABq5MiRbPDg9/M4d+5cDvSQIUPY0KFDuWxdmqOudnJFVK0blgVAAMzUqVP5ZErLkmCBRqYe0tvEZ4m0sNEQLlfCeC4J2kePHrHly5dzpaurq1nXrl25tdTW1sZ8X+Y/4AfrGT9+PLeI7du3s6amJj6LaC8vL+cAFBS8z4t37drF3fHMmTNs4MCBMVc8fPgwVwbWgEmCpVjHquaMOp0kaAAI/adNmxYLHRIsaZkSMIAuxjBaAlYgmauzYlfAsHfv3qxTp07s4MGDfPA9evTgfQGCDJpqQTzp168fv4YrwXLQdv36dd4GV4SVFhcXs23btrFbt26xixcvsgsXLnALQJk5cyYbO3YsnxBMzL179xyTVatOEgC4K4BBKMHYUWD9EizVstSJIB6Dcq1AuCnSv2Uswz2UlwPFgOTA5TO1D67VPjJWnDx5kveFK48YMYKDmpeXx06dOsVpANDNmze5NcDCQWudXDmeeDqBTnVpXCN8xMNAxrDbJokpZhgDRkEcgHshbsE9YV3yNQtgIKjiOQZy584d3h6JRDhtY2Nj7D0WVofrc+fOsZ07d7LVq1fz9u7du8dc8vLlyzxQnz17lvfXjVkmoXJxsBs/8k94hVyVcY02u5RKWGq9TFyn0c1Ik3dFKAGfHzduHBs1ahQHCZYxf/58tnfvXlZRURFb4vv27ctjUU1NDZs8eTIbM2YMBxBBfvbs2RwIPFu0aBErKSnh2TbGBWBPnz7NAUc/jA/xa8CAAfwTbqQmo6o7Sguy6iTB6tOnDwfqwIED7MaNGzx+Ig4j1GBBsvYTbzuHJWARaquQMxmvyDwIFnPlyhUeyGWacOzYMZ5OQFkEdAwMwRUV6QYAQAGAiIGgR0UsgZXB3fAMAz5y5AjnD3DgmuCPxQG8UJB2AFzdoqSC5gQWcjG4MHRxAk0A9o3crUDi+j11HGxiZdLvUTE4mbjCfGFxMpahwBIAEJTGM5m4gh5ujGsM3JoEAxCZ7Mr4ovazupC0avDCuPApdYL8OXPm8PFJsKybD3gOejzHhEt3JDm36XKelHaRBvEtDXKzCWBgBOvSJY9QyK5Y3Ujto+sHUJz4Wa1fKMiramUAAEDguRUsFLThOeglWIp1fbtu3bqf1OmpJgETaIbmuV0t07UANCgJ61QTWQmaU7ECCdCJ114CvvqD7R1yhVv08RUR/JDpL9+qlcntHC86iT2zswT4Vxs2bLj50X4YgVZDwv5AQr6HoEzbA7OzMlQsJm51Ag1oqf8/ic96dQPxI9gBGgXTW4TueeqQ0VvUEjS5qwEgfNuitrzOwD0rqdN3eEOn+n91CELtzocgYXFfskMIQsCSWngMo3fAVl3AdNoXUzfmrKW2ttbVTmRQcpNuYepxlBpInWj9WuWCkBsXMFWY3Bqxbu+qM68bnNrPFJBUy00YMHVAS5cujd3jWjezuMbeu2yT16aDVuVq9s9tr61tqfxCTbY6Syi7d+/mALgtoEUfL26hyvXDdVMW9FXzNwFNBcvKw8TKVLeyypX87dqtbpwSwFRTN7EuVREoYBpLdC5mBSQecG5W1qRYmBRqHahd0dF5GbROWWnhVhmyTQUt1V8IzPZTsBe3sJNrBUYHYBAxjL9LIoF0SghNrcUkcQ1Crm+Ja6JW5rV/UHITSiv8ckkT99DJtbphvGs/0xOjxNUPgaZJpJNca8xySnVSmbzmWmfaLt+xSyfi0bm1MOsYdPxMk+qkphVu8h2n9CJRt7ZzzXjjSWUO9lEepiavbmZTzZecXpDdpCKyv52l2rV7levLy3e8fMdNvuQl0/dD4VRZ2Qd5mNNek9sBia9hGuVhqZbr636Y036VmzTC635YKuX69vJtOrvJSDhTITdhwCgG+WrK+IMvlzsdgchNGDAK3L4eRuCxywUjELm+vUvGG2R4CBIegiQW9K2CTQ8jvAZ9efiiS1R1hy+JvpL58i7plwslmlbEA0D3qpTyYzbdK4bpNovXwwhVUS+HL6k+BMm2upj6Tuc0eN0rlB+HIKmQ64uF2bmHbvC6QXvdk1KP9kzlypf+QHYrnHY+nfbDVAW8zLTTIYjb+BbYMVsi2yyJ5lqZ8vsZ4SGI17QinkvGO7L3kp74efiSUgvTLcsAwsn9dM/9PgRx05bIgpPQq5Hu9SPZhxF2hy9u5QZxIJJtFw/ibVVbB++XWwQl1/UkY4u6uLi41a8AarJVrMqV75JuV2FrWpOqLepcayzx+7jMNIbp8ju3cSyleVi8vSaTwwgvIOsAsvsqVFrthzntV9ntRXmd6fAQxAf3zYhDkFR8r0pXgpLra1oRlhCwELAgSyyG7NixYyB9LKZaTnWCaD5PdT/VPatWrfoZDW7/vlLS+c03LSyMlMJf3H5N9c9UP6XaW9RPRdvXgsaoJItvoBYmLABKfaa011EttND+g+raaDT6sxvGkUhEx1fH24hvOljYYotS9VRLNbSfCVq3ZbEGLCZ41yfAN3DAypX7KBSiuBK1oS834K2lFbxLhSwvfAMHTAbiRgHWTaFYFipd5iv0Ewx4q7T5Cj8mZJQKmaZ80z6t8ON3ZTL7t2ksgJ0X11i9amgRGCJWuFZUxQqYQuumqLSNCj8mZNQImaZ8Awdsv7q4CdAiNvT7DXjvt0k1IgKsiEe+gQO2RyztsgwSCjFNWrHHgLeVryw1QoZXvsECJjLtKotyuhysSmblbooNX6bJwYz4pkXQpwHjZyzXUv0d1X+JuNUortG2VtAYlWTxDTTTN92Mc/vF282bNyeFb7hbEW7vhICFRSm58vSF8qOu9FEkVjH5OtQgdhdqKTg3ocHtvlWy+KaFhYktngr2fp8KinUStVC0VQgao5IsvoGuksICoNQnSvtDqj0stJep7otGo01uGEciER1fHW8jvulgYUUWpTDwag3tJ4LWbSnSgMUE76YE+AYOmJp5N0MhiivNNvSFBrwLbZLZZgFas0e+wQZ9JRC3CLAeCcUqRRzCr///XtDkG/BWab8kfk8V0B4RX4D2GxHT8jPJwuIVP368NfP+R5mDhTUoK9gKmvmdwgJ063yDAe8GxdXWET9pXZV03R2y2P9+z7UhkyysTrnPE6Dl2dDXGfCus0k18gRYeR75Bg5YrVjaZekqFGKatKLWgLeVrywrhAyvfIMFTGTaJyzK6XKwEzIrd7m1o+PLNDmYEd+0CPpiA28fe79PVSdWzBZxjbZ9Xjb5ksU30Ew//C3qcLciBCwELMMTV7m7YNwZ/7HPbXHD34RfulgYvuMwKIny/kJ1O9UONvcZB9gvRG60MUlKIGnFP11ra3OfkTEMQP1JAPfrMGq5D/pwzV1Uf6A6NoTK/SoJN/031W+o9gsBc1+w2XdNxLe2IWDuCr6biu9yvQoBcy7YTfiC6jjx0hwmrg7lr1Q3sPfHY2Gm7/DsKNXfUv0xhMkZsHphUX9PgrxSqjlUn9rcZxxgiE/VVJ8nSd6Pce7TvmRlym/eZGpaEQIWQmBW/ivAAEHJ6+6BIIcfAAAAAElFTkSuQmCC) -22px -71px no-repeat}div.light_square .pp_next:hover{background:url(data:image/png;base64,iVBORw0KGgoAAAANSUhEUgAAAD0AAAAWCAYAAABzCZQcAAAAGXRFWHRTb2Z0d2FyZQBBZG9iZSBJbWFnZVJlYWR5ccllPAAABSVJREFUeNrMmMlLZEkQxqO03FcUFA+DCypoqQcRmlZccANRUTw4oIfpg3cv42UYET3YgtBHz/MHiApzcFxmxIMgOhe9KG6HHnBXxH2rqokvqCiyX1eVZV+qEpL3Kl9mvvxFfBGZr2xut5tsNhuNj4+Tj+Lg5418/ch9SvmajUZu+xoXF1cQFRXlio2NddrtdhfmCEFJ8Fzv3jPIrjcPDw/eRgbK4csnl8v1C9ccGIavUlEiIiKKXl9fxVgMTNHR0RQTE0ORkZEUYvj3QaMkJiaS0+msY8hf+dqqKgAYg3qB0I4K8JeXF1IDYDwbLFTgPwbtAR5jiA/4zfIVWLMoEK7wMLwP6NvbW4wXY8THx4c1uN2UNDwMYPWuetUEwG+rEdAX4AgR7Qu5hyu46cZPkLRYwiNnVEByshLp+ioAQz81EsBRoQCrgcLK05y5HZ6kJcnIXCxitKamRuBWVlZExmYxlQB4SBzQ8DSqNTzw/OnpSa4IH1TcQylq6OfnZ2nzeobbsC6sD8bFGBTMg3H+FIjwQ7Wuwe4Z0IgsbYVBwQLu7+8pPT2dqqqqBPzm5uabBRlZ3RvjWBAWh5ebModBMjIyRD2Xl5dScZ+Xl0fHx8d0cnJCZWVlMl6TJ+Y5ODig/Px8eY4xeAd+4xn6an5RJ6D94uJC3odnvuT90fSYuUXB4gDFBFgcwE2p4+X6MjWUZnY1hlkeHx+pqKiIWlpaqLe3l+7u7qRfQ0ODGBZAjY2NVFdXR7m5uWKMnJwcOjw8pMLCQurp6ZE+aWlp1NbWJgpISUmRvhUVFdTa2krFxcUyBuv0tQa7RwqleKgysEoFAAAHMBZWXV1Ns7Oz3/VVw8FQqGo4U15WY1RWVtLq6qrcY/uDslD29/dpYmJCgJKTkyk1NZWmpqaov7+fOjs7KTMzk87OzmhtbU12i+vrayopKaGuri7ph/dgHMLTyqOrydaFmN5Sj6vnAH51dSWx2tzcLG3az5zY9HygZDY/Py/5AvNZCzwMwL6+PqqvrxeJwpBzc3Mif0BPT0+LMeAIVI31hIQEUQI8DSUE3Kc1KfjNepxETC+pV3wVwELKmhzNMWqIyclJUU93d7fXWPA2ChLm9va2GATzYG2APj8/986FkAMY5kRc69q0r78tM0LP0tYM5wsYcQYLYhEzMzP+90Hj9BaoQJaLi4uUlZX13bPT01NaXl6m9fV12t3dFSAkVEh7b29PjNLR0SHKMzP9e/bpzUDQCoysC+CFhYXAk3qgrZlbtxJtS0pKos3NTUlm5taEAvnW1tZKciovLxcPt7e3i3QRswgNJCyHw+E9FCnDmw70yGqVB/0cLLC5Zfk7sPgCRsEOgAQE7wEacQgAZHTMj7adnR2RKNowBwyxtbUlz5aWliQEMH5jY4MKCgro6OhIlIDxaH8L2ob4Gh0dLeWJ/+QXZVtTPCzb1NQkEwUDjH761aWHDxNej6t4DzIrgPAbIBhn/jYNj3kwFvcYh/H6ZajzaOzrwchfiNk824xtbGxshO9/N19mggPmLWD9SNGTEO5D+Ln5Zky72Wp/MNisnqHNgpgLBlg9gitgg01oIfvgGB4ePuDU/4UX+q8v8GCBAavQYf+VNTIy4h4cHPyH97vfGPwvX9/S/mJYJW2Ch6uXrZ+WAHcNDQ39zZt+PyeKzwzxVeVqGkA/Ja3xq+Dh7GUzkX3zx+DAwAAII/laxttEA4N8YBAH9/vJc5j5jwHzuc2JPwfxxyBXdwg8/EN/DP4vwADzqyH4OmxBwwAAAABJRU5ErkJggg==) center right no-repeat;cursor:pointer}div.light_square .pp_previous:hover{background:url(data:image/png;base64,iVBORw0KGgoAAAANSUhEUgAAAD0AAAAWCAYAAABzCZQcAAAAGXRFWHRTb2Z0d2FyZQBBZG9iZSBJbWFnZVJlYWR5ccllPAAABURJREFUeNrUWElLLFcUPj04j4gTiIqioLgQRAhOKE4YtwpZZJN/IARciQtXgsrDRVAUxUhw2ATcBSIJcSQoAU2MUdQ4NCpOOM9D534nfZpr5/Zrk8Cj34FL3aq6dep85zvDrbIPDQ1d0X+XMNfxmj6QPD4+Wu/v720PDw/Wp6cn6/PzsxXXX15e/lCHX9XxZ3Xth6ampiV17jTpsPT19TnpIxAFhhRYuru7IwWWnE4nX8OAWK1WHhaLBWNbXfrm9vb265aWlj89wVtGR0f9HjTAXlxc0NXVFYMFMLvdLgB5jThBsexeo5zwnYqId83NzT/Cb6LP+jEAPj09pcvLSz4PCAigwMBAndW/2VNHm83G97AGwJUDPlXzVsV2hY4VOUH+OhRLdH5+Tjc3N6/Y1QXgTOcAjrWK/fygoKAvGxsbMwS4XzN9fX3NAwLAwq5JwsPDKTg4mEFLfuMZlyNqoqOjv1BTG4LC7ukpCLyMsJKCgRdJ2AgDOEL0kMI1FBq5JwUGa6BH1mIO/Tji3MQg3g3AyFM8pzPpuRaAi4qK+N7ExATrlrV4P+xROj5XbH/b3t6+YDd5TVU9io+Pf+W5vb09zq2QkBBKS0tjowTU6uoqGw/lWVlZ/FJhBYDW19cpMzOTdcBheBb6IyMjaXNz082IZy6r9iQF6RUIqdiQiIgIBgxbT05OWL+JSHUtRa1Fbv9mBA22srOzGcDy8jLFxcVRTU0N9ff3szHV1dV0eHjIL0lJSeF7AwMD5HA4qLKykhnCXFiem5ujiooKmp2dpfn5edZRV1fH71pcXGSDPUU3Xj8CsDhBGBbAMzMz7uqtPwfHYa6c+wmC04oTzwEmxJu9vb3U1tbG84KCAm4bkMnJSerp6eH7kMTERHYWZGNjgzo7O9lJw8PDzNj29jbl5ubS8fExp0JsbCwtLCzwXAw02SAG60OkpKTkFWBJR9NaV5rkIDjtvooJPJ6cnMxzKJf8iomJoaSkJCouLubz3d1dd5imp6dTQ0MDnwPk1NQUM1xfX08JCQmUkZHB6xBFYWFhxveCMT2fdQAAV1tbS6oq09nZ2T8Am6q5y4HJDFqS3ltodXV18fHo6IiNDw0N5fPy8nIeEg1wiAiiYWVlhY0C+5LXEOQ2GEd6wGDoM9mgbTt97tRkl/ZGsfhsWa2tre4wRigJmyMjI9Td3c1z5BUMl6oNQKiiYHdtbY2fw72trS0qLCzkVEBog2VvLUgvYCYZGxtjsIi4srIyYzHUBboUkQ6vfVrf6UjbkGou4QaGdnZ2aHp6mnJycji/sImAIIRLS0spPz+f8vLyOHIAEAUN1RaytLTEncCb4D3vAw0ZHx9n4LDNF3BX61pGxBu1AhzCGSxFRUW5t31iCK4DCKo68gmsoYqnpqZy+0Koo/ojd9He4DTo3N/f57DHeoQt9HoTU+/2FGxN3wocupTNc8gI41cW8gO9GsaCDTFONhUYUC5hC4ZdLYHB6PmF6gyWcYSjsBaOQ6RI5TYJdAAU3qX3ZZMgeqqqqngdnCC7OI8NkkNF5mcqJc2bExgvYejpLQDV+6rsst4iKGwYbxHRq7dPX4xjnSdg0aXIGFGAf0djsJOfChwMB8lmw1d1lq8wE4FKvld7h2EEkF+DFoYAXJj+F21Jrwu/qBrz1eDg4AY6IHLar0HLh47kpbRFX+EuRRcMA3BHR8dPLsDoqU6/Bq0Dl74tX3jv+12kxIEcRkhrDD/K3xO7qs7/56feB/sxKCAV2/xjUIW6TYG3qOtW17Z1FX1Y3Zs7ODiYcBWtJ41hd3j8JcAAJ3IhvjEWLJYAAAAASUVORK5CYII=) center left no-repeat;cursor:pointer}div.facebook .pp_top .pp_left{background:url(//www.electrician-palmharbor.com/wp-content/themes/integral/css/../images/prettyPhoto/facebook/sprite.png) -88px -53px no-repeat}div.facebook .pp_top .pp_middle{background:url(data:image/png;base64,iVBORw0KGgoAAAANSUhEUgAAABQAAAAUCAYAAACNiR0NAAAAGXRFWHRTb2Z0d2FyZQBBZG9iZSBJbWFnZVJlYWR5ccllPAAAADBJREFUeNpiZGBgaGCgImBioDIYNXDUwMFgIOOePXtOU9XA/0AwGimjBg43AwECDABqMQehO1Ts4gAAAABJRU5ErkJggg==) top left repeat-x}div.facebook .pp_top .pp_right{background:url(//www.electrician-palmharbor.com/wp-content/themes/integral/css/../images/prettyPhoto/facebook/sprite.png) -110px -53px no-repeat}div.facebook .pp_content_container .pp_left{background:url(data:image/png;base64,iVBORw0KGgoAAAANSUhEUgAAABQAAAAUCAYAAACNiR0NAAAAGXRFWHRTb2Z0d2FyZQBBZG9iZSBJbWFnZVJlYWR5ccllPAAAACtJREFUeNpiZGBgaGAgEvz//7+ekBomBiqDUQNHDRw1cNTAUQOHioEAAQYAGcUEJOA4znwAAAAASUVORK5CYII=) top left repeat-y}div.facebook .pp_content_container .pp_right{background:url(data:image/png;base64,iVBORw0KGgoAAAANSUhEUgAAABQAAAAUCAYAAACNiR0NAAAAGXRFWHRTb2Z0d2FyZQBBZG9iZSBJbWFnZVJlYWR5ccllPAAAACpJREFUeNpi/A8EDAQAIyNjIwORgImBymDUwFEDRw0cNXDUwKFiIECAAQDh+ASoAGHc9gAAAABJRU5ErkJggg==) top right repeat-y}div.facebook .pp_expand{background:url(//www.electrician-palmharbor.com/wp-content/themes/integral/css/../images/prettyPhoto/facebook/sprite.png) -31px -26px no-repeat;cursor:pointer}div.facebook .pp_expand:hover{background:url(//www.electrician-palmharbor.com/wp-content/themes/integral/css/../images/prettyPhoto/facebook/sprite.png) -31px -47px no-repeat;cursor:pointer}div.facebook .pp_contract{background:url(//www.electrician-palmharbor.com/wp-content/themes/integral/css/../images/prettyPhoto/facebook/sprite.png) 0 -26px no-repeat;cursor:pointer}div.facebook .pp_contract:hover{background:url(//www.electrician-palmharbor.com/wp-content/themes/integral/css/../images/prettyPhoto/facebook/sprite.png) 0 -47px no-repeat;cursor:pointer}div.facebook .pp_close{width:22px;height:22px;background:url(//www.electrician-palmharbor.com/wp-content/themes/integral/css/../images/prettyPhoto/facebook/sprite.png) -1px -1px no-repeat;cursor:pointer}div.facebook .pp_description{margin:0 37px 0 0}div.facebook .pp_loaderIcon{background:url(data:image/gif;base64,R0lGODlhGAAYAPQAAP///3FxcePj4/v7++3t7dLS0vHx8b+/v+Dg4MfHx+jo6M7Oztvb2/f397Kysru7u9fX16qqqgAAAAAAAAAAAAAAAAAAAAAAAAAAAAAAAAAAAAAAAAAAAAAAAAAAAAAAACH/C05FVFNDQVBFMi4wAwEAAAAh/hpDcmVhdGVkIHdpdGggYWpheGxvYWQuaW5mbwAh+QQJBwAAACwAAAAAGAAYAAAFriAgjiQAQWVaDgr5POSgkoTDjFE0NoQ8iw8HQZQTDQjDn4jhSABhAAOhoTqSDg7qSUQwxEaEwwFhXHhHgzOA1xshxAnfTzotGRaHglJqkJcaVEqCgyoCBQkJBQKDDXQGDYaIioyOgYSXA36XIgYMBWRzXZoKBQUMmil0lgalLSIClgBpO0g+s26nUWddXyoEDIsACq5SsTMMDIECwUdJPw0Mzsu0qHYkw72bBmozIQAh+QQJBwAAACwAAAAAGAAYAAAFsCAgjiTAMGVaDgR5HKQwqKNxIKPjjFCk0KNXC6ATKSI7oAhxWIhezwhENTCQEoeGCdWIPEgzESGxEIgGBWstEW4QCGGAIJEoxGmGt5ZkgCRQQHkGd2CESoeIIwoMBQUMP4cNeQQGDYuNj4iSb5WJnmeGng0CDGaBlIQEJziHk3sABidDAHBgagButSKvAAoyuHuUYHgCkAZqebw0AgLBQyyzNKO3byNuoSS8x8OfwIchACH5BAkHAAAALAAAAAAYABgAAAW4ICCOJIAgZVoOBJkkpDKoo5EI43GMjNPSokXCINKJCI4HcCRIQEQvqIOhGhBHhUTDhGo4diOZyFAoKEQDxra2mAEgjghOpCgz3LTBIxJ5kgwMBShACREHZ1V4Kg1rS44pBAgMDAg/Sw0GBAQGDZGTlY+YmpyPpSQDiqYiDQoCliqZBqkGAgKIS5kEjQ21VwCyp76dBHiNvz+MR74AqSOdVwbQuo+abppo10ssjdkAnc0rf8vgl8YqIQAh+QQJBwAAACwAAAAAGAAYAAAFrCAgjiQgCGVaDgZZFCQxqKNRKGOSjMjR0qLXTyciHA7AkaLACMIAiwOC1iAxCrMToHHYjWQiA4NBEA0Q1RpWxHg4cMXxNDk4OBxNUkPAQAEXDgllKgMzQA1pSYopBgonCj9JEA8REQ8QjY+RQJOVl4ugoYssBJuMpYYjDQSliwasiQOwNakALKqsqbWvIohFm7V6rQAGP6+JQLlFg7KDQLKJrLjBKbvAor3IKiEAIfkECQcAAAAsAAAAABgAGAAABbUgII4koChlmhokw5DEoI4NQ4xFMQoJO4uuhignMiQWvxGBIQC+AJBEUyUcIRiyE6CR0CllW4HABxBURTUw4nC4FcWo5CDBRpQaCoF7VjgsyCUDYDMNZ0mHdwYEBAaGMwwHDg4HDA2KjI4qkJKUiJ6faJkiA4qAKQkRB3E0i6YpAw8RERAjA4tnBoMApCMQDhFTuySKoSKMJAq6rD4GzASiJYtgi6PUcs9Kew0xh7rNJMqIhYchACH5BAkHAAAALAAAAAAYABgAAAW0ICCOJEAQZZo2JIKQxqCOjWCMDDMqxT2LAgELkBMZCoXfyCBQiFwiRsGpku0EshNgUNAtrYPT0GQVNRBWwSKBMp98P24iISgNDAS4ipGA6JUpA2WAhDR4eWM/CAkHBwkIDYcGiTOLjY+FmZkNlCN3eUoLDmwlDW+AAwcODl5bYl8wCVYMDw5UWzBtnAANEQ8kBIM0oAAGPgcREIQnVloAChEOqARjzgAQEbczg8YkWJq8nSUhACH5BAkHAAAALAAAAAAYABgAAAWtICCOJGAYZZoOpKKQqDoORDMKwkgwtiwSBBYAJ2owGL5RgxBziQQMgkwoMkhNqAEDARPSaiMDFdDIiRSFQowMXE8Z6RdpYHWnEAWGPVkajPmARVZMPUkCBQkJBQINgwaFPoeJi4GVlQ2Qc3VJBQcLV0ptfAMJBwdcIl+FYjALQgimoGNWIhAQZA4HXSpLMQ8PIgkOSHxAQhERPw7ASTSFyCMMDqBTJL8tf3y2fCEAIfkECQcAAAAsAAAAABgAGAAABa8gII4k0DRlmg6kYZCoOg5EDBDEaAi2jLO3nEkgkMEIL4BLpBAkVy3hCTAQKGAznM0AFNFGBAbj2cA9jQixcGZAGgECBu/9HnTp+FGjjezJFAwFBQwKe2Z+KoCChHmNjVMqA21nKQwJEJRlbnUFCQlFXlpeCWcGBUACCwlrdw8RKGImBwktdyMQEQciB7oACwcIeA4RVwAODiIGvHQKERAjxyMIB5QlVSTLYLZ0sW8hACH5BAkHAAAALAAAAAAYABgAAAW0ICCOJNA0ZZoOpGGQrDoOBCoSxNgQsQzgMZyIlvOJdi+AS2SoyXrK4umWPM5wNiV0UDUIBNkdoepTfMkA7thIECiyRtUAGq8fm2O4jIBgMBA1eAZ6Knx+gHaJR4QwdCMKBxEJRggFDGgQEREPjjAMBQUKIwIRDhBDC2QNDDEKoEkDoiMHDigICGkJBS2dDA6TAAnAEAkCdQ8ORQcHTAkLcQQODLPMIgIJaCWxJMIkPIoAt3EhACH5BAkHAAAALAAAAAAYABgAAAWtICCOJNA0ZZoOpGGQrDoOBCoSxNgQsQzgMZyIlvOJdi+AS2SoyXrK4umWHM5wNiV0UN3xdLiqr+mENcWpM9TIbrsBkEck8oC0DQqBQGGIz+t3eXtob0ZTPgNrIwQJDgtGAgwCWSIMDg4HiiUIDAxFAAoODwxDBWINCEGdSTQkCQcoegADBaQ6MggHjwAFBZUFCm0HB0kJCUy9bAYHCCPGIwqmRq0jySMGmj6yRiEAIfkECQcAAAAsAAAAABgAGAAABbIgII4k0DRlmg6kYZCsOg4EKhLE2BCxDOAxnIiW84l2L4BLZKipBopW8XRLDkeCiAMyMvQAA+uON4JEIo+vqukkKQ6RhLHplVGN+LyKcXA4Dgx5DWwGDXx+gIKENnqNdzIDaiMECwcFRgQCCowiCAcHCZIlCgICVgSfCEMMnA0CXaU2YSQFoQAKUQMMqjoyAglcAAyBAAIMRUYLCUkFlybDeAYJryLNk6xGNCTQXY0juHghACH5BAkHAAAALAAAAAAYABgAAAWzICCOJNA0ZVoOAmkY5KCSSgSNBDE2hDyLjohClBMNij8RJHIQvZwEVOpIekRQJyJs5AMoHA+GMbE1lnm9EcPhOHRnhpwUl3AsknHDm5RN+v8qCAkHBwkIfw1xBAYNgoSGiIqMgJQifZUjBhAJYj95ewIJCQV7KYpzBAkLLQADCHOtOpY5PgNlAAykAEUsQ1wzCgWdCIdeArczBQVbDJ0NAqyeBb64nQAGArBTt8R8mLuyPyEAOwAAAAAAAAAAAA==) center center no-repeat}div.facebook .pp_arrow_previous{background:url(//www.electrician-palmharbor.com/wp-content/themes/integral/css/../images/prettyPhoto/facebook/sprite.png) 0 -71px no-repeat;height:22px;margin-top:0;width:22px}div.facebook .pp_arrow_previous.disabled{background-position:0 -96px;cursor:default}div.facebook .pp_arrow_next{background:url(//www.electrician-palmharbor.com/wp-content/themes/integral/css/../images/prettyPhoto/facebook/sprite.png) -32px -71px no-repeat;height:22px;margin-top:0;width:22px}div.facebook .pp_arrow_next.disabled{background-position:-32px -96px;cursor:default}div.facebook .pp_nav{margin-top:0}div.facebook .pp_nav p{font-size:15px;padding:0 3px 0 4px}div.facebook .pp_nav .pp_play{background:url(//www.electrician-palmharbor.com/wp-content/themes/integral/css/../images/prettyPhoto/facebook/sprite.png) -1px -123px no-repeat;height:22px;width:22px}div.facebook .pp_nav .pp_pause{background:url(//www.electrician-palmharbor.com/wp-content/themes/integral/css/../images/prettyPhoto/facebook/sprite.png) -32px -123px no-repeat;height:22px;width:22px}div.facebook .pp_next:hover{background:url(data:image/png;base64,iVBORw0KGgoAAAANSUhEUgAAADkAAAAvCAYAAABZl2IDAAAAGXRFWHRTb2Z0d2FyZQBBZG9iZSBJbWFnZVJlYWR5ccllPAAAAu9JREFUeNrcmj9oGlEcx9+ZSCTGCLGU2mqHDrEUC+2QobQgBJQuBTN0MDalrkFdHBQyhA4WxUgGwSEZbJvGDg6pSAlEGhBaMjpUSs3gIKZX0hptvSSmJl5/rzkhLRnu6r+794Xv8vD0ffid7/1+7/0odL5kYAP4BlgDvsSN9UpN8FdwGfwJnOfG/hLLsry+jDpn7AJ4CnwFiUc74DXw905A3gFPguVIfGqAN8Fb7UCawXeR+PUBnBYC2fqfGSUCiLh5GoU8gCEHwBYkLU1y8+YNiVfQUYlBjnHz5g05jqSpcSGQWolC6oRAjkgUclQIpKLTvx4KhW71AFLQwtNxOZ3O+4uLi7fFEvKu5aNut/uB3++/STSkTCajfD7flNfrNRAL2QKFaD50uVzXiIX8szqAwuGwzeFwXCUWEksulw9Go9Fpm83Wl/JtsJ2HoQqY5/tZhUIxtLy8PM0wzItUKrVLXCRbUiqVw6urqzMmk2mMWEgslUo1kkwmn0xMTKiJhcRSq9Wq9fX1x0ajcYRYSCyNRjO2sbExYzAYhomFxNJqtRfT6fQjnU43RCwkll6v1y4tLZmIhiwUCkW73b5JLGSxWNyB7SReqVSOiYSkaXrXYrHES6XSEZELT7lc3gPAlXw+f0DkFlKtVn+YzebnuVyOITIZqNVqjNVqfZnNZmuSSdApinp63vjh4aEPJ+Rnx/b39w9gFV3JZDJ7RJZa9Xr9COrJV72uPnoG2Wg0jmdnZ+OJRIImsmg+AXk8ntexWKxI5PFHs9lk5+bmEpFIpNDvrKorkCzLNgOBwFowGMwjEagrkAsLC28hih+RSIRvmn2oC1cFPdAveGOe8Y0kg6Spn0JeV1qikLQQyG2JQm4LgcTNQHsSA6xw8+YNeYJO+2OkpHfcvAVtITl0pglI5Nri5itoCzkLfA+MD5UGRAiHI5cBv0dcnx2JvXVvwN/+yaz+G7IV1evotFcG31tc7gPYF3yQwL2an1EbXZK/BRgAFzPpBTpJpB8AAAAASUVORK5CYII=) center right no-repeat;cursor:pointer}div.facebook .pp_previous:hover{background:url(data:image/png;base64,iVBORw0KGgoAAAANSUhEUgAAADkAAAAvCAYAAABZl2IDAAAAGXRFWHRTb2Z0d2FyZQBBZG9iZSBJbWFnZVJlYWR5ccllPAAAAt5JREFUeNrcmj9oWkEcx+9ppDXGCFpCbbRDh1iKhXbIUFoQCkoXwQwdrE3brEFdMkRwaQfBIOIgOLhY2qqDQyoOglKh0JIxQ6XUDA5iaklrtFVKUhPt78gbUkhLz+Tee/e+8F1uuPt93v3e/Xnvx41GI/Q/4jjupGYF2AK+BjaAL/JtQmkI/gJugz+Ca3zbn7GfAvICeAE8i6SjbfA6+NtZQN4C3wWrkPQ0AFfAG6eBtINvI+nrPbiMxnh/rIwAIj5OKymkEuxAbAm/UkoSSLyCTjMGqcdxk0DOITY1RwJpZBTSRAI5xSjkNAnkedrRRCKRGxS6VSqk8rhjsdhNr9d7j0bfkoAMhULX/X6/k1b/okOurq5aAoHAgkKh4GQJ6fP5rsAs3qcJKCrk0tLS5Wg06laCaI8lCqTb7Z5NJBIPVCrVhBDjkdxCnp7FgE6ncyabzT7WaDSTRIFy3DMmZtJms+nT6fQiKSAz6To/P6/L5/NPtFqt4CcnQSCtVutUsVh8pNPptGKsAdQhLRbLZKlUWjQYDHqxVnKqkCaT6Vy5XH5oNBpnxNyPqUImk0mb2WwW/YpGFdLj8VTq9XpD1pCdTucAto1Mo9HYli0kVrPZ3Hc4HJlWq7UjW0isWq32E0BfttvtXdlCYlWr1b7dbn/e7Xa/yxYSa3Nzs+dyuV70er2+kOMKfkD/1yF9b29vX61Wh2Vx1SoUCjtwn3yFoWSXrseVy+Vay8vLmcFgcCBbSKxUKtVYWVnJHoJkC4kVj8frwWAwNxwOR7KFxFpbW6uFw+F1WASHNPqfQBIRzOYHyFoqkCRbSAAJ8KuAgn6RpGsfsakfJJAtRiFbJJBbjEJukUDiYqBdxgA7OG4SSLxhVxiDfIPjJt0nq+hYEZDEtcHHO1axEn4wd8A2dFT2IjXhjHsLfof4Ojs51ta9Bn8d9zDwt2PhVXRU44M/Hl8SAewzuMun5id0QpXkbwEGAOy05C/ulRDiAAAAAElFTkSuQmCC) center left no-repeat;cursor:pointer}div.facebook .pp_bottom .pp_left{background:url(//www.electrician-palmharbor.com/wp-content/themes/integral/css/../images/prettyPhoto/facebook/sprite.png) -88px -80px no-repeat}div.facebook .pp_bottom .pp_middle{background:url(data:image/png;base64,iVBORw0KGgoAAAANSUhEUgAAABQAAAAUCAYAAACNiR0NAAAAGXRFWHRTb2Z0d2FyZQBBZG9iZSBJbWFnZVJlYWR5ccllPAAAADBJREFUeNpi/A8EDFQETAxUBqMGjhpIBmDZu3fvGWoayAjEDaORMmrgqIEEAECAAQC+aAeosx4HmQAAAABJRU5ErkJggg==) top left repeat-x}div.facebook .pp_bottom .pp_right{background:url(//www.electrician-palmharbor.com/wp-content/themes/integral/css/../images/prettyPhoto/facebook/sprite.png) -110px -80px no-repeat}div.pp_pic_holder a:focus{outline:none}div.pp_overlay{background:#000;display:none;left:0;position:absolute;top:0;width:100%;z-index:9500}div.pp_pic_holder{display:none;position:absolute;width:100px;z-index:10000}.pp_content{height:40px;min-width:40px}* html .pp_content{width:40px}.pp_content_container{position:relative;text-align:left;width:100%}.pp_content_container .pp_left{padding-left:20px}.pp_content_container .pp_right{padding-right:20px}.pp_content_container .pp_details{float:left;margin:10px 0 2px}.pp_description{display:none;margin:0}.pp_social{float:left;margin:0}.pp_social .facebook{float:left;margin-left:5px;width:55px;overflow:hidden}.pp_social .twitter{float:left}.pp_nav{clear:right;float:left;margin:3px 10px 0 0}.pp_nav p{float:left;white-space:nowrap;margin:2px 4px}.pp_nav .pp_play,.pp_nav .pp_pause{float:left;margin-right:4px;text-indent:-10000px}a.pp_arrow_previous,a.pp_arrow_next{display:block;float:left;height:15px;margin-top:3px;overflow:hidden;text-indent:-10000px;width:14px}.pp_hoverContainer{position:absolute;top:0;width:100%;z-index:2000}.pp_gallery{display:none;left:50%;margin-top:-50px;position:absolute;z-index:10000}.pp_gallery div{float:left;overflow:hidden;position:relative}.pp_gallery ul{float:left;height:35px;position:relative;white-space:nowrap;margin:0 0 0 5px;padding:0}.pp_gallery ul a{border:1px rgba(0,0,0,.5) solid;display:block;float:left;height:33px;overflow:hidden}.pp_gallery ul a img{border:0}.pp_gallery li{display:block;float:left;margin:0 5px 0 0;padding:0}.pp_gallery li.default a{background:url(data:image/gif;base64,R0lGODlhMgAhAMQAAAAAAP///2lpaXt7ewkJCTAwMOHh4VpaWgYGBvPz8zMzMxgYGBISEiEhIZycnMnJyfDw8MDAwPb29khISJmZmdXV1XJych4eHgAAAAAAAAAAAAAAAAAAAAAAAAAAAAAAACH5BAAAAAAALAAAAAAyACEAAAVgICCOZGmeaKqubOu+cCzPdG3feK7vfO//OcUFCBNIBgRiSxAIGA7KFbMZeBSiqCk14FhgS9ptYoD4isLUysR83gYgljIbEKYw5qNp5IrPP/slDUmAhIWGh4iJiouMjYghADs=) 0 0 no-repeat;display:block;height:33px;width:50px}.pp_gallery .pp_arrow_previous,.pp_gallery .pp_arrow_next{margin-top:7px!important}a.pp_next{background:url(data:image/png;base64,iVBORw0KGgoAAAANSUhEUgAAAD0AAAAWCAYAAABzCZQcAAAAGXRFWHRTb2Z0d2FyZQBBZG9iZSBJbWFnZVJlYWR5ccllPAAABSVJREFUeNrMmMlLZEkQxqO03FcUFA+DCypoqQcRmlZccANRUTw4oIfpg3cv42UYET3YgtBHz/MHiApzcFxmxIMgOhe9KG6HHnBXxH2rqokvqCiyX1eVZV+qEpL3Kl9mvvxFfBGZr2xut5tsNhuNj4+Tj+Lg5418/ch9SvmajUZu+xoXF1cQFRXlio2NddrtdhfmCEFJ8Fzv3jPIrjcPDw/eRgbK4csnl8v1C9ccGIavUlEiIiKKXl9fxVgMTNHR0RQTE0ORkZEUYvj3QaMkJiaS0+msY8hf+dqqKgAYg3qB0I4K8JeXF1IDYDwbLFTgPwbtAR5jiA/4zfIVWLMoEK7wMLwP6NvbW4wXY8THx4c1uN2UNDwMYPWuetUEwG+rEdAX4AgR7Qu5hyu46cZPkLRYwiNnVEByshLp+ioAQz81EsBRoQCrgcLK05y5HZ6kJcnIXCxitKamRuBWVlZExmYxlQB4SBzQ8DSqNTzw/OnpSa4IH1TcQylq6OfnZ2nzeobbsC6sD8bFGBTMg3H+FIjwQ7Wuwe4Z0IgsbYVBwQLu7+8pPT2dqqqqBPzm5uabBRlZ3RvjWBAWh5ebModBMjIyRD2Xl5dScZ+Xl0fHx8d0cnJCZWVlMl6TJ+Y5ODig/Px8eY4xeAd+4xn6an5RJ6D94uJC3odnvuT90fSYuUXB4gDFBFgcwE2p4+X6MjWUZnY1hlkeHx+pqKiIWlpaqLe3l+7u7qRfQ0ODGBZAjY2NVFdXR7m5uWKMnJwcOjw8pMLCQurp6ZE+aWlp1NbWJgpISUmRvhUVFdTa2krFxcUyBuv0tQa7RwqleKgysEoFAAAHMBZWXV1Ns7Oz3/VVw8FQqGo4U15WY1RWVtLq6qrcY/uDslD29/dpYmJCgJKTkyk1NZWmpqaov7+fOjs7KTMzk87OzmhtbU12i+vrayopKaGuri7ph/dgHMLTyqOrydaFmN5Sj6vnAH51dSWx2tzcLG3az5zY9HygZDY/Py/5AvNZCzwMwL6+PqqvrxeJwpBzc3Mif0BPT0+LMeAIVI31hIQEUQI8DSUE3Kc1KfjNepxETC+pV3wVwELKmhzNMWqIyclJUU93d7fXWPA2ChLm9va2GATzYG2APj8/986FkAMY5kRc69q0r78tM0LP0tYM5wsYcQYLYhEzMzP+90Hj9BaoQJaLi4uUlZX13bPT01NaXl6m9fV12t3dFSAkVEh7b29PjNLR0SHKMzP9e/bpzUDQCoysC+CFhYXAk3qgrZlbtxJtS0pKos3NTUlm5taEAvnW1tZKciovLxcPt7e3i3QRswgNJCyHw+E9FCnDmw70yGqVB/0cLLC5Zfk7sPgCRsEOgAQE7wEacQgAZHTMj7adnR2RKNowBwyxtbUlz5aWliQEMH5jY4MKCgro6OhIlIDxaH8L2ob4Gh0dLeWJ/+QXZVtTPCzb1NQkEwUDjH761aWHDxNej6t4DzIrgPAbIBhn/jYNj3kwFvcYh/H6ZajzaOzrwchfiNk824xtbGxshO9/N19mggPmLWD9SNGTEO5D+Ln5Zky72Wp/MNisnqHNgpgLBlg9gitgg01oIfvgGB4ePuDU/4UX+q8v8GCBAavQYf+VNTIy4h4cHPyH97vfGPwvX9/S/mJYJW2Ch6uXrZ+WAHcNDQ39zZt+PyeKzwzxVeVqGkA/Ja3xq+Dh7GUzkX3zx+DAwAAII/laxttEA4N8YBAH9/vJc5j5jwHzuc2JPwfxxyBXdwg8/EN/DP4vwADzqyH4OmxBwwAAAABJRU5ErkJggg==) 10000px 10000px no-repeat;display:block;float:right;height:100%;text-indent:-10000px;width:49%}a.pp_previous{background:url(data:image/png;base64,iVBORw0KGgoAAAANSUhEUgAAAD0AAAAWCAYAAABzCZQcAAAAGXRFWHRTb2Z0d2FyZQBBZG9iZSBJbWFnZVJlYWR5ccllPAAABSVJREFUeNrMmMlLZEkQxqO03FcUFA+DCypoqQcRmlZccANRUTw4oIfpg3cv42UYET3YgtBHz/MHiApzcFxmxIMgOhe9KG6HHnBXxH2rqokvqCiyX1eVZV+qEpL3Kl9mvvxFfBGZr2xut5tsNhuNj4+Tj+Lg5418/ch9SvmajUZu+xoXF1cQFRXlio2NddrtdhfmCEFJ8Fzv3jPIrjcPDw/eRgbK4csnl8v1C9ccGIavUlEiIiKKXl9fxVgMTNHR0RQTE0ORkZEUYvj3QaMkJiaS0+msY8hf+dqqKgAYg3qB0I4K8JeXF1IDYDwbLFTgPwbtAR5jiA/4zfIVWLMoEK7wMLwP6NvbW4wXY8THx4c1uN2UNDwMYPWuetUEwG+rEdAX4AgR7Qu5hyu46cZPkLRYwiNnVEByshLp+ioAQz81EsBRoQCrgcLK05y5HZ6kJcnIXCxitKamRuBWVlZExmYxlQB4SBzQ8DSqNTzw/OnpSa4IH1TcQylq6OfnZ2nzeobbsC6sD8bFGBTMg3H+FIjwQ7Wuwe4Z0IgsbYVBwQLu7+8pPT2dqqqqBPzm5uabBRlZ3RvjWBAWh5ebModBMjIyRD2Xl5dScZ+Xl0fHx8d0cnJCZWVlMl6TJ+Y5ODig/Px8eY4xeAd+4xn6an5RJ6D94uJC3odnvuT90fSYuUXB4gDFBFgcwE2p4+X6MjWUZnY1hlkeHx+pqKiIWlpaqLe3l+7u7qRfQ0ODGBZAjY2NVFdXR7m5uWKMnJwcOjw8pMLCQurp6ZE+aWlp1NbWJgpISUmRvhUVFdTa2krFxcUyBuv0tQa7RwqleKgysEoFAAAHMBZWXV1Ns7Oz3/VVw8FQqGo4U15WY1RWVtLq6qrcY/uDslD29/dpYmJCgJKTkyk1NZWmpqaov7+fOjs7KTMzk87OzmhtbU12i+vrayopKaGuri7ph/dgHMLTyqOrydaFmN5Sj6vnAH51dSWx2tzcLG3az5zY9HygZDY/Py/5AvNZCzwMwL6+PqqvrxeJwpBzc3Mif0BPT0+LMeAIVI31hIQEUQI8DSUE3Kc1KfjNepxETC+pV3wVwELKmhzNMWqIyclJUU93d7fXWPA2ChLm9va2GATzYG2APj8/986FkAMY5kRc69q0r78tM0LP0tYM5wsYcQYLYhEzMzP+90Hj9BaoQJaLi4uUlZX13bPT01NaXl6m9fV12t3dFSAkVEh7b29PjNLR0SHKMzP9e/bpzUDQCoysC+CFhYXAk3qgrZlbtxJtS0pKos3NTUlm5taEAvnW1tZKciovLxcPt7e3i3QRswgNJCyHw+E9FCnDmw70yGqVB/0cLLC5Zfk7sPgCRsEOgAQE7wEacQgAZHTMj7adnR2RKNowBwyxtbUlz5aWliQEMH5jY4MKCgro6OhIlIDxaH8L2ob4Gh0dLeWJ/+QXZVtTPCzb1NQkEwUDjH761aWHDxNej6t4DzIrgPAbIBhn/jYNj3kwFvcYh/H6ZajzaOzrwchfiNk824xtbGxshO9/N19mggPmLWD9SNGTEO5D+Ln5Zky72Wp/MNisnqHNgpgLBlg9gitgg01oIfvgGB4ePuDU/4UX+q8v8GCBAavQYf+VNTIy4h4cHPyH97vfGPwvX9/S/mJYJW2Ch6uXrZ+WAHcNDQ39zZt+PyeKzwzxVeVqGkA/Ja3xq+Dh7GUzkX3zx+DAwAAII/laxttEA4N8YBAH9/vJc5j5jwHzuc2JPwfxxyBXdwg8/EN/DP4vwADzqyH4OmxBwwAAAABJRU5ErkJggg==) 10000px 10000px no-repeat;display:block;float:left;height:100%;text-indent:-10000px;width:49%}a.pp_expand,a.pp_contract{cursor:pointer;display:none;height:20px;position:absolute;right:30px;text-indent:-10000px;top:10px;width:20px;z-index:20000}a.pp_close{position:absolute;right:0;top:0;display:block;line-height:22px;text-indent:-10000px}.pp_loaderIcon{display:block;height:24px;left:50%;position:absolute;top:50%;width:24px;margin:-12px 0 0 -12px}#pp_full_res{line-height:1!important}#pp_full_res .pp_inline{text-align:left}#pp_full_res .pp_inline p{margin:0 0 15px}div.ppt{color:#fff;display:none;font-size:17px;z-index:9999;margin:0 0 5px 15px}div.pp_default .pp_content,div.light_rounded .pp_content{background-color:#fff}div.pp_default #pp_full_res .pp_inline,div.light_rounded .pp_content .ppt,div.light_rounded #pp_full_res .pp_inline,div.light_square .pp_content .ppt,div.light_square #pp_full_res .pp_inline,div.facebook .pp_content .ppt,div.facebook #pp_full_res .pp_inline{color:#000}div.pp_default .pp_gallery ul li a:hover,div.pp_default .pp_gallery ul li.selected a,.pp_gallery ul a:hover,.pp_gallery li.selected a{border-color:#fff}div.pp_default .pp_details,div.light_rounded .pp_details,div.dark_rounded .pp_details,div.dark_square .pp_details,div.light_square .pp_details,div.facebook .pp_details{position:relative}div.light_rounded .pp_top .pp_middle,div.light_rounded .pp_content_container .pp_left,div.light_rounded .pp_content_container .pp_right,div.light_rounded .pp_bottom .pp_middle,div.light_square .pp_left,div.light_square .pp_middle,div.light_square .pp_right,div.light_square .pp_content,div.facebook .pp_content{background:#fff}div.light_rounded .pp_description,div.light_square .pp_description{margin-right:85px}div.light_rounded .pp_gallery a.pp_arrow_previous,div.light_rounded .pp_gallery a.pp_arrow_next,div.dark_rounded .pp_gallery a.pp_arrow_previous,div.dark_rounded .pp_gallery a.pp_arrow_next,div.dark_square .pp_gallery a.pp_arrow_previous,div.dark_square .pp_gallery a.pp_arrow_next,div.light_square .pp_gallery a.pp_arrow_previous,div.light_square .pp_gallery a.pp_arrow_next{margin-top:12px!important}div.light_rounded .pp_arrow_previous.disabled,div.dark_rounded .pp_arrow_previous.disabled,div.dark_square .pp_arrow_previous.disabled,div.light_square .pp_arrow_previous.disabled{background-position:0 -87px;cursor:default}div.light_rounded .pp_arrow_next.disabled,div.dark_rounded .pp_arrow_next.disabled,div.dark_square .pp_arrow_next.disabled,div.light_square .pp_arrow_next.disabled{background-position:-22px -87px;cursor:default}div.light_rounded .pp_loaderIcon,div.light_square .pp_loaderIcon{background:url(data:image/gif;base64,R0lGODlhGAAYAPQAAP///3FxcePj4/v7++3t7dLS0vHx8b+/v+Dg4MfHx+jo6M7Oztvb2/f397Kysru7u9fX16qqqgAAAAAAAAAAAAAAAAAAAAAAAAAAAAAAAAAAAAAAAAAAAAAAAAAAAAAAACH/C05FVFNDQVBFMi4wAwEAAAAh/hpDcmVhdGVkIHdpdGggYWpheGxvYWQuaW5mbwAh+QQJBwAAACwAAAAAGAAYAAAFriAgjiQAQWVaDgr5POSgkoTDjFE0NoQ8iw8HQZQTDQjDn4jhSABhAAOhoTqSDg7qSUQwxEaEwwFhXHhHgzOA1xshxAnfTzotGRaHglJqkJcaVEqCgyoCBQkJBQKDDXQGDYaIioyOgYSXA36XIgYMBWRzXZoKBQUMmil0lgalLSIClgBpO0g+s26nUWddXyoEDIsACq5SsTMMDIECwUdJPw0Mzsu0qHYkw72bBmozIQAh+QQJBwAAACwAAAAAGAAYAAAFsCAgjiTAMGVaDgR5HKQwqKNxIKPjjFCk0KNXC6ATKSI7oAhxWIhezwhENTCQEoeGCdWIPEgzESGxEIgGBWstEW4QCGGAIJEoxGmGt5ZkgCRQQHkGd2CESoeIIwoMBQUMP4cNeQQGDYuNj4iSb5WJnmeGng0CDGaBlIQEJziHk3sABidDAHBgagButSKvAAoyuHuUYHgCkAZqebw0AgLBQyyzNKO3byNuoSS8x8OfwIchACH5BAkHAAAALAAAAAAYABgAAAW4ICCOJIAgZVoOBJkkpDKoo5EI43GMjNPSokXCINKJCI4HcCRIQEQvqIOhGhBHhUTDhGo4diOZyFAoKEQDxra2mAEgjghOpCgz3LTBIxJ5kgwMBShACREHZ1V4Kg1rS44pBAgMDAg/Sw0GBAQGDZGTlY+YmpyPpSQDiqYiDQoCliqZBqkGAgKIS5kEjQ21VwCyp76dBHiNvz+MR74AqSOdVwbQuo+abppo10ssjdkAnc0rf8vgl8YqIQAh+QQJBwAAACwAAAAAGAAYAAAFrCAgjiQgCGVaDgZZFCQxqKNRKGOSjMjR0qLXTyciHA7AkaLACMIAiwOC1iAxCrMToHHYjWQiA4NBEA0Q1RpWxHg4cMXxNDk4OBxNUkPAQAEXDgllKgMzQA1pSYopBgonCj9JEA8REQ8QjY+RQJOVl4ugoYssBJuMpYYjDQSliwasiQOwNakALKqsqbWvIohFm7V6rQAGP6+JQLlFg7KDQLKJrLjBKbvAor3IKiEAIfkECQcAAAAsAAAAABgAGAAABbUgII4koChlmhokw5DEoI4NQ4xFMQoJO4uuhignMiQWvxGBIQC+AJBEUyUcIRiyE6CR0CllW4HABxBURTUw4nC4FcWo5CDBRpQaCoF7VjgsyCUDYDMNZ0mHdwYEBAaGMwwHDg4HDA2KjI4qkJKUiJ6faJkiA4qAKQkRB3E0i6YpAw8RERAjA4tnBoMApCMQDhFTuySKoSKMJAq6rD4GzASiJYtgi6PUcs9Kew0xh7rNJMqIhYchACH5BAkHAAAALAAAAAAYABgAAAW0ICCOJEAQZZo2JIKQxqCOjWCMDDMqxT2LAgELkBMZCoXfyCBQiFwiRsGpku0EshNgUNAtrYPT0GQVNRBWwSKBMp98P24iISgNDAS4ipGA6JUpA2WAhDR4eWM/CAkHBwkIDYcGiTOLjY+FmZkNlCN3eUoLDmwlDW+AAwcODl5bYl8wCVYMDw5UWzBtnAANEQ8kBIM0oAAGPgcREIQnVloAChEOqARjzgAQEbczg8YkWJq8nSUhACH5BAkHAAAALAAAAAAYABgAAAWtICCOJGAYZZoOpKKQqDoORDMKwkgwtiwSBBYAJ2owGL5RgxBziQQMgkwoMkhNqAEDARPSaiMDFdDIiRSFQowMXE8Z6RdpYHWnEAWGPVkajPmARVZMPUkCBQkJBQINgwaFPoeJi4GVlQ2Qc3VJBQcLV0ptfAMJBwdcIl+FYjALQgimoGNWIhAQZA4HXSpLMQ8PIgkOSHxAQhERPw7ASTSFyCMMDqBTJL8tf3y2fCEAIfkECQcAAAAsAAAAABgAGAAABa8gII4k0DRlmg6kYZCoOg5EDBDEaAi2jLO3nEkgkMEIL4BLpBAkVy3hCTAQKGAznM0AFNFGBAbj2cA9jQixcGZAGgECBu/9HnTp+FGjjezJFAwFBQwKe2Z+KoCChHmNjVMqA21nKQwJEJRlbnUFCQlFXlpeCWcGBUACCwlrdw8RKGImBwktdyMQEQciB7oACwcIeA4RVwAODiIGvHQKERAjxyMIB5QlVSTLYLZ0sW8hACH5BAkHAAAALAAAAAAYABgAAAW0ICCOJNA0ZZoOpGGQrDoOBCoSxNgQsQzgMZyIlvOJdi+AS2SoyXrK4umWPM5wNiV0UDUIBNkdoepTfMkA7thIECiyRtUAGq8fm2O4jIBgMBA1eAZ6Knx+gHaJR4QwdCMKBxEJRggFDGgQEREPjjAMBQUKIwIRDhBDC2QNDDEKoEkDoiMHDigICGkJBS2dDA6TAAnAEAkCdQ8ORQcHTAkLcQQODLPMIgIJaCWxJMIkPIoAt3EhACH5BAkHAAAALAAAAAAYABgAAAWtICCOJNA0ZZoOpGGQrDoOBCoSxNgQsQzgMZyIlvOJdi+AS2SoyXrK4umWHM5wNiV0UN3xdLiqr+mENcWpM9TIbrsBkEck8oC0DQqBQGGIz+t3eXtob0ZTPgNrIwQJDgtGAgwCWSIMDg4HiiUIDAxFAAoODwxDBWINCEGdSTQkCQcoegADBaQ6MggHjwAFBZUFCm0HB0kJCUy9bAYHCCPGIwqmRq0jySMGmj6yRiEAIfkECQcAAAAsAAAAABgAGAAABbIgII4k0DRlmg6kYZCsOg4EKhLE2BCxDOAxnIiW84l2L4BLZKipBopW8XRLDkeCiAMyMvQAA+uON4JEIo+vqukkKQ6RhLHplVGN+LyKcXA4Dgx5DWwGDXx+gIKENnqNdzIDaiMECwcFRgQCCowiCAcHCZIlCgICVgSfCEMMnA0CXaU2YSQFoQAKUQMMqjoyAglcAAyBAAIMRUYLCUkFlybDeAYJryLNk6xGNCTQXY0juHghACH5BAkHAAAALAAAAAAYABgAAAWzICCOJNA0ZVoOAmkY5KCSSgSNBDE2hDyLjohClBMNij8RJHIQvZwEVOpIekRQJyJs5AMoHA+GMbE1lnm9EcPhOHRnhpwUl3AsknHDm5RN+v8qCAkHBwkIfw1xBAYNgoSGiIqMgJQifZUjBhAJYj95ewIJCQV7KYpzBAkLLQADCHOtOpY5PgNlAAykAEUsQ1wzCgWdCIdeArczBQVbDJ0NAqyeBb64nQAGArBTt8R8mLuyPyEAOwAAAAAAAAAAAA==) center center no-repeat}div.dark_rounded .pp_top .pp_middle,div.dark_rounded .pp_content,div.dark_rounded .pp_bottom .pp_middle{background:url(data:image/png;base64,iVBORw0KGgoAAAANSUhEUgAAABQAAAAUCAYAAACNiR0NAAAAGXRFWHRTb2Z0d2FyZQBBZG9iZSBJbWFnZVJlYWR5ccllPAAAACRJREFUeNpiZGBg2M9ARcDEQGUwauCogaMGjho4auBQMRAgwAA63wDniG/BMgAAAABJRU5ErkJggg==) top left repeat}div.dark_rounded .currentTextHolder,div.dark_square .currentTextHolder{color:#c4c4c4}div.dark_rounded #pp_full_res .pp_inline,div.dark_square #pp_full_res .pp_inline{color:#fff}.pp_top,.pp_bottom{height:20px;position:relative}* html .pp_top,* html .pp_bottom{padding:0 20px}.pp_top .pp_left,.pp_bottom .pp_left{height:20px;left:0;position:absolute;width:20px}.pp_top .pp_middle,.pp_bottom .pp_middle{height:20px;left:20px;position:absolute;right:20px}* html .pp_top .pp_middle,* html .pp_bottom .pp_middle{left:0;position:static}.pp_top .pp_right,.pp_bottom .pp_right{height:20px;left:auto;position:absolute;right:0;top:0;width:20px}.pp_fade,.pp_gallery li.default a img{display:none} .h4cta{text-align:center;font-size:27px}.h3cta{margin-bottom:5px;text-align:center;margin-top:1em;font-size:30px}.h2cta{white-space:nowrap;text-align:center;margin-top:5px;margin-bottom:3em;font-size:40px;font-weight:800}.navbar-default{min-height:117px} /*! * Font Awesome Free 5.12.0 by @fontawesome - https://fontawesome.com * License - https://fontawesome.com/license/free (Icons: CC BY 4.0, Fonts: SIL OFL 1.1, Code: MIT License) */ .fa,.fab,.fad,.fal,.far,.fas{-moz-osx-font-smoothing:grayscale;-webkit-font-smoothing:antialiased;display:inline-block;font-style:normal;font-variant:normal;text-rendering:auto;line-height:1}.fa-lg{font-size:1.33333em;line-height:.75em;vertical-align:-.0667em}.fa-xs{font-size:.75em}.fa-sm{font-size:.875em}.fa-1x{font-size:1em}.fa-2x{font-size:2em}.fa-3x{font-size:3em}.fa-4x{font-size:4em}.fa-5x{font-size:5em}.fa-6x{font-size:6em}.fa-7x{font-size:7em}.fa-8x{font-size:8em}.fa-9x{font-size:9em}.fa-10x{font-size:10em}.fa-fw{text-align:center;width:1.25em}.fa-ul{list-style-type:none;margin-left:2.5em;padding-left:0}.fa-ul>li{position:relative}.fa-li{left:-2em;position:absolute;text-align:center;width:2em;line-height:inherit}.fa-border{border:.08em solid #eee;border-radius:.1em;padding:.2em .25em .15em}.fa-pull-left{float:left}.fa-pull-right{float:right}.fa.fa-pull-left,.fab.fa-pull-left,.fal.fa-pull-left,.far.fa-pull-left,.fas.fa-pull-left{margin-right:.3em}.fa.fa-pull-right,.fab.fa-pull-right,.fal.fa-pull-right,.far.fa-pull-right,.fas.fa-pull-right{margin-left:.3em}.fa-spin{-webkit-animation:fa-spin 2s linear infinite;animation:fa-spin 2s linear infinite}.fa-pulse{-webkit-animation:fa-spin 1s steps(8) infinite;animation:fa-spin 1s steps(8) infinite}@-webkit-keyframes fa-spin{0%{-webkit-transform:rotate(0deg);transform:rotate(0deg)}to{-webkit-transform:rotate(1turn);transform:rotate(1turn)}}@keyframes fa-spin{0%{-webkit-transform:rotate(0deg);transform:rotate(0deg)}to{-webkit-transform:rotate(1turn);transform:rotate(1turn)}}.fa-rotate-90{-ms-filter:"progid:DXImageTransform.Microsoft.BasicImage(rotation=1)";-webkit-transform:rotate(90deg);transform:rotate(90deg)}.fa-rotate-180{-ms-filter:"progid:DXImageTransform.Microsoft.BasicImage(rotation=2)";-webkit-transform:rotate(180deg);transform:rotate(180deg)}.fa-rotate-270{-ms-filter:"progid:DXImageTransform.Microsoft.BasicImage(rotation=3)";-webkit-transform:rotate(270deg);transform:rotate(270deg)}.fa-flip-horizontal{-ms-filter:"progid:DXImageTransform.Microsoft.BasicImage(rotation=0, mirror=1)";-webkit-transform:scaleX(-1);transform:scaleX(-1)}.fa-flip-vertical{-webkit-transform:scaleY(-1);transform:scaleY(-1)}.fa-flip-both,.fa-flip-horizontal.fa-flip-vertical,.fa-flip-vertical{-ms-filter:"progid:DXImageTransform.Microsoft.BasicImage(rotation=2, mirror=1)"}.fa-flip-both,.fa-flip-horizontal.fa-flip-vertical{-webkit-transform:scale(-1);transform:scale(-1)}:root .fa-flip-both,:root .fa-flip-horizontal,:root .fa-flip-vertical,:root .fa-rotate-90,:root .fa-rotate-180,:root .fa-rotate-270{-webkit-filter:none;filter:none}.fa-stack{display:inline-block;height:2em;line-height:2em;position:relative;vertical-align:middle;width:2.5em}.fa-stack-1x,.fa-stack-2x{left:0;position:absolute;text-align:center;width:100%}.fa-stack-1x{line-height:inherit}.fa-stack-2x{font-size:2em}.fa-inverse{color:#fff}.fa-500px:before{content:"\f26e"}.fa-accessible-icon:before{content:"\f368"}.fa-accusoft:before{content:"\f369"}.fa-acquisitions-incorporated:before{content:"\f6af"}.fa-ad:before{content:"\f641"}.fa-address-book:before{content:"\f2b9"}.fa-address-card:before{content:"\f2bb"}.fa-adjust:before{content:"\f042"}.fa-adn:before{content:"\f170"}.fa-adobe:before{content:"\f778"}.fa-adversal:before{content:"\f36a"}.fa-affiliatetheme:before{content:"\f36b"}.fa-air-freshener:before{content:"\f5d0"}.fa-airbnb:before{content:"\f834"}.fa-algolia:before{content:"\f36c"}.fa-align-center:before{content:"\f037"}.fa-align-justify:before{content:"\f039"}.fa-align-left:before{content:"\f036"}.fa-align-right:before{content:"\f038"}.fa-alipay:before{content:"\f642"}.fa-allergies:before{content:"\f461"}.fa-amazon:before{content:"\f270"}.fa-amazon-pay:before{content:"\f42c"}.fa-ambulance:before{content:"\f0f9"}.fa-american-sign-language-interpreting:before{content:"\f2a3"}.fa-amilia:before{content:"\f36d"}.fa-anchor:before{content:"\f13d"}.fa-android:before{content:"\f17b"}.fa-angellist:before{content:"\f209"}.fa-angle-double-down:before{content:"\f103"}.fa-angle-double-left:before{content:"\f100"}.fa-angle-double-right:before{content:"\f101"}.fa-angle-double-up:before{content:"\f102"}.fa-angle-down:before{content:"\f107"}.fa-angle-left:before{content:"\f104"}.fa-angle-right:before{content:"\f105"}.fa-angle-up:before{content:"\f106"}.fa-angry:before{content:"\f556"}.fa-angrycreative:before{content:"\f36e"}.fa-angular:before{content:"\f420"}.fa-ankh:before{content:"\f644"}.fa-app-store:before{content:"\f36f"}.fa-app-store-ios:before{content:"\f370"}.fa-apper:before{content:"\f371"}.fa-apple:before{content:"\f179"}.fa-apple-alt:before{content:"\f5d1"}.fa-apple-pay:before{content:"\f415"}.fa-archive:before{content:"\f187"}.fa-archway:before{content:"\f557"}.fa-arrow-alt-circle-down:before{content:"\f358"}.fa-arrow-alt-circle-left:before{content:"\f359"}.fa-arrow-alt-circle-right:before{content:"\f35a"}.fa-arrow-alt-circle-up:before{content:"\f35b"}.fa-arrow-circle-down:before{content:"\f0ab"}.fa-arrow-circle-left:before{content:"\f0a8"}.fa-arrow-circle-right:before{content:"\f0a9"}.fa-arrow-circle-up:before{content:"\f0aa"}.fa-arrow-down:before{content:"\f063"}.fa-arrow-left:before{content:"\f060"}.fa-arrow-right:before{content:"\f061"}.fa-arrow-up:before{content:"\f062"}.fa-arrows-alt:before{content:"\f0b2"}.fa-arrows-alt-h:before{content:"\f337"}.fa-arrows-alt-v:before{content:"\f338"}.fa-artstation:before{content:"\f77a"}.fa-assistive-listening-systems:before{content:"\f2a2"}.fa-asterisk:before{content:"\f069"}.fa-asymmetrik:before{content:"\f372"}.fa-at:before{content:"\f1fa"}.fa-atlas:before{content:"\f558"}.fa-atlassian:before{content:"\f77b"}.fa-atom:before{content:"\f5d2"}.fa-audible:before{content:"\f373"}.fa-audio-description:before{content:"\f29e"}.fa-autoprefixer:before{content:"\f41c"}.fa-avianex:before{content:"\f374"}.fa-aviato:before{content:"\f421"}.fa-award:before{content:"\f559"}.fa-aws:before{content:"\f375"}.fa-baby:before{content:"\f77c"}.fa-baby-carriage:before{content:"\f77d"}.fa-backspace:before{content:"\f55a"}.fa-backward:before{content:"\f04a"}.fa-bacon:before{content:"\f7e5"}.fa-bahai:before{content:"\f666"}.fa-balance-scale:before{content:"\f24e"}.fa-balance-scale-left:before{content:"\f515"}.fa-balance-scale-right:before{content:"\f516"}.fa-ban:before{content:"\f05e"}.fa-band-aid:before{content:"\f462"}.fa-bandcamp:before{content:"\f2d5"}.fa-barcode:before{content:"\f02a"}.fa-bars:before{content:"\f0c9"}.fa-baseball-ball:before{content:"\f433"}.fa-basketball-ball:before{content:"\f434"}.fa-bath:before{content:"\f2cd"}.fa-battery-empty:before{content:"\f244"}.fa-battery-full:before{content:"\f240"}.fa-battery-half:before{content:"\f242"}.fa-battery-quarter:before{content:"\f243"}.fa-battery-three-quarters:before{content:"\f241"}.fa-battle-net:before{content:"\f835"}.fa-bed:before{content:"\f236"}.fa-beer:before{content:"\f0fc"}.fa-behance:before{content:"\f1b4"}.fa-behance-square:before{content:"\f1b5"}.fa-bell:before{content:"\f0f3"}.fa-bell-slash:before{content:"\f1f6"}.fa-bezier-curve:before{content:"\f55b"}.fa-bible:before{content:"\f647"}.fa-bicycle:before{content:"\f206"}.fa-biking:before{content:"\f84a"}.fa-bimobject:before{content:"\f378"}.fa-binoculars:before{content:"\f1e5"}.fa-biohazard:before{content:"\f780"}.fa-birthday-cake:before{content:"\f1fd"}.fa-bitbucket:before{content:"\f171"}.fa-bitcoin:before{content:"\f379"}.fa-bity:before{content:"\f37a"}.fa-black-tie:before{content:"\f27e"}.fa-blackberry:before{content:"\f37b"}.fa-blender:before{content:"\f517"}.fa-blender-phone:before{content:"\f6b6"}.fa-blind:before{content:"\f29d"}.fa-blog:before{content:"\f781"}.fa-blogger:before{content:"\f37c"}.fa-blogger-b:before{content:"\f37d"}.fa-bluetooth:before{content:"\f293"}.fa-bluetooth-b:before{content:"\f294"}.fa-bold:before{content:"\f032"}.fa-bolt:before{content:"\f0e7"}.fa-bomb:before{content:"\f1e2"}.fa-bone:before{content:"\f5d7"}.fa-bong:before{content:"\f55c"}.fa-book:before{content:"\f02d"}.fa-book-dead:before{content:"\f6b7"}.fa-book-medical:before{content:"\f7e6"}.fa-book-open:before{content:"\f518"}.fa-book-reader:before{content:"\f5da"}.fa-bookmark:before{content:"\f02e"}.fa-bootstrap:before{content:"\f836"}.fa-border-all:before{content:"\f84c"}.fa-border-none:before{content:"\f850"}.fa-border-style:before{content:"\f853"}.fa-bowling-ball:before{content:"\f436"}.fa-box:before{content:"\f466"}.fa-box-open:before{content:"\f49e"}.fa-boxes:before{content:"\f468"}.fa-braille:before{content:"\f2a1"}.fa-brain:before{content:"\f5dc"}.fa-bread-slice:before{content:"\f7ec"}.fa-briefcase:before{content:"\f0b1"}.fa-briefcase-medical:before{content:"\f469"}.fa-broadcast-tower:before{content:"\f519"}.fa-broom:before{content:"\f51a"}.fa-brush:before{content:"\f55d"}.fa-btc:before{content:"\f15a"}.fa-buffer:before{content:"\f837"}.fa-bug:before{content:"\f188"}.fa-building:before{content:"\f1ad"}.fa-bullhorn:before{content:"\f0a1"}.fa-bullseye:before{content:"\f140"}.fa-burn:before{content:"\f46a"}.fa-buromobelexperte:before{content:"\f37f"}.fa-bus:before{content:"\f207"}.fa-bus-alt:before{content:"\f55e"}.fa-business-time:before{content:"\f64a"}.fa-buy-n-large:before{content:"\f8a6"}.fa-buysellads:before{content:"\f20d"}.fa-calculator:before{content:"\f1ec"}.fa-calendar:before{content:"\f133"}.fa-calendar-alt:before{content:"\f073"}.fa-calendar-check:before{content:"\f274"}.fa-calendar-day:before{content:"\f783"}.fa-calendar-minus:before{content:"\f272"}.fa-calendar-plus:before{content:"\f271"}.fa-calendar-times:before{content:"\f273"}.fa-calendar-week:before{content:"\f784"}.fa-camera:before{content:"\f030"}.fa-camera-retro:before{content:"\f083"}.fa-campground:before{content:"\f6bb"}.fa-canadian-maple-leaf:before{content:"\f785"}.fa-candy-cane:before{content:"\f786"}.fa-cannabis:before{content:"\f55f"}.fa-capsules:before{content:"\f46b"}.fa-car:before{content:"\f1b9"}.fa-car-alt:before{content:"\f5de"}.fa-car-battery:before{content:"\f5df"}.fa-car-crash:before{content:"\f5e1"}.fa-car-side:before{content:"\f5e4"}.fa-caravan:before{content:"\f8ff"}.fa-caret-down:before{content:"\f0d7"}.fa-caret-left:before{content:"\f0d9"}.fa-caret-right:before{content:"\f0da"}.fa-caret-square-down:before{content:"\f150"}.fa-caret-square-left:before{content:"\f191"}.fa-caret-square-right:before{content:"\f152"}.fa-caret-square-up:before{content:"\f151"}.fa-caret-up:before{content:"\f0d8"}.fa-carrot:before{content:"\f787"}.fa-cart-arrow-down:before{content:"\f218"}.fa-cart-plus:before{content:"\f217"}.fa-cash-register:before{content:"\f788"}.fa-cat:before{content:"\f6be"}.fa-cc-amazon-pay:before{content:"\f42d"}.fa-cc-amex:before{content:"\f1f3"}.fa-cc-apple-pay:before{content:"\f416"}.fa-cc-diners-club:before{content:"\f24c"}.fa-cc-discover:before{content:"\f1f2"}.fa-cc-jcb:before{content:"\f24b"}.fa-cc-mastercard:before{content:"\f1f1"}.fa-cc-paypal:before{content:"\f1f4"}.fa-cc-stripe:before{content:"\f1f5"}.fa-cc-visa:before{content:"\f1f0"}.fa-centercode:before{content:"\f380"}.fa-centos:before{content:"\f789"}.fa-certificate:before{content:"\f0a3"}.fa-chair:before{content:"\f6c0"}.fa-chalkboard:before{content:"\f51b"}.fa-chalkboard-teacher:before{content:"\f51c"}.fa-charging-station:before{content:"\f5e7"}.fa-chart-area:before{content:"\f1fe"}.fa-chart-bar:before{content:"\f080"}.fa-chart-line:before{content:"\f201"}.fa-chart-pie:before{content:"\f200"}.fa-check:before{content:"\f00c"}.fa-check-circle:before{content:"\f058"}.fa-check-double:before{content:"\f560"}.fa-check-square:before{content:"\f14a"}.fa-cheese:before{content:"\f7ef"}.fa-chess:before{content:"\f439"}.fa-chess-bishop:before{content:"\f43a"}.fa-chess-board:before{content:"\f43c"}.fa-chess-king:before{content:"\f43f"}.fa-chess-knight:before{content:"\f441"}.fa-chess-pawn:before{content:"\f443"}.fa-chess-queen:before{content:"\f445"}.fa-chess-rook:before{content:"\f447"}.fa-chevron-circle-down:before{content:"\f13a"}.fa-chevron-circle-left:before{content:"\f137"}.fa-chevron-circle-right:before{content:"\f138"}.fa-chevron-circle-up:before{content:"\f139"}.fa-chevron-down:before{content:"\f078"}.fa-chevron-left:before{content:"\f053"}.fa-chevron-right:before{content:"\f054"}.fa-chevron-up:before{content:"\f077"}.fa-child:before{content:"\f1ae"}.fa-chrome:before{content:"\f268"}.fa-chromecast:before{content:"\f838"}.fa-church:before{content:"\f51d"}.fa-circle:before{content:"\f111"}.fa-circle-notch:before{content:"\f1ce"}.fa-city:before{content:"\f64f"}.fa-clinic-medical:before{content:"\f7f2"}.fa-clipboard:before{content:"\f328"}.fa-clipboard-check:before{content:"\f46c"}.fa-clipboard-list:before{content:"\f46d"}.fa-clock:before{content:"\f017"}.fa-clone:before{content:"\f24d"}.fa-closed-captioning:before{content:"\f20a"}.fa-cloud:before{content:"\f0c2"}.fa-cloud-download-alt:before{content:"\f381"}.fa-cloud-meatball:before{content:"\f73b"}.fa-cloud-moon:before{content:"\f6c3"}.fa-cloud-moon-rain:before{content:"\f73c"}.fa-cloud-rain:before{content:"\f73d"}.fa-cloud-showers-heavy:before{content:"\f740"}.fa-cloud-sun:before{content:"\f6c4"}.fa-cloud-sun-rain:before{content:"\f743"}.fa-cloud-upload-alt:before{content:"\f382"}.fa-cloudscale:before{content:"\f383"}.fa-cloudsmith:before{content:"\f384"}.fa-cloudversify:before{content:"\f385"}.fa-cocktail:before{content:"\f561"}.fa-code:before{content:"\f121"}.fa-code-branch:before{content:"\f126"}.fa-codepen:before{content:"\f1cb"}.fa-codiepie:before{content:"\f284"}.fa-coffee:before{content:"\f0f4"}.fa-cog:before{content:"\f013"}.fa-cogs:before{content:"\f085"}.fa-coins:before{content:"\f51e"}.fa-columns:before{content:"\f0db"}.fa-comment:before{content:"\f075"}.fa-comment-alt:before{content:"\f27a"}.fa-comment-dollar:before{content:"\f651"}.fa-comment-dots:before{content:"\f4ad"}.fa-comment-medical:before{content:"\f7f5"}.fa-comment-slash:before{content:"\f4b3"}.fa-comments:before{content:"\f086"}.fa-comments-dollar:before{content:"\f653"}.fa-compact-disc:before{content:"\f51f"}.fa-compass:before{content:"\f14e"}.fa-compress:before{content:"\f066"}.fa-compress-alt:before{content:"\f422"}.fa-compress-arrows-alt:before{content:"\f78c"}.fa-concierge-bell:before{content:"\f562"}.fa-confluence:before{content:"\f78d"}.fa-connectdevelop:before{content:"\f20e"}.fa-contao:before{content:"\f26d"}.fa-cookie:before{content:"\f563"}.fa-cookie-bite:before{content:"\f564"}.fa-copy:before{content:"\f0c5"}.fa-copyright:before{content:"\f1f9"}.fa-cotton-bureau:before{content:"\f89e"}.fa-couch:before{content:"\f4b8"}.fa-cpanel:before{content:"\f388"}.fa-creative-commons:before{content:"\f25e"}.fa-creative-commons-by:before{content:"\f4e7"}.fa-creative-commons-nc:before{content:"\f4e8"}.fa-creative-commons-nc-eu:before{content:"\f4e9"}.fa-creative-commons-nc-jp:before{content:"\f4ea"}.fa-creative-commons-nd:before{content:"\f4eb"}.fa-creative-commons-pd:before{content:"\f4ec"}.fa-creative-commons-pd-alt:before{content:"\f4ed"}.fa-creative-commons-remix:before{content:"\f4ee"}.fa-creative-commons-sa:before{content:"\f4ef"}.fa-creative-commons-sampling:before{content:"\f4f0"}.fa-creative-commons-sampling-plus:before{content:"\f4f1"}.fa-creative-commons-share:before{content:"\f4f2"}.fa-creative-commons-zero:before{content:"\f4f3"}.fa-credit-card:before{content:"\f09d"}.fa-critical-role:before{content:"\f6c9"}.fa-crop:before{content:"\f125"}.fa-crop-alt:before{content:"\f565"}.fa-cross:before{content:"\f654"}.fa-crosshairs:before{content:"\f05b"}.fa-crow:before{content:"\f520"}.fa-crown:before{content:"\f521"}.fa-crutch:before{content:"\f7f7"}.fa-css3:before{content:"\f13c"}.fa-css3-alt:before{content:"\f38b"}.fa-cube:before{content:"\f1b2"}.fa-cubes:before{content:"\f1b3"}.fa-cut:before{content:"\f0c4"}.fa-cuttlefish:before{content:"\f38c"}.fa-d-and-d:before{content:"\f38d"}.fa-d-and-d-beyond:before{content:"\f6ca"}.fa-dashcube:before{content:"\f210"}.fa-database:before{content:"\f1c0"}.fa-deaf:before{content:"\f2a4"}.fa-delicious:before{content:"\f1a5"}.fa-democrat:before{content:"\f747"}.fa-deploydog:before{content:"\f38e"}.fa-deskpro:before{content:"\f38f"}.fa-desktop:before{content:"\f108"}.fa-dev:before{content:"\f6cc"}.fa-deviantart:before{content:"\f1bd"}.fa-dharmachakra:before{content:"\f655"}.fa-dhl:before{content:"\f790"}.fa-diagnoses:before{content:"\f470"}.fa-diaspora:before{content:"\f791"}.fa-dice:before{content:"\f522"}.fa-dice-d20:before{content:"\f6cf"}.fa-dice-d6:before{content:"\f6d1"}.fa-dice-five:before{content:"\f523"}.fa-dice-four:before{content:"\f524"}.fa-dice-one:before{content:"\f525"}.fa-dice-six:before{content:"\f526"}.fa-dice-three:before{content:"\f527"}.fa-dice-two:before{content:"\f528"}.fa-digg:before{content:"\f1a6"}.fa-digital-ocean:before{content:"\f391"}.fa-digital-tachograph:before{content:"\f566"}.fa-directions:before{content:"\f5eb"}.fa-discord:before{content:"\f392"}.fa-discourse:before{content:"\f393"}.fa-divide:before{content:"\f529"}.fa-dizzy:before{content:"\f567"}.fa-dna:before{content:"\f471"}.fa-dochub:before{content:"\f394"}.fa-docker:before{content:"\f395"}.fa-dog:before{content:"\f6d3"}.fa-dollar-sign:before{content:"\f155"}.fa-dolly:before{content:"\f472"}.fa-dolly-flatbed:before{content:"\f474"}.fa-donate:before{content:"\f4b9"}.fa-door-closed:before{content:"\f52a"}.fa-door-open:before{content:"\f52b"}.fa-dot-circle:before{content:"\f192"}.fa-dove:before{content:"\f4ba"}.fa-download:before{content:"\f019"}.fa-draft2digital:before{content:"\f396"}.fa-drafting-compass:before{content:"\f568"}.fa-dragon:before{content:"\f6d5"}.fa-draw-polygon:before{content:"\f5ee"}.fa-dribbble:before{content:"\f17d"}.fa-dribbble-square:before{content:"\f397"}.fa-dropbox:before{content:"\f16b"}.fa-drum:before{content:"\f569"}.fa-drum-steelpan:before{content:"\f56a"}.fa-drumstick-bite:before{content:"\f6d7"}.fa-drupal:before{content:"\f1a9"}.fa-dumbbell:before{content:"\f44b"}.fa-dumpster:before{content:"\f793"}.fa-dumpster-fire:before{content:"\f794"}.fa-dungeon:before{content:"\f6d9"}.fa-dyalog:before{content:"\f399"}.fa-earlybirds:before{content:"\f39a"}.fa-ebay:before{content:"\f4f4"}.fa-edge:before{content:"\f282"}.fa-edit:before{content:"\f044"}.fa-egg:before{content:"\f7fb"}.fa-eject:before{content:"\f052"}.fa-elementor:before{content:"\f430"}.fa-ellipsis-h:before{content:"\f141"}.fa-ellipsis-v:before{content:"\f142"}.fa-ello:before{content:"\f5f1"}.fa-ember:before{content:"\f423"}.fa-empire:before{content:"\f1d1"}.fa-envelope:before{content:"\f0e0"}.fa-envelope-open:before{content:"\f2b6"}.fa-envelope-open-text:before{content:"\f658"}.fa-envelope-square:before{content:"\f199"}.fa-envira:before{content:"\f299"}.fa-equals:before{content:"\f52c"}.fa-eraser:before{content:"\f12d"}.fa-erlang:before{content:"\f39d"}.fa-ethereum:before{content:"\f42e"}.fa-ethernet:before{content:"\f796"}.fa-etsy:before{content:"\f2d7"}.fa-euro-sign:before{content:"\f153"}.fa-evernote:before{content:"\f839"}.fa-exchange-alt:before{content:"\f362"}.fa-exclamation:before{content:"\f12a"}.fa-exclamation-circle:before{content:"\f06a"}.fa-exclamation-triangle:before{content:"\f071"}.fa-expand:before{content:"\f065"}.fa-expand-alt:before{content:"\f424"}.fa-expand-arrows-alt:before{content:"\f31e"}.fa-expeditedssl:before{content:"\f23e"}.fa-external-link-alt:before{content:"\f35d"}.fa-external-link-square-alt:before{content:"\f360"}.fa-eye:before{content:"\f06e"}.fa-eye-dropper:before{content:"\f1fb"}.fa-eye-slash:before{content:"\f070"}.fa-facebook:before{content:"\f09a"}.fa-facebook-f:before{content:"\f39e"}.fa-facebook-messenger:before{content:"\f39f"}.fa-facebook-square:before{content:"\f082"}.fa-fan:before{content:"\f863"}.fa-fantasy-flight-games:before{content:"\f6dc"}.fa-fast-backward:before{content:"\f049"}.fa-fast-forward:before{content:"\f050"}.fa-fax:before{content:"\f1ac"}.fa-feather:before{content:"\f52d"}.fa-feather-alt:before{content:"\f56b"}.fa-fedex:before{content:"\f797"}.fa-fedora:before{content:"\f798"}.fa-female:before{content:"\f182"}.fa-fighter-jet:before{content:"\f0fb"}.fa-figma:before{content:"\f799"}.fa-file:before{content:"\f15b"}.fa-file-alt:before{content:"\f15c"}.fa-file-archive:before{content:"\f1c6"}.fa-file-audio:before{content:"\f1c7"}.fa-file-code:before{content:"\f1c9"}.fa-file-contract:before{content:"\f56c"}.fa-file-csv:before{content:"\f6dd"}.fa-file-download:before{content:"\f56d"}.fa-file-excel:before{content:"\f1c3"}.fa-file-export:before{content:"\f56e"}.fa-file-image:before{content:"\f1c5"}.fa-file-import:before{content:"\f56f"}.fa-file-invoice:before{content:"\f570"}.fa-file-invoice-dollar:before{content:"\f571"}.fa-file-medical:before{content:"\f477"}.fa-file-medical-alt:before{content:"\f478"}.fa-file-pdf:before{content:"\f1c1"}.fa-file-powerpoint:before{content:"\f1c4"}.fa-file-prescription:before{content:"\f572"}.fa-file-signature:before{content:"\f573"}.fa-file-upload:before{content:"\f574"}.fa-file-video:before{content:"\f1c8"}.fa-file-word:before{content:"\f1c2"}.fa-fill:before{content:"\f575"}.fa-fill-drip:before{content:"\f576"}.fa-film:before{content:"\f008"}.fa-filter:before{content:"\f0b0"}.fa-fingerprint:before{content:"\f577"}.fa-fire:before{content:"\f06d"}.fa-fire-alt:before{content:"\f7e4"}.fa-fire-extinguisher:before{content:"\f134"}.fa-firefox:before{content:"\f269"}.fa-firefox-browser:before{content:"\f907"}.fa-first-aid:before{content:"\f479"}.fa-first-order:before{content:"\f2b0"}.fa-first-order-alt:before{content:"\f50a"}.fa-firstdraft:before{content:"\f3a1"}.fa-fish:before{content:"\f578"}.fa-fist-raised:before{content:"\f6de"}.fa-flag:before{content:"\f024"}.fa-flag-checkered:before{content:"\f11e"}.fa-flag-usa:before{content:"\f74d"}.fa-flask:before{content:"\f0c3"}.fa-flickr:before{content:"\f16e"}.fa-flipboard:before{content:"\f44d"}.fa-flushed:before{content:"\f579"}.fa-fly:before{content:"\f417"}.fa-folder:before{content:"\f07b"}.fa-folder-minus:before{content:"\f65d"}.fa-folder-open:before{content:"\f07c"}.fa-folder-plus:before{content:"\f65e"}.fa-font:before{content:"\f031"}.fa-font-awesome:before{content:"\f2b4"}.fa-font-awesome-alt:before{content:"\f35c"}.fa-font-awesome-flag:before{content:"\f425"}.fa-font-awesome-logo-full:before{content:"\f4e6"}.fa-fonticons:before{content:"\f280"}.fa-fonticons-fi:before{content:"\f3a2"}.fa-football-ball:before{content:"\f44e"}.fa-fort-awesome:before{content:"\f286"}.fa-fort-awesome-alt:before{content:"\f3a3"}.fa-forumbee:before{content:"\f211"}.fa-forward:before{content:"\f04e"}.fa-foursquare:before{content:"\f180"}.fa-free-code-camp:before{content:"\f2c5"}.fa-freebsd:before{content:"\f3a4"}.fa-frog:before{content:"\f52e"}.fa-frown:before{content:"\f119"}.fa-frown-open:before{content:"\f57a"}.fa-fulcrum:before{content:"\f50b"}.fa-funnel-dollar:before{content:"\f662"}.fa-futbol:before{content:"\f1e3"}.fa-galactic-republic:before{content:"\f50c"}.fa-galactic-senate:before{content:"\f50d"}.fa-gamepad:before{content:"\f11b"}.fa-gas-pump:before{content:"\f52f"}.fa-gavel:before{content:"\f0e3"}.fa-gem:before{content:"\f3a5"}.fa-genderless:before{content:"\f22d"}.fa-get-pocket:before{content:"\f265"}.fa-gg:before{content:"\f260"}.fa-gg-circle:before{content:"\f261"}.fa-ghost:before{content:"\f6e2"}.fa-gift:before{content:"\f06b"}.fa-gifts:before{content:"\f79c"}.fa-git:before{content:"\f1d3"}.fa-git-alt:before{content:"\f841"}.fa-git-square:before{content:"\f1d2"}.fa-github:before{content:"\f09b"}.fa-github-alt:before{content:"\f113"}.fa-github-square:before{content:"\f092"}.fa-gitkraken:before{content:"\f3a6"}.fa-gitlab:before{content:"\f296"}.fa-gitter:before{content:"\f426"}.fa-glass-cheers:before{content:"\f79f"}.fa-glass-martini:before{content:"\f000"}.fa-glass-martini-alt:before{content:"\f57b"}.fa-glass-whiskey:before{content:"\f7a0"}.fa-glasses:before{content:"\f530"}.fa-glide:before{content:"\f2a5"}.fa-glide-g:before{content:"\f2a6"}.fa-globe:before{content:"\f0ac"}.fa-globe-africa:before{content:"\f57c"}.fa-globe-americas:before{content:"\f57d"}.fa-globe-asia:before{content:"\f57e"}.fa-globe-europe:before{content:"\f7a2"}.fa-gofore:before{content:"\f3a7"}.fa-golf-ball:before{content:"\f450"}.fa-goodreads:before{content:"\f3a8"}.fa-goodreads-g:before{content:"\f3a9"}.fa-google:before{content:"\f1a0"}.fa-google-drive:before{content:"\f3aa"}.fa-google-play:before{content:"\f3ab"}.fa-google-plus:before{content:"\f2b3"}.fa-google-plus-g:before{content:"\f0d5"}.fa-google-plus-square:before{content:"\f0d4"}.fa-google-wallet:before{content:"\f1ee"}.fa-gopuram:before{content:"\f664"}.fa-graduation-cap:before{content:"\f19d"}.fa-gratipay:before{content:"\f184"}.fa-grav:before{content:"\f2d6"}.fa-greater-than:before{content:"\f531"}.fa-greater-than-equal:before{content:"\f532"}.fa-grimace:before{content:"\f57f"}.fa-grin:before{content:"\f580"}.fa-grin-alt:before{content:"\f581"}.fa-grin-beam:before{content:"\f582"}.fa-grin-beam-sweat:before{content:"\f583"}.fa-grin-hearts:before{content:"\f584"}.fa-grin-squint:before{content:"\f585"}.fa-grin-squint-tears:before{content:"\f586"}.fa-grin-stars:before{content:"\f587"}.fa-grin-tears:before{content:"\f588"}.fa-grin-tongue:before{content:"\f589"}.fa-grin-tongue-squint:before{content:"\f58a"}.fa-grin-tongue-wink:before{content:"\f58b"}.fa-grin-wink:before{content:"\f58c"}.fa-grip-horizontal:before{content:"\f58d"}.fa-grip-lines:before{content:"\f7a4"}.fa-grip-lines-vertical:before{content:"\f7a5"}.fa-grip-vertical:before{content:"\f58e"}.fa-gripfire:before{content:"\f3ac"}.fa-grunt:before{content:"\f3ad"}.fa-guitar:before{content:"\f7a6"}.fa-gulp:before{content:"\f3ae"}.fa-h-square:before{content:"\f0fd"}.fa-hacker-news:before{content:"\f1d4"}.fa-hacker-news-square:before{content:"\f3af"}.fa-hackerrank:before{content:"\f5f7"}.fa-hamburger:before{content:"\f805"}.fa-hammer:before{content:"\f6e3"}.fa-hamsa:before{content:"\f665"}.fa-hand-holding:before{content:"\f4bd"}.fa-hand-holding-heart:before{content:"\f4be"}.fa-hand-holding-usd:before{content:"\f4c0"}.fa-hand-lizard:before{content:"\f258"}.fa-hand-middle-finger:before{content:"\f806"}.fa-hand-paper:before{content:"\f256"}.fa-hand-peace:before{content:"\f25b"}.fa-hand-point-down:before{content:"\f0a7"}.fa-hand-point-left:before{content:"\f0a5"}.fa-hand-point-right:before{content:"\f0a4"}.fa-hand-point-up:before{content:"\f0a6"}.fa-hand-pointer:before{content:"\f25a"}.fa-hand-rock:before{content:"\f255"}.fa-hand-scissors:before{content:"\f257"}.fa-hand-spock:before{content:"\f259"}.fa-hands:before{content:"\f4c2"}.fa-hands-helping:before{content:"\f4c4"}.fa-handshake:before{content:"\f2b5"}.fa-hanukiah:before{content:"\f6e6"}.fa-hard-hat:before{content:"\f807"}.fa-hashtag:before{content:"\f292"}.fa-hat-cowboy:before{content:"\f8c0"}.fa-hat-cowboy-side:before{content:"\f8c1"}.fa-hat-wizard:before{content:"\f6e8"}.fa-hdd:before{content:"\f0a0"}.fa-heading:before{content:"\f1dc"}.fa-headphones:before{content:"\f025"}.fa-headphones-alt:before{content:"\f58f"}.fa-headset:before{content:"\f590"}.fa-heart:before{content:"\f004"}.fa-heart-broken:before{content:"\f7a9"}.fa-heartbeat:before{content:"\f21e"}.fa-helicopter:before{content:"\f533"}.fa-highlighter:before{content:"\f591"}.fa-hiking:before{content:"\f6ec"}.fa-hippo:before{content:"\f6ed"}.fa-hips:before{content:"\f452"}.fa-hire-a-helper:before{content:"\f3b0"}.fa-history:before{content:"\f1da"}.fa-hockey-puck:before{content:"\f453"}.fa-holly-berry:before{content:"\f7aa"}.fa-home:before{content:"\f015"}.fa-hooli:before{content:"\f427"}.fa-hornbill:before{content:"\f592"}.fa-horse:before{content:"\f6f0"}.fa-horse-head:before{content:"\f7ab"}.fa-hospital:before{content:"\f0f8"}.fa-hospital-alt:before{content:"\f47d"}.fa-hospital-symbol:before{content:"\f47e"}.fa-hot-tub:before{content:"\f593"}.fa-hotdog:before{content:"\f80f"}.fa-hotel:before{content:"\f594"}.fa-hotjar:before{content:"\f3b1"}.fa-hourglass:before{content:"\f254"}.fa-hourglass-end:before{content:"\f253"}.fa-hourglass-half:before{content:"\f252"}.fa-hourglass-start:before{content:"\f251"}.fa-house-damage:before{content:"\f6f1"}.fa-houzz:before{content:"\f27c"}.fa-hryvnia:before{content:"\f6f2"}.fa-html5:before{content:"\f13b"}.fa-hubspot:before{content:"\f3b2"}.fa-i-cursor:before{content:"\f246"}.fa-ice-cream:before{content:"\f810"}.fa-icicles:before{content:"\f7ad"}.fa-icons:before{content:"\f86d"}.fa-id-badge:before{content:"\f2c1"}.fa-id-card:before{content:"\f2c2"}.fa-id-card-alt:before{content:"\f47f"}.fa-ideal:before{content:"\f913"}.fa-igloo:before{content:"\f7ae"}.fa-image:before{content:"\f03e"}.fa-images:before{content:"\f302"}.fa-imdb:before{content:"\f2d8"}.fa-inbox:before{content:"\f01c"}.fa-indent:before{content:"\f03c"}.fa-industry:before{content:"\f275"}.fa-infinity:before{content:"\f534"}.fa-info:before{content:"\f129"}.fa-info-circle:before{content:"\f05a"}.fa-instagram:before{content:"\f16d"}.fa-intercom:before{content:"\f7af"}.fa-internet-explorer:before{content:"\f26b"}.fa-invision:before{content:"\f7b0"}.fa-ioxhost:before{content:"\f208"}.fa-italic:before{content:"\f033"}.fa-itch-io:before{content:"\f83a"}.fa-itunes:before{content:"\f3b4"}.fa-itunes-note:before{content:"\f3b5"}.fa-java:before{content:"\f4e4"}.fa-jedi:before{content:"\f669"}.fa-jedi-order:before{content:"\f50e"}.fa-jenkins:before{content:"\f3b6"}.fa-jira:before{content:"\f7b1"}.fa-joget:before{content:"\f3b7"}.fa-joint:before{content:"\f595"}.fa-joomla:before{content:"\f1aa"}.fa-journal-whills:before{content:"\f66a"}.fa-js:before{content:"\f3b8"}.fa-js-square:before{content:"\f3b9"}.fa-jsfiddle:before{content:"\f1cc"}.fa-kaaba:before{content:"\f66b"}.fa-kaggle:before{content:"\f5fa"}.fa-key:before{content:"\f084"}.fa-keybase:before{content:"\f4f5"}.fa-keyboard:before{content:"\f11c"}.fa-keycdn:before{content:"\f3ba"}.fa-khanda:before{content:"\f66d"}.fa-kickstarter:before{content:"\f3bb"}.fa-kickstarter-k:before{content:"\f3bc"}.fa-kiss:before{content:"\f596"}.fa-kiss-beam:before{content:"\f597"}.fa-kiss-wink-heart:before{content:"\f598"}.fa-kiwi-bird:before{content:"\f535"}.fa-korvue:before{content:"\f42f"}.fa-landmark:before{content:"\f66f"}.fa-language:before{content:"\f1ab"}.fa-laptop:before{content:"\f109"}.fa-laptop-code:before{content:"\f5fc"}.fa-laptop-medical:before{content:"\f812"}.fa-laravel:before{content:"\f3bd"}.fa-lastfm:before{content:"\f202"}.fa-lastfm-square:before{content:"\f203"}.fa-laugh:before{content:"\f599"}.fa-laugh-beam:before{content:"\f59a"}.fa-laugh-squint:before{content:"\f59b"}.fa-laugh-wink:before{content:"\f59c"}.fa-layer-group:before{content:"\f5fd"}.fa-leaf:before{content:"\f06c"}.fa-leanpub:before{content:"\f212"}.fa-lemon:before{content:"\f094"}.fa-less:before{content:"\f41d"}.fa-less-than:before{content:"\f536"}.fa-less-than-equal:before{content:"\f537"}.fa-level-down-alt:before{content:"\f3be"}.fa-level-up-alt:before{content:"\f3bf"}.fa-life-ring:before{content:"\f1cd"}.fa-lightbulb:before{content:"\f0eb"}.fa-line:before{content:"\f3c0"}.fa-link:before{content:"\f0c1"}.fa-linkedin:before{content:"\f08c"}.fa-linkedin-in:before{content:"\f0e1"}.fa-linode:before{content:"\f2b8"}.fa-linux:before{content:"\f17c"}.fa-lira-sign:before{content:"\f195"}.fa-list:before{content:"\f03a"}.fa-list-alt:before{content:"\f022"}.fa-list-ol:before{content:"\f0cb"}.fa-list-ul:before{content:"\f0ca"}.fa-location-arrow:before{content:"\f124"}.fa-lock:before{content:"\f023"}.fa-lock-open:before{content:"\f3c1"}.fa-long-arrow-alt-down:before{content:"\f309"}.fa-long-arrow-alt-left:before{content:"\f30a"}.fa-long-arrow-alt-right:before{content:"\f30b"}.fa-long-arrow-alt-up:before{content:"\f30c"}.fa-low-vision:before{content:"\f2a8"}.fa-luggage-cart:before{content:"\f59d"}.fa-lyft:before{content:"\f3c3"}.fa-magento:before{content:"\f3c4"}.fa-magic:before{content:"\f0d0"}.fa-magnet:before{content:"\f076"}.fa-mail-bulk:before{content:"\f674"}.fa-mailchimp:before{content:"\f59e"}.fa-male:before{content:"\f183"}.fa-mandalorian:before{content:"\f50f"}.fa-map:before{content:"\f279"}.fa-map-marked:before{content:"\f59f"}.fa-map-marked-alt:before{content:"\f5a0"}.fa-map-marker:before{content:"\f041"}.fa-map-marker-alt:before{content:"\f3c5"}.fa-map-pin:before{content:"\f276"}.fa-map-signs:before{content:"\f277"}.fa-markdown:before{content:"\f60f"}.fa-marker:before{content:"\f5a1"}.fa-mars:before{content:"\f222"}.fa-mars-double:before{content:"\f227"}.fa-mars-stroke:before{content:"\f229"}.fa-mars-stroke-h:before{content:"\f22b"}.fa-mars-stroke-v:before{content:"\f22a"}.fa-mask:before{content:"\f6fa"}.fa-mastodon:before{content:"\f4f6"}.fa-maxcdn:before{content:"\f136"}.fa-mdb:before{content:"\f8ca"}.fa-medal:before{content:"\f5a2"}.fa-medapps:before{content:"\f3c6"}.fa-medium:before{content:"\f23a"}.fa-medium-m:before{content:"\f3c7"}.fa-medkit:before{content:"\f0fa"}.fa-medrt:before{content:"\f3c8"}.fa-meetup:before{content:"\f2e0"}.fa-megaport:before{content:"\f5a3"}.fa-meh:before{content:"\f11a"}.fa-meh-blank:before{content:"\f5a4"}.fa-meh-rolling-eyes:before{content:"\f5a5"}.fa-memory:before{content:"\f538"}.fa-mendeley:before{content:"\f7b3"}.fa-menorah:before{content:"\f676"}.fa-mercury:before{content:"\f223"}.fa-meteor:before{content:"\f753"}.fa-microblog:before{content:"\f91a"}.fa-microchip:before{content:"\f2db"}.fa-microphone:before{content:"\f130"}.fa-microphone-alt:before{content:"\f3c9"}.fa-microphone-alt-slash:before{content:"\f539"}.fa-microphone-slash:before{content:"\f131"}.fa-microscope:before{content:"\f610"}.fa-microsoft:before{content:"\f3ca"}.fa-minus:before{content:"\f068"}.fa-minus-circle:before{content:"\f056"}.fa-minus-square:before{content:"\f146"}.fa-mitten:before{content:"\f7b5"}.fa-mix:before{content:"\f3cb"}.fa-mixcloud:before{content:"\f289"}.fa-mizuni:before{content:"\f3cc"}.fa-mobile:before{content:"\f10b"}.fa-mobile-alt:before{content:"\f3cd"}.fa-modx:before{content:"\f285"}.fa-monero:before{content:"\f3d0"}.fa-money-bill:before{content:"\f0d6"}.fa-money-bill-alt:before{content:"\f3d1"}.fa-money-bill-wave:before{content:"\f53a"}.fa-money-bill-wave-alt:before{content:"\f53b"}.fa-money-check:before{content:"\f53c"}.fa-money-check-alt:before{content:"\f53d"}.fa-monument:before{content:"\f5a6"}.fa-moon:before{content:"\f186"}.fa-mortar-pestle:before{content:"\f5a7"}.fa-mosque:before{content:"\f678"}.fa-motorcycle:before{content:"\f21c"}.fa-mountain:before{content:"\f6fc"}.fa-mouse:before{content:"\f8cc"}.fa-mouse-pointer:before{content:"\f245"}.fa-mug-hot:before{content:"\f7b6"}.fa-music:before{content:"\f001"}.fa-napster:before{content:"\f3d2"}.fa-neos:before{content:"\f612"}.fa-network-wired:before{content:"\f6ff"}.fa-neuter:before{content:"\f22c"}.fa-newspaper:before{content:"\f1ea"}.fa-nimblr:before{content:"\f5a8"}.fa-node:before{content:"\f419"}.fa-node-js:before{content:"\f3d3"}.fa-not-equal:before{content:"\f53e"}.fa-notes-medical:before{content:"\f481"}.fa-npm:before{content:"\f3d4"}.fa-ns8:before{content:"\f3d5"}.fa-nutritionix:before{content:"\f3d6"}.fa-object-group:before{content:"\f247"}.fa-object-ungroup:before{content:"\f248"}.fa-odnoklassniki:before{content:"\f263"}.fa-odnoklassniki-square:before{content:"\f264"}.fa-oil-can:before{content:"\f613"}.fa-old-republic:before{content:"\f510"}.fa-om:before{content:"\f679"}.fa-opencart:before{content:"\f23d"}.fa-openid:before{content:"\f19b"}.fa-opera:before{content:"\f26a"}.fa-optin-monster:before{content:"\f23c"}.fa-orcid:before{content:"\f8d2"}.fa-osi:before{content:"\f41a"}.fa-otter:before{content:"\f700"}.fa-outdent:before{content:"\f03b"}.fa-page4:before{content:"\f3d7"}.fa-pagelines:before{content:"\f18c"}.fa-pager:before{content:"\f815"}.fa-paint-brush:before{content:"\f1fc"}.fa-paint-roller:before{content:"\f5aa"}.fa-palette:before{content:"\f53f"}.fa-palfed:before{content:"\f3d8"}.fa-pallet:before{content:"\f482"}.fa-paper-plane:before{content:"\f1d8"}.fa-paperclip:before{content:"\f0c6"}.fa-parachute-box:before{content:"\f4cd"}.fa-paragraph:before{content:"\f1dd"}.fa-parking:before{content:"\f540"}.fa-passport:before{content:"\f5ab"}.fa-pastafarianism:before{content:"\f67b"}.fa-paste:before{content:"\f0ea"}.fa-patreon:before{content:"\f3d9"}.fa-pause:before{content:"\f04c"}.fa-pause-circle:before{content:"\f28b"}.fa-paw:before{content:"\f1b0"}.fa-paypal:before{content:"\f1ed"}.fa-peace:before{content:"\f67c"}.fa-pen:before{content:"\f304"}.fa-pen-alt:before{content:"\f305"}.fa-pen-fancy:before{content:"\f5ac"}.fa-pen-nib:before{content:"\f5ad"}.fa-pen-square:before{content:"\f14b"}.fa-pencil-alt:before{content:"\f303"}.fa-pencil-ruler:before{content:"\f5ae"}.fa-penny-arcade:before{content:"\f704"}.fa-people-carry:before{content:"\f4ce"}.fa-pepper-hot:before{content:"\f816"}.fa-percent:before{content:"\f295"}.fa-percentage:before{content:"\f541"}.fa-periscope:before{content:"\f3da"}.fa-person-booth:before{content:"\f756"}.fa-phabricator:before{content:"\f3db"}.fa-phoenix-framework:before{content:"\f3dc"}.fa-phoenix-squadron:before{content:"\f511"}.fa-phone:before{content:"\f095"}.fa-phone-alt:before{content:"\f879"}.fa-phone-slash:before{content:"\f3dd"}.fa-phone-square:before{content:"\f098"}.fa-phone-square-alt:before{content:"\f87b"}.fa-phone-volume:before{content:"\f2a0"}.fa-photo-video:before{content:"\f87c"}.fa-php:before{content:"\f457"}.fa-pied-piper:before{content:"\f2ae"}.fa-pied-piper-alt:before{content:"\f1a8"}.fa-pied-piper-hat:before{content:"\f4e5"}.fa-pied-piper-pp:before{content:"\f1a7"}.fa-pied-piper-square:before{content:"\f91e"}.fa-piggy-bank:before{content:"\f4d3"}.fa-pills:before{content:"\f484"}.fa-pinterest:before{content:"\f0d2"}.fa-pinterest-p:before{content:"\f231"}.fa-pinterest-square:before{content:"\f0d3"}.fa-pizza-slice:before{content:"\f818"}.fa-place-of-worship:before{content:"\f67f"}.fa-plane:before{content:"\f072"}.fa-plane-arrival:before{content:"\f5af"}.fa-plane-departure:before{content:"\f5b0"}.fa-play:before{content:"\f04b"}.fa-play-circle:before{content:"\f144"}.fa-playstation:before{content:"\f3df"}.fa-plug:before{content:"\f1e6"}.fa-plus:before{content:"\f067"}.fa-plus-circle:before{content:"\f055"}.fa-plus-square:before{content:"\f0fe"}.fa-podcast:before{content:"\f2ce"}.fa-poll:before{content:"\f681"}.fa-poll-h:before{content:"\f682"}.fa-poo:before{content:"\f2fe"}.fa-poo-storm:before{content:"\f75a"}.fa-poop:before{content:"\f619"}.fa-portrait:before{content:"\f3e0"}.fa-pound-sign:before{content:"\f154"}.fa-power-off:before{content:"\f011"}.fa-pray:before{content:"\f683"}.fa-praying-hands:before{content:"\f684"}.fa-prescription:before{content:"\f5b1"}.fa-prescription-bottle:before{content:"\f485"}.fa-prescription-bottle-alt:before{content:"\f486"}.fa-print:before{content:"\f02f"}.fa-procedures:before{content:"\f487"}.fa-product-hunt:before{content:"\f288"}.fa-project-diagram:before{content:"\f542"}.fa-pushed:before{content:"\f3e1"}.fa-puzzle-piece:before{content:"\f12e"}.fa-python:before{content:"\f3e2"}.fa-qq:before{content:"\f1d6"}.fa-qrcode:before{content:"\f029"}.fa-question:before{content:"\f128"}.fa-question-circle:before{content:"\f059"}.fa-quidditch:before{content:"\f458"}.fa-quinscape:before{content:"\f459"}.fa-quora:before{content:"\f2c4"}.fa-quote-left:before{content:"\f10d"}.fa-quote-right:before{content:"\f10e"}.fa-quran:before{content:"\f687"}.fa-r-project:before{content:"\f4f7"}.fa-radiation:before{content:"\f7b9"}.fa-radiation-alt:before{content:"\f7ba"}.fa-rainbow:before{content:"\f75b"}.fa-random:before{content:"\f074"}.fa-raspberry-pi:before{content:"\f7bb"}.fa-ravelry:before{content:"\f2d9"}.fa-react:before{content:"\f41b"}.fa-reacteurope:before{content:"\f75d"}.fa-readme:before{content:"\f4d5"}.fa-rebel:before{content:"\f1d0"}.fa-receipt:before{content:"\f543"}.fa-record-vinyl:before{content:"\f8d9"}.fa-recycle:before{content:"\f1b8"}.fa-red-river:before{content:"\f3e3"}.fa-reddit:before{content:"\f1a1"}.fa-reddit-alien:before{content:"\f281"}.fa-reddit-square:before{content:"\f1a2"}.fa-redhat:before{content:"\f7bc"}.fa-redo:before{content:"\f01e"}.fa-redo-alt:before{content:"\f2f9"}.fa-registered:before{content:"\f25d"}.fa-remove-format:before{content:"\f87d"}.fa-renren:before{content:"\f18b"}.fa-reply:before{content:"\f3e5"}.fa-reply-all:before{content:"\f122"}.fa-replyd:before{content:"\f3e6"}.fa-republican:before{content:"\f75e"}.fa-researchgate:before{content:"\f4f8"}.fa-resolving:before{content:"\f3e7"}.fa-restroom:before{content:"\f7bd"}.fa-retweet:before{content:"\f079"}.fa-rev:before{content:"\f5b2"}.fa-ribbon:before{content:"\f4d6"}.fa-ring:before{content:"\f70b"}.fa-road:before{content:"\f018"}.fa-robot:before{content:"\f544"}.fa-rocket:before{content:"\f135"}.fa-rocketchat:before{content:"\f3e8"}.fa-rockrms:before{content:"\f3e9"}.fa-route:before{content:"\f4d7"}.fa-rss:before{content:"\f09e"}.fa-rss-square:before{content:"\f143"}.fa-ruble-sign:before{content:"\f158"}.fa-ruler:before{content:"\f545"}.fa-ruler-combined:before{content:"\f546"}.fa-ruler-horizontal:before{content:"\f547"}.fa-ruler-vertical:before{content:"\f548"}.fa-running:before{content:"\f70c"}.fa-rupee-sign:before{content:"\f156"}.fa-sad-cry:before{content:"\f5b3"}.fa-sad-tear:before{content:"\f5b4"}.fa-safari:before{content:"\f267"}.fa-salesforce:before{content:"\f83b"}.fa-sass:before{content:"\f41e"}.fa-satellite:before{content:"\f7bf"}.fa-satellite-dish:before{content:"\f7c0"}.fa-save:before{content:"\f0c7"}.fa-schlix:before{content:"\f3ea"}.fa-school:before{content:"\f549"}.fa-screwdriver:before{content:"\f54a"}.fa-scribd:before{content:"\f28a"}.fa-scroll:before{content:"\f70e"}.fa-sd-card:before{content:"\f7c2"}.fa-search:before{content:"\f002"}.fa-search-dollar:before{content:"\f688"}.fa-search-location:before{content:"\f689"}.fa-search-minus:before{content:"\f010"}.fa-search-plus:before{content:"\f00e"}.fa-searchengin:before{content:"\f3eb"}.fa-seedling:before{content:"\f4d8"}.fa-sellcast:before{content:"\f2da"}.fa-sellsy:before{content:"\f213"}.fa-server:before{content:"\f233"}.fa-servicestack:before{content:"\f3ec"}.fa-shapes:before{content:"\f61f"}.fa-share:before{content:"\f064"}.fa-share-alt:before{content:"\f1e0"}.fa-share-alt-square:before{content:"\f1e1"}.fa-share-square:before{content:"\f14d"}.fa-shekel-sign:before{content:"\f20b"}.fa-shield-alt:before{content:"\f3ed"}.fa-ship:before{content:"\f21a"}.fa-shipping-fast:before{content:"\f48b"}.fa-shirtsinbulk:before{content:"\f214"}.fa-shoe-prints:before{content:"\f54b"}.fa-shopping-bag:before{content:"\f290"}.fa-shopping-basket:before{content:"\f291"}.fa-shopping-cart:before{content:"\f07a"}.fa-shopware:before{content:"\f5b5"}.fa-shower:before{content:"\f2cc"}.fa-shuttle-van:before{content:"\f5b6"}.fa-sign:before{content:"\f4d9"}.fa-sign-in-alt:before{content:"\f2f6"}.fa-sign-language:before{content:"\f2a7"}.fa-sign-out-alt:before{content:"\f2f5"}.fa-signal:before{content:"\f012"}.fa-signature:before{content:"\f5b7"}.fa-sim-card:before{content:"\f7c4"}.fa-simplybuilt:before{content:"\f215"}.fa-sistrix:before{content:"\f3ee"}.fa-sitemap:before{content:"\f0e8"}.fa-sith:before{content:"\f512"}.fa-skating:before{content:"\f7c5"}.fa-sketch:before{content:"\f7c6"}.fa-skiing:before{content:"\f7c9"}.fa-skiing-nordic:before{content:"\f7ca"}.fa-skull:before{content:"\f54c"}.fa-skull-crossbones:before{content:"\f714"}.fa-skyatlas:before{content:"\f216"}.fa-skype:before{content:"\f17e"}.fa-slack:before{content:"\f198"}.fa-slack-hash:before{content:"\f3ef"}.fa-slash:before{content:"\f715"}.fa-sleigh:before{content:"\f7cc"}.fa-sliders-h:before{content:"\f1de"}.fa-slideshare:before{content:"\f1e7"}.fa-smile:before{content:"\f118"}.fa-smile-beam:before{content:"\f5b8"}.fa-smile-wink:before{content:"\f4da"}.fa-smog:before{content:"\f75f"}.fa-smoking:before{content:"\f48d"}.fa-smoking-ban:before{content:"\f54d"}.fa-sms:before{content:"\f7cd"}.fa-snapchat:before{content:"\f2ab"}.fa-snapchat-ghost:before{content:"\f2ac"}.fa-snapchat-square:before{content:"\f2ad"}.fa-snowboarding:before{content:"\f7ce"}.fa-snowflake:before{content:"\f2dc"}.fa-snowman:before{content:"\f7d0"}.fa-snowplow:before{content:"\f7d2"}.fa-socks:before{content:"\f696"}.fa-solar-panel:before{content:"\f5ba"}.fa-sort:before{content:"\f0dc"}.fa-sort-alpha-down:before{content:"\f15d"}.fa-sort-alpha-down-alt:before{content:"\f881"}.fa-sort-alpha-up:before{content:"\f15e"}.fa-sort-alpha-up-alt:before{content:"\f882"}.fa-sort-amount-down:before{content:"\f160"}.fa-sort-amount-down-alt:before{content:"\f884"}.fa-sort-amount-up:before{content:"\f161"}.fa-sort-amount-up-alt:before{content:"\f885"}.fa-sort-down:before{content:"\f0dd"}.fa-sort-numeric-down:before{content:"\f162"}.fa-sort-numeric-down-alt:before{content:"\f886"}.fa-sort-numeric-up:before{content:"\f163"}.fa-sort-numeric-up-alt:before{content:"\f887"}.fa-sort-up:before{content:"\f0de"}.fa-soundcloud:before{content:"\f1be"}.fa-sourcetree:before{content:"\f7d3"}.fa-spa:before{content:"\f5bb"}.fa-space-shuttle:before{content:"\f197"}.fa-speakap:before{content:"\f3f3"}.fa-speaker-deck:before{content:"\f83c"}.fa-spell-check:before{content:"\f891"}.fa-spider:before{content:"\f717"}.fa-spinner:before{content:"\f110"}.fa-splotch:before{content:"\f5bc"}.fa-spotify:before{content:"\f1bc"}.fa-spray-can:before{content:"\f5bd"}.fa-square:before{content:"\f0c8"}.fa-square-full:before{content:"\f45c"}.fa-square-root-alt:before{content:"\f698"}.fa-squarespace:before{content:"\f5be"}.fa-stack-exchange:before{content:"\f18d"}.fa-stack-overflow:before{content:"\f16c"}.fa-stackpath:before{content:"\f842"}.fa-stamp:before{content:"\f5bf"}.fa-star:before{content:"\f005"}.fa-star-and-crescent:before{content:"\f699"}.fa-star-half:before{content:"\f089"}.fa-star-half-alt:before{content:"\f5c0"}.fa-star-of-david:before{content:"\f69a"}.fa-star-of-life:before{content:"\f621"}.fa-staylinked:before{content:"\f3f5"}.fa-steam:before{content:"\f1b6"}.fa-steam-square:before{content:"\f1b7"}.fa-steam-symbol:before{content:"\f3f6"}.fa-step-backward:before{content:"\f048"}.fa-step-forward:before{content:"\f051"}.fa-stethoscope:before{content:"\f0f1"}.fa-sticker-mule:before{content:"\f3f7"}.fa-sticky-note:before{content:"\f249"}.fa-stop:before{content:"\f04d"}.fa-stop-circle:before{content:"\f28d"}.fa-stopwatch:before{content:"\f2f2"}.fa-store:before{content:"\f54e"}.fa-store-alt:before{content:"\f54f"}.fa-strava:before{content:"\f428"}.fa-stream:before{content:"\f550"}.fa-street-view:before{content:"\f21d"}.fa-strikethrough:before{content:"\f0cc"}.fa-stripe:before{content:"\f429"}.fa-stripe-s:before{content:"\f42a"}.fa-stroopwafel:before{content:"\f551"}.fa-studiovinari:before{content:"\f3f8"}.fa-stumbleupon:before{content:"\f1a4"}.fa-stumbleupon-circle:before{content:"\f1a3"}.fa-subscript:before{content:"\f12c"}.fa-subway:before{content:"\f239"}.fa-suitcase:before{content:"\f0f2"}.fa-suitcase-rolling:before{content:"\f5c1"}.fa-sun:before{content:"\f185"}.fa-superpowers:before{content:"\f2dd"}.fa-superscript:before{content:"\f12b"}.fa-supple:before{content:"\f3f9"}.fa-surprise:before{content:"\f5c2"}.fa-suse:before{content:"\f7d6"}.fa-swatchbook:before{content:"\f5c3"}.fa-swift:before{content:"\f8e1"}.fa-swimmer:before{content:"\f5c4"}.fa-swimming-pool:before{content:"\f5c5"}.fa-symfony:before{content:"\f83d"}.fa-synagogue:before{content:"\f69b"}.fa-sync:before{content:"\f021"}.fa-sync-alt:before{content:"\f2f1"}.fa-syringe:before{content:"\f48e"}.fa-table:before{content:"\f0ce"}.fa-table-tennis:before{content:"\f45d"}.fa-tablet:before{content:"\f10a"}.fa-tablet-alt:before{content:"\f3fa"}.fa-tablets:before{content:"\f490"}.fa-tachometer-alt:before{content:"\f3fd"}.fa-tag:before{content:"\f02b"}.fa-tags:before{content:"\f02c"}.fa-tape:before{content:"\f4db"}.fa-tasks:before{content:"\f0ae"}.fa-taxi:before{content:"\f1ba"}.fa-teamspeak:before{content:"\f4f9"}.fa-teeth:before{content:"\f62e"}.fa-teeth-open:before{content:"\f62f"}.fa-telegram:before{content:"\f2c6"}.fa-telegram-plane:before{content:"\f3fe"}.fa-temperature-high:before{content:"\f769"}.fa-temperature-low:before{content:"\f76b"}.fa-tencent-weibo:before{content:"\f1d5"}.fa-tenge:before{content:"\f7d7"}.fa-terminal:before{content:"\f120"}.fa-text-height:before{content:"\f034"}.fa-text-width:before{content:"\f035"}.fa-th:before{content:"\f00a"}.fa-th-large:before{content:"\f009"}.fa-th-list:before{content:"\f00b"}.fa-the-red-yeti:before{content:"\f69d"}.fa-theater-masks:before{content:"\f630"}.fa-themeco:before{content:"\f5c6"}.fa-themeisle:before{content:"\f2b2"}.fa-thermometer:before{content:"\f491"}.fa-thermometer-empty:before{content:"\f2cb"}.fa-thermometer-full:before{content:"\f2c7"}.fa-thermometer-half:before{content:"\f2c9"}.fa-thermometer-quarter:before{content:"\f2ca"}.fa-thermometer-three-quarters:before{content:"\f2c8"}.fa-think-peaks:before{content:"\f731"}.fa-thumbs-down:before{content:"\f165"}.fa-thumbs-up:before{content:"\f164"}.fa-thumbtack:before{content:"\f08d"}.fa-ticket-alt:before{content:"\f3ff"}.fa-times:before{content:"\f00d"}.fa-times-circle:before{content:"\f057"}.fa-tint:before{content:"\f043"}.fa-tint-slash:before{content:"\f5c7"}.fa-tired:before{content:"\f5c8"}.fa-toggle-off:before{content:"\f204"}.fa-toggle-on:before{content:"\f205"}.fa-toilet:before{content:"\f7d8"}.fa-toilet-paper:before{content:"\f71e"}.fa-toolbox:before{content:"\f552"}.fa-tools:before{content:"\f7d9"}.fa-tooth:before{content:"\f5c9"}.fa-torah:before{content:"\f6a0"}.fa-torii-gate:before{content:"\f6a1"}.fa-tractor:before{content:"\f722"}.fa-trade-federation:before{content:"\f513"}.fa-trademark:before{content:"\f25c"}.fa-traffic-light:before{content:"\f637"}.fa-trailer:before{content:"\f941"}.fa-train:before{content:"\f238"}.fa-tram:before{content:"\f7da"}.fa-transgender:before{content:"\f224"}.fa-transgender-alt:before{content:"\f225"}.fa-trash:before{content:"\f1f8"}.fa-trash-alt:before{content:"\f2ed"}.fa-trash-restore:before{content:"\f829"}.fa-trash-restore-alt:before{content:"\f82a"}.fa-tree:before{content:"\f1bb"}.fa-trello:before{content:"\f181"}.fa-tripadvisor:before{content:"\f262"}.fa-trophy:before{content:"\f091"}.fa-truck:before{content:"\f0d1"}.fa-truck-loading:before{content:"\f4de"}.fa-truck-monster:before{content:"\f63b"}.fa-truck-moving:before{content:"\f4df"}.fa-truck-pickup:before{content:"\f63c"}.fa-tshirt:before{content:"\f553"}.fa-tty:before{content:"\f1e4"}.fa-tumblr:before{content:"\f173"}.fa-tumblr-square:before{content:"\f174"}.fa-tv:before{content:"\f26c"}.fa-twitch:before{content:"\f1e8"}.fa-twitter:before{content:"\f099"}.fa-twitter-square:before{content:"\f081"}.fa-typo3:before{content:"\f42b"}.fa-uber:before{content:"\f402"}.fa-ubuntu:before{content:"\f7df"}.fa-uikit:before{content:"\f403"}.fa-umbraco:before{content:"\f8e8"}.fa-umbrella:before{content:"\f0e9"}.fa-umbrella-beach:before{content:"\f5ca"}.fa-underline:before{content:"\f0cd"}.fa-undo:before{content:"\f0e2"}.fa-undo-alt:before{content:"\f2ea"}.fa-uniregistry:before{content:"\f404"}.fa-unity:before{content:"\f949"}.fa-universal-access:before{content:"\f29a"}.fa-university:before{content:"\f19c"}.fa-unlink:before{content:"\f127"}.fa-unlock:before{content:"\f09c"}.fa-unlock-alt:before{content:"\f13e"}.fa-untappd:before{content:"\f405"}.fa-upload:before{content:"\f093"}.fa-ups:before{content:"\f7e0"}.fa-usb:before{content:"\f287"}.fa-user:before{content:"\f007"}.fa-user-alt:before{content:"\f406"}.fa-user-alt-slash:before{content:"\f4fa"}.fa-user-astronaut:before{content:"\f4fb"}.fa-user-check:before{content:"\f4fc"}.fa-user-circle:before{content:"\f2bd"}.fa-user-clock:before{content:"\f4fd"}.fa-user-cog:before{content:"\f4fe"}.fa-user-edit:before{content:"\f4ff"}.fa-user-friends:before{content:"\f500"}.fa-user-graduate:before{content:"\f501"}.fa-user-injured:before{content:"\f728"}.fa-user-lock:before{content:"\f502"}.fa-user-md:before{content:"\f0f0"}.fa-user-minus:before{content:"\f503"}.fa-user-ninja:before{content:"\f504"}.fa-user-nurse:before{content:"\f82f"}.fa-user-plus:before{content:"\f234"}.fa-user-secret:before{content:"\f21b"}.fa-user-shield:before{content:"\f505"}.fa-user-slash:before{content:"\f506"}.fa-user-tag:before{content:"\f507"}.fa-user-tie:before{content:"\f508"}.fa-user-times:before{content:"\f235"}.fa-users:before{content:"\f0c0"}.fa-users-cog:before{content:"\f509"}.fa-usps:before{content:"\f7e1"}.fa-ussunnah:before{content:"\f407"}.fa-utensil-spoon:before{content:"\f2e5"}.fa-utensils:before{content:"\f2e7"}.fa-vaadin:before{content:"\f408"}.fa-vector-square:before{content:"\f5cb"}.fa-venus:before{content:"\f221"}.fa-venus-double:before{content:"\f226"}.fa-venus-mars:before{content:"\f228"}.fa-viacoin:before{content:"\f237"}.fa-viadeo:before{content:"\f2a9"}.fa-viadeo-square:before{content:"\f2aa"}.fa-vial:before{content:"\f492"}.fa-vials:before{content:"\f493"}.fa-viber:before{content:"\f409"}.fa-video:before{content:"\f03d"}.fa-video-slash:before{content:"\f4e2"}.fa-vihara:before{content:"\f6a7"}.fa-vimeo:before{content:"\f40a"}.fa-vimeo-square:before{content:"\f194"}.fa-vimeo-v:before{content:"\f27d"}.fa-vine:before{content:"\f1ca"}.fa-vk:before{content:"\f189"}.fa-vnv:before{content:"\f40b"}.fa-voicemail:before{content:"\f897"}.fa-volleyball-ball:before{content:"\f45f"}.fa-volume-down:before{content:"\f027"}.fa-volume-mute:before{content:"\f6a9"}.fa-volume-off:before{content:"\f026"}.fa-volume-up:before{content:"\f028"}.fa-vote-yea:before{content:"\f772"}.fa-vr-cardboard:before{content:"\f729"}.fa-vuejs:before{content:"\f41f"}.fa-walking:before{content:"\f554"}.fa-wallet:before{content:"\f555"}.fa-warehouse:before{content:"\f494"}.fa-water:before{content:"\f773"}.fa-wave-square:before{content:"\f83e"}.fa-waze:before{content:"\f83f"}.fa-weebly:before{content:"\f5cc"}.fa-weibo:before{content:"\f18a"}.fa-weight:before{content:"\f496"}.fa-weight-hanging:before{content:"\f5cd"}.fa-weixin:before{content:"\f1d7"}.fa-whatsapp:before{content:"\f232"}.fa-whatsapp-square:before{content:"\f40c"}.fa-wheelchair:before{content:"\f193"}.fa-whmcs:before{content:"\f40d"}.fa-wifi:before{content:"\f1eb"}.fa-wikipedia-w:before{content:"\f266"}.fa-wind:before{content:"\f72e"}.fa-window-close:before{content:"\f410"}.fa-window-maximize:before{content:"\f2d0"}.fa-window-minimize:before{content:"\f2d1"}.fa-window-restore:before{content:"\f2d2"}.fa-windows:before{content:"\f17a"}.fa-wine-bottle:before{content:"\f72f"}.fa-wine-glass:before{content:"\f4e3"}.fa-wine-glass-alt:before{content:"\f5ce"}.fa-wix:before{content:"\f5cf"}.fa-wizards-of-the-coast:before{content:"\f730"}.fa-wolf-pack-battalion:before{content:"\f514"}.fa-won-sign:before{content:"\f159"}.fa-wordpress:before{content:"\f19a"}.fa-wordpress-simple:before{content:"\f411"}.fa-wpbeginner:before{content:"\f297"}.fa-wpexplorer:before{content:"\f2de"}.fa-wpforms:before{content:"\f298"}.fa-wpressr:before{content:"\f3e4"}.fa-wrench:before{content:"\f0ad"}.fa-x-ray:before{content:"\f497"}.fa-xbox:before{content:"\f412"}.fa-xing:before{content:"\f168"}.fa-xing-square:before{content:"\f169"}.fa-y-combinator:before{content:"\f23b"}.fa-yahoo:before{content:"\f19e"}.fa-yammer:before{content:"\f840"}.fa-yandex:before{content:"\f413"}.fa-yandex-international:before{content:"\f414"}.fa-yarn:before{content:"\f7e3"}.fa-yelp:before{content:"\f1e9"}.fa-yen-sign:before{content:"\f157"}.fa-yin-yang:before{content:"\f6ad"}.fa-yoast:before{content:"\f2b1"}.fa-youtube:before{content:"\f167"}.fa-youtube-square:before{content:"\f431"}.fa-zhihu:before{content:"\f63f"}.sr-only{border:0;clip:rect(0,0,0,0);height:1px;margin:-1px;overflow:hidden;padding:0;position:absolute;width:1px}.sr-only-focusable:active,.sr-only-focusable:focus{clip:auto;height:auto;margin:0;overflow:visible;position:static;width:auto}@font-face{font-family:"Font Awesome 5 Brands";font-style:normal;font-weight:normal;font-display:auto;src:url(//www.electrician-palmharbor.com/wp-content/themes/integral/css/../webfonts/fa-brands-400.eot);src:url(//www.electrician-palmharbor.com/wp-content/themes/integral/css/../webfonts/fa-brands-400.eot?#iefix) format("embedded-opentype"),url(//www.electrician-palmharbor.com/wp-content/themes/integral/css/../webfonts/fa-brands-400.woff2) format("woff2"),url(//www.electrician-palmharbor.com/wp-content/themes/integral/css/../webfonts/fa-brands-400.woff) format("woff"),url(//www.electrician-palmharbor.com/wp-content/themes/integral/css/../webfonts/fa-brands-400.ttf) format("truetype"),url(//www.electrician-palmharbor.com/wp-content/themes/integral/css/../webfonts/fa-brands-400.svg#fontawesome) format("svg")}.fab{font-family:"Font Awesome 5 Brands"!important;}@font-face{font-family:"Font Awesome 5 Free";font-style:normal;font-weight:400;font-display:auto;src:url(//www.electrician-palmharbor.com/wp-content/themes/integral/css/../webfonts/fa-regular-400.eot);src:url(//www.electrician-palmharbor.com/wp-content/themes/integral/css/../webfonts/fa-regular-400.eot?#iefix) format("embedded-opentype"),url(//www.electrician-palmharbor.com/wp-content/themes/integral/css/../webfonts/fa-regular-400.woff2) format("woff2"),url(//www.electrician-palmharbor.com/wp-content/themes/integral/css/../webfonts/fa-regular-400.woff) format("woff"),url(//www.electrician-palmharbor.com/wp-content/themes/integral/css/../webfonts/fa-regular-400.ttf) format("truetype"),url(//www.electrician-palmharbor.com/wp-content/themes/integral/css/../webfonts/fa-regular-400.svg#fontawesome) format("svg")}.far{font-weight:400}@font-face{font-family:"Font Awesome 5 Free";font-style:normal;font-weight:900;font-display:auto;src:url(//www.electrician-palmharbor.com/wp-content/themes/integral/css/../webfonts/fa-solid-900.eot);src:url(//www.electrician-palmharbor.com/wp-content/themes/integral/css/../webfonts/fa-solid-900.eot?#iefix) format("embedded-opentype"),url(//www.electrician-palmharbor.com/wp-content/themes/integral/css/../webfonts/fa-solid-900.woff2) format("woff2"),url(//www.electrician-palmharbor.com/wp-content/themes/integral/css/../webfonts/fa-solid-900.woff) format("woff"),url(//www.electrician-palmharbor.com/wp-content/themes/integral/css/../webfonts/fa-solid-900.ttf) format("truetype"),url(//www.electrician-palmharbor.com/wp-content/themes/integral/css/../webfonts/fa-solid-900.svg#fontawesome) format("svg")}.fa,.far,.fas{font-family:"Font Awesome 5 Free"}.fa,.fas{font-weight:900} /*! * Font Awesome Free 5.12.0 by @fontawesome - https://fontawesome.com * License - https://fontawesome.com/license/free (Icons: CC BY 4.0, Fonts: SIL OFL 1.1, Code: MIT License) */ .fa.fa-glass:before{content:"\f000"}.fa.fa-meetup{font-family:"Font Awesome 5 Brands";font-weight:400}.fa.fa-star-o{font-family:"Font Awesome 5 Free";font-weight:400}.fa.fa-star-o:before{content:"\f005"}.fa.fa-close:before,.fa.fa-remove:before{content:"\f00d"}.fa.fa-gear:before{content:"\f013"}.fa.fa-trash-o{font-family:"Font Awesome 5 Free";font-weight:400}.fa.fa-trash-o:before{content:"\f2ed"}.fa.fa-file-o{font-family:"Font Awesome 5 Free";font-weight:400}.fa.fa-file-o:before{content:"\f15b"}.fa.fa-clock-o{font-family:"Font Awesome 5 Free";font-weight:400}.fa.fa-clock-o:before{content:"\f017"}.fa.fa-arrow-circle-o-down{font-family:"Font Awesome 5 Free";font-weight:400}.fa.fa-arrow-circle-o-down:before{content:"\f358"}.fa.fa-arrow-circle-o-up{font-family:"Font Awesome 5 Free";font-weight:400}.fa.fa-arrow-circle-o-up:before{content:"\f35b"}.fa.fa-play-circle-o{font-family:"Font Awesome 5 Free";font-weight:400}.fa.fa-play-circle-o:before{content:"\f144"}.fa.fa-repeat:before,.fa.fa-rotate-right:before{content:"\f01e"}.fa.fa-refresh:before{content:"\f021"}.fa.fa-list-alt{font-family:"Font Awesome 5 Free";font-weight:400}.fa.fa-dedent:before{content:"\f03b"}.fa.fa-video-camera:before{content:"\f03d"}.fa.fa-picture-o{font-family:"Font Awesome 5 Free";font-weight:400}.fa.fa-picture-o:before{content:"\f03e"}.fa.fa-photo{font-family:"Font Awesome 5 Free";font-weight:400}.fa.fa-photo:before{content:"\f03e"}.fa.fa-image{font-family:"Font Awesome 5 Free";font-weight:400}.fa.fa-image:before{content:"\f03e"}.fa.fa-pencil:before{content:"\f303"}.fa.fa-map-marker:before{content:"\f3c5"}.fa.fa-pencil-square-o{font-family:"Font Awesome 5 Free";font-weight:400}.fa.fa-pencil-square-o:before{content:"\f044"}.fa.fa-share-square-o{font-family:"Font Awesome 5 Free";font-weight:400}.fa.fa-share-square-o:before{content:"\f14d"}.fa.fa-check-square-o{font-family:"Font Awesome 5 Free";font-weight:400}.fa.fa-check-square-o:before{content:"\f14a"}.fa.fa-arrows:before{content:"\f0b2"}.fa.fa-times-circle-o{font-family:"Font Awesome 5 Free";font-weight:400}.fa.fa-times-circle-o:before{content:"\f057"}.fa.fa-check-circle-o{font-family:"Font Awesome 5 Free";font-weight:400}.fa.fa-check-circle-o:before{content:"\f058"}.fa.fa-mail-forward:before{content:"\f064"}.fa.fa-expand:before{content:"\f424"}.fa.fa-compress:before{content:"\f422"}.fa.fa-eye,.fa.fa-eye-slash{font-family:"Font Awesome 5 Free";font-weight:400}.fa.fa-warning:before{content:"\f071"}.fa.fa-calendar:before{content:"\f073"}.fa.fa-arrows-v:before{content:"\f338"}.fa.fa-arrows-h:before{content:"\f337"}.fa.fa-bar-chart{font-family:"Font Awesome 5 Free";font-weight:400}.fa.fa-bar-chart:before{content:"\f080"}.fa.fa-bar-chart-o{font-family:"Font Awesome 5 Free";font-weight:400}.fa.fa-bar-chart-o:before{content:"\f080"}.fa.fa-facebook-square,.fa.fa-twitter-square{font-family:"Font Awesome 5 Brands";font-weight:400}.fa.fa-gears:before{content:"\f085"}.fa.fa-thumbs-o-up{font-family:"Font Awesome 5 Free";font-weight:400}.fa.fa-thumbs-o-up:before{content:"\f164"}.fa.fa-thumbs-o-down{font-family:"Font Awesome 5 Free";font-weight:400}.fa.fa-thumbs-o-down:before{content:"\f165"}.fa.fa-heart-o{font-family:"Font Awesome 5 Free";font-weight:400}.fa.fa-heart-o:before{content:"\f004"}.fa.fa-sign-out:before{content:"\f2f5"}.fa.fa-linkedin-square{font-family:"Font Awesome 5 Brands";font-weight:400}.fa.fa-linkedin-square:before{content:"\f08c"}.fa.fa-thumb-tack:before{content:"\f08d"}.fa.fa-external-link:before{content:"\f35d"}.fa.fa-sign-in:before{content:"\f2f6"}.fa.fa-github-square{font-family:"Font Awesome 5 Brands";font-weight:400}.fa.fa-lemon-o{font-family:"Font Awesome 5 Free";font-weight:400}.fa.fa-lemon-o:before{content:"\f094"}.fa.fa-square-o{font-family:"Font Awesome 5 Free";font-weight:400}.fa.fa-square-o:before{content:"\f0c8"}.fa.fa-bookmark-o{font-family:"Font Awesome 5 Free";font-weight:400}.fa.fa-bookmark-o:before{content:"\f02e"}.fa.fa-facebook,.fa.fa-twitter{font-family:"Font Awesome 5 Brands";font-weight:400}.fa.fa-facebook:before{content:"\f39e"}.fa.fa-facebook-f{font-family:"Font Awesome 5 Brands";font-weight:400}.fa.fa-facebook-f:before{content:"\f39e"}.fa.fa-github{font-family:"Font Awesome 5 Brands";font-weight:400}.fa.fa-credit-card{font-family:"Font Awesome 5 Free";font-weight:400}.fa.fa-feed:before{content:"\f09e"}.fa.fa-hdd-o{font-family:"Font Awesome 5 Free";font-weight:400}.fa.fa-hdd-o:before{content:"\f0a0"}.fa.fa-hand-o-right{font-family:"Font Awesome 5 Free";font-weight:400}.fa.fa-hand-o-right:before{content:"\f0a4"}.fa.fa-hand-o-left{font-family:"Font Awesome 5 Free";font-weight:400}.fa.fa-hand-o-left:before{content:"\f0a5"}.fa.fa-hand-o-up{font-family:"Font Awesome 5 Free";font-weight:400}.fa.fa-hand-o-up:before{content:"\f0a6"}.fa.fa-hand-o-down{font-family:"Font Awesome 5 Free";font-weight:400}.fa.fa-hand-o-down:before{content:"\f0a7"}.fa.fa-arrows-alt:before{content:"\f31e"}.fa.fa-group:before{content:"\f0c0"}.fa.fa-chain:before{content:"\f0c1"}.fa.fa-scissors:before{content:"\f0c4"}.fa.fa-files-o{font-family:"Font Awesome 5 Free";font-weight:400}.fa.fa-files-o:before{content:"\f0c5"}.fa.fa-floppy-o{font-family:"Font Awesome 5 Free";font-weight:400}.fa.fa-floppy-o:before{content:"\f0c7"}.fa.fa-navicon:before,.fa.fa-reorder:before{content:"\f0c9"}.fa.fa-google-plus,.fa.fa-google-plus-square,.fa.fa-pinterest,.fa.fa-pinterest-square{font-family:"Font Awesome 5 Brands";font-weight:400}.fa.fa-google-plus:before{content:"\f0d5"}.fa.fa-money{font-family:"Font Awesome 5 Free";font-weight:400}.fa.fa-money:before{content:"\f3d1"}.fa.fa-unsorted:before{content:"\f0dc"}.fa.fa-sort-desc:before{content:"\f0dd"}.fa.fa-sort-asc:before{content:"\f0de"}.fa.fa-linkedin{font-family:"Font Awesome 5 Brands";font-weight:400}.fa.fa-linkedin:before{content:"\f0e1"}.fa.fa-rotate-left:before{content:"\f0e2"}.fa.fa-legal:before{content:"\f0e3"}.fa.fa-dashboard:before,.fa.fa-tachometer:before{content:"\f3fd"}.fa.fa-comment-o{font-family:"Font Awesome 5 Free";font-weight:400}.fa.fa-comment-o:before{content:"\f075"}.fa.fa-comments-o{font-family:"Font Awesome 5 Free";font-weight:400}.fa.fa-comments-o:before{content:"\f086"}.fa.fa-flash:before{content:"\f0e7"}.fa.fa-clipboard,.fa.fa-paste{font-family:"Font Awesome 5 Free";font-weight:400}.fa.fa-paste:before{content:"\f328"}.fa.fa-lightbulb-o{font-family:"Font Awesome 5 Free";font-weight:400}.fa.fa-lightbulb-o:before{content:"\f0eb"}.fa.fa-exchange:before{content:"\f362"}.fa.fa-cloud-download:before{content:"\f381"}.fa.fa-cloud-upload:before{content:"\f382"}.fa.fa-bell-o{font-family:"Font Awesome 5 Free";font-weight:400}.fa.fa-bell-o:before{content:"\f0f3"}.fa.fa-cutlery:before{content:"\f2e7"}.fa.fa-file-text-o{font-family:"Font Awesome 5 Free";font-weight:400}.fa.fa-file-text-o:before{content:"\f15c"}.fa.fa-building-o{font-family:"Font Awesome 5 Free";font-weight:400}.fa.fa-building-o:before{content:"\f1ad"}.fa.fa-hospital-o{font-family:"Font Awesome 5 Free";font-weight:400}.fa.fa-hospital-o:before{content:"\f0f8"}.fa.fa-tablet:before{content:"\f3fa"}.fa.fa-mobile-phone:before,.fa.fa-mobile:before{content:"\f3cd"}.fa.fa-circle-o{font-family:"Font Awesome 5 Free";font-weight:400}.fa.fa-circle-o:before{content:"\f111"}.fa.fa-mail-reply:before{content:"\f3e5"}.fa.fa-github-alt{font-family:"Font Awesome 5 Brands";font-weight:400}.fa.fa-folder-o{font-family:"Font Awesome 5 Free";font-weight:400}.fa.fa-folder-o:before{content:"\f07b"}.fa.fa-folder-open-o{font-family:"Font Awesome 5 Free";font-weight:400}.fa.fa-folder-open-o:before{content:"\f07c"}.fa.fa-smile-o{font-family:"Font Awesome 5 Free";font-weight:400}.fa.fa-smile-o:before{content:"\f118"}.fa.fa-frown-o{font-family:"Font Awesome 5 Free";font-weight:400}.fa.fa-frown-o:before{content:"\f119"}.fa.fa-meh-o{font-family:"Font Awesome 5 Free";font-weight:400}.fa.fa-meh-o:before{content:"\f11a"}.fa.fa-keyboard-o{font-family:"Font Awesome 5 Free";font-weight:400}.fa.fa-keyboard-o:before{content:"\f11c"}.fa.fa-flag-o{font-family:"Font Awesome 5 Free";font-weight:400}.fa.fa-flag-o:before{content:"\f024"}.fa.fa-mail-reply-all:before{content:"\f122"}.fa.fa-star-half-o{font-family:"Font Awesome 5 Free";font-weight:400}.fa.fa-star-half-o:before{content:"\f089"}.fa.fa-star-half-empty{font-family:"Font Awesome 5 Free";font-weight:400}.fa.fa-star-half-empty:before{content:"\f089"}.fa.fa-star-half-full{font-family:"Font Awesome 5 Free";font-weight:400}.fa.fa-star-half-full:before{content:"\f089"}.fa.fa-code-fork:before{content:"\f126"}.fa.fa-chain-broken:before{content:"\f127"}.fa.fa-shield:before{content:"\f3ed"}.fa.fa-calendar-o{font-family:"Font Awesome 5 Free";font-weight:400}.fa.fa-calendar-o:before{content:"\f133"}.fa.fa-css3,.fa.fa-html5,.fa.fa-maxcdn{font-family:"Font Awesome 5 Brands";font-weight:400}.fa.fa-ticket:before{content:"\f3ff"}.fa.fa-minus-square-o{font-family:"Font Awesome 5 Free";font-weight:400}.fa.fa-minus-square-o:before{content:"\f146"}.fa.fa-level-up:before{content:"\f3bf"}.fa.fa-level-down:before{content:"\f3be"}.fa.fa-pencil-square:before{content:"\f14b"}.fa.fa-external-link-square:before{content:"\f360"}.fa.fa-compass{font-family:"Font Awesome 5 Free";font-weight:400}.fa.fa-caret-square-o-down{font-family:"Font Awesome 5 Free";font-weight:400}.fa.fa-caret-square-o-down:before{content:"\f150"}.fa.fa-toggle-down{font-family:"Font Awesome 5 Free";font-weight:400}.fa.fa-toggle-down:before{content:"\f150"}.fa.fa-caret-square-o-up{font-family:"Font Awesome 5 Free";font-weight:400}.fa.fa-caret-square-o-up:before{content:"\f151"}.fa.fa-toggle-up{font-family:"Font Awesome 5 Free";font-weight:400}.fa.fa-toggle-up:before{content:"\f151"}.fa.fa-caret-square-o-right{font-family:"Font Awesome 5 Free";font-weight:400}.fa.fa-caret-square-o-right:before{content:"\f152"}.fa.fa-toggle-right{font-family:"Font Awesome 5 Free";font-weight:400}.fa.fa-toggle-right:before{content:"\f152"}.fa.fa-eur:before,.fa.fa-euro:before{content:"\f153"}.fa.fa-gbp:before{content:"\f154"}.fa.fa-dollar:before,.fa.fa-usd:before{content:"\f155"}.fa.fa-inr:before,.fa.fa-rupee:before{content:"\f156"}.fa.fa-cny:before,.fa.fa-jpy:before,.fa.fa-rmb:before,.fa.fa-yen:before{content:"\f157"}.fa.fa-rouble:before,.fa.fa-rub:before,.fa.fa-ruble:before{content:"\f158"}.fa.fa-krw:before,.fa.fa-won:before{content:"\f159"}.fa.fa-bitcoin,.fa.fa-btc{font-family:"Font Awesome 5 Brands";font-weight:400}.fa.fa-bitcoin:before{content:"\f15a"}.fa.fa-file-text:before{content:"\f15c"}.fa.fa-sort-alpha-asc:before{content:"\f15d"}.fa.fa-sort-alpha-desc:before{content:"\f881"}.fa.fa-sort-amount-asc:before{content:"\f160"}.fa.fa-sort-amount-desc:before{content:"\f884"}.fa.fa-sort-numeric-asc:before{content:"\f162"}.fa.fa-sort-numeric-desc:before{content:"\f886"}.fa.fa-xing,.fa.fa-xing-square,.fa.fa-youtube,.fa.fa-youtube-play,.fa.fa-youtube-square{font-family:"Font Awesome 5 Brands";font-weight:400}.fa.fa-youtube-play:before{content:"\f167"}.fa.fa-adn,.fa.fa-bitbucket,.fa.fa-bitbucket-square,.fa.fa-dropbox,.fa.fa-flickr,.fa.fa-instagram,.fa.fa-stack-overflow{font-family:"Font Awesome 5 Brands";font-weight:400}.fa.fa-bitbucket-square:before{content:"\f171"}.fa.fa-tumblr,.fa.fa-tumblr-square{font-family:"Font Awesome 5 Brands";font-weight:400}.fa.fa-long-arrow-down:before{content:"\f309"}.fa.fa-long-arrow-up:before{content:"\f30c"}.fa.fa-long-arrow-left:before{content:"\f30a"}.fa.fa-long-arrow-right:before{content:"\f30b"}.fa.fa-android,.fa.fa-apple,.fa.fa-dribbble,.fa.fa-foursquare,.fa.fa-gittip,.fa.fa-gratipay,.fa.fa-linux,.fa.fa-skype,.fa.fa-trello,.fa.fa-windows{font-family:"Font Awesome 5 Brands";font-weight:400}.fa.fa-gittip:before{content:"\f184"}.fa.fa-sun-o{font-family:"Font Awesome 5 Free";font-weight:400}.fa.fa-sun-o:before{content:"\f185"}.fa.fa-moon-o{font-family:"Font Awesome 5 Free";font-weight:400}.fa.fa-moon-o:before{content:"\f186"}.fa.fa-pagelines,.fa.fa-renren,.fa.fa-stack-exchange,.fa.fa-vk,.fa.fa-weibo{font-family:"Font Awesome 5 Brands";font-weight:400}.fa.fa-arrow-circle-o-right{font-family:"Font Awesome 5 Free";font-weight:400}.fa.fa-arrow-circle-o-right:before{content:"\f35a"}.fa.fa-arrow-circle-o-left{font-family:"Font Awesome 5 Free";font-weight:400}.fa.fa-arrow-circle-o-left:before{content:"\f359"}.fa.fa-caret-square-o-left{font-family:"Font Awesome 5 Free";font-weight:400}.fa.fa-caret-square-o-left:before{content:"\f191"}.fa.fa-toggle-left{font-family:"Font Awesome 5 Free";font-weight:400}.fa.fa-toggle-left:before{content:"\f191"}.fa.fa-dot-circle-o{font-family:"Font Awesome 5 Free";font-weight:400}.fa.fa-dot-circle-o:before{content:"\f192"}.fa.fa-vimeo-square{font-family:"Font Awesome 5 Brands";font-weight:400}.fa.fa-try:before,.fa.fa-turkish-lira:before{content:"\f195"}.fa.fa-plus-square-o{font-family:"Font Awesome 5 Free";font-weight:400}.fa.fa-plus-square-o:before{content:"\f0fe"}.fa.fa-openid,.fa.fa-slack,.fa.fa-wordpress{font-family:"Font Awesome 5 Brands";font-weight:400}.fa.fa-bank:before,.fa.fa-institution:before{content:"\f19c"}.fa.fa-mortar-board:before{content:"\f19d"}.fa.fa-delicious,.fa.fa-digg,.fa.fa-drupal,.fa.fa-google,.fa.fa-joomla,.fa.fa-pied-piper-alt,.fa.fa-pied-piper-pp,.fa.fa-reddit,.fa.fa-reddit-square,.fa.fa-stumbleupon,.fa.fa-stumbleupon-circle,.fa.fa-yahoo{font-family:"Font Awesome 5 Brands";font-weight:400}.fa.fa-spoon:before{content:"\f2e5"}.fa.fa-behance,.fa.fa-behance-square,.fa.fa-steam,.fa.fa-steam-square{font-family:"Font Awesome 5 Brands";font-weight:400}.fa.fa-automobile:before{content:"\f1b9"}.fa.fa-envelope-o{font-family:"Font Awesome 5 Free";font-weight:400}.fa.fa-envelope-o:before{content:"\f0e0"}.fa.fa-deviantart,.fa.fa-soundcloud,.fa.fa-spotify{font-family:"Font Awesome 5 Brands";font-weight:400}.fa.fa-file-pdf-o{font-family:"Font Awesome 5 Free";font-weight:400}.fa.fa-file-pdf-o:before{content:"\f1c1"}.fa.fa-file-word-o{font-family:"Font Awesome 5 Free";font-weight:400}.fa.fa-file-word-o:before{content:"\f1c2"}.fa.fa-file-excel-o{font-family:"Font Awesome 5 Free";font-weight:400}.fa.fa-file-excel-o:before{content:"\f1c3"}.fa.fa-file-powerpoint-o{font-family:"Font Awesome 5 Free";font-weight:400}.fa.fa-file-powerpoint-o:before{content:"\f1c4"}.fa.fa-file-image-o{font-family:"Font Awesome 5 Free";font-weight:400}.fa.fa-file-image-o:before{content:"\f1c5"}.fa.fa-file-photo-o{font-family:"Font Awesome 5 Free";font-weight:400}.fa.fa-file-photo-o:before{content:"\f1c5"}.fa.fa-file-picture-o{font-family:"Font Awesome 5 Free";font-weight:400}.fa.fa-file-picture-o:before{content:"\f1c5"}.fa.fa-file-archive-o{font-family:"Font Awesome 5 Free";font-weight:400}.fa.fa-file-archive-o:before{content:"\f1c6"}.fa.fa-file-zip-o{font-family:"Font Awesome 5 Free";font-weight:400}.fa.fa-file-zip-o:before{content:"\f1c6"}.fa.fa-file-audio-o{font-family:"Font Awesome 5 Free";font-weight:400}.fa.fa-file-audio-o:before{content:"\f1c7"}.fa.fa-file-sound-o{font-family:"Font Awesome 5 Free";font-weight:400}.fa.fa-file-sound-o:before{content:"\f1c7"}.fa.fa-file-video-o{font-family:"Font Awesome 5 Free";font-weight:400}.fa.fa-file-video-o:before{content:"\f1c8"}.fa.fa-file-movie-o{font-family:"Font Awesome 5 Free";font-weight:400}.fa.fa-file-movie-o:before{content:"\f1c8"}.fa.fa-file-code-o{font-family:"Font Awesome 5 Free";font-weight:400}.fa.fa-file-code-o:before{content:"\f1c9"}.fa.fa-codepen,.fa.fa-jsfiddle,.fa.fa-vine{font-family:"Font Awesome 5 Brands";font-weight:400}.fa.fa-life-bouy,.fa.fa-life-ring{font-family:"Font Awesome 5 Free";font-weight:400}.fa.fa-life-bouy:before{content:"\f1cd"}.fa.fa-life-buoy{font-family:"Font Awesome 5 Free";font-weight:400}.fa.fa-life-buoy:before{content:"\f1cd"}.fa.fa-life-saver{font-family:"Font Awesome 5 Free";font-weight:400}.fa.fa-life-saver:before{content:"\f1cd"}.fa.fa-support{font-family:"Font Awesome 5 Free";font-weight:400}.fa.fa-support:before{content:"\f1cd"}.fa.fa-circle-o-notch:before{content:"\f1ce"}.fa.fa-ra,.fa.fa-rebel{font-family:"Font Awesome 5 Brands";font-weight:400}.fa.fa-ra:before{content:"\f1d0"}.fa.fa-resistance{font-family:"Font Awesome 5 Brands";font-weight:400}.fa.fa-resistance:before{content:"\f1d0"}.fa.fa-empire,.fa.fa-ge{font-family:"Font Awesome 5 Brands";font-weight:400}.fa.fa-ge:before{content:"\f1d1"}.fa.fa-git,.fa.fa-git-square,.fa.fa-hacker-news,.fa.fa-y-combinator-square{font-family:"Font Awesome 5 Brands";font-weight:400}.fa.fa-y-combinator-square:before{content:"\f1d4"}.fa.fa-yc-square{font-family:"Font Awesome 5 Brands";font-weight:400}.fa.fa-yc-square:before{content:"\f1d4"}.fa.fa-qq,.fa.fa-tencent-weibo,.fa.fa-wechat,.fa.fa-weixin{font-family:"Font Awesome 5 Brands";font-weight:400}.fa.fa-wechat:before{content:"\f1d7"}.fa.fa-send:before{content:"\f1d8"}.fa.fa-paper-plane-o{font-family:"Font Awesome 5 Free";font-weight:400}.fa.fa-paper-plane-o:before{content:"\f1d8"}.fa.fa-send-o{font-family:"Font Awesome 5 Free";font-weight:400}.fa.fa-send-o:before{content:"\f1d8"}.fa.fa-circle-thin{font-family:"Font Awesome 5 Free";font-weight:400}.fa.fa-circle-thin:before{content:"\f111"}.fa.fa-header:before{content:"\f1dc"}.fa.fa-sliders:before{content:"\f1de"}.fa.fa-futbol-o{font-family:"Font Awesome 5 Free";font-weight:400}.fa.fa-futbol-o:before{content:"\f1e3"}.fa.fa-soccer-ball-o{font-family:"Font Awesome 5 Free";font-weight:400}.fa.fa-soccer-ball-o:before{content:"\f1e3"}.fa.fa-slideshare,.fa.fa-twitch,.fa.fa-yelp{font-family:"Font Awesome 5 Brands";font-weight:400}.fa.fa-newspaper-o{font-family:"Font Awesome 5 Free";font-weight:400}.fa.fa-newspaper-o:before{content:"\f1ea"}.fa.fa-cc-amex,.fa.fa-cc-discover,.fa.fa-cc-mastercard,.fa.fa-cc-paypal,.fa.fa-cc-stripe,.fa.fa-cc-visa,.fa.fa-google-wallet,.fa.fa-paypal{font-family:"Font Awesome 5 Brands";font-weight:400}.fa.fa-bell-slash-o{font-family:"Font Awesome 5 Free";font-weight:400}.fa.fa-bell-slash-o:before{content:"\f1f6"}.fa.fa-trash:before{content:"\f2ed"}.fa.fa-copyright{font-family:"Font Awesome 5 Free";font-weight:400}.fa.fa-eyedropper:before{content:"\f1fb"}.fa.fa-area-chart:before{content:"\f1fe"}.fa.fa-pie-chart:before{content:"\f200"}.fa.fa-line-chart:before{content:"\f201"}.fa.fa-angellist,.fa.fa-ioxhost,.fa.fa-lastfm,.fa.fa-lastfm-square{font-family:"Font Awesome 5 Brands";font-weight:400}.fa.fa-cc{font-family:"Font Awesome 5 Free";font-weight:400}.fa.fa-cc:before{content:"\f20a"}.fa.fa-ils:before,.fa.fa-shekel:before,.fa.fa-sheqel:before{content:"\f20b"}.fa.fa-meanpath{font-family:"Font Awesome 5 Brands";font-weight:400}.fa.fa-meanpath:before{content:"\f2b4"}.fa.fa-buysellads,.fa.fa-connectdevelop,.fa.fa-dashcube,.fa.fa-forumbee,.fa.fa-leanpub,.fa.fa-sellsy,.fa.fa-shirtsinbulk,.fa.fa-simplybuilt,.fa.fa-skyatlas{font-family:"Font Awesome 5 Brands";font-weight:400}.fa.fa-diamond{font-family:"Font Awesome 5 Free";font-weight:400}.fa.fa-diamond:before{content:"\f3a5"}.fa.fa-intersex:before{content:"\f224"}.fa.fa-facebook-official{font-family:"Font Awesome 5 Brands";font-weight:400}.fa.fa-facebook-official:before{content:"\f09a"}.fa.fa-pinterest-p,.fa.fa-whatsapp{font-family:"Font Awesome 5 Brands";font-weight:400}.fa.fa-hotel:before{content:"\f236"}.fa.fa-medium,.fa.fa-viacoin,.fa.fa-y-combinator,.fa.fa-yc{font-family:"Font Awesome 5 Brands";font-weight:400}.fa.fa-yc:before{content:"\f23b"}.fa.fa-expeditedssl,.fa.fa-opencart,.fa.fa-optin-monster{font-family:"Font Awesome 5 Brands";font-weight:400}.fa.fa-battery-4:before,.fa.fa-battery:before{content:"\f240"}.fa.fa-battery-3:before{content:"\f241"}.fa.fa-battery-2:before{content:"\f242"}.fa.fa-battery-1:before{content:"\f243"}.fa.fa-battery-0:before{content:"\f244"}.fa.fa-object-group,.fa.fa-object-ungroup,.fa.fa-sticky-note-o{font-family:"Font Awesome 5 Free";font-weight:400}.fa.fa-sticky-note-o:before{content:"\f249"}.fa.fa-cc-diners-club,.fa.fa-cc-jcb{font-family:"Font Awesome 5 Brands";font-weight:400}.fa.fa-clone,.fa.fa-hourglass-o{font-family:"Font Awesome 5 Free";font-weight:400}.fa.fa-hourglass-o:before{content:"\f254"}.fa.fa-hourglass-1:before{content:"\f251"}.fa.fa-hourglass-2:before{content:"\f252"}.fa.fa-hourglass-3:before{content:"\f253"}.fa.fa-hand-rock-o{font-family:"Font Awesome 5 Free";font-weight:400}.fa.fa-hand-rock-o:before{content:"\f255"}.fa.fa-hand-grab-o{font-family:"Font Awesome 5 Free";font-weight:400}.fa.fa-hand-grab-o:before{content:"\f255"}.fa.fa-hand-paper-o{font-family:"Font Awesome 5 Free";font-weight:400}.fa.fa-hand-paper-o:before{content:"\f256"}.fa.fa-hand-stop-o{font-family:"Font Awesome 5 Free";font-weight:400}.fa.fa-hand-stop-o:before{content:"\f256"}.fa.fa-hand-scissors-o{font-family:"Font Awesome 5 Free";font-weight:400}.fa.fa-hand-scissors-o:before{content:"\f257"}.fa.fa-hand-lizard-o{font-family:"Font Awesome 5 Free";font-weight:400}.fa.fa-hand-lizard-o:before{content:"\f258"}.fa.fa-hand-spock-o{font-family:"Font Awesome 5 Free";font-weight:400}.fa.fa-hand-spock-o:before{content:"\f259"}.fa.fa-hand-pointer-o{font-family:"Font Awesome 5 Free";font-weight:400}.fa.fa-hand-pointer-o:before{content:"\f25a"}.fa.fa-hand-peace-o{font-family:"Font Awesome 5 Free";font-weight:400}.fa.fa-hand-peace-o:before{content:"\f25b"}.fa.fa-registered{font-family:"Font Awesome 5 Free";font-weight:400}.fa.fa-chrome,.fa.fa-creative-commons,.fa.fa-firefox,.fa.fa-get-pocket,.fa.fa-gg,.fa.fa-gg-circle,.fa.fa-internet-explorer,.fa.fa-odnoklassniki,.fa.fa-odnoklassniki-square,.fa.fa-opera,.fa.fa-safari,.fa.fa-tripadvisor,.fa.fa-wikipedia-w{font-family:"Font Awesome 5 Brands";font-weight:400}.fa.fa-television:before{content:"\f26c"}.fa.fa-500px,.fa.fa-amazon,.fa.fa-contao{font-family:"Font Awesome 5 Brands";font-weight:400}.fa.fa-calendar-plus-o{font-family:"Font Awesome 5 Free";font-weight:400}.fa.fa-calendar-plus-o:before{content:"\f271"}.fa.fa-calendar-minus-o{font-family:"Font Awesome 5 Free";font-weight:400}.fa.fa-calendar-minus-o:before{content:"\f272"}.fa.fa-calendar-times-o{font-family:"Font Awesome 5 Free";font-weight:400}.fa.fa-calendar-times-o:before{content:"\f273"}.fa.fa-calendar-check-o{font-family:"Font Awesome 5 Free";font-weight:400}.fa.fa-calendar-check-o:before{content:"\f274"}.fa.fa-map-o{font-family:"Font Awesome 5 Free";font-weight:400}.fa.fa-map-o:before{content:"\f279"}.fa.fa-commenting:before{content:"\f4ad"}.fa.fa-commenting-o{font-family:"Font Awesome 5 Free";font-weight:400}.fa.fa-commenting-o:before{content:"\f4ad"}.fa.fa-houzz,.fa.fa-vimeo{font-family:"Font Awesome 5 Brands";font-weight:400}.fa.fa-vimeo:before{content:"\f27d"}.fa.fa-black-tie,.fa.fa-edge,.fa.fa-fonticons,.fa.fa-reddit-alien{font-family:"Font Awesome 5 Brands";font-weight:400}.fa.fa-credit-card-alt:before{content:"\f09d"}.fa.fa-codiepie,.fa.fa-fort-awesome,.fa.fa-mixcloud,.fa.fa-modx,.fa.fa-product-hunt,.fa.fa-scribd,.fa.fa-usb{font-family:"Font Awesome 5 Brands";font-weight:400}.fa.fa-pause-circle-o{font-family:"Font Awesome 5 Free";font-weight:400}.fa.fa-pause-circle-o:before{content:"\f28b"}.fa.fa-stop-circle-o{font-family:"Font Awesome 5 Free";font-weight:400}.fa.fa-stop-circle-o:before{content:"\f28d"}.fa.fa-bluetooth,.fa.fa-bluetooth-b,.fa.fa-envira,.fa.fa-gitlab,.fa.fa-wheelchair-alt,.fa.fa-wpbeginner,.fa.fa-wpforms{font-family:"Font Awesome 5 Brands";font-weight:400}.fa.fa-wheelchair-alt:before{content:"\f368"}.fa.fa-question-circle-o{font-family:"Font Awesome 5 Free";font-weight:400}.fa.fa-question-circle-o:before{content:"\f059"}.fa.fa-volume-control-phone:before{content:"\f2a0"}.fa.fa-asl-interpreting:before{content:"\f2a3"}.fa.fa-deafness:before,.fa.fa-hard-of-hearing:before{content:"\f2a4"}.fa.fa-glide,.fa.fa-glide-g{font-family:"Font Awesome 5 Brands";font-weight:400}.fa.fa-signing:before{content:"\f2a7"}.fa.fa-first-order,.fa.fa-google-plus-official,.fa.fa-pied-piper,.fa.fa-snapchat,.fa.fa-snapchat-ghost,.fa.fa-snapchat-square,.fa.fa-themeisle,.fa.fa-viadeo,.fa.fa-viadeo-square,.fa.fa-yoast{font-family:"Font Awesome 5 Brands";font-weight:400}.fa.fa-google-plus-official:before{content:"\f2b3"}.fa.fa-google-plus-circle{font-family:"Font Awesome 5 Brands";font-weight:400}.fa.fa-google-plus-circle:before{content:"\f2b3"}.fa.fa-fa,.fa.fa-font-awesome{font-family:"Font Awesome 5 Brands";font-weight:400}.fa.fa-fa:before{content:"\f2b4"}.fa.fa-handshake-o{font-family:"Font Awesome 5 Free";font-weight:400}.fa.fa-handshake-o:before{content:"\f2b5"}.fa.fa-envelope-open-o{font-family:"Font Awesome 5 Free";font-weight:400}.fa.fa-envelope-open-o:before{content:"\f2b6"}.fa.fa-linode{font-family:"Font Awesome 5 Brands";font-weight:400}.fa.fa-address-book-o{font-family:"Font Awesome 5 Free";font-weight:400}.fa.fa-address-book-o:before{content:"\f2b9"}.fa.fa-vcard:before{content:"\f2bb"}.fa.fa-address-card-o{font-family:"Font Awesome 5 Free";font-weight:400}.fa.fa-address-card-o:before{content:"\f2bb"}.fa.fa-vcard-o{font-family:"Font Awesome 5 Free";font-weight:400}.fa.fa-vcard-o:before{content:"\f2bb"}.fa.fa-user-circle-o{font-family:"Font Awesome 5 Free";font-weight:400}.fa.fa-user-circle-o:before{content:"\f2bd"}.fa.fa-user-o{font-family:"Font Awesome 5 Free";font-weight:400}.fa.fa-user-o:before{content:"\f007"}.fa.fa-id-badge{font-family:"Font Awesome 5 Free";font-weight:400}.fa.fa-drivers-license:before{content:"\f2c2"}.fa.fa-id-card-o{font-family:"Font Awesome 5 Free";font-weight:400}.fa.fa-id-card-o:before{content:"\f2c2"}.fa.fa-drivers-license-o{font-family:"Font Awesome 5 Free";font-weight:400}.fa.fa-drivers-license-o:before{content:"\f2c2"}.fa.fa-free-code-camp,.fa.fa-quora,.fa.fa-telegram{font-family:"Font Awesome 5 Brands";font-weight:400}.fa.fa-thermometer-4:before,.fa.fa-thermometer:before{content:"\f2c7"}.fa.fa-thermometer-3:before{content:"\f2c8"}.fa.fa-thermometer-2:before{content:"\f2c9"}.fa.fa-thermometer-1:before{content:"\f2ca"}.fa.fa-thermometer-0:before{content:"\f2cb"}.fa.fa-bathtub:before,.fa.fa-s15:before{content:"\f2cd"}.fa.fa-window-maximize,.fa.fa-window-restore{font-family:"Font Awesome 5 Free";font-weight:400}.fa.fa-times-rectangle:before{content:"\f410"}.fa.fa-window-close-o{font-family:"Font Awesome 5 Free";font-weight:400}.fa.fa-window-close-o:before{content:"\f410"}.fa.fa-times-rectangle-o{font-family:"Font Awesome 5 Free";font-weight:400}.fa.fa-times-rectangle-o:before{content:"\f410"}.fa.fa-bandcamp,.fa.fa-eercast,.fa.fa-etsy,.fa.fa-grav,.fa.fa-imdb,.fa.fa-ravelry{font-family:"Font Awesome 5 Brands";font-weight:400}.fa.fa-eercast:before{content:"\f2da"}.fa.fa-snowflake-o{font-family:"Font Awesome 5 Free";font-weight:400}.fa.fa-snowflake-o:before{content:"\f2dc"}.fa.fa-superpowers,.fa.fa-wpexplorer{font-family:"Font Awesome 5 Brands";font-weight:400}.fa.fa-cab:before{content:"\f1ba"} .hero.default{background:url(https://www.electrician-palmharbor.com/wp-content/themes/integral/images/bg-welcome.jpg) no-repeat center top;background-size:cover} body{font-family:'Open Sans'}.textcenter,.center{text-align:center}.blue{color:#086797}.bold{font-weight:700}.navbar-default .navbar-nav>.active>a{background-color:#fff}.homefooter{color:#bbb}.homefooter .info{padding-bottom:31px}.homefooter .infolast{padding-bottom:0}.homefooter a{color:#bbb}.homefooter a.btn-primary{color:#fff}.homefooter a.btn-primary:hover{color:#3a3a3a}.homefooter a:hover{color:#eee;text-decoration:none}ul.featuresvcs li{list-style:none}ul.featuresvcs{padding-left:0}ul.featuresvcs li:before{content:"\f105";font-family:FontAwesome;color:#00aded;margin-right:10px}#gallery-1 .gallery-caption{font-size:13px;font-style:normal;color:#333;margin-bottom:10px}#gallery-1 .gallery-item,#gallery-1 p{margin-bottom:0}#wpcf7-f6-p15-o1>form>p:nth-child(5){margin-bottom:0}ul.sprayul li,.feature h4,ul.display-posts-listing li{list-style-type:none;background-image:url(data:image/png;base64,iVBORw0KGgoAAAANSUhEUgAAABkAAAAZCAYAAADE6YVjAAADwklEQVRIia2Uf0wTdxTAHwK6+GNjkxZxGzODGKUhBrNJMrfoMuN0zTKyBRDxB2uAObEGsjlGseJAkEqVLbNCwwairBuICRp1jGHqZvQPp8GhiFsY1+EceoVre7Tan7y9FuPSHPzxXfbHJ3ff9959P3f37h4gIkxFfaNRwmGjATo6O6D2YIu8VNOQWlHV+nZR8ZEd776n01XXnI6fbq8pg0E+r2uT0PT1Wfi0RL9y9rzNDwHy6eoNRCaRhoVqzTFmib6uI4zagyegreM8LFF80hf/7CqsrH4Vm1uXY8+PKdj76wz8e2RnObOkTFv/GI32COgPHQdVvm4ZQA5euryYSiKJmEflK64i/j7tXtMmysuP/cue42A0dkJi0p6uV1a9Tuln8OEDOQpjM9FqfQJ9vr5FiF52ye7S5sfU7m8HVe6h1GAPLvwcfIp5OMrL0ekKlpaoEe/SiYVdsreyPkR5hQGMX5kgafHuzmXL11EqFt0PYtFhj8AhTnmL53mwCTdAEPrZJaVaQ4ga/VHIydWuCfaiuSWNUnNRdMShxx2D+n3pOzdmFIE6fwuo83LYJW2t16Cd+KFrCD7cbl69IVvpRZyNLmcsCkI82saeG7w38vQMzgJg4SZhlvT96YRrBGdxgTA4Dl8cyD/T1R2H46KMXlUcNX3Byy6XHLweGXjckzBLnITr0bn5/PcvAmy15anW0HIOivZYvV2QgV2Qh8EsuTJ4F/q5EfjlNgcxcbu6n09Yix7PfEpF37c75oAozpXALMlKL4OC3P2QnfXZSwAq/O4bBYWj/E5/hkL0fwCif6sEZsk29WHYVlgHEVEFt19b+RaFZmKNbkUgNc3wRsH2o7BFZSQawmCWfNnQAzuKG98BeB8vmpdi8Muq2LsE6w0bP+ruqoLTnRoJzBJt8bfRJHCvU67G4IwaF6PpuIhHNNHQMlFN8xQwStDriMzepGu/fjXGPzlGAP2+jzNDuQkrwUthlqAI/L1eWL928/CuIhkG/MlXEG9RnAShWXVnChglP5mvw77Kk8kAm3ymlgUUMiW60QeeiRvETaJfArOkTNsECxM0lxTJLyBOZNb50AVW/A3GcBBs9CQ2/Iu4EwazpObACQWAEpsaU+jnPzfLi0MQwH6YoFfmDvTQnZuJC2EwS5TrdaaIqBR0jFelI/ZSbICaOwC8403g+CdheDRBArMkMSmvOjev8A/EUzDZ8B7grAq4SdOWG42EofuzJDBLsjJKoi5ePvkUYiC0duBSGLDSSOcXwrAwHyxWmYT/8An/f/wDsSZXyvZjY4gAAAAASUVORK5CYII=);background-repeat:no-repeat;background-position:left top;background-size:auto;padding-left:25px;margin-bottom:7px}.features .feature h4{font-size:1.4rem;line-height:1.3;position:relative;left:-14px}#welcome h1,#welcome h2,#welcome p{cursor:default}.btn-secondary{border-color:#e8e8e8}.sidebar .textwidget{font-size:14px}.sidebar h2{font-size:1.3rem}.heading .subtitle{font-size:1.6rem}#features{padding-bottom:20px}#features>div>div>div>div.feature{padding-left:22px;margin-bottom:20px;background-color:#fffdf0;min-height:150px;padding-top:20px;border-radius:25px;border:1px solid #efede2}#features>div>div>div>div.feature .fimage{border-radius:18px}.navbar-default li a,.navbar-default .navbar-nav>li>a,.navbar-default .navbar-nav>.active>a{font-size:13px}.navbar-default .navbar-nav>li{margin-left:19px}body.single-post h2.center,body.page-template-template_blog h2.center{line-height:1.6}.content ul.sprayul,.content ul.sprayul li,ul.display-posts-listing .li{font-size:17px;line-height:21px}.homefooter ul.sprayul li{margin-bottom:0}.homefooter ul.sprayul{left:-20px;position:relative;padding-left:0}.phnum{white-space:nowrap}.headerphone{text-align:right;color:#00aded;font-weight:700;font-size:2.3em;padding-top:0;text-shadow:1px 1px 0px #ddd;font-family:Montserrat}.headerphone a:hover{text-decoration:none;color:#008abd}.headerlicense{font-size:.8em;text-align:right}.contactpage .container{width:auto}.contactpage,.content,.servicespage{padding:0}.pagehero{background-image:url('https://www.electrician-palmharbor.com/wp-content/uploads/Electrician-Palm-Harbor-Tampa-FL.jpg');height:400px;background-size:cover;background-position:center}.blacklayer{background:rgba(0,0,0,.3) url(data:image/png;base64,iVBORw0KGgoAAAANSUhEUgAAAAUAAAAFCAYAAACNbyblAAAAGXRFWHRTb2Z0d2FyZQBBZG9iZSBJbWFnZVJlYWR5ccllPAAAAyJpVFh0WE1MOmNvbS5hZG9iZS54bXAAAAAAADw/eHBhY2tldCBiZWdpbj0i77u/IiBpZD0iVzVNME1wQ2VoaUh6cmVTek5UY3prYzlkIj8+IDx4OnhtcG1ldGEgeG1sbnM6eD0iYWRvYmU6bnM6bWV0YS8iIHg6eG1wdGs9IkFkb2JlIFhNUCBDb3JlIDUuMy1jMDExIDY2LjE0NTY2MSwgMjAxMi8wMi8wNi0xNDo1NjoyNyAgICAgICAgIj4gPHJkZjpSREYgeG1sbnM6cmRmPSJodHRwOi8vd3d3LnczLm9yZy8xOTk5LzAyLzIyLXJkZi1zeW50YXgtbnMjIj4gPHJkZjpEZXNjcmlwdGlvbiByZGY6YWJvdXQ9IiIgeG1sbnM6eG1wPSJodHRwOi8vbnMuYWRvYmUuY29tL3hhcC8xLjAvIiB4bWxuczp4bXBNTT0iaHR0cDovL25zLmFkb2JlLmNvbS94YXAvMS4wL21tLyIgeG1sbnM6c3RSZWY9Imh0dHA6Ly9ucy5hZG9iZS5jb20veGFwLzEuMC9zVHlwZS9SZXNvdXJjZVJlZiMiIHhtcDpDcmVhdG9yVG9vbD0iQWRvYmUgUGhvdG9zaG9wIENTNiAoV2luZG93cykiIHhtcE1NOkluc3RhbmNlSUQ9InhtcC5paWQ6REZDRjg3MDVEODhCMTFFNEJCM0JCMzM5REUwN0UzNzEiIHhtcE1NOkRvY3VtZW50SUQ9InhtcC5kaWQ6REZDRjg3MDZEODhCMTFFNEJCM0JCMzM5REUwN0UzNzEiPiA8eG1wTU06RGVyaXZlZEZyb20gc3RSZWY6aW5zdGFuY2VJRD0ieG1wLmlpZDpERkNGODcwM0Q4OEIxMUU0QkIzQkIzMzlERTA3RTM3MSIgc3RSZWY6ZG9jdW1lbnRJRD0ieG1wLmRpZDpERkNGODcwNEQ4OEIxMUU0QkIzQkIzMzlERTA3RTM3MSIvPiA8L3JkZjpEZXNjcmlwdGlvbj4gPC9yZGY6UkRGPiA8L3g6eG1wbWV0YT4gPD94cGFja2V0IGVuZD0iciI/PlqcdVgAAAARSURBVHjaYmDABKq0EAAIMAAlRAC6L9LWrAAAAABJRU5ErkJggg==) repeat scroll 0 0}.sidebar{margin-top:10px}.services h3,.services .feature span{color:#333}.roundimg{border-radius:7px}.hero h1{font-weight:700}.hero h2{font-size:3rem;margin:0 0 35px}@media screen and (max-width:767px){.mobilehide{display:none}#about .container h3{line-height:1.5em}#about .container h5{line-height:1.5em}.headerphone{text-align:left}}@media screen and (min-width:992px) and (max-width:1199px){#about .container h3{padding-top:22px}.container{width:98%}.navbar-default li a,.navbar-default .navbar-nav>li>a,.navbar-default .navbar-nav>.active>a{font-size:11px}}@media screen and (min-width:600px) and (max-width:991px){#about .container h3{font-size:19px;line-height:1.5em}}@media screen and (min-width:600px) and (max-width:991px){#about .container h3{font-size:16px}}@media screen and (max-width:991px){.homefooter{text-align:center}.homefooter ul.sprayul li{background-image:none}.homefooter .col-md-4{padding-top:20px}body section#contact{padding:5px 0}}@media screen and (max-width:479px){#about .container img.size-full{margin:0 auto;margin-bottom:20px}}@media screen and (min-width:480px) and (max-width:767px){#about .container img.size-full{max-width:50%}}@media screen and (min-width:768px) and (max-width:1199px){.navbar-header{max-width:360px}} .btn-primary,.btn-inverse:hover,#mc-embedded-subscribe-form input[type=submit],.ctct-embed-signup .ctct-button{background-color:#2a3997}.btn-primary,.btn-inverse,#mc-embedded-subscribe-form input[type=submit],.ctct-embed-signup .ctct-button{border-color:#2a3997}.btn-inverse{color:#2a3997}.navbar-default li a:hover,.navbar-default .navbar-nav>li.active a,.navbar-default .navbar-nav>li>a:hover{border-color:#2a3997}a,a:hover,a:focus,.heading .fa,.pagemeta a:link,.pagemeta a:visited,.team .t-type{color:#2a3997}.lite h2.smalltitle span,.sidebar h2:after,.content .entry-title:after,.stats,.calltoaction2,.tweets{background:#2a3997}.dropdown-menu>.active>a,.dropdown-menu>.active>a:focus,.dropdown-menu>.active>a:hover{background-color:#2a3997}.navbar-default{background-color:#fff}.copyright{background-color:#111}.hero{background-image:url('https://www.electrician-palmharbor.com/wp-content/uploads/Electrician-Tampa-FL-Palm-Harbor-FL.jpg');background-size:cover}.testimonials{background-size:cover}.calltoaction{background-size:cover}.newsletter{background-size:cover}
(727) 231-6714
Give us a call for your free quote today.
Our Electricians offer the finest electrician services in Palm Harbor.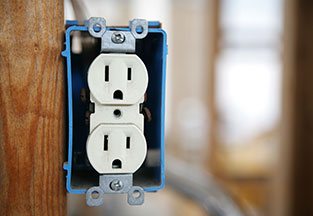 Residential Electrician
Calling a trained electrician is always the safe call. If you need repair or installation, leave it to us to get the job done right.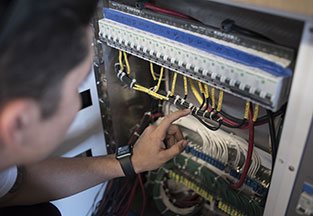 Commercial Electrician
When your business is in need of a commercial electrician, we're the company you can trust. Get your free quote today.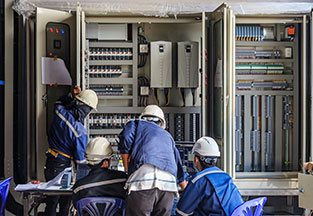 Industrial Electrician
We have many industrial clients around Palm Harbor that gives us a call when they need to upgrade or repair their infrastructure.
About Us
When Palm Harbor needs an electrician they can count on, they turn to A+ American Electrician Palm Harbor.

The experts at A+ American Electrician Palm Harbor are prepared to help with any electrical need, large or small. We have been an owner operated company in the Palm Harbor area for a long time, and many owners of local businesses as well as Palm Harbor's residents trust us for a wide swath of electrical services. When you need an electrician you can rely upon, you can turn to A+ American Electrician Palm Harbor.
Home Lighting Repairs
We understand that there are such many options when it comes to choosing an electrician in Palm Harbor, but we are confident that we are the best. From the beginning of the job until the end, we work with the client and keep them informed of every step in the process. While working quickly, we also work safely, and get the job done properly. So look no further and call and speak with an expert electrician at A+ American Electrician Palm Harbor today.
Electrical Panel Upgrades
An electric panel upgrade brings your electric panel up to code and taking advantage of the latest technological advances. When installing new appliances and technology, your home or business might need an upgrade to ensure safe and constant power is going to your devices and appliances. Our team of professionals will plan out the perfect upgrade that will handle all of your needs. Give us a call and we'll give you a free estimate.
We Offer Many Other Electrical Services Too!
Free Estimates Available